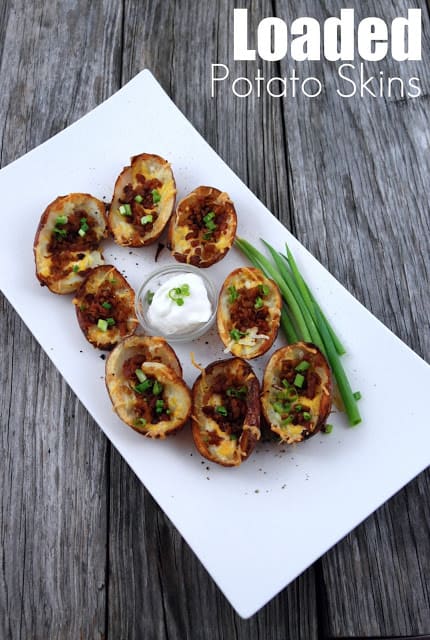 I don't know about you, but I love this time of year when the Super
Bowl
is quickly approaching, party invites go out and menu planning begins. I love all the greasy fattening food. In my mind it's ok to indulge in these types of food for one day. Everything in moderation, right?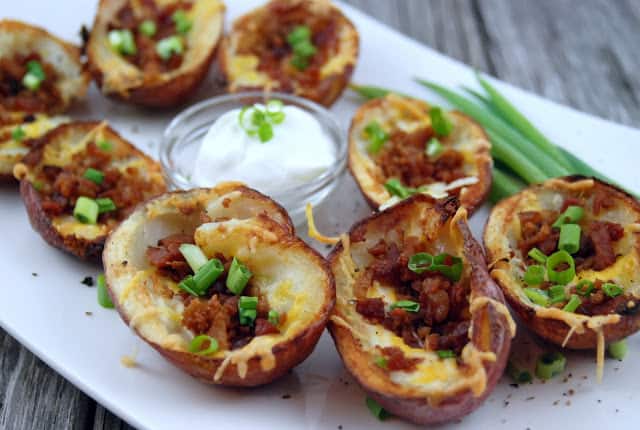 One of my favorite, bar style foods is the loaded potato skin. Words can not express how much I adore the potato, and then to broil it and make the skin crispy and load it with cheese, bacon, and green onions in my mind completes it! Potato skins can be a labor of love, but I've come up with a much quicker alternative. I microwave my potatoes and then throw them under the broiler. I know… gasp. This could be considered a crime in some people's book, but it's not in mine. I don't want to wait hours to indulge in a few potato skins! So in my book–you get the best of both worlds. It takes half the amount of time to cook these spuds and you still get the crispy flavors like it's been baked for an hour plus.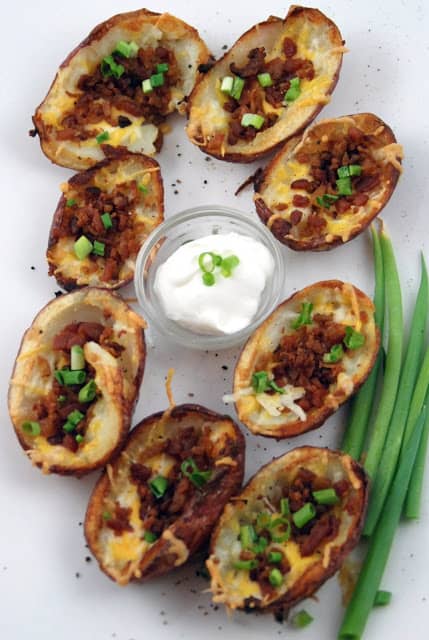 I also like using red potatoes which is steering away from the traditional large russet potato. Honestly, use what you have on hand. I always have red potatoes on hand, so that's what I use. If you always have russet potatoes on hand–use those. The same goes with cheese. If you have Mexican blend shredded cheese on hand and not sharp cheddar–don't go out to the store just to buy the shredded cheddar for the recipe. Adapt, adapt, adapt! Don't be scared to do so. Typically, if I have fresh bacon on hand, I will cook up some fresh bacon, and crumble it for this recipe; however, if you don't and all you have is bacon bits on hand don't be afraid to use them ( I use them). It's all about making cooking simple, and this is especially true if you are entertaining. And remember, don't be afraid to indulge in these spuds!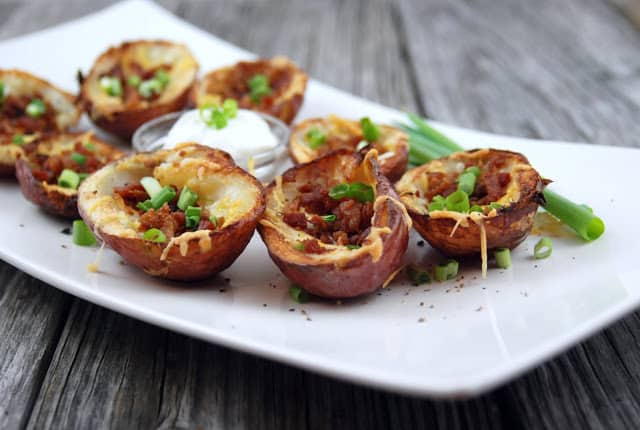 Author:
Ingredients
4 red skin potatoes (medium-size)
½ cup shredded cheddar, divided
8 teaspoon bacon bits
4 green onions, diced
salt & pepper to taste
Sour Cream for dipping
Instructions
Scrub potatoes clean, pierce with a fork and ramp each individual potato in a damp paper towel. Microwave on high for 5-8 minutes until tender but not soft. *Preheat oven at this time to 400.
Slice each potato in half. Using a spoon, carefully scrape the potato filling out of each skin. I like to keep about a half inch of potato in each skin.
Place your oven on broil mode. Then place each potato skin facing up on a baking sheet and broil on low for 5 minutes. Flip (potato side up), and broil on high for 1-2 minutes (do not allow them to burn and watch them very closely).
Remove potato skins from oven and top each skin with one tablespoon shredded cheddar cheese, 1 teaspoon bacon bits, and sprinkle with green onions.
Broil on high for 1-2 minutes, until skins are browned and cheese has melted. Serve immediately, sprinkle salt and pepper on skins and top with sour cream.