Mint Chocolate Chip Ice Cream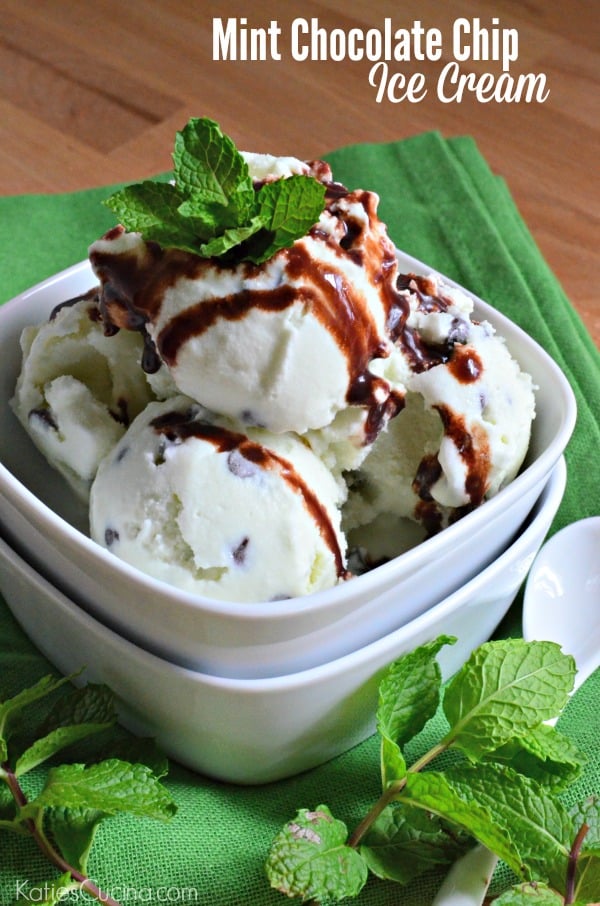 I grew up 15 minutes outside Hershey, Pennsylvania. During the summer months I can remember walking with my mom and dad to a little ice cream shop called Irshleys. It was a self standing brick and mortar building with a window where you places your order and picked up your ice cream comes. A half dozen picnic benches were perched outside the tiny building. This is what my 4 year old brain remembers. Every single time we would go to get ice cream I would always order mint chocolate chip. From as long as I can remember that was always my favorite ice cream flavor.
I think it wasn't until my teenage years that mint chocolate chip ice cream took the back burner. But even then it was a close second.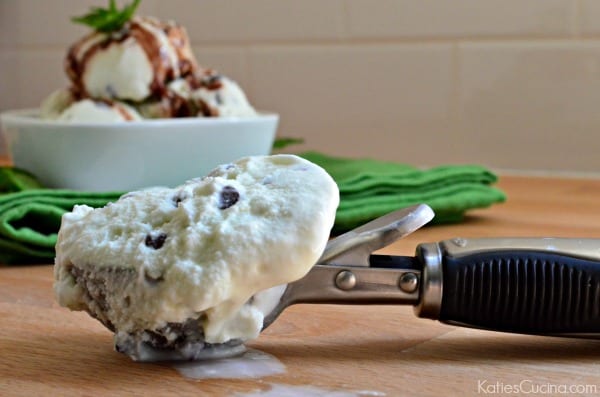 During my last few months of being pregnant I enjoyed ice cream… Maybe the word enjoy doesn't do my daily cravings justice. If we were out to dinner I would insist on stopping for ice cream on our way home. And if it was available I would order mint chocolate chip.
I decided to try my hand at my childhood favorite ice cream flavor. I seeped fresh mint from our garden in sweet warm milk to give amore mature flavor to my mint chocolate chip ice cream. Making mint chocolate chip ice cream fresh is the way to go. No artificial mint flavoring here. 100% all natural flavors and no crazy green food dye either. You will need an ice cream maker to make this recipe. If your a lover of ice cream you'll love this homemade version of mint chocolate chip ice cream!
Katie Original Recipe
Mint Chocolate Chip Ice Cream
Ingredients
2 Cups Whole Milk
1 Cups Heavy Cream
1 Cup Mint Leaves
1/2 Cup White Granulated Sugar
1/4 Cup Mini Chocolate Chips
Directions
In a large stock pot, combine the whole milk, heavy cream, mint leaves, and sugar. Cook on medium heat for 10 minutes until the minute is limp looking and the sugar has dissolved. *Be careful to not let the milk mixture boil. If it begins to boil, reduce to low.
Pour the milk mixture into a container and refrigerate for at least 12 hours.
Once the milk mixture is completely cooled pour the mixture into an ice cream machine and churn for 16 minutes or as directed on your ice cream machine. During the last minute mix in the mini chocolate chips! Freeze for at least 1 hour and enjoy!
Notes
*Freeze for up to one week.
https://www.katiescucina.com/mint-chocolate-chip-ice-cream/
This recipe is brought to you by Katie Jasiewicz of Katies Cucina
Warning
: Use of undefined constant rand - assumed 'rand' (this will throw an Error in a future version of PHP) in
/home/kjasiewicz21/webapps/katiescucina/wp-content/themes/katiescucina/single.php
on line
74
8 Responses to "Mint Chocolate Chip Ice Cream"
Leave a Comment