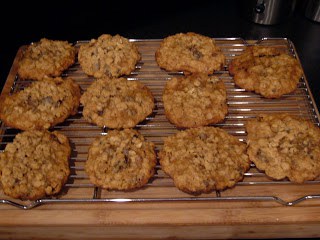 I am not a baker, but am trying to expand upon my skills. It wasn't until the past few years that I finally gained appreciation for Oatmeal-Raisin cookies! To be honest, I haven't found really any cookie recipes that are keepers, but FINALLY…. this one is a keeper! I was quite surprised after trying one, and so was my husband!!! At first he wasn't too happy that I was trying yet another cookie recipe, and asked me why I was just cooking to feed the garbage, but after he tasted one of these little gems he quickly took back his mean comment! These were even co-worker tested and everyone who tried them, loved them. I think I'll be baking more of these in the coming weeks and sending them to some of my co-workers in Evanston, IL and Willmington, MA! I found THIS recipe on Rachael Ray's website.
Prep: 20 minutes (plus 30 minutes resting time)
Bake: 30 minutes
Serves: 22 (large cookies)
INGREDIENTS:
¾ cup walnuts
1 cup flour
½ teaspoon baking soda
½ teaspoon salt
2 sticks (8 ounces) unsalted butter, at room temperature
1 cup packed light brown sugar
¾ cup granulated sugar
2 eggs
1 ½ teaspoons pure vanilla extract
3 cups rolled oats
1 ½ cups raisins
DIRECTIONS
Using a food processor, coarsely grind the nuts. In a bowl, combine the ground nuts, the flour, baking soda and salt. Using an electric mixer, beat the butter, brown sugar and granulated sugar at high speed until fluffy, about 4 minutes. Add the eggs and vanilla and mix at medium speed until incorporated. Add the flour mixture at low speed. Stir in the oats and raisins; let stand for 30 minutes.
Meanwhile, position 2 racks in the upper and lower thirds of the oven and preheat to 350°. Line 4 cookie sheets with parchment paper. Use a ice scoop and drop the dough in cupfuls onto the prepared pans, approximately 6-8 cookies to a pan. I used 3 baking sheets for my large cookies. Bake the cookies until deep golden, 12 to 14 minutes. Transfer the cookies to racks to cool completely.
Side Suggestions: milk!