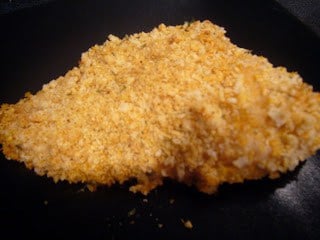 This is a great–low fat way to enjoy a delicious piece of Parmesan chicken… baked, not fried! I first learned of this recipe while working at super suppers. I was happy to see that it was in the super suppers cookbook and also on the web! The night I made this chicken I did make the creamy sage sauce that goes with it; however, I've made it in the past and boy… is it amazing! That's whats great about this chicken… it's so succulent that you don't even need a sauce to go over it!
Cook: 20 minutes
Serves: 2
INGREDIENTS:
2 boneless skinless chicken breasts
½ cup parmesan cheese, grated
¼ cup panko
¼ cup plain breadcrumbs
2 tablespoons butter, melted
¼ cup canola oil
½ tablespoon minced garlic
1 teaspoon dried parsley
½ teaspoon seasoning salt
¼ teaspoon fresh ground black pepper
DIRECTIONS:
Preheat the oven to 350 degrees.

Line a cookie sheet with foil and spray it with nonstick spray, or just use nonstick foil.

In a medium bowl, mix together all of the ingredients under "chicken" except for the chicken, butter and oil.

In a small measuring cup, mix together the oil and butter. This is called "liquid butter."

Add ¼ cup of the liquid butter to the breadcrumb mixture and stir well.

Coat each chicken breast with the mixture, pressing firmly while you coat.

Place the chicken on the foil and bake for 40-45 minutes, until breading is golden brown.
Side Suggestions: Parmesan Mashed Potatoes, Golden Green Bean Casserole, Risotto with Spring Vegetables