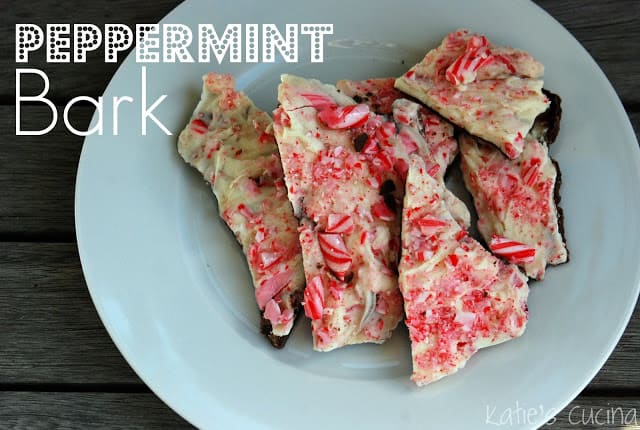 I, like many others, have been enjoying the holidays with family. I wanted to post this recipe prior to Christmas, but was trying to stay clear from the computer giving myself a much needed break. I love peppermint bark. To be exact… the William's Sonoma peppermint bark. It's amazing, but it's also $25 a tin! Way too much, for this thrifty person to pay!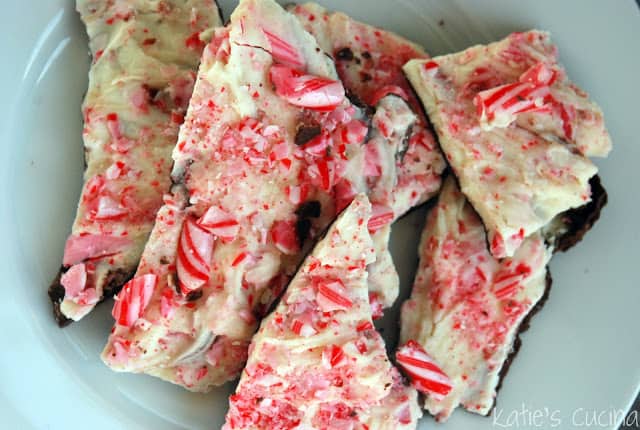 In past year's I've started making my own peppermint bark. It's very simple and can make for a wonderful holiday gift. I also love to bring it to parties that we are invited too–it is always a hit! This takes a little less than an hour to make and can be passed as the fancy $25 version! The key to good peppermint bark is the quality of the chocolate you use! I always splurge and buy the Ghirardelli chocolate chips!

Source: Katie Original
Ingredients
1

bag chocolate chips

1

bag white chocolate chips

2

tablespoon

butter

24

candy canes

crushed
Instructions
Line a large baking sheet with parchment paper, and set to the side.

In a microwave safe bowl place the bag of chocolate chips in the bowl. Microwave on 20 second intervals (stirring between heatings) until melted. Once the chocolate is melted carefully smooth it out on the parchment paper. Place in the freezer for 20 minutes.

While the chocolate is in the freezer, unwrap all 24 candy canes. Then place them in a freezer safe baggy, seal it, and begin beating the crap out of the candy canes with a mallet! You will want small pieces of candy cane! Place to the side until chocolate is ready.

Prior to pulling the chocolate out of the freezer begin melting the white chocolate. I add two tablespoons of unsalted butter to my white chocolate to help it smooth out better. Remember to microwave in 20 second intervals until melted. You do not want to over cook your white chocolate. It will be very difficult to work with! Pull the chocolate out of the freezer and spoon and smooth the white chocolate over top. Then add the crushed candy canes.

Place the chocolate back in the freezer for 20 more minutes. Upon pulling out the chocolate, begin to break with your hands. Place in an air tight container or in a zip lock bag. Refrigerate for up to 2 weeks!