Pesto Bucatini with Shrimp and Grape Tomatoes
This shop has been compensated by Collective Bias, Inc. and its advertiser. All opinions are mine alone. #ElevateYourMeal #CollectiveBias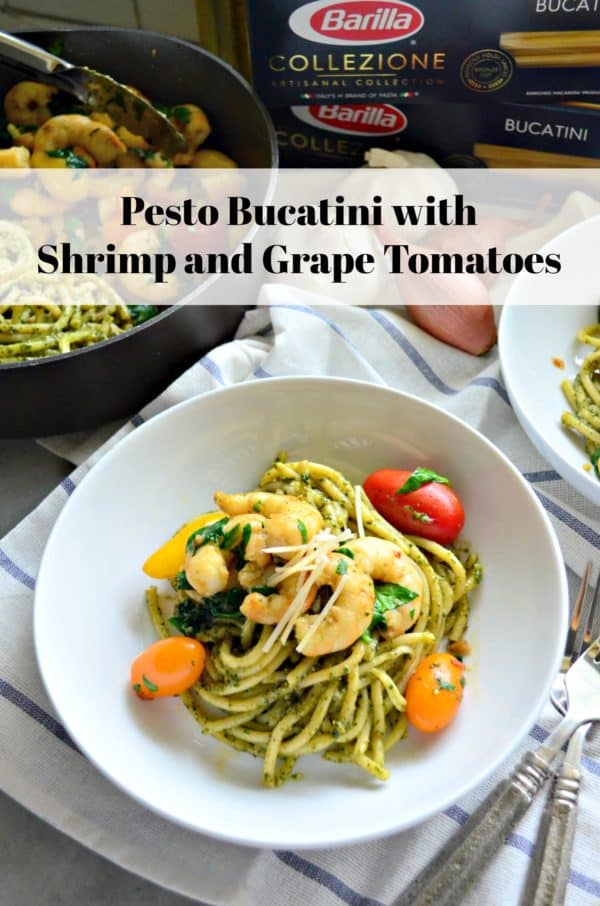 I'm so excited to partner with one of my favorite pasta brands today, Barilla®! I've used the Barilla® Collezione line of pasta since they launched a few years ago. Barilla® Collezione has six artisanal pasta shapes including Barilla's® signature Totellini. This pasta is crafted using traditional Italian bronze plates for a homemade "al dente" texture that perfectly holds sauces every time. I fell in love with Bucatini when we visited Italy 6 years ago and had a hard time finding it back in the states until Barilla® started to sell it. Collezione is Barilla's® premium pasta offering, and helps elevate your everyday meal. You'll regularly find Barilla® Collezione in my pantry on a weekly basis. I've made this Pesto Bucatini with Shrimp and Grape Tomatoes for my family multiple times over the past few years as an easy week-night dinner. Everyone in my family loves this recipe and I know you will too!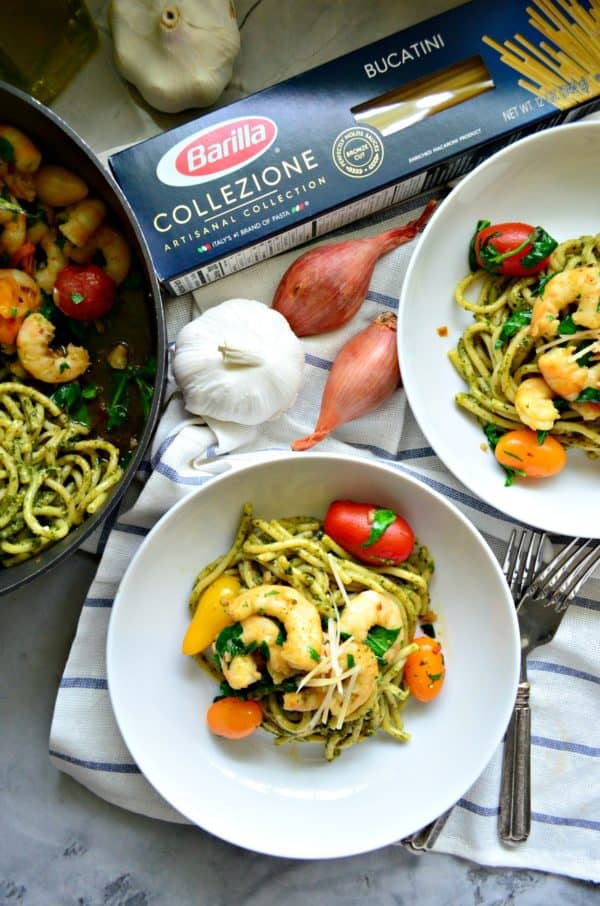 What is Bucatini pasta?
For those not familiar with Bucatini, it is by far my favorite of the long pasta family. The Bucatini pasta shape resembles thick cut of spaghetti. What makes it different is the hollow center, known as the "buco" in Italian which translates to hole. This shape of pasta pairs perfectly with just about any type of sauce. The hollow center allows the pasta to absorb extra sauce. Think about it as additional flavor bursting in your mouth during every bite. I love Barilla® Collezione Bucatini because I know it is made with non-GMO ingredients!

Where can you find Barilla® Collezione Bucatini?
I find Barilla® Collezione Bucatini and the other various cuts at Super Target. I also can find Barilla's® premium pasta offering at Super Target. If you don't have either of those stores near by you can also check your local ShopRite, Albertsons/Safeway, Kroger, Giant Eagle, Ahold, etc… the list goes on. Just check the store locator on the Barilla® website.
Right now, when you spend $15 on any Collezione products between 09/06/18 and 11/26/18 you will  receive a $5 reward.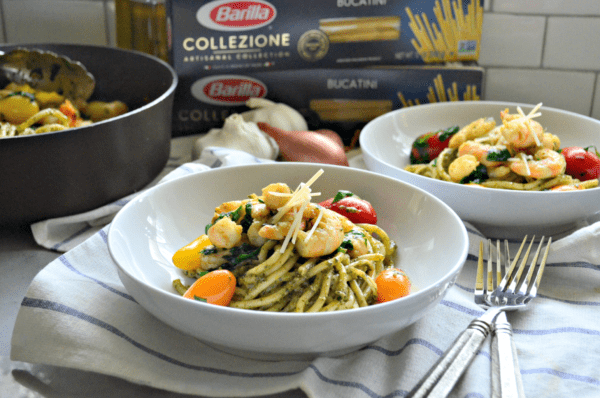 How do you make Pesto Bucatini with Shrimp and Grape Tomatoes?
The beauty of this recipe for Pesto Bucatini with Shrimp and Grape Tomatoes is that the entire meal comes together in under 30 minutes. The cooking time only takes 10 minutes! This recipe does entail a little bit of multi-tasking so it's best to prep all the ingredients ahead of time. I like to prep my shrimp by removing the shell and tails and deveining ahead of time. I'll also wash my grape tomatoes and set to the side, mince the garlic and shallots, and chop the spinach. Then once, all the ingredients are prepped it's time to start cooking.
I'll begin by boiling a pot of water. Once the water comes to a boil I generously salt the water. Then I place the bucatini in the pot. Always read the instructions to the pasta box. Every pasta has different cooking times. I suggest using a kitchen timer to ensure your pasta is cooked perfectly everytime! Set the timer for 7 minutes. While your pasta cooks it's time to start the shrimp. I first start by sauteing the shallot and garlic then add in the shrimp. Make sure you season the shrimp well with salt and black pepper. The grape tomatoes will also cook with the shrimp. Saute for a few minutes until the shrimp are pink and tomatoes are almost bursting. Then add in the freshly chopped spinach.
Once the pasta is done, I use a glass measuring cup and reserve at least one cup of pasta water. Then I drain the pasta and rinse in the sink. You'll use the same emptied pasta pot to prepare the pesto bucatini. I use my homemade pesto (I even have a video for this recipe). I will make a big batch of pesto, then freeze into half cup portions for later use. When I photographed this recipe this happened to be my last batch of homemade pesto for the season. Don't want to make your own pesto? No worries–to save time you can buy Barilla® Pesto at the grocery store.
I like to mix the pesto in the pasta pot with half a cup of the hot pasta water. Then I'll add the pasta back into the pot; mixing with tongs until all the bucatini is coated. If needed, I'll add a little more pasta water if need be. It all depends on how you want the consistency. I like to keep the pasta separated from the shrimp. I'll plate the pasta then add the shrimp/tomato/spinach mixture on top. I'll sprinkle just a teeny tiny bit of Parmesan on top, and then it's time to eat. In this dish, since the pesto has Parmesan I feel like a little goes a long way!
This recipe makes for 6 servings. I will make this for dinner then save leftover portions in airtight containers in the refrigerator for lunch the next day. It tastes even better the next day after the pesto has sat on the pasta over night. If your looking for an easy family friendly weeknight meal I hope you will try my recipe for Pesto Bucatini with Shrimp and Grape Tomatoes.
Remember if you pend $15 on any Collezione products between 09/06/18 and 11/26/18 you can receive a $5 reward!


Pesto Bucatini with Shrimp and Grape Tomatoes
Yield: 6
Prep Time: 10 minutes
Cook Time: 10 minutes
Total Time: 20 minutes
Ingredients:
12 oz. box of Barilla® Collezione Bucatini
1 tablespoon kosher salt + additional for seasoning
1 tablespoon olive oil
1 shallot, minced
2 cloves garlic, minced
1 lb. large Shrimp, peeled and deveined
1 cup grape tomatoes
1/8 teaspoon black pepper
1 cup fresh spinach, chopped
1 cup reserved pasta water
1/2 cup homemade pesto
1/4 cup grated Parmesan, divided
Directions:
Fill a large pot with cold water. Bring to a boil. Add in the tablespoon of salt. Then add in the Barilla® Collezione Bucatini. Cook according to package for 7 minutes until al dente. Before draining the pasta, reserve 1 cup of pasta water. Drain and rinse the pasta and set to the side.
While the pasta cook, heat a large saute pan with olive oil on high heat. Add the shallot and garlic and reduce the heat to medium. Saute for one minute.
Add the shrimp to the skillet and season with salt (about 1/4 teaspoon) and black pepper. Add the tomatoes and saute for 3-4 minutes or until shrimp are cooked through and pink. Add in the spinach, stir and remove from the heat.
While the shrimp cooks, add the pesto to the drained pasta pot with 1/2 cup of water. Heat on medium for 1 minute. Then turn off the heat and add in the pasta. Mix until the pasta is coated with the pesto. Add additional pasta water if needed.
To plate the pasta, add a 2oz. portion of pasta to each plate. Then top with a 5-6 shrimp, tomatoes, and spinach mixture. Top each plate of pasta with 1/2 tablespoon of shredded Parmesan cheese. Enjoy immediately.
Note: If you like spicy pasta you can add in 1/4 teaspoon of red pepper flakes when you saute the shrimp during step 3.
Warning
: Use of undefined constant rand - assumed 'rand' (this will throw an Error in a future version of PHP) in
/home/kjasiewicz21/webapps/katiescucina/wp-content/themes/katiescucina/single.php
on line
74
Leave a Comment