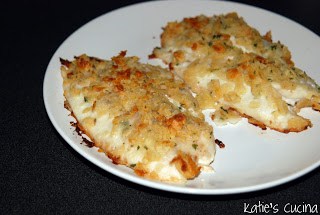 I've made this dish a few times, and each time a little different (but it always comes out delicious). This time I finally decided to write down my directions and ingredients, so that I could blog about it! This is a great dish to make on a busy week night. You can bake this fish or fry it… it's up to you. I'm going to write about the baked method.
Cook:
20 minutes (baking) 5-7 minutes (frying)
2 white fish filets

1 egg

2 tablespoon milk

1 individual sized bag of plain potato chips, crumbled

1 teaspoon parsley

½ teaspoon paprika

pinch of ground pepper
1.
Heat the oven to 375°F. Beat the egg and milk in a shallow dish.
2. Crumble the chips in its bag, then pour into another shallow dish. Add parsley, paprika, and pepper. Mix well until well incorporated.
3. Coat the fish with the egg/milk mixture and then onto the potato chip mixture. Place in a greased glass dish.
4. Cover with tin foil and bake for 15 minutes. Remove tin foil then bake for an additional 5 minutes so that the potato chips can get golden brown. Serve immediately!
*If frying, skip the first and fourth step. Preheat a frying pan with 2 tablespoon oil. Place fish into the pan once the oil is hot *but not smoking*. (A good way to test the oil is to put a small chip into the pan. If it starts bubbling immediately the oil is hot.) Fry on each side until golden brown (3-4 minutes each side).