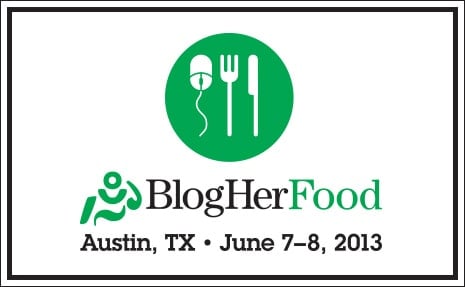 This past weekend I traveled to Austin, Texas to attend BlogHer Food! This is a conference that has been long in the making for me! Rather than bore you with tons of writing I'll share some of my photos from my trip. All of which were taken on my iPhone. I brought my DSLR camera with me and did not use it once during my 4-day trip. Proving once again, that I don't need to bring my DSLR to everything.
After I got off the plane, I jetted to lunch followed by a Spa Party hosted by Dixie Crystals/Imperial Sugar at the Hiatus Spa. The above picture was taken right after Caroline and I changed into our robes! She is seriously my new good friend. We hung out most of the weekend together! I think every trip should start off with a spa day!
Right after my spa party I got ready for dinner at Uchiko with KitchenAid. Honestly this dinner was amazing. The people, the food, the brand all in one place celebrating one another. As everyone began to introduce themselves to the room I was in awe. It was surreal to be in the same room as so many talented bloggers!
The next morning it was conference time. I started my morning off with some Ice Coffee and tried some of the new Bailey's Coffee Creamers. I also just so happened to win a year's supply of the creamer while at the conference!
After lunch it was "go time". My amazing co-panelist (Melissa from Skorpil Photography and Colette from Learning to Eat Allergy Free) and I have been preparing months for our hour and a half session on beginning food photography. My intro was very shaky, let's face it speaking into a microphone is not natural and very distracting as I heard my voice echo back to me! But once I got in my groove it was smooth sailing! We heard from a lot of people after the session that they felt all of our tips very helpful! I hope I was able to inspire at least one person… that was my goal at least!
Friday night, I was off to dinner with the Land O'Lakes team hosted by Julie, Maria, Sommer, Brenda and The Pioneer Woman at The Moonshine Bar & Grill. I ate at Moonshine Bar & Grill the last time I was in Austin, so I was super excited for dinner and of course all of the good company. I had a giant bowl of green chile and chicken macaroni and cheese. It was delicious–sadly I ate maybe a quarter of the portion. The bowl could have easily fed a family of 4!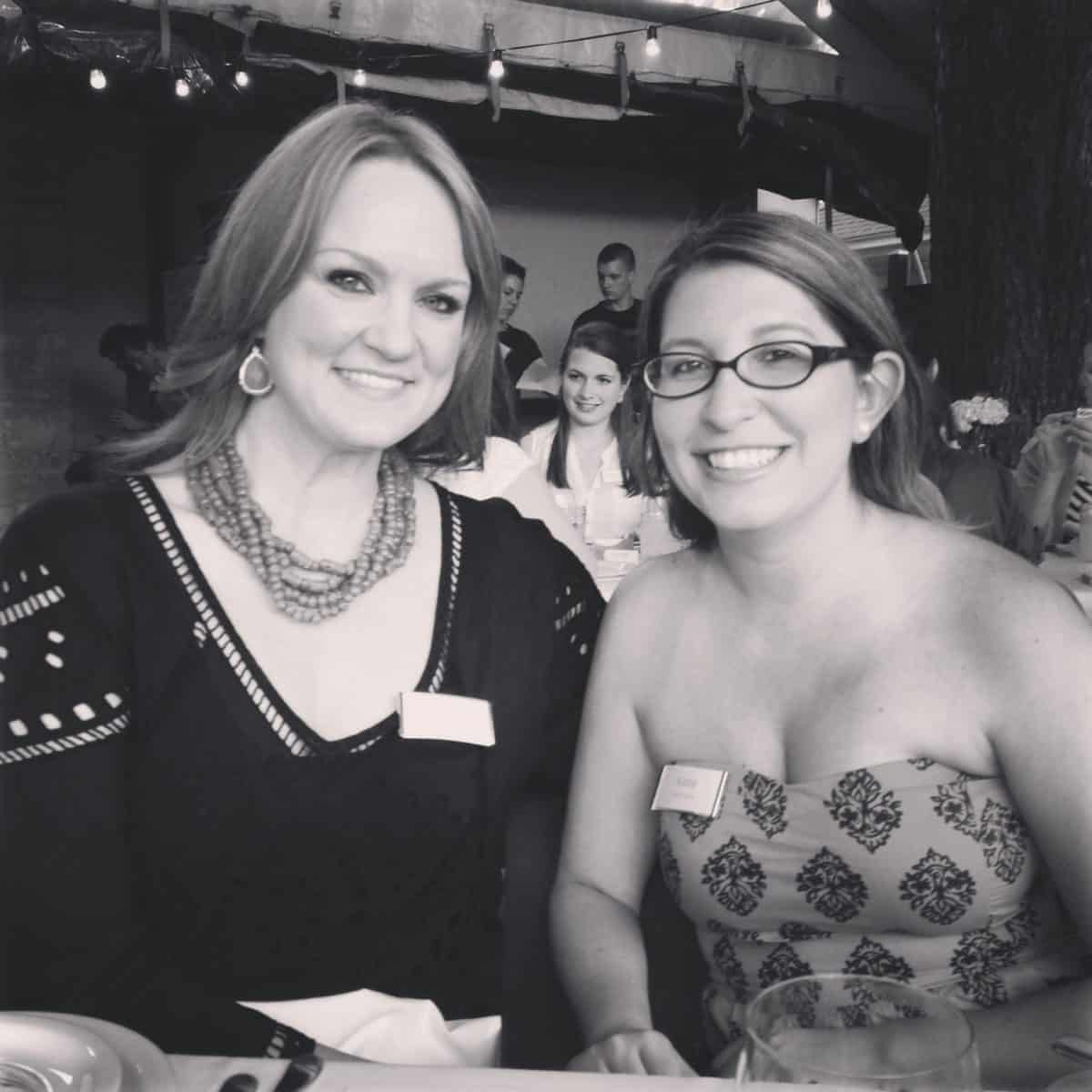 We had assigned seats and mine just happened to be right next to Ree, herself (*and my good pal, Lindsay to the left of me). Ree and I chatted all night about food, Real Housewives, and accents! Glad to know we have more in common than just cooking!
After dinner we all headed to the photo booth. The photo booth took rapid fire photos and turned them into gif's…

Here is Julie & I being silly in the photo booth!

And more photo booth fun with Carrian, Joanne and Shelly.
Saturday morning, I was motivated to get to the preservation workshop! I've always wanted to learn how to can and I was determined to get to this session. I'm so glad I did because I learned so much, and I can easily say it was my favorite session at BlogHer Food!
I was invited to a private lunch with Dole where they treated us to tasty food and treats and chef Ben Ford, himself! The house where the luncheon was held was straight out of an episode of House Hunters… it was amazing to say the least.
My friend Christine from Cook the Story, along with 4 other very talented bloggers closed the conference with their readings from the new Roots anthology that BlogHer put together. She did an amazing job, and her story is both witty and heartfelt! Make sure you read Christine's post on The Challenge of Cooking Healthy and Eating Healthy and of course purchase the new anthology if you love to read about food stories!
After the reading, we all headed to Stubb's BBQ where we grubbed out on Texas-style BBQ and dance the night away.
You may not recognize this person. This picture is not with a food blogger. This is with my dear friend Jennifer that I went to middle school with in Virginia! We've kept in touch over the years via Facebook and I was so grateful when she reached out to me after she realized I was in town for BlogHer Food. She just so happens to be the events manager and knew that we were coming to Stubb's! After asking a server, she appeared a few minutes later. What an awesome and unexpected highlight to my trip! I think the funniest part is that she said she remembers coming over to my house to work on a school project and my mom fed us perogies. I love that she remembered about the pierogies.
Dinner was great and it gave us all a chance to hang out and more and of course meet people who we might have missed during the conference. Pictured above: Kathy from Noble Pig, Sam from Sweet Remedy, Christine from Cook the Story, Elise, Ree, and Jaden, Jamie from C.R.A.F.T, and Caroline from Chocolate and Carrots.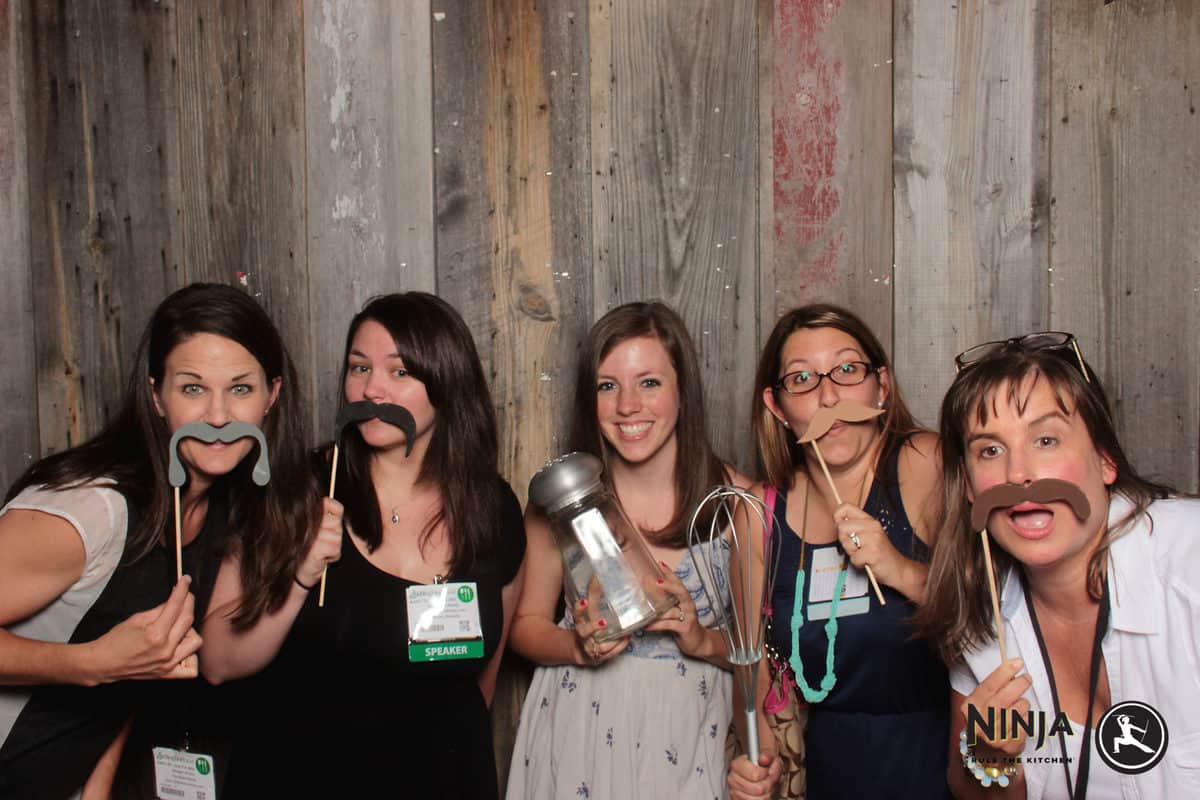 More photo booth time with The Baker Mama, Sweet Remedy, Chocolate and Carrots, and Noble Pig!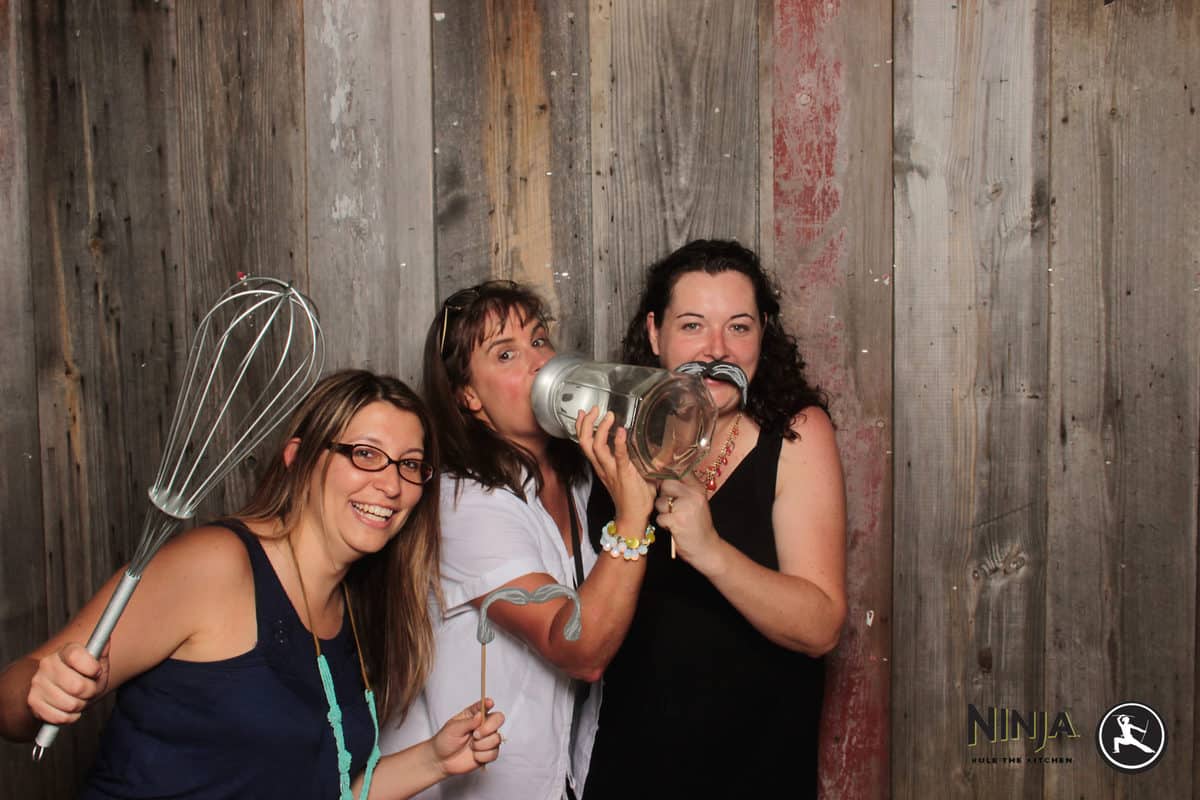 And another photo booth opp with Noble Pig & Cook the Story!
We ended our night by sipping on Cathy's wine. Yes, Cathy from Noble Pig has a vineyard. We've chatted for the past 2 years via email, comments, and twitter, and I dreamed of the day I would finally get to try her wine… and the day finally arrived! Full of citrus accents–it was amazing to say the least. So proud of my friend and her vineyard!
The next morning I met up with a few fabulous ladies to eat taco's and donuts for breakfast. I know it may seem like an odd combo, but we needed to maximize our time in Austin. We started at Torchy's Tacos. I ordered chips and salsa (everyone else ordered guac and I wanted to balance it out), as well as a homemade lemonade and the fried avocado tacos! I must recreate these soon! They were so good!
Our last stop was at Gourdough's where we each ( Aimee, Jocelyn, Nikki, Carly, and Hayley) ordered a donut (or two) and had one big donut taste-testing feast! Gourdough's Gourmet Doughnut Truck was amazing to say the least. Sadly the bottom right corner was what was left. None of us combined were able to finish one full donut. We were trying to give them to people… no one would take our half eaten donuts.
After my morning full of tacos and donuts, I frantically packed and took a half power nap before meeting up with Christine. We went to the concierge desk to ask what to do and where to eat and the big thing to see and the response was "the Willy Nelson statue". So Christine and I did a little window shopping, stumbled upon the famous Willie Nelson statue, and made our way to the "W". We both had a cranberry and basil margarita. After that drink we knew we needed some food. We went to Manual's and had another drink. This time we went with the cucumber martini (which was really like a margarita with celery salt–it was amazing). We also munched on chips, salsa, and guacamole. We made our way back to the hotel, grabbed a cab, and headed to the airport. Our last food stop was The Salt Lick in the airport. Needless to say, I had an amazing weekend and can't wait for BlogHer Food 2013!
If you enjoyed my recap you might want to go read the other BlogHer Food Recaps:
Bake Your Day
Cajun Sugar Pie
Chocolate and Carrots
The Blissful Chef
The Domestic Rebel
The Hill Country Cook
The Lemon Bowl
We Are Not Martha
Disclaimer: All photos were taken with an iPhone with exception to the photo booth photos.