Greek Crostini with Whipped Feta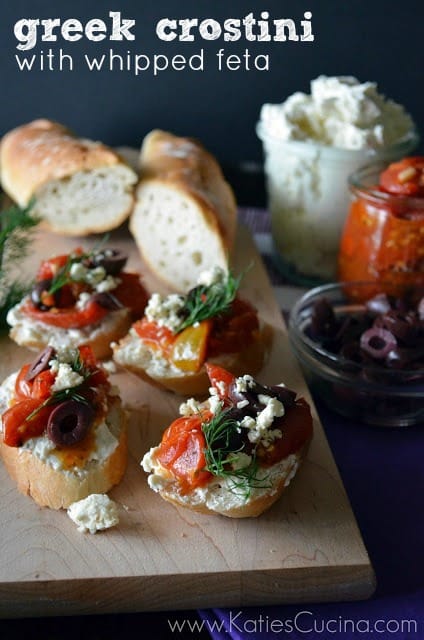 Do you ever come up with a brilliant idea and then can't stop thinking about that idea? That is what happen when I created Greek Crostini with Whipped Feta! I dreamed about this recipe for weeks and then finally made it one day. My dreams had come true and like magic this fancy appetizer that takes no time at all to put together was created! Seriously–if you want to impress people, entertain with this appetizer. 
You could put the Greek Crostini with Whipped Feta together or you could have all the items laid out with a few example appetizers and let your guest create their own Greek crostini's. That way if someone is picky they can decide what they want to eat. I also love this recipe because you can broil the tomatoes ahead of time and just bring them out when your ready to make the appetizer. Same goes with the garlic and herb whipped feta.
And let's talk about these pictures. I made these crostini's seriously look as good as they taste! I was so proud when I photographed the Greek Crostini with Whipped Feta. While I'm on the topic of food photography, I'm actually speaking today at BlogHer Food in Austin, Texas about beginning food photography. Never in a million years would I have thought I would be speaking at a major national food blog conference. With a lot of hard work and dedication I have transformed my food photography from looking like dog-you know what… to mouthwatering food photos! I can't wait to share my story with those at BHF and I hope I can inspire others that with a little work they too can create beautiful food photos (and it doesn't have to take all day to photograph one meal it can take mere minutes like I did with these crositini's). I think I spent 10 minutes tops styling and photographing my series of photos. Next week, I'll be sharing about my time in Austin and hopefully some of my food photography tips and tricks I've learned along the way.
Until then… if you are entertaining this weekend or just want a tasty appetizer, make my Greek Crostini with Whipped Feta. I promise you won't be disappointed!

Greek Crostini with Whipped Feta
Yield: 24
Prep Time: 15 minutes
Cook Time: 15 minutes
Total Time: 30 minutes
Ingredients:
24 cherry tomatoes, quartered
1 tsp greek seasoning
1 tbsp olive oil
2 garlic cloves, minced
1 french baguette
1/2 cup garlic and herb whipped feta
1/2 cup kalamata olives
fresh dill and feta for topping
Directions:
Preheat broiler on low.
In a bowl, combine cherry tomatoes, olive oil, greek seasoning, and garlic. Mix well and then place on a parchment lined baking sheet. Broil on low for 10 minutes, then mix and broil on high for 5 minutes. Remove tomatoes from the oven and let cool. Place in a sealed jar, and store up to 5 days.
Cut french baguette in 1-inch slices. Slather with garlic and herb whipped feta, then top with broiled cherry tomatoes, kalamata olives, fresh dill, and crumbled feta. Repeat until you've finished the french baguette. Serve immediately.
Warning
: Use of undefined constant rand - assumed 'rand' (this will throw an Error in a future version of PHP) in
/home/kjasiewicz21/webapps/katiescucina/wp-content/themes/katiescucina/single.php
on line
74
25 Responses to "Greek Crostini with Whipped Feta"
Trackbacks/Pingbacks

Leave a Comment