Sheet Pan Lemon Garlic Chicken Dinner
Sheet Pan Lemon Garlic Chicken Dinner is the perfect weeknight dinner recipe all made on one sheet pan for an easy and delicious dinner.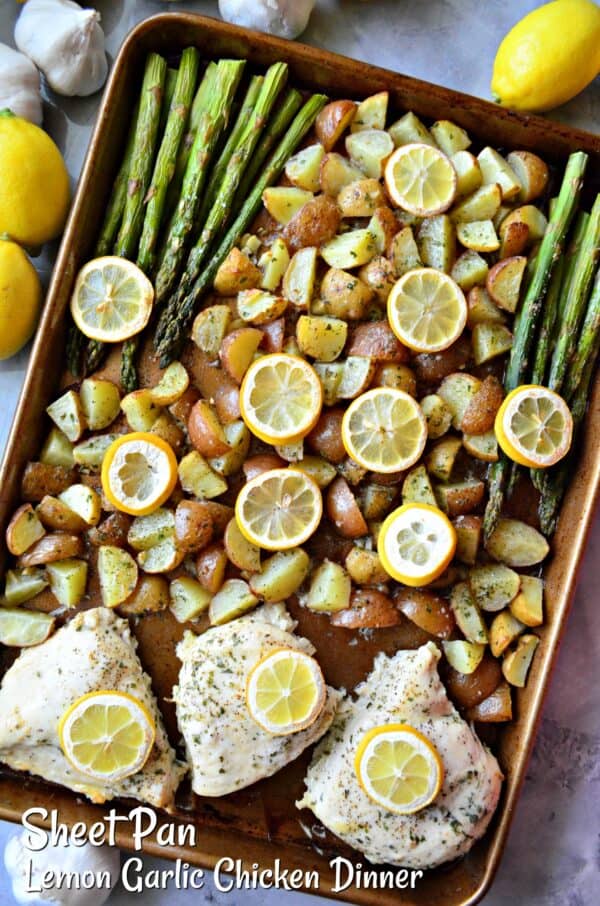 Summer is in the air and what better way then to celebrate with a light and refreshing Sheet Pan Lemon Garlic Chicken Dinner. Yes–an entire dinner created on one pan. I'm all about simplicity and lessening the dish load. I've been making this meal at least every other week since my daughter was born. It's easy to put together (about 10 minutes total) and an even easier clean-up. Bonus points, my toddler loves this dinner too. One thing I've learned to do to really simplify this meal is to make the marinade a head of time. I'll buy a huge pack of chicken from my local whole sale club, then I make my marinade in each bag, portion out the chicken and freeze! Easy as that. Then all I have to do is thaw and bake when I'm ready to serve dinner! This method has been a life-saver for me and I hope that my little secret tip helps you speed up the dinner process.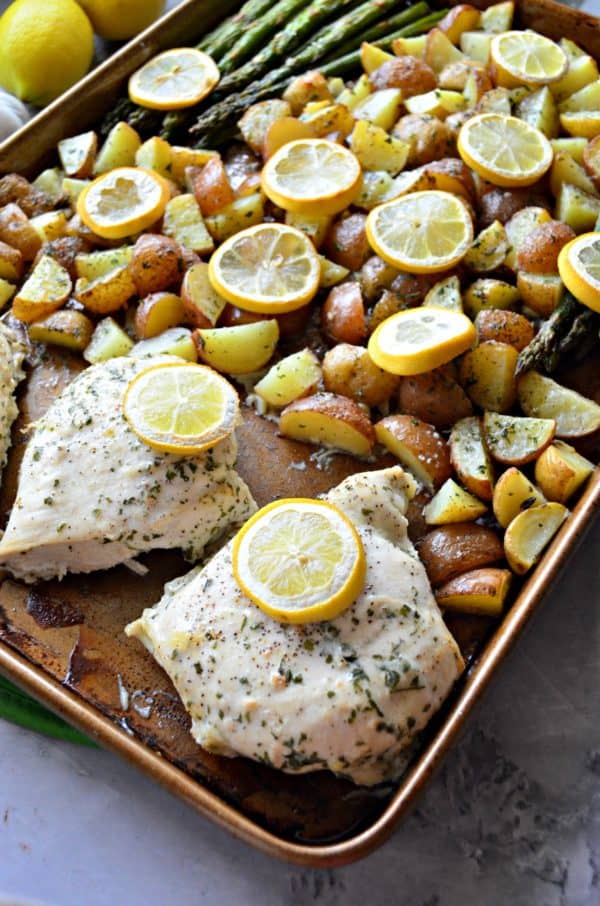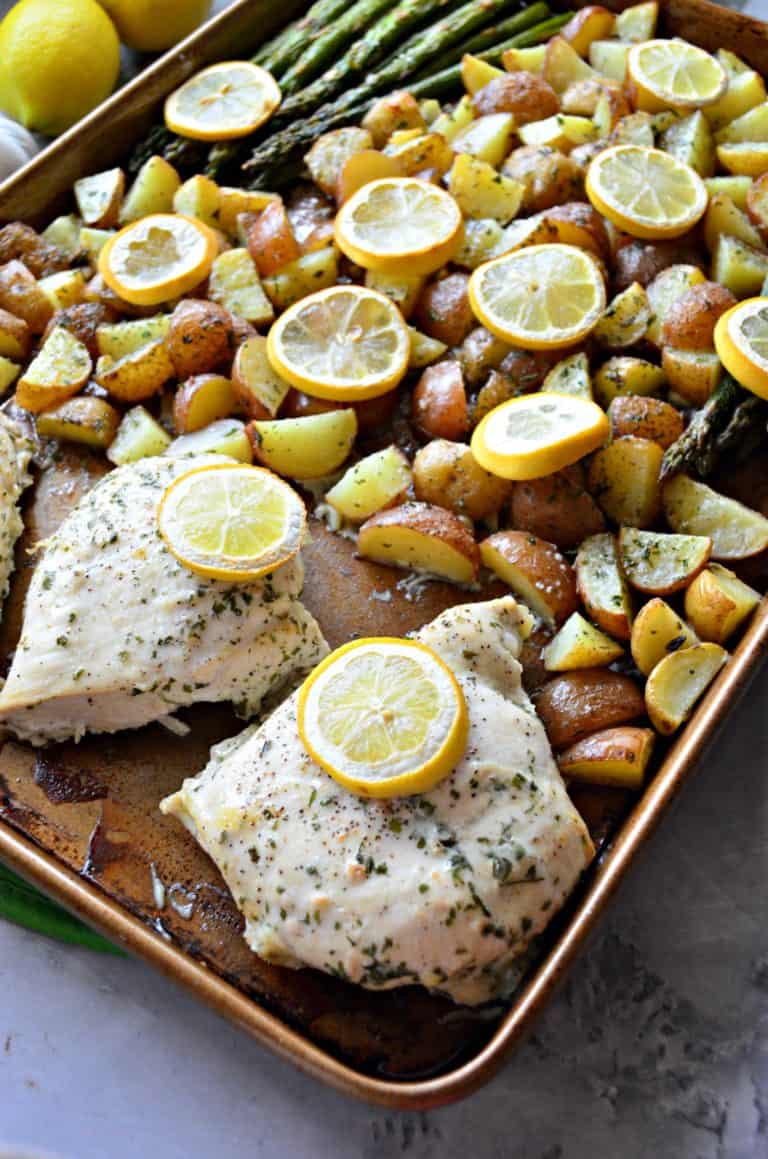 I incorporated a few boneless skinless chicken breast with baby potatoes that I quartered, and our favorite spring seasonal vegetable; asparagus, to make the ideal weeknight dinner. Best of all you can make the marinade the night prior and let your chicken soak up all the delicious flavor of the lemon, garlic and parsley. Then the next day, just lop off the ends of the asparagus and quarter the baby potatoes. Place the marinated chicken breast on a sheet pan. Then, mix the leftover marinade from the chicken on the potatoes and pour it on a large rimmed sheet pan. Strategically place the asparagus and let your dinner bake in the oven!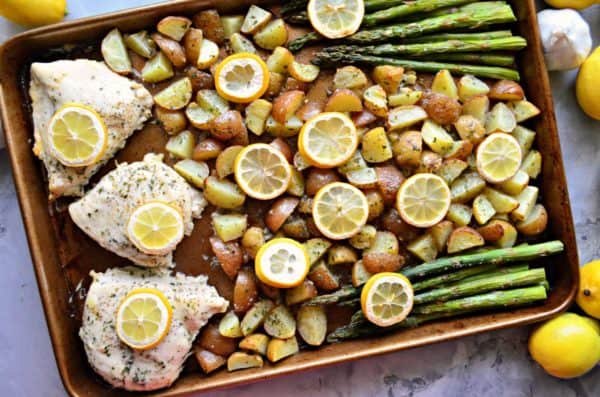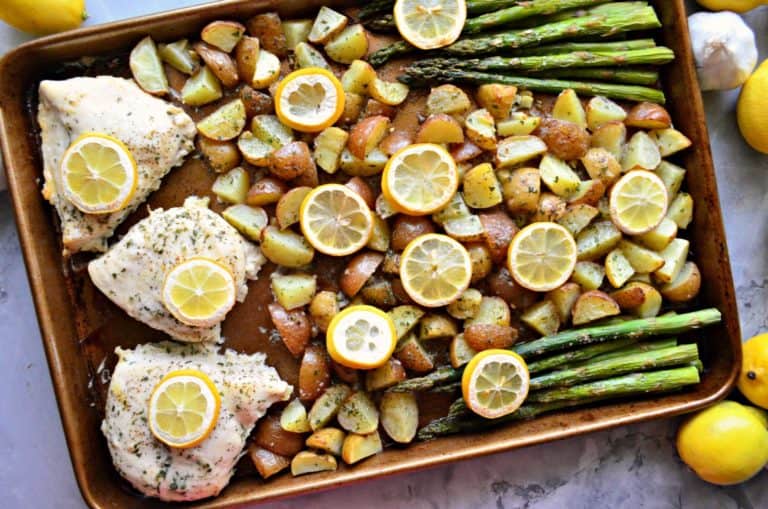 This entire meal is cooked in just 35 minutes! Potatoes are fork tender, and the chicken is juicy and full of flavor! By using lots of lemon in this recipe you reduce the amount of salt you need to add to your meal. Lemon, can trick your taste buds and make you think that the dish is salty–when in reality it's not. That's why I love cooking with it so much. I love salt, but try to limit my salt intake (as we all should). So if your looking to change up dinner and looking for an easy dinner to make then I definitely challenge you to make my Sheet Pan Lemon Garlic Chicken Dinner for your family this week.
Warning
: Use of undefined constant rand - assumed 'rand' (this will throw an Error in a future version of PHP) in
/home/kjasiewicz21/webapps/katiescucina/wp-content/themes/katiescucina/single.php
on line
74
2 Responses to "Sheet Pan Lemon Garlic Chicken Dinner"
Leave a Comment