Shrimp Creole Deviled Eggs
This is a sponsored post on behalf of World Market. As always all opinions are my own.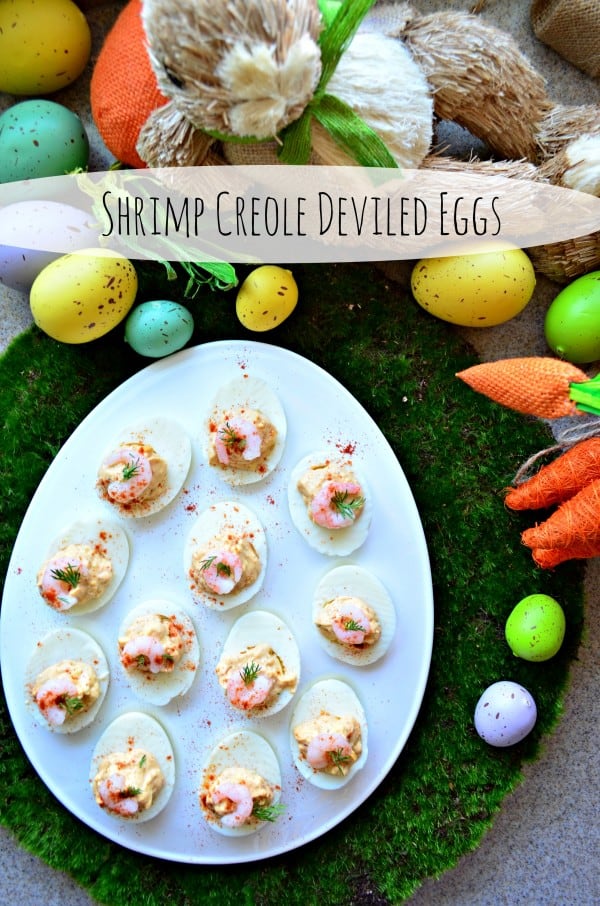 Can you believe that Easter is right around the corner? What do you do when you have an excess of hard boiled eggs? Make deviled eggs of course. I'm excited to share three kicked-up deviled egg recipes with you this week. To start off the week, I'm sharing with you my recipe for Shrimp Creole Deviled Eggs.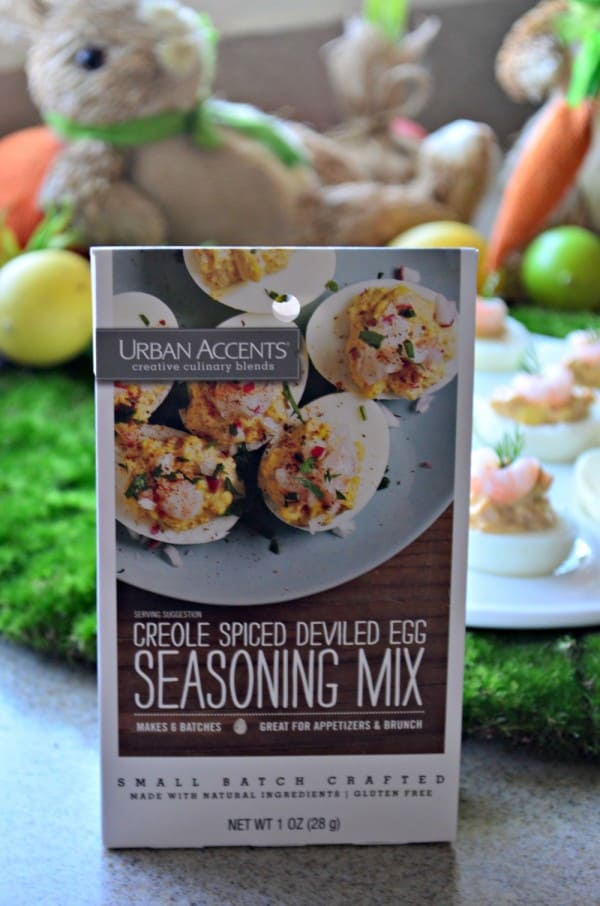 Thanks to this Creole Spiced Deviled Egg Seasoning Mix found at World Market I was able to whip these up in no time! The mix allows you to do 6 dozen eggs–so it's not a one-time use mix  Which I really like.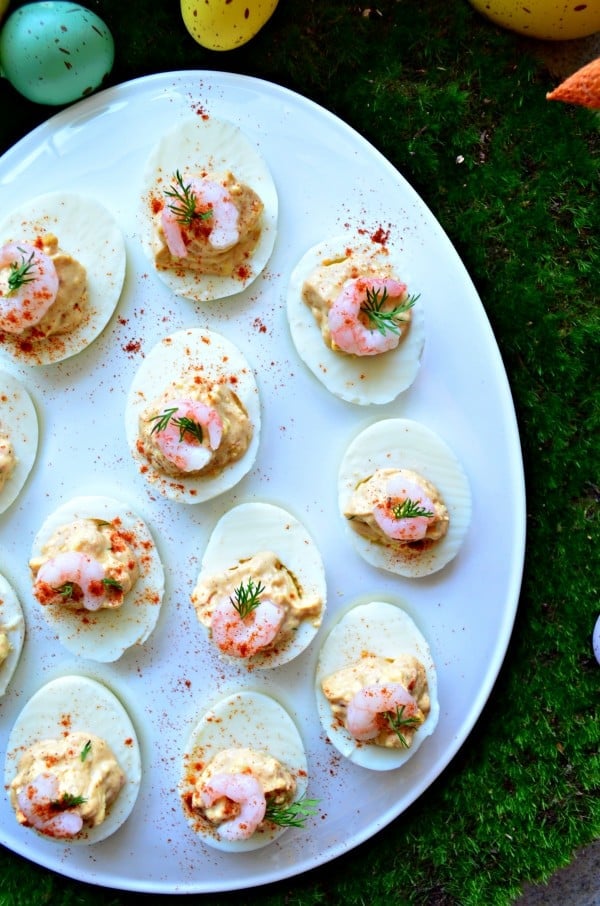 If you've never boiled hard boil eggs before, my friend Kristen has a great tutorial on how to do just that. You can boil the eggs specifically for this recipe or use up leftover dyed Easter eggs. Although, I'll preface that it's much more difficult to peel a perfect egg once it's sat for a day or two. And your whites might not be white depending on the color you dye the eggs!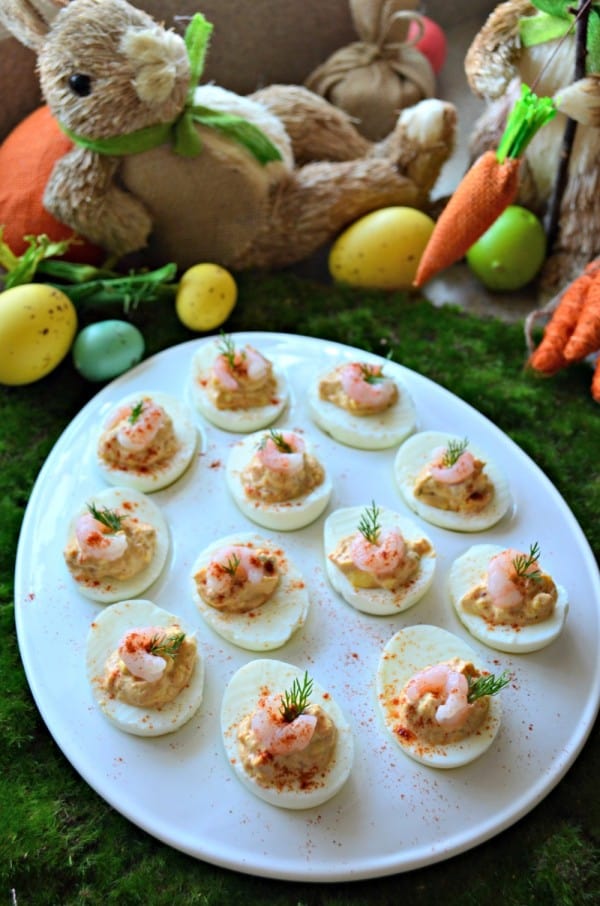 I shared these with my husband and friends who are all connoisseurs of eggs and they all loved the twist on a the traditional deviled egg.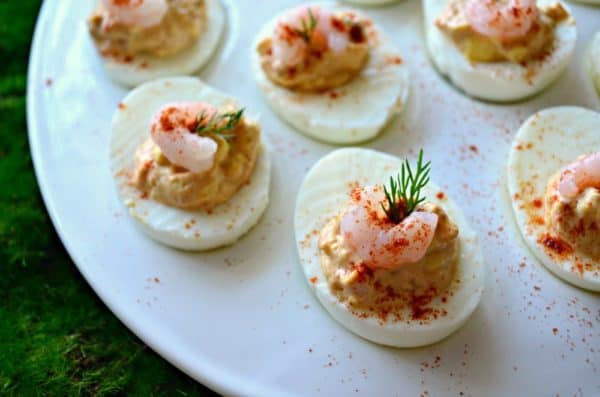 Just remember, to cut a large enough slit in the plastic bag when your piping these since they have minced radishes and shrimp. You won't be able to pipe the yolk mixture through a tiny opening.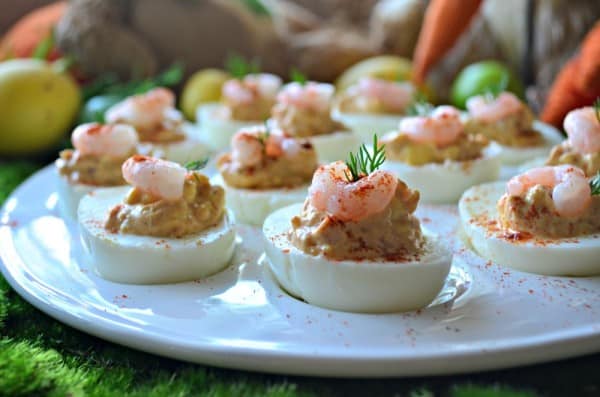 Shop the post: Creole Spiced Deviled Egg Seasoning Mix, Deviled Egg Plate, Round Mossy Table Mat, Bright Speckled Eggs, Natural Fiber Bunnies
If your doing Easter entertaining definitely add these Shrimp Creole Deviled Eggs to your menu! Your guest will love them and love this spiced-up deviled egg recipe! For more fun Easter ideas check these out:
Bless'er House Blog | Easter Brunch Tablescape
Baked by Joanna | Easter Picnic
Made by a Princess | Easter Entertaining Ideas

Shrimp Creole Deviled Eggs
Yield: 12
Prep Time: 25 minutes
Total Time: 25 minutes
Ingredients:
6 hard boiled eggs
4 tablespoons mayonnaise
1/2 teaspoon dijon mustard
2 teaspoons Creole Spiced Deviled Egg Seasoning Mix
1 teaspoon red wine vinegar
2 tablespoons finely chopped radishes
2 tablespoons shrimp, minced
1/4 teaspoon dried onion flakes
1 teaspoon fresh dill + additional for garnish
12 shrimp for salad, divided
Paprika for garnish
Directions:
Peel and halve hard-boiled eggs lengthwise.
In a bowl, mash the yolks. Stir in the mayonnaise, dijon mustard, seasoning mix, red wine vinegar, radishes, minced shrimp, dried onion flakes, and fresh dill. Using a hand mixer, beat until smooth and creamy.
Place the mixture into a ziplock bag. Cut the corner on one of the sides of the bag, pipe the mixture into each of the halved egg whites. Top with one tiny shrimp, and a sprig of dill. Sprinkle paprika on top and enjoy immediately.
Note: store leftovers in an airtight container for up to 3 days in the refrigerator.
Adapted from Urban Accents
Warning
: Use of undefined constant rand - assumed 'rand' (this will throw an Error in a future version of PHP) in
/home/kjasiewicz21/webapps/katiescucina/wp-content/themes/katiescucina/single.php
on line
74
5 Responses to "Shrimp Creole Deviled Eggs"
Trackbacks/Pingbacks

Leave a Comment