Craving comfort food? Try my recipe for slow cooker Salisbury steaks for dinner tonight! Soon to be a new family favorite.
Growing up I loved the school lunch Salisbury steak. I know most kids were repulsed by this lunch, but for some strange reason you slap gravy on just about anything and it is delicious. Or at least that's how I feel. I love Salisbury Steak (probably because it's smothered in gravy). Last year, I shared my recipe for Skillet Salisbury Steak with Onion Gravy. I love making this recipe and make it at least once a month. It's a family favorite. In an effort to use my slow cooker more I decided to try making Salisbury Steaks in the slow cooker. I took a giant risk because I'll be honest I wasn't sure how it was going to turn out. I was pleasantly surprised though that it turned out just as good as my skillet version and with little time for me needing to tend to the recipe.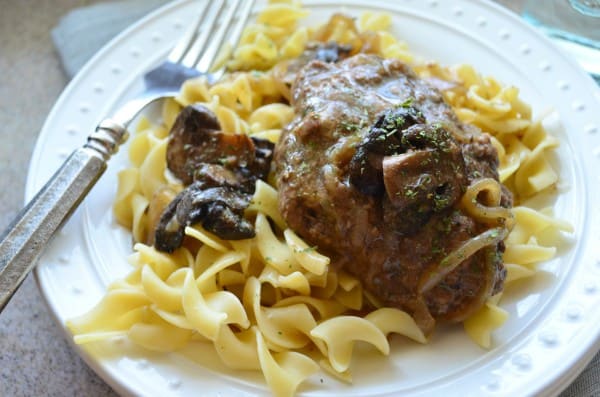 My slow cooker Salisbury Steaks still take time to put together because you still have to mix the ground beef and form the patties. But all the time for searing and flipping and stirring gravy has gone out the window thanks to the slow cooker.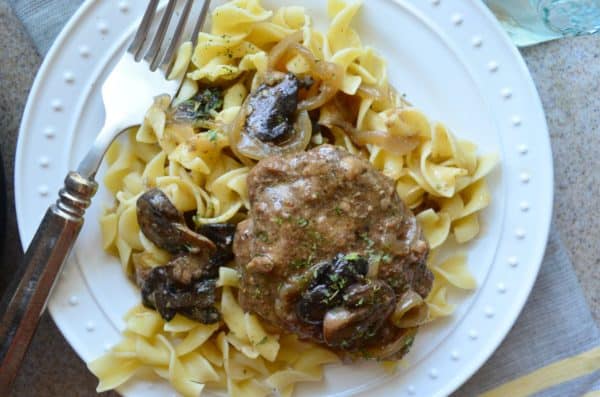 To amplify the flavor I add slices of baby bella mushrooms and onions on the bottom of the slow cooker followed by the meat. Then you make the simple gravy mix and pour that on top. Close the lid and set it for high for 4 hours. I just want to note that I have not tested this recipe on low for 8 hours, but I'm sure it would be fine.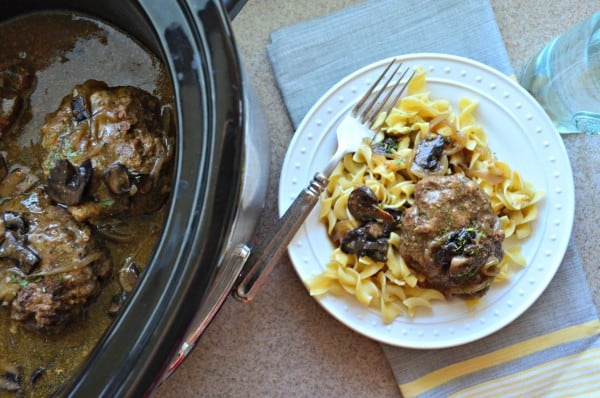 I'm so happy that my slow cooker version worked out and tastes just as good as the skillet version. The only difference is that your missing the crispy seared edges of the steak. So if you like that you could always sear in a pan for a few minutes before putting the meat in the slow cooker. I also used an oval shaped 6 quart slow cooker.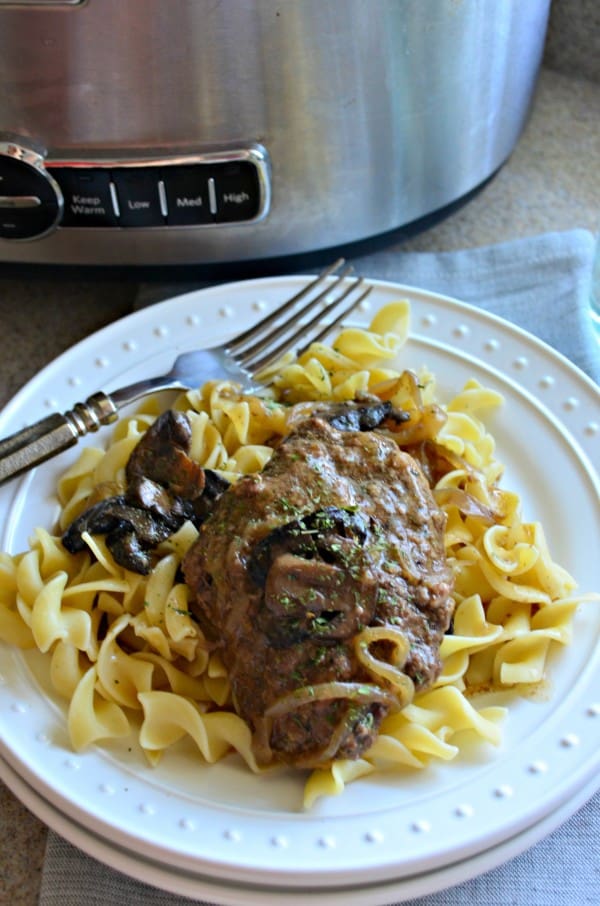 I was able to get 6 patties in my slow cooker without having to stack the patties. If you need to stack I would use a layer of onions and mushrooms in between to prevent sticking. I also did a cardinal sin and removed the lid half way through the cooking process to flip the steaks. I know what your thinking… this just took a half an hour off your cooking time. I promise the steaks still turned out great! So if your looking for the ultimate comfort food I invite you to try my Slow Cooker Salisbury Steak recipe!