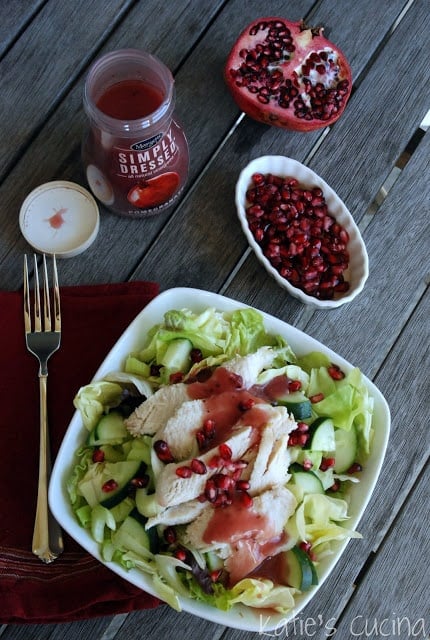 I still have leftover turkey, and what better way to use up the last of my turkey than make a delicious salad. Especially after we can all admit we have probably eaten more in the past week than we normally do on average. I was craving to eat healthy yesterday, and I felt so good after I ate a small bowl of turkey soup and a large salad! What made my salad so special was not only the fresh pomegranate seeds and leftover turkey, but the new Marzetti® Simply Dressed® Pomegranate Salad Dressing that was drizzled over my salad!
Let's talk about the new Marzetti® Simply Dressed® Pomegranate Salad Dressing. I'm in love with this dressing. It's smooth texture is achieved from the simple ingredients used such as extra virgin olive oil, canola oil, and sea salt to name a few. Best of all the Marzetti® Simply Dressed® Pomegranate Salad Dressing is gluten free! My cousin who is in town for the holidays was able to have a salad with me! I can honestly say I'm in love with this salad dressing.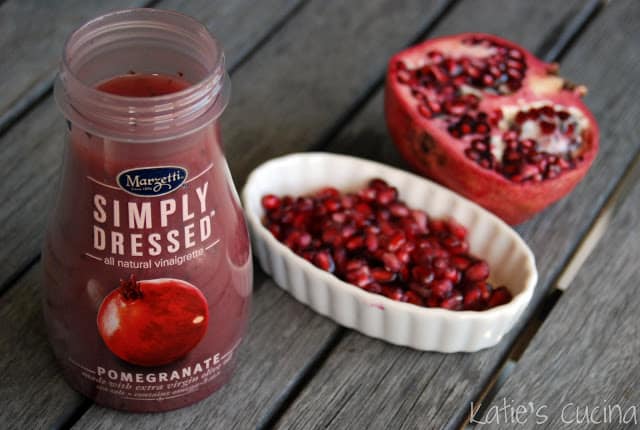 I love it's sweet taste and hints of pomegranate. The best way to describe it is more sweet than tart like a pomegranate. This salad dressing compliments turkey well and if your tired of eating turkey this is a great way to mix it up and make your turkey taste different in a good way! This salad dressing is not available at all retailers. Make sure you go on the website to see where the closest store to you is. I had to drive to a nearby grocery store that I normally don't shop at to get this dressing; however, it was totally worth it, and then some. I'm ready to make the drive again and stock up on the other varieties within the Simply Dressed® line!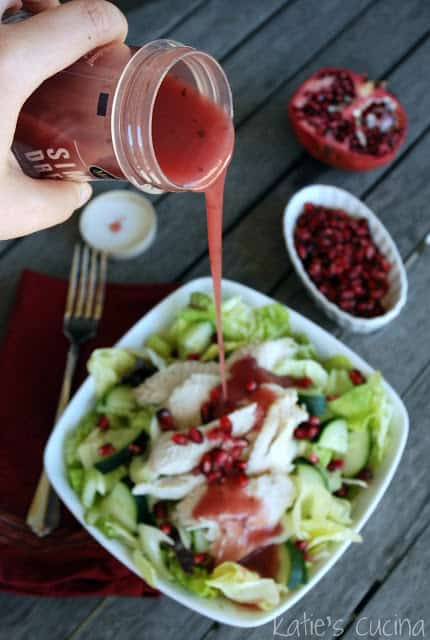 Pomegranates are in season right now and are very affordable in the United States. Pomegranates are still a new fruit to me, so I'm learning how to open to properly and cultivate the seeds! I simply cut the pomegranate in half; however, the proper way to open a pomegranate is to score the outside of the skin and peal back the skin. Then, take the pomegranate seeds and pulp and place them in a bowl of water. As you begin to break up the seeds and pulp the pulp should float to the top. Once all the pulp is removed you can then begin to reserve the seeds! I hope this helps if you are new to pomegranates!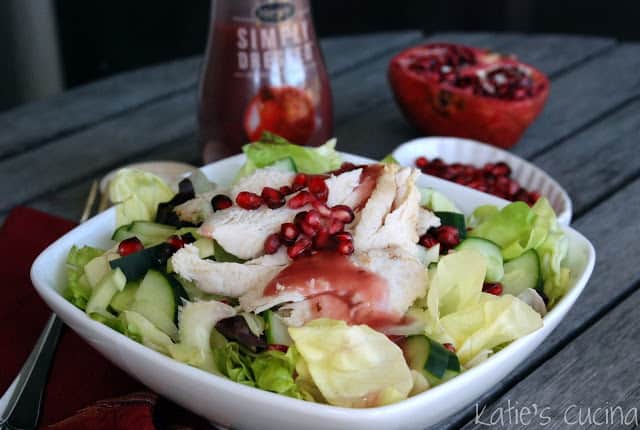 So, do you think you'll use the rest of your turkey leftovers to make this delectable salad? What about trying this new dressing or any of the other 11 flavors that are out? I plan to make a few more dishes during the month of December with the new Marzetti® Simply Dressed® Pomegranate Salad Dressing, and of course a few more amazing salads like this one!


Source: Katie Original
Prep Time: 10 minutes
Servings: 1 large salad or 2 side salads


Ingredients:
½ bag of butter lettuce
¼ cup celery, sliced
¼ cup cucumbers, quartered
2 tablespoon pomegranate seeds
½ cup cooked turkey
Marzetti® Simply Dressed® Pomegranate Salad Dressing


Directions:
1. Place chopped butter lettuce in a large bowl. Slice celery and quarter/dice cucumber. Add to lettuce bowl.


2. Cut pomegranate in half, and remove seeds from one side of the pomegranate. Rinse seeds and reserve to the side.


3. Place turkey on top of salad followed by 2 tablespoons of pomegranate seeds, and drizzle Simply Dressed® Pomegranate Salad Dressing on top of salad. Serve and eat immediately.


I was one of the bloggers selected by T. Marzetti Company and Clever Girls Collective to host a Marzetti Simply Dressed review. They provided me with product to test myself and compensation for my time. However, my opinions are entirely my own.