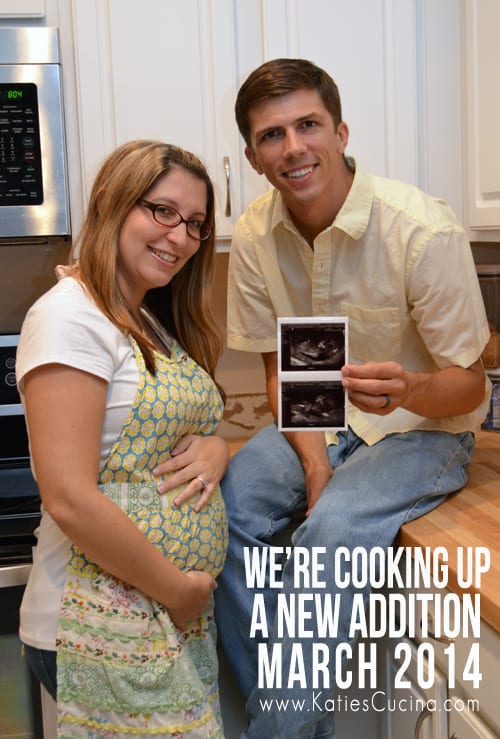 I know I've been pretty absent over the past few months and I have a great excuse…
We're cooking up a new addition… my husband Jon and I are expecting a baby in March! We've been married for 5 years and the announcement is one that everyone has been waiting for. Now that I'm in my second trimester I feel safer about announcing to the world. Plus I wanted, my readers to know why I've been a little absent lately.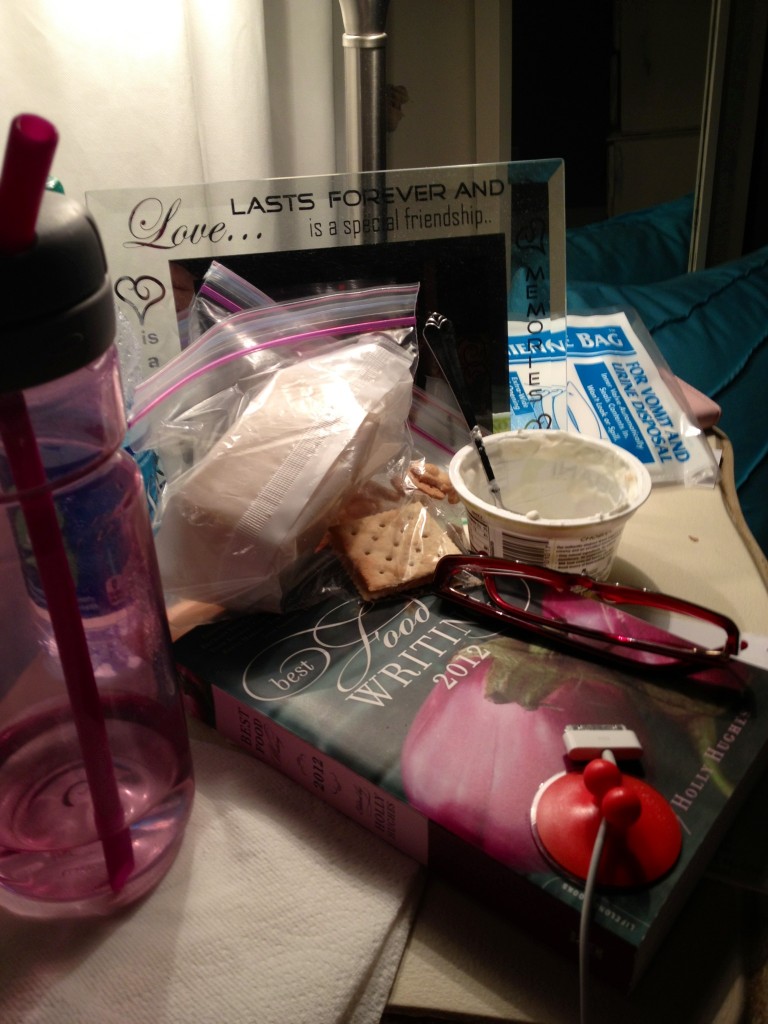 I don't think that anyone could have prepared me for what the past 15 weeks have been filled with. No book, no friend, no family member… when people would warn me I would scoff (in my head) and think do these people not know me? I'm like the energizer battery. Well… I've had 1% energy over the past almost 4 months. Although I'm happy to report that I feel like I have 20% energy now.
The above photo is what my nightstand has looked like over the past few months. Although… I've not read an ounce of my food writing book. The non-stop 24-7 nausea hit me at about week 5 (right during the Food & Wine conference I attended this summer). It was also a bummer because they had amazing food and all I wanted was comfort food (like mashed potatoes, and more potatoes, and some veggies). And they definitely tempted me with lots of tuna tartar, fresh sushi, and luscious drinks. But… at the same time I some what didn't have any desire to eat it. Funny how that works. Saltines were my best friend over the past 10 weeks. I did get on a teddy graham and cheez-it crackers kick for a few weeks and then got really sick of them and now can't stomach it.
I can not tell you how much Chobani I've consumed over the past 3.5 months. Every morning my loving husband makes me a smoothie that consist of apple Chobani, strawberries, banana, and spinach. Then for a mid morning snack I have a Chobani, and most night as my snack before bed (because you have to eat before bed–or at least I have to eat before bed or I get sick during the night) I have another Chobani… 3 greek yogurts every day! We have a full shelf dedicated to CHO!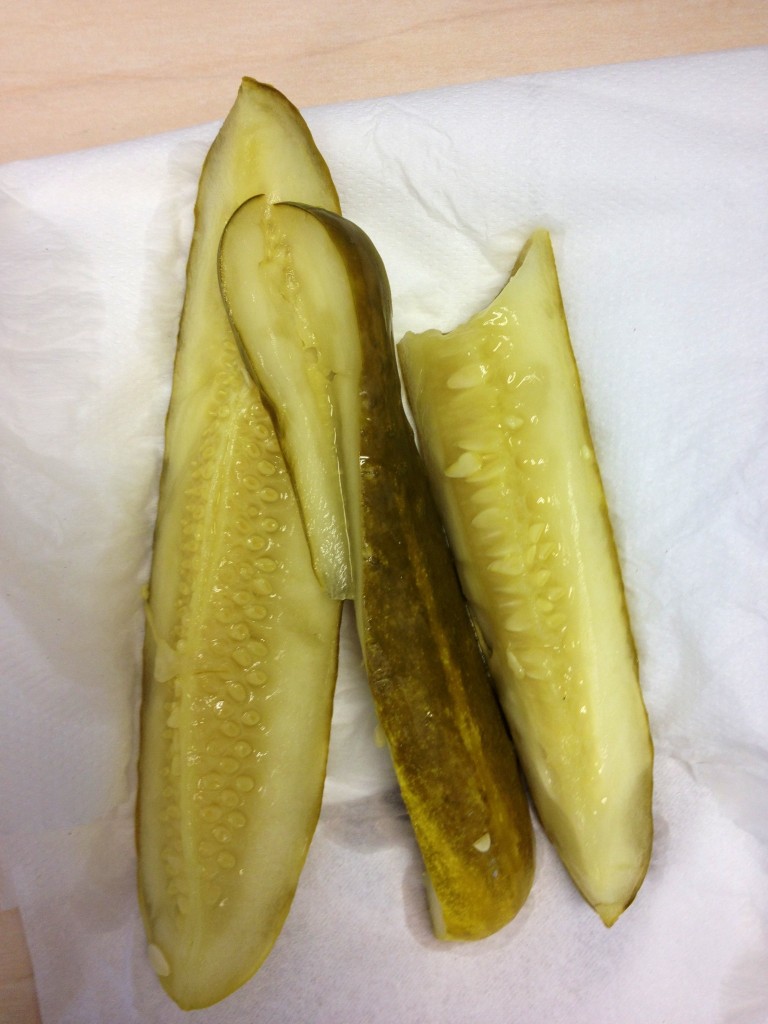 I haven't had too many food cravings. I mean I've always LOVED pickles but now when I smell them I can't eat just one or two. I need like five or six. Lucky for me, my office has a lot of catered lunches and typically we have lots of pickles left over… so you can find me in the break room picking up a handful of pickles.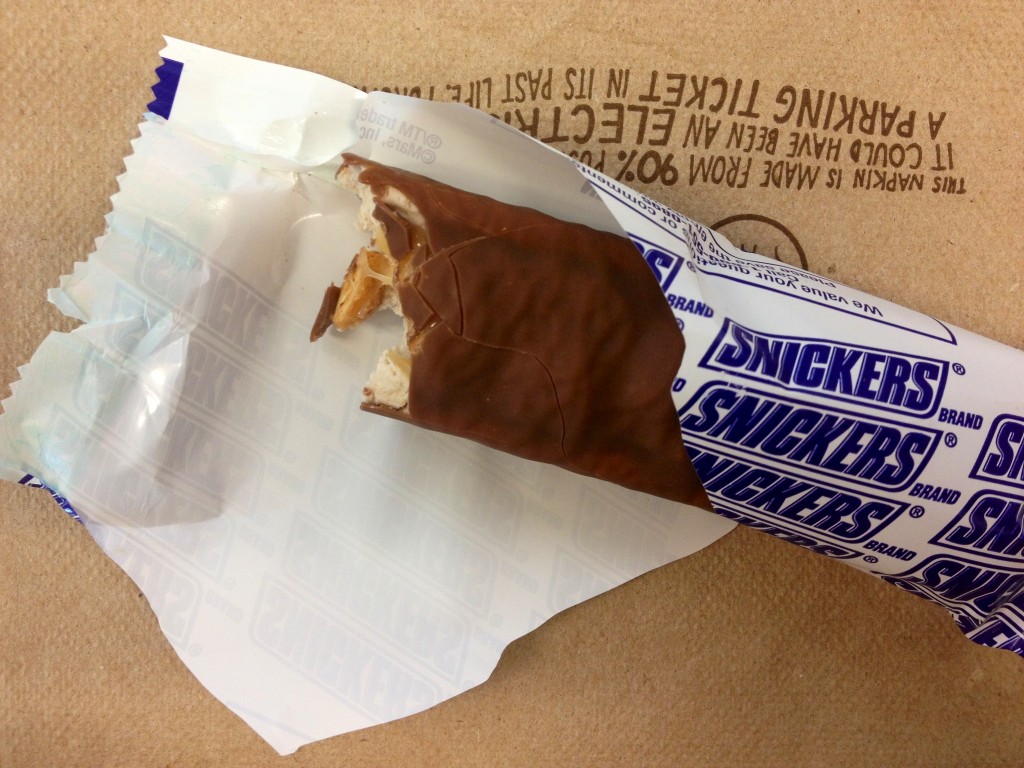 Lately, I've been on a sweet quick. I'm not going overboard but I definitely get the craving and I need something sweet. Its not like I eat sweets morning noon and night, I just need something to satisfy my sweet tooth. Typically, if I have something sweet once a day I'm satisifed. I may or may not have bought a box of Ice Cream Snickers bars to have in my office freezer for an afternoon snack. Oh, and I'm totally obsessed with Mini Double Caramel Magnum Ice Cream Bars.
I'm also eating all things Mexican! I've been on the shredded chicken taco train lately with lots of fresh salsa. I'm making a few batches of fresh salsa each week (although it doesn't agree with the heart burn that has already started, but its delicious so I eat it and suffer later). I use to be able to do lots of spicy food, but after trying a little spicy I soon found out that it was stronger than I ever could have imagined… so all my mexican food has been sans spicy!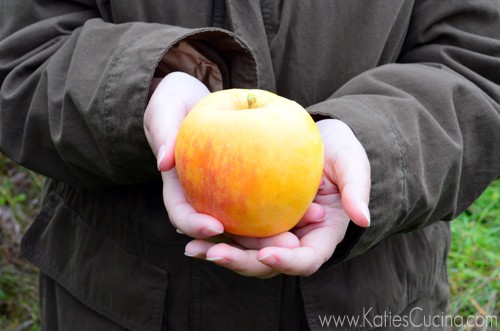 The other thing I've been digging is a lot lately is fresh veggies like cucumber slices and carrots and apple slices (not all at the same time). Which the apples are very appropriate since I just visited Washington state last weekend and learned all about apple harvesting and the process. Even more appropriate since my little baby is the size of an apple this week!
So… in a nutshell. That's why its been a little quieter around here lately. I don't know if I'll share a lot about my pregnancy on Katie's Cucina. I am adding a tab called "Katie's Bambino" that will deal with all things baby. If you want to keep up, hop over to my DIY blog Sew Woodsy where I know I'll be sharing a bit more.
Disclaimer: None of these brands know I'm writing about them… its just what I've been eating lately.