This post is brought to you by World Market.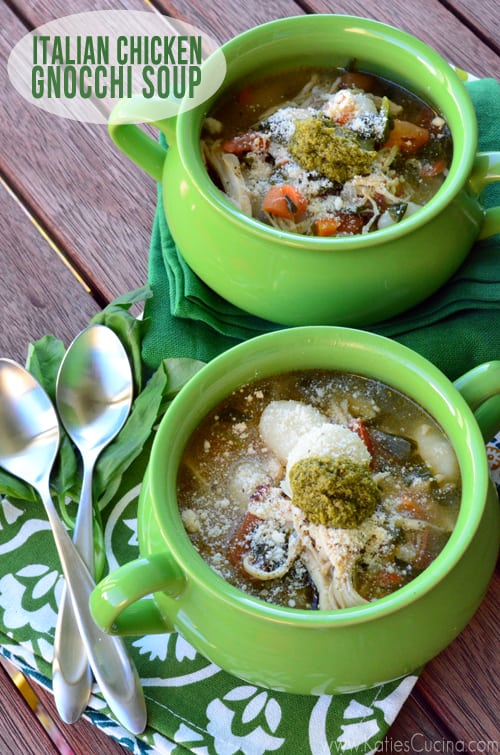 You guys know how much I love World Market. I mean who doesn't love to shop their? I can spend hours on end between the home decor and the large gourmet food and drink section. Oh, and if my husband comes along I'm bound to buy a half dozen different craft beers. Today, I'm sharing my recipe for Italian Chicken Gnocchi Soup! As the weather starts to get cooler many Americans run to the kitchen to make a big pot of comforting soup.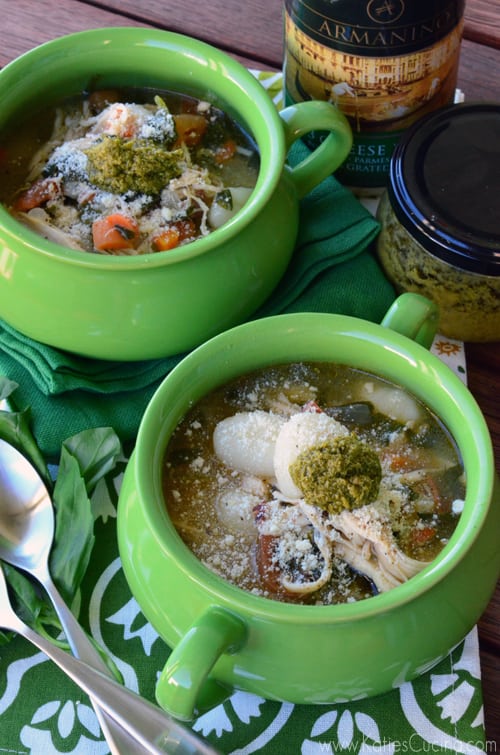 Gnocchi in a soup? I had the idea brewing in my head for quite some time, and upon returning home from Washington I knew exactly what would make this Italian-style chicken soup stand out. My secret ingredient, salami! I don't know why, but it never occurred to me to add it to soup. On my first night in Washington we ate at a vineyard. I had a bowl of the orzo and salami soup. It was delicious and packed full of flavor. To be honest, I wasn't sure what to expect when I first ordered it. Dummy me was thinking it would be large pieces of salami floating in the soup. Nope–nothing like that. It was tiny little diced up pieces of salami. It gave the soup so much depth, and its exactly what it did to my soup here today.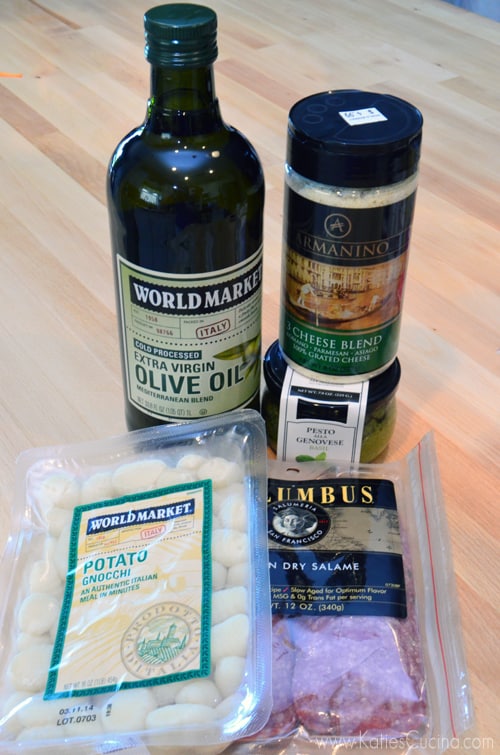 So while, I was visiting Cost Plus World Market I picked up a few key Italian food ingredients to make Italian Chicken Gnocchi Soup. I picked up a package of World Market® Potato Gnocchi, Columbus Italian Dry Sliced Salame, pesto, World Market® 1-liter bottle of Extra Virgin Olive OIl, and Armanino 3 Cheese Blend Grated Cheese. With just a few of these tasty ingredients one amazing pot of soup was born, and best of all. This soup only takes 30 minutes!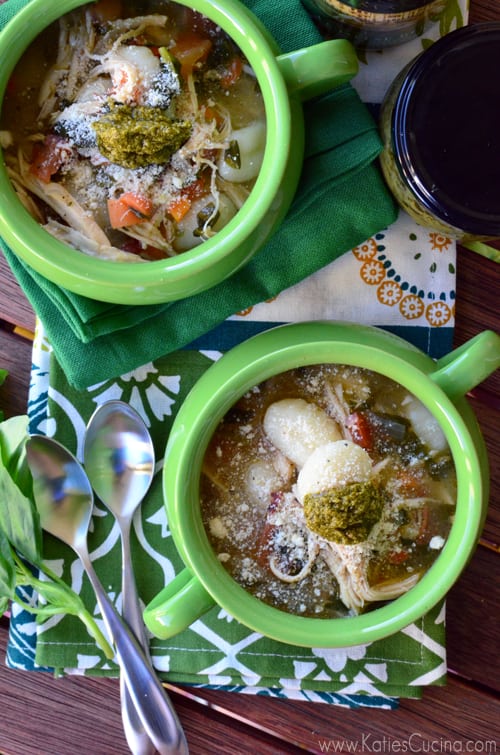 Katie Original Recipe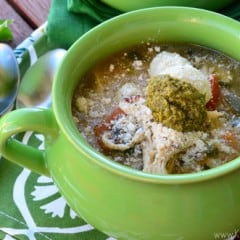 Ingredients
1

tablespoon

World Market® Extra Virgin Olive OIl

10

slices

Columbus Italian Dry Sliced Salame

diced

½

cup

chicken fat juices

from rotisserie

½

cup

carrots

diced

½

onion

diced

1

tablespoon

minced garlic

3 32 oz boxes of low sodium chicken broth

2

cups

shredded cooked rotisserie chicken

2

plum tomatoes

diced

2

cups

fresh spinach

chopped

1

package World Market® Potato Gnocchi

Garnish with Armanino 3 Cheese Blend Grated Cheese & a spoonful of pesto
Instructions
In a large stock pot, on medium heat add olive oil and diced salami. Cook for 2 minutes, stirring frequently until crispy. Then add ⅓ cup chicken fat juices (*if you don't have the juices from the chicken you can substitute with chicken broth), diced carrots, onions, and minced garlic. Cook on 5 minutes then add ½ cup of chicken broth.

Add 2 cups shredded chicken, plum tomatoes, and spinach. Mix well and add all the chicken broth to the stock pot. Place lid on top and bring to a boil (about 5 minutes). Then add the package of gnocchi to the pot. Cook gnocchi for 5 minutes. Ladle soup into bowls and top with grated cheese and a spoonful of pesto.
Notes
*The salami will make this dish salty. This recipe has been tested with both low sodium chicken broth and regular chicken broth. If you are ok with salty you can use regular chicken brother, although it tastes better with the low-sodium variety.
*I purchase my rotisserie chicken at Costco and drain the fat at the bottom of the container to use for later use for soups and stews. Not all rotisseries come with the fat/juices.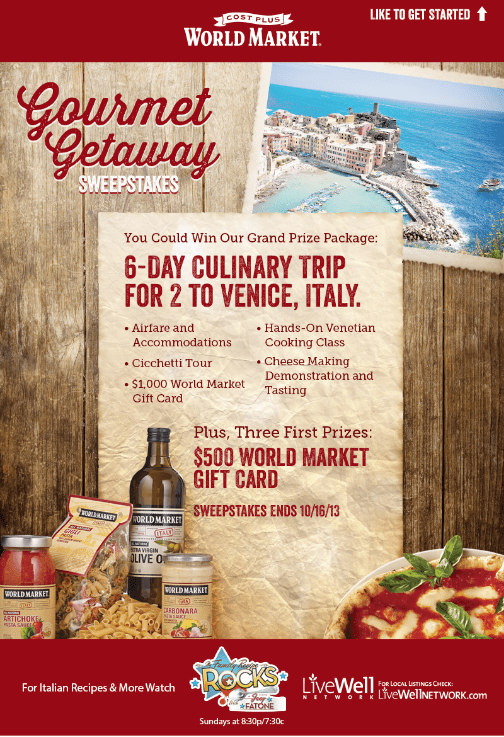 Cost Plus World Market has partnered up with the Live Well Network and their hit show My Family Recipe Rocks hosted by Joey Fatone. My Family Recipe Rocks features amazing hometown cooks across America! Joey Fatone and his crew are cooking up old family recipes, new homegrown dishes and meeting the people behind this great food in their own kitchens.
Get social with World Market on Facebook, Twitter, Pinterest, Instagram & Tumblr.
Disclaimer: I received gift cards to create this recipe and share about the Gourmet Getaway sweepstakes. As always all opinions are my own.