Sesame Ginger Ahi Tuna Steaks
Make these restaurant quality Sesame Ginger Ahi Tuna steaks at home and in minutes! 
I know a lot of people are intimidated by making fish at home. I'm constantly answering questions on how to cook fish perfectly. Sadly, I don't have a great answer for it because I just know… and I haven't figured out exactly how to explain it without showing. But one thing I have perfected is cooking ahi tuna.
We love ordering ahi tuna steaks when we go out to eat. But since we rarely go out to eat any more I've decided to start cooking it at home. After a few attempts I've finally perfected these Sesame Ginger Ahi Tuna Steaks. The key is to make the sauce ahead of time and then season the tuna steaks well with salt and pepper.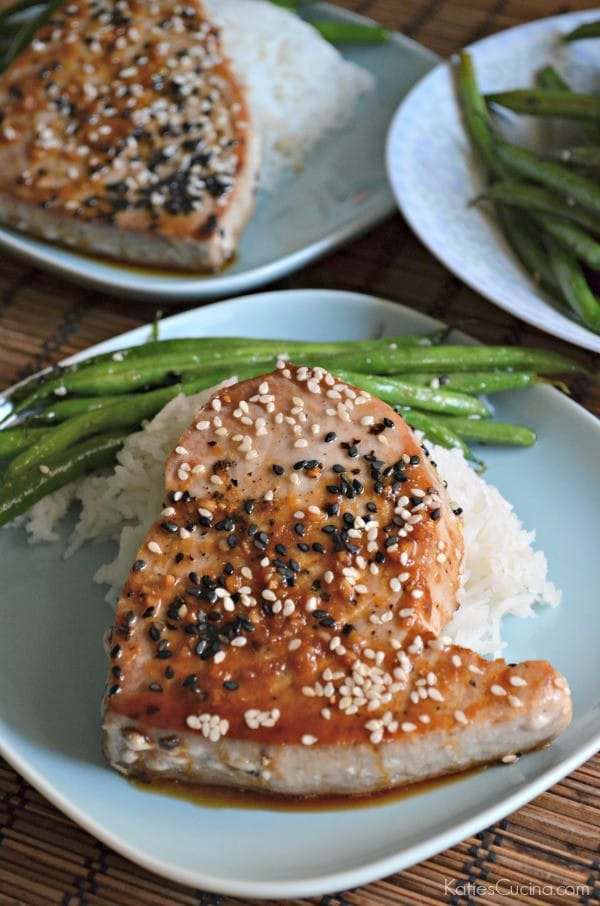 You will only cook these for just a few minutes so having the sauce prepared before you cook the steaks is key. Then during the last minute of cooking you'll pour just a little bit of the sauce on top of the steaks. Let it cook into the steaks and then pour the additional sauce once the steaks are plated. Sprinkle with both black and white sesame seeds and dinner is served. This has been one of my quickest meals to get on the table to date. As long as my husband is home and playing with the baby I can have our entire dinner on the table in less than 20 minutes. The rice is what takes the longest to cook. Stay tuned, I'll share the honey ginger green bean recipe on Friday.
Sesame Ginger Ahi Tuna
Yield: 2
Prep Time: 5 minutes
Cook Time: 3 minutes
Total Time: 8 minutes
Ingredients:
2 tablespoons soy sauce
1 tablespoon sesame oil
2 teaspoons brown sugar
2 teaspoons minced garlic
2 teaspoons ginger
1 tablespoon white and black sesame seeds
salt and pepper to taste
2 tuna steaks
Directions:
In a bowl mix together the soy sauce, sesame oil, brown sugar, minced garlic, and ginger. Set to the side.
Rinse and pat dry the tuna steaks. Season with salt and pepper to taste on both side.
Heat a skillet to high heat with the grape seed oil. Place tuna steak in skillet (you should hear a searing sound). Cook 2 minutes, then flip. Spoon half the sauce into the pan during the last minute of cooking. Remove the tuna steaks and plate. Pour the remainder of the sauce over the tuna steaks and sprinkle with sesame seeds, dividing evenly.
Save
Warning
: Use of undefined constant rand - assumed 'rand' (this will throw an Error in a future version of PHP) in
/home/kjasiewicz21/webapps/katiescucina/wp-content/themes/katiescucina/single.php
on line
74
15 Responses to "Sesame Ginger Ahi Tuna Steaks"