Grilled Asian Green Beans and Red Bell Peppers
Looking for a flavorful new grilled vegetable side dish? Try my recipe for Grilled Asian Green Beans and Red Bell Peppers!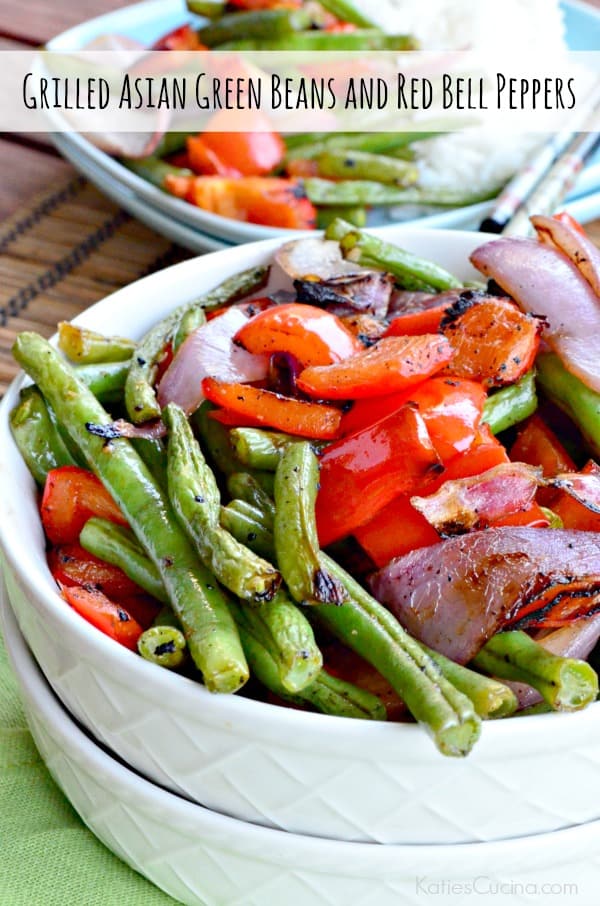 If you are a regular reader of Katie's Cucina you know I love to grill. I'm not intimidated of grilling I've learned to embrace it. Living in Florida we grill a lot. Especially when its still 90 degrees out as the rest of the country is finally starting to cool off. I've been making these Grilled Asian Green Beans and Red Bell Peppers all summer long. I've refined the recipe over the summer and finally took the time to photograph this delectable grilled side dish. I prepped all the veggies, placed them in a gallon-size ziplock baggie and poured in all my seasonings. Sealed it up, mixed the veggies using my hands on the outside of the bag and let it sit until I was ready to grill dinner. You can even prep this in the morning, place it in the refrigerator and when you get home from work your side dish is already ready for you.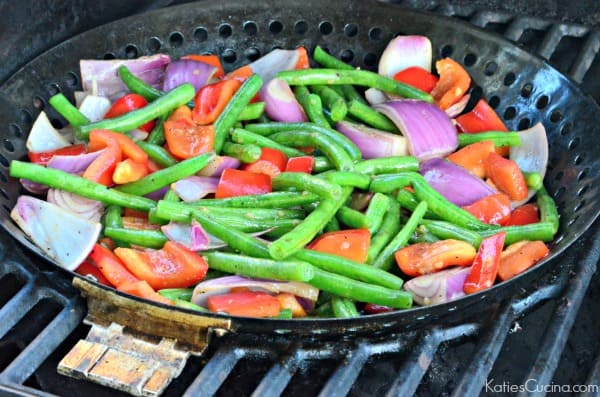 I love my STOK® grill. I love that my grill has interchangeable grill inserts. I typically grill chicken on the traditional grill grate and then throw in some veggies into the vegetable basket at least once a week.  This is what the green beans, red bell peppers and red onion looked like as I poured my zip lock baggie full of veggies into my vegetable basket.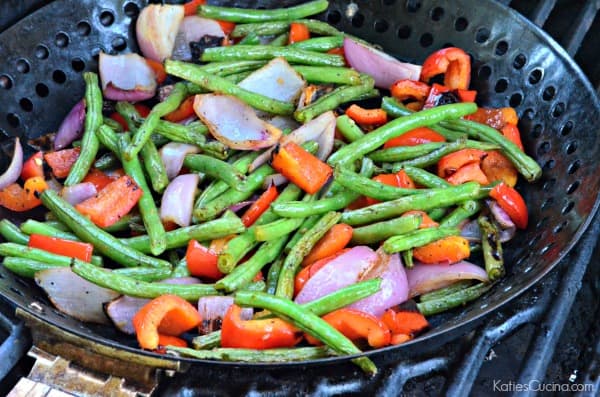 Just 10-15 minutes later this is how my veggies looked. Nicely cooked with little grill bits. The green beans were still al dente and crisp. The bell peppers and red onions were sweet in taste. I now love grilling green beans! Who would have thought to grill green beans?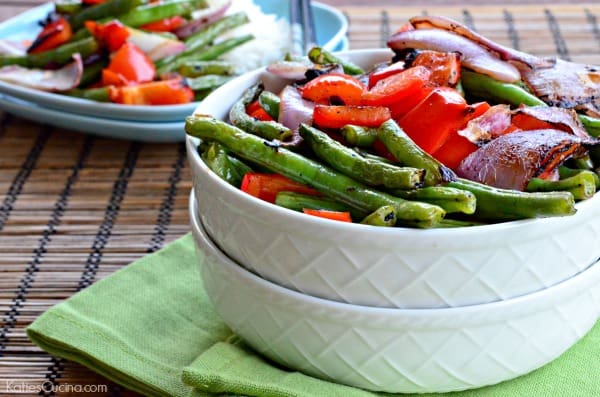 Katie Original Recipe
Grilled Asian Green Beans and Red Bell Peppers
Ingredients
1 lb. Green Beans, trimmed
1 Red Bell Pepper, chopped
1 Red Onion, sliced
1 tbsp Sesame Oil
1/2 tsp Salt
1/4 tsp Black Pepper
1 tbsp Soy Sauce
1 tbsp Minced Garlic in Water
Directions
In a large gallon bag, place green beans, red bell pepper, and red onion in the bag. Then add in the sesame oil, salt, black pepper, soy sauce, and minced garlic. Seal bag and mix with hands in the outside of the bag.
Heat the grill to medium-low heat (should be at 350 degrees Fahrenheit). Pour the vegetables into a vegetable grill basket and cook for 10-15 minutes, stirring occasionally. Remove from heat and serve immediately.
https://www.katiescucina.com/grilled-asian-green-beans-red-bell-peppers/
This recipe is brought to you by Katie Jasiewicz of Katies Cucina
Warning
: Use of undefined constant rand - assumed 'rand' (this will throw an Error in a future version of PHP) in
/home/kjasiewicz21/webapps/katiescucina/wp-content/themes/katiescucina/single.php
on line
74
6 Responses to "Grilled Asian Green Beans and Red Bell Peppers"