Blueberry Cheesecake Ice Cream + KitchenAid / King Arthur Flour Giveaway

Are you ready for ice cream today? What about Blueberry Cheesecake Ice Cream? I love cheesecake and I love ice cream so why not mix the two together to get one amazing ice cream flavor?  I'm still finding blueberries for a very good price down south, so while they are at a great price I cook with them… a lot! I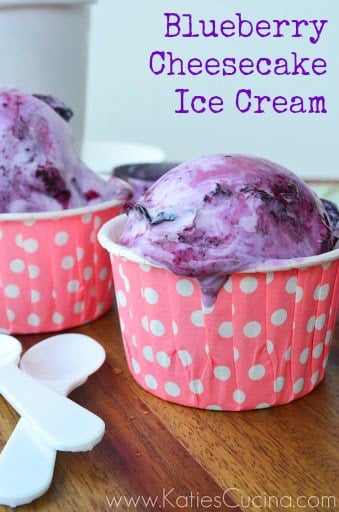 I've been experimenting in the kitchen and have recently figured out how to make small batch ice cream that tastes amazing. This Blueberry Cheesecake Ice Cream recipe is only for one pint! That's it. It does take a little prep work, but totally worth it in the end. You'll want to plan a little bit ahead of time and make the blueberry compote that you'll stir in towards the end of the churn. This Blueberry Cheesecake Ice Cream does not have an egg-base. It's all heavy whipping cream, whole milk, and cream cheese! This is a soft and fluffy ice cream that will melt in your mouth!
As most of you know the only way I've ever been able to make ice cream is with my KitchenAid Ice Cream attachment. Making ice cream is a breeze with this attachment. If you own the Stand Mixer you really need to make the investment (or enter our giveaway below) and get this Ice Cream Attachment!
Katie Original Recipe
Blueberry Cheesecake Ice Cream
Ingredients
1/2 cup blueberries
1 tbsp water
1/4 cup white sugar
3 tbsp whipped cream cheese
1/2 cup white sugar
1/2 cup heavy whipping cream
1/2 cup whole milk
1/4 tsp vanilla extract
Directions
For the compote, in a small sauce pan add the blueberries, water, and white sugar to the pan, mix well and cook for 5 minutes on high and then 10 minutes on medium-low. Refrigerate for at least 1 hour.
Combine the whipped cream cheese and white sugar in a blender and blend for 15 seconds. Then add the heavy whipping cream, whole milk, and vanilla extract. Blend for an additional 15 seconds. Pour the milk mixture into a KitchenAid Ice Cream attachement and churn for 15 minutes (if using another ice cream unit follow manufacturers directions). During the last minute of churning add in one tablespoon of the blueberry compote. Once the ice cream is done begin scooping ice cream into a container. Fill half way and pour half of the compote into the container. Lightly mix and then add the remaining ice cream and blueberry compote and mix again. Eat immediately or freeze for up to one week.
https://www.katiescucina.com/blueberry-cheesecake-ice-cream/
This recipe is brought to you by Katie Jasiewicz of Katies Cucina
Here are more Frozen Treat Week recipes:
Lavender Lemon Curd Frozen Yogurt from Nutmeg Nanny
Peanut Butter Cup Ripple Ice Cream from Eats Well With Others
Elvis Frozen Bananas from Foodie with Family
Sweet and Sour Cherry Yogurt Pops from The Baker Chick
Peanut Butter Cup Ice Cream Pie Recipe from Cook the Story
Coconut Hibiscus Granita from Cooking with Books
Almost-Instant Healthy Mint Chocolate Chip Soft Serve from an Edible Mosaic
Raspberry and Riesling Sorbet Float from Sweet Remedy
Homemade Cookies & Cream Ice Cream from Chocolate & Carrots
Andes Mint Pudding Pops from Rachel Cooks
Today's giveaway is sponsored by KitchenAid and King Arthur Flour. Two lucky winners will receive one of the two packs. Make sure you fill out the widget below for multiple chances to win.
Disclaimer: I did not receive anything to host this giveaway. Two lucky winners will receive one of the two prize packs. All opinions are my own! 
Warning
: Use of undefined constant rand - assumed 'rand' (this will throw an Error in a future version of PHP) in
/home/kjasiewicz21/webapps/katiescucina/wp-content/themes/katiescucina/single.php
on line
74
34 Responses to "Blueberry Cheesecake Ice Cream + KitchenAid / King Arthur Flour Giveaway"