Looking for an healthy and fun Halloween treat for the kids and adults? Break out some ingredients from the pantry and make my Monster Apple Slices for your next Monster Bash.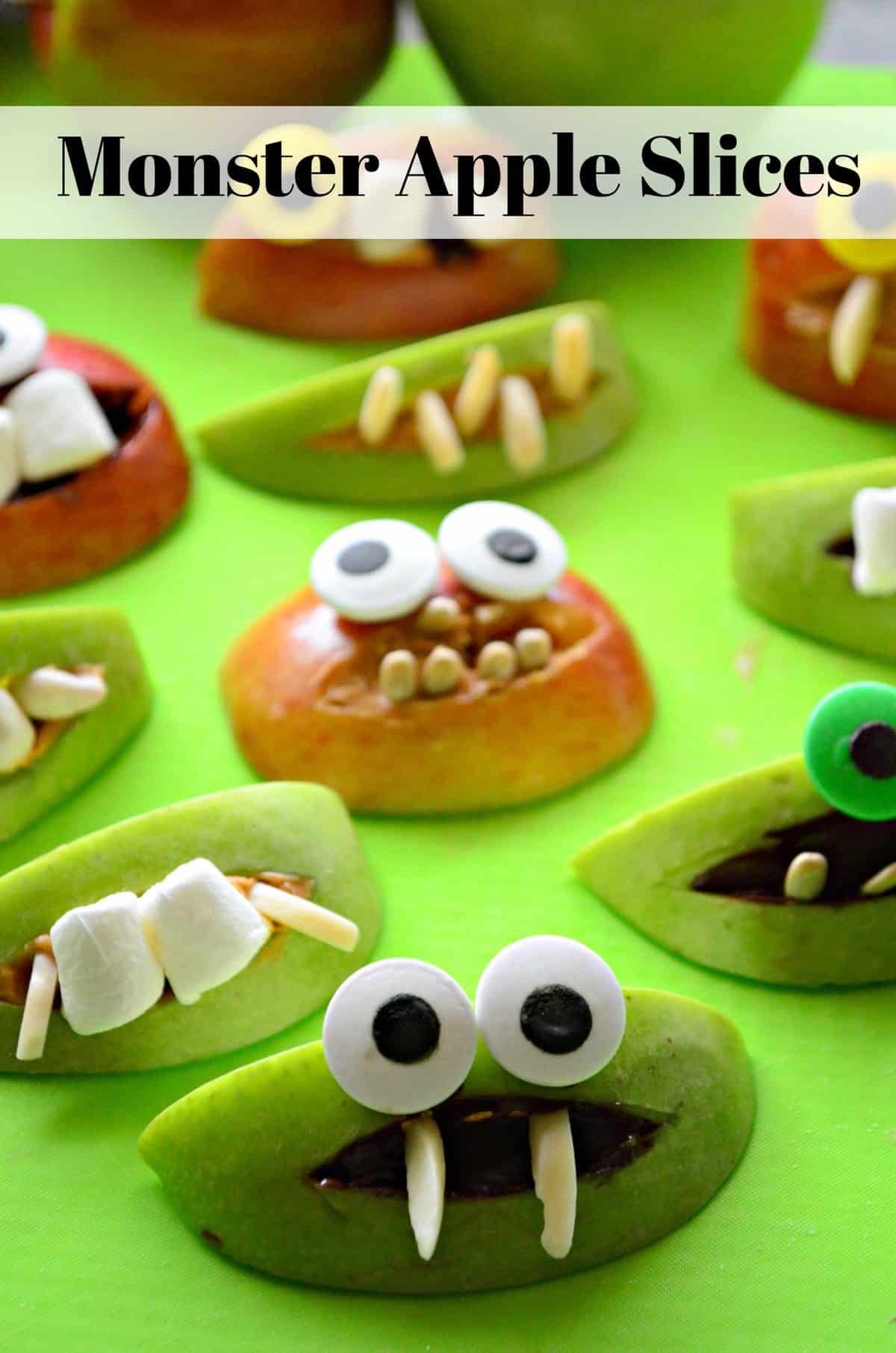 Halloween is one of my favorite holidays. For as long as I could remember, I would start planning my Halloween costume 6+ months out. I'm happy to report that is something I still haven't stopped doing, but now instead of my costumes it's my kids. And yes, you read that correctly with a plural "s". If I can have multiple costumes during a Halloween season I'm so happy! My 3 year old is definitely my kid. He loves Halloween and has also told me what he wants to be months out. He also watches Halloween cartoons and movies year round. So it's only natural I came up with a fun and semi-healthy Halloween themed snack. Don't get me wrong I love candy and all the sweets, but when you have a toddler the last thing you want is to hype them up on extra sugar. They are already hyper enough.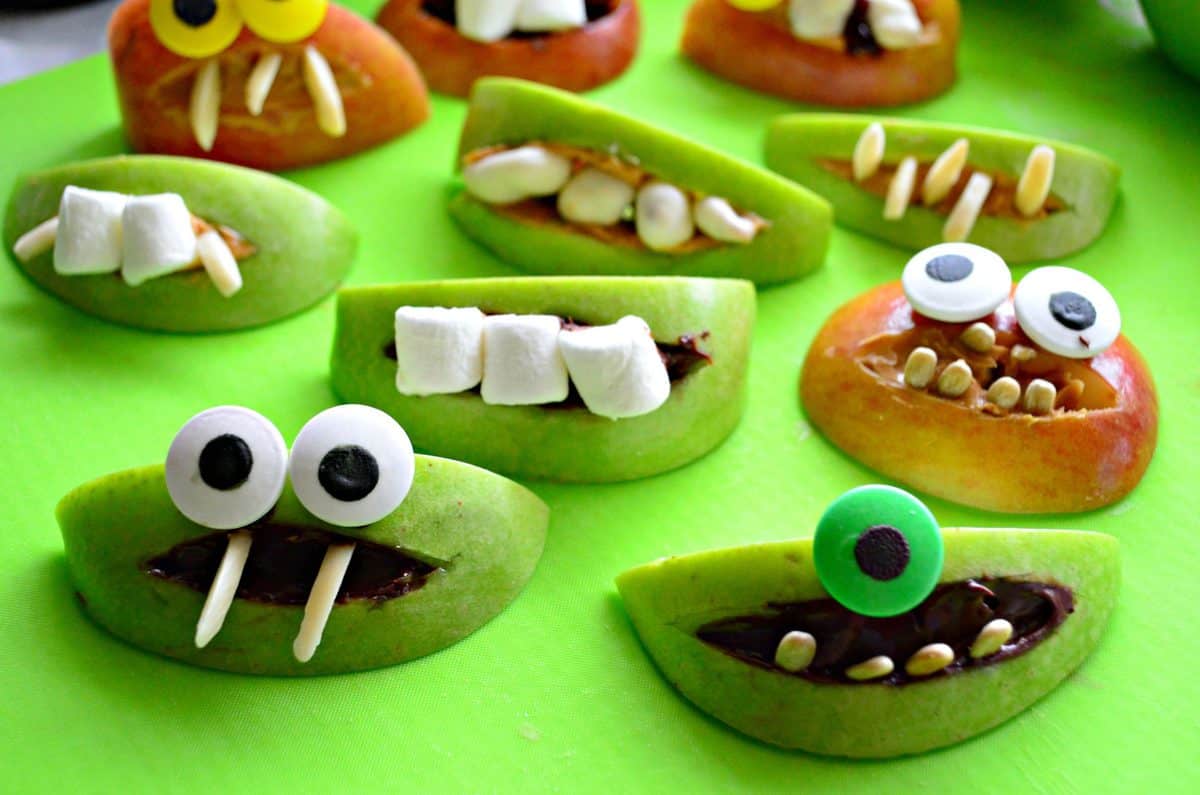 I'm so excited to share today's "recipe". It's hard for me to call these monster apple slices a recipe since their are no actual quantities minus the apples and the lemon juice/water mixture. Everything else all depends on what kind of crazy monster apple slice faces you want to make!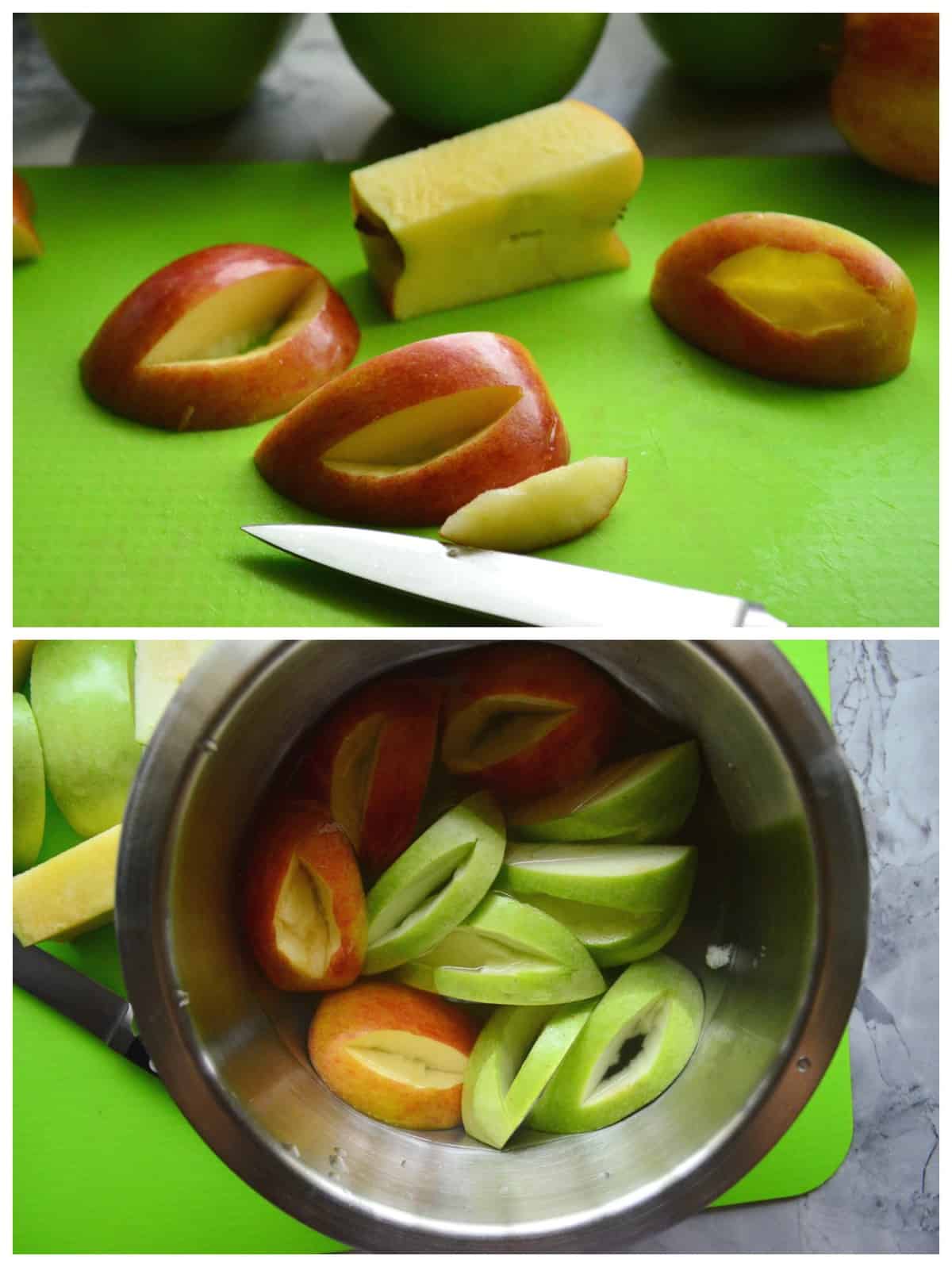 First, you'll want to make the lemon/water mixture. This will help slow down the browning of the apple. I whip this up and set the bowl right next to my cutting board. Then, I cut the apples into quarters, then, depending on the size of the apple I'll cut another slice into the one large apple slice. Using a pairing knife, you cut a mouth like shape into your apples. You can make smaller openings or you cut them in half. Once you have your slice cut, then place them in the water to soak. Before you start making your mouths you'll run them under fresh water and then pat dry each apple slice to remove the excess water off them.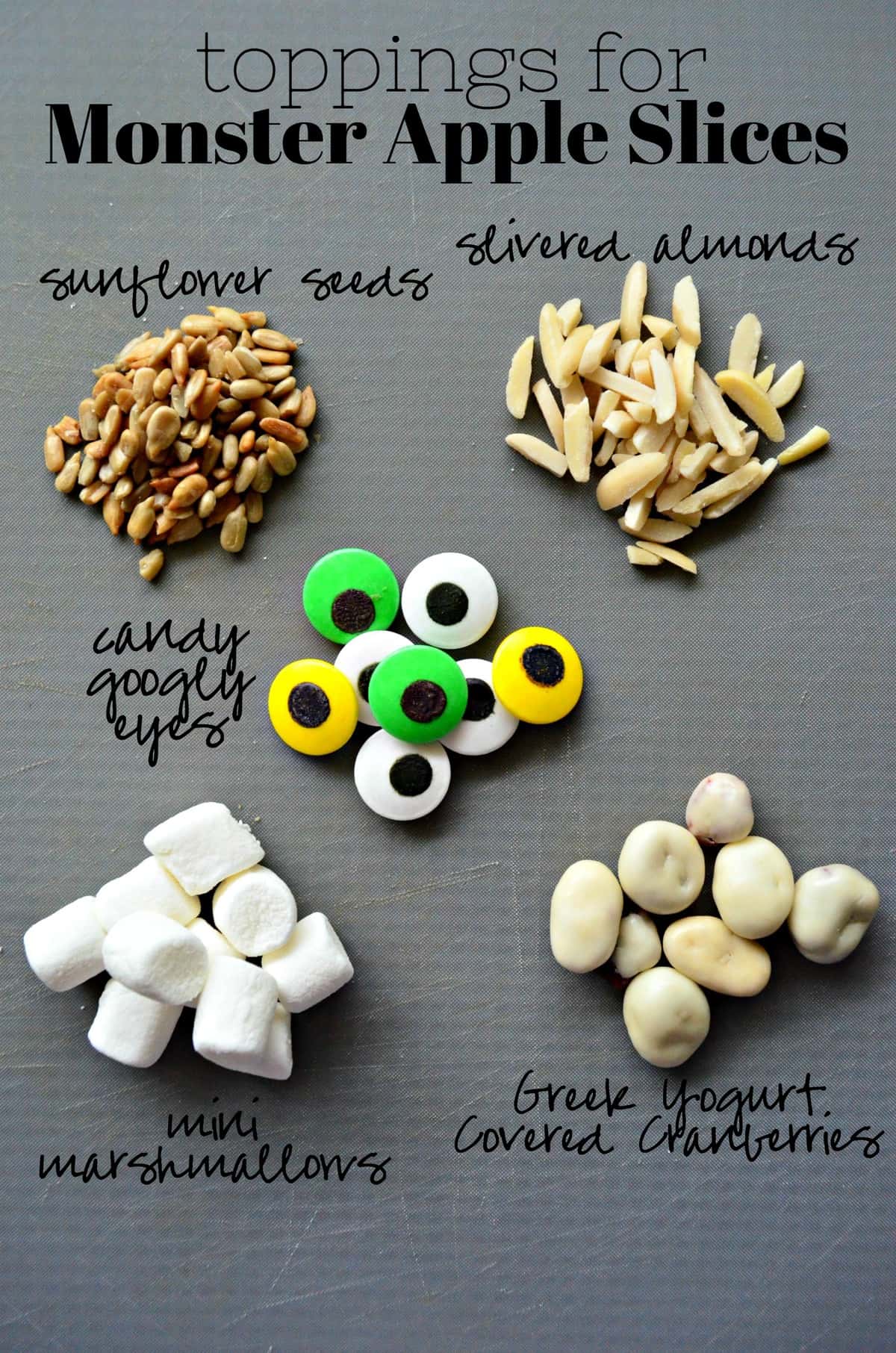 Once your ready to start building your monster mouths you'll smear either a nut butter, hazelnut spread, or even jelly in the inside of the mouth opening. Then place the seeds, marshmallows or even cranberries/raisins in the mouths.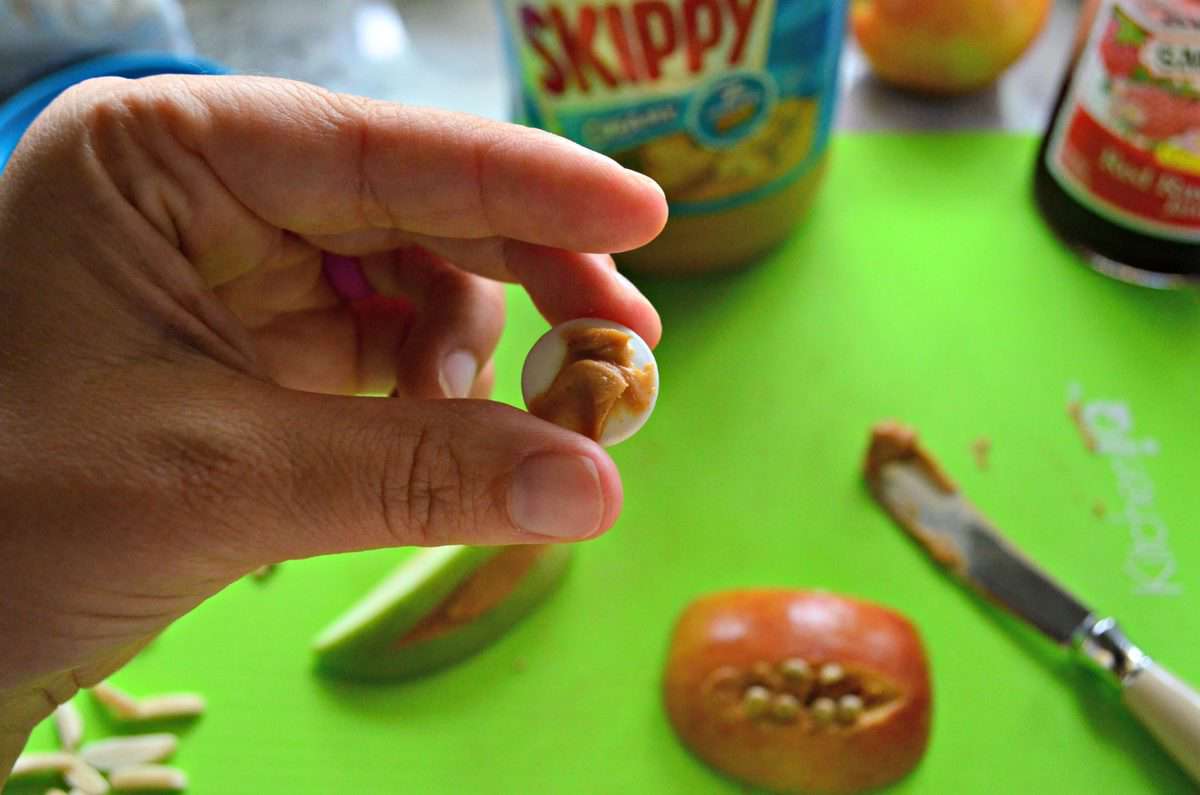 Then you can add on some candy googly eyes to the slices if you'd like. You can find a wide variety of sizes at Michael's craft stores and of course Amazon sells them too! To adhere the eyes on to the apple slices I just smear a little peanut butter or hazelnut spread on the back and then push them on to the apple. You can place one, two, three or however many eyes you want to put on your monster.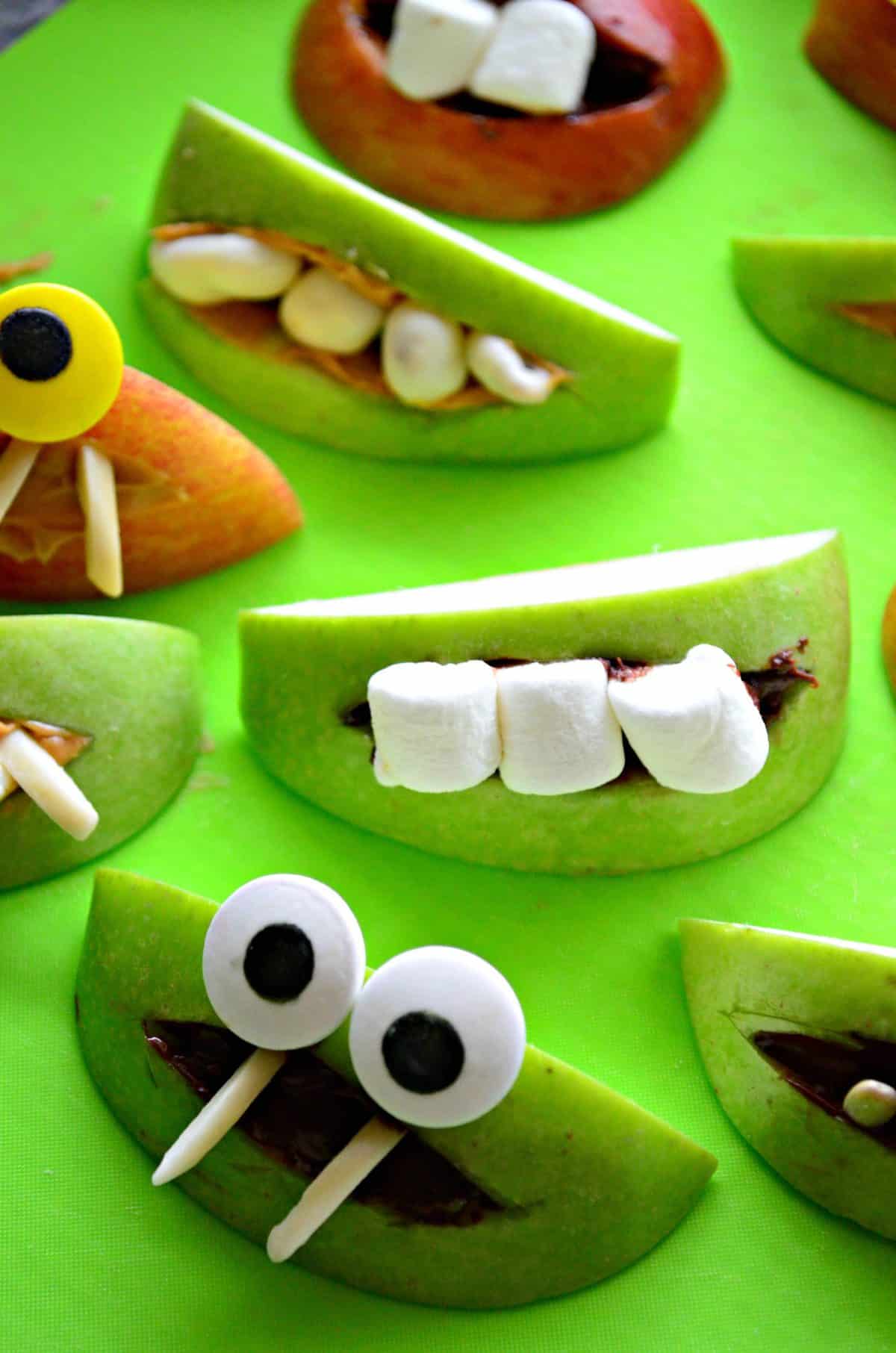 My 3 year old loves these monster apple slices. Of course he always reaches for the marshmallow filled apple slices first so I try to limit those. Because it's officially October I've officially packed one in his lunchbox. His teacher, assistant and all the kids loved them, and of course he was beaming with pride. It's so important we make good food fun to get the next generation excited about eating healthy. Even if you don't have kids these are a big hit with the adults, too! If your looking for more fun Halloween inspired recipes check out my blood orange sangria, my string monster cupcakes, and my white chocolate Halloween candy bark.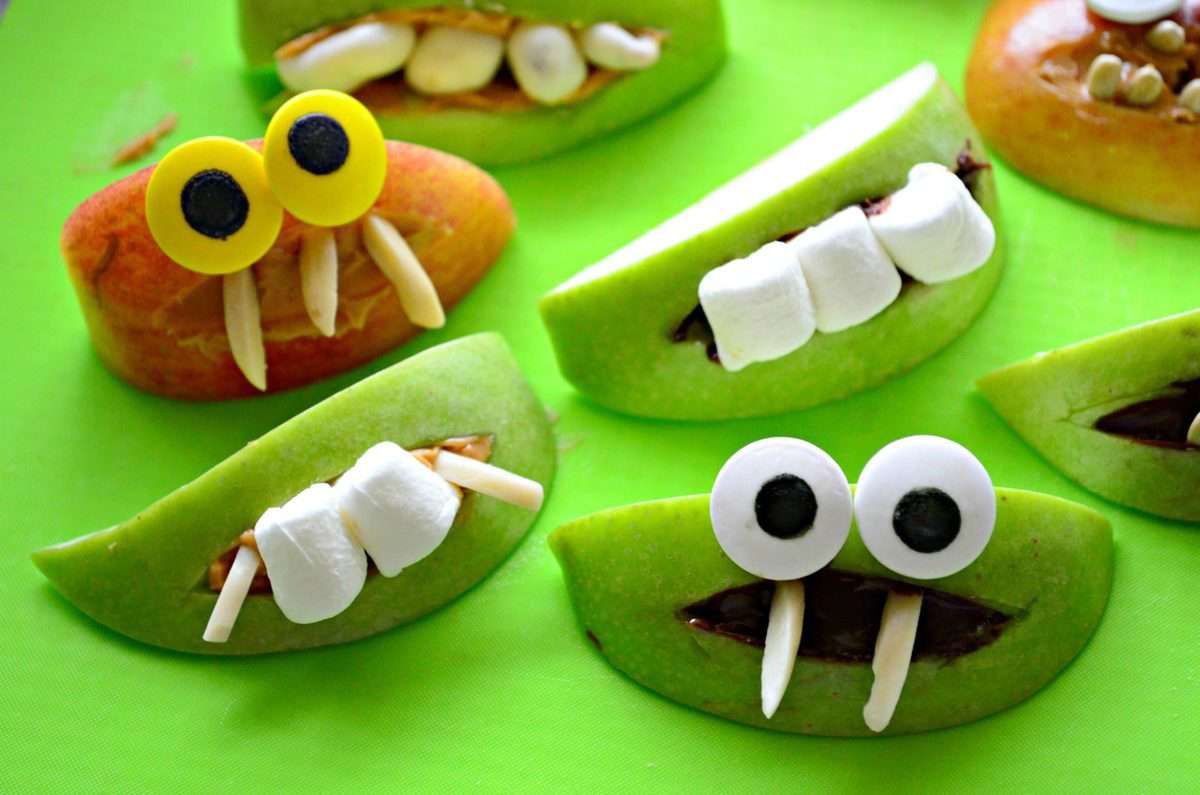 Disclosure: Their are affiliate links in this post. That means if you purchase from the link I will receive a small percentage of the sale at no additional cost to you.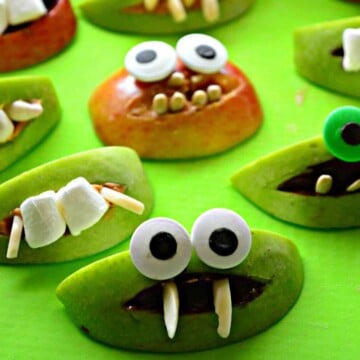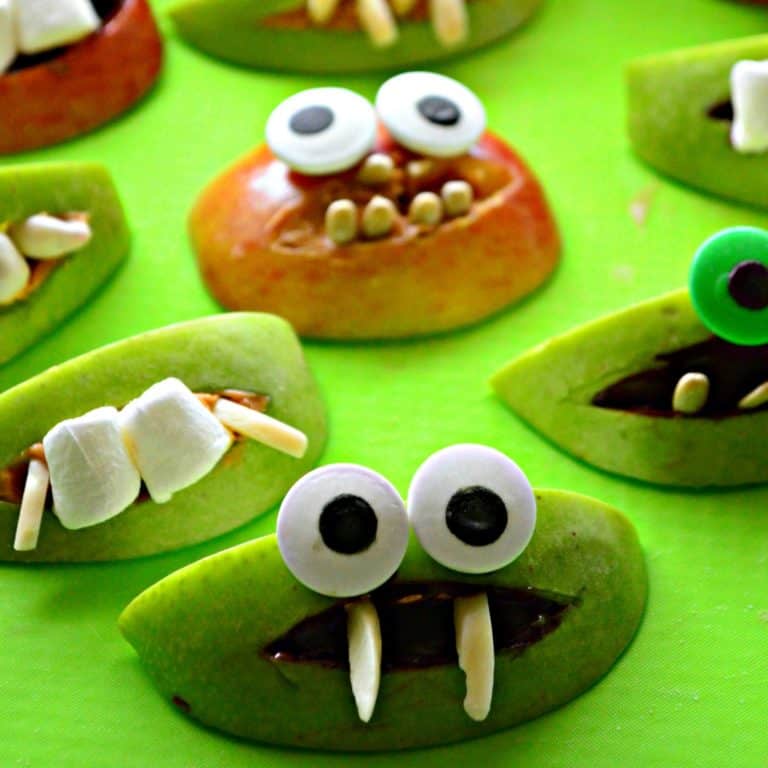 Monster Apple Slices
Looking for a healthy and fun Halloween treat for the kids and adults? Break out some ingredients from the pantry and make my Monster Apple Slices for your next Monster Bash.
Print
Pin
Rate
Ingredients
2

cups

water

2

tablespoons

lemon juice

2

Red Apples

2

Green Apples

Peanut Butter / Nut Butter

Dairy-Free Hazelnut Spread

Jelly

Slivered Almonds

Sunflower Seeds

Mini Marshmallows

Greek Yogurt Covered Cranberries
Instructions
In a large bowl combine the water and lemon juice. Set to the side.

Carefully begin to cut the apples into slices. Using a pairing knife cut two "mouth" like slits into each apple slice. Remove the excess apple. Place apples in the lemon water mixture and let sit in the water for at least 5 minutes.

Remove one slice at a time, rinse with fresh water and pat dry with a paper towel. Begin to create your apple monsters. Use a nut-butter, hazelnut spread, or even jelly for the inside of the mouth. Then use slivered almonds, sunflower seeds, mini marshmallows or even Greek Yogurt Covered Cranberries to fill in the mouths. The sky is the limit to what you can use.

To adhere the candy googly eyes, place a little nut butter or hazelnut spread on the back of the candy and then firmly press into the apple.

Enjoy immediately or cover and refrigerate for up to 2 hours until ready to serve.
Notes
Nutrition is for apple only.
Nutrition
Calories:
32
kcal
|
Carbohydrates:
9
g
|
Protein:
1
g
|
Fat:
1
g
|
Saturated Fat:
1
g
|
Sodium:
3
mg
|
Potassium:
65
mg
|
Fiber:
1
g
|
Sugar:
6
g
|
Vitamin A:
33
IU
|
Vitamin C:
4
mg
|
Calcium:
5
mg
|
Iron:
1
mg