Do you live in Florida and looking to get away for the weekend? A little vacation and escape from reality is perfect during these unprecedented times. The Gaylord Palms Resort & Convention Center makes for the perfect staycation.
Thank you Gaylord Palms Resort & Convention Center for hosting my family for the weekend during Summerfest. As always, all opinions are my own.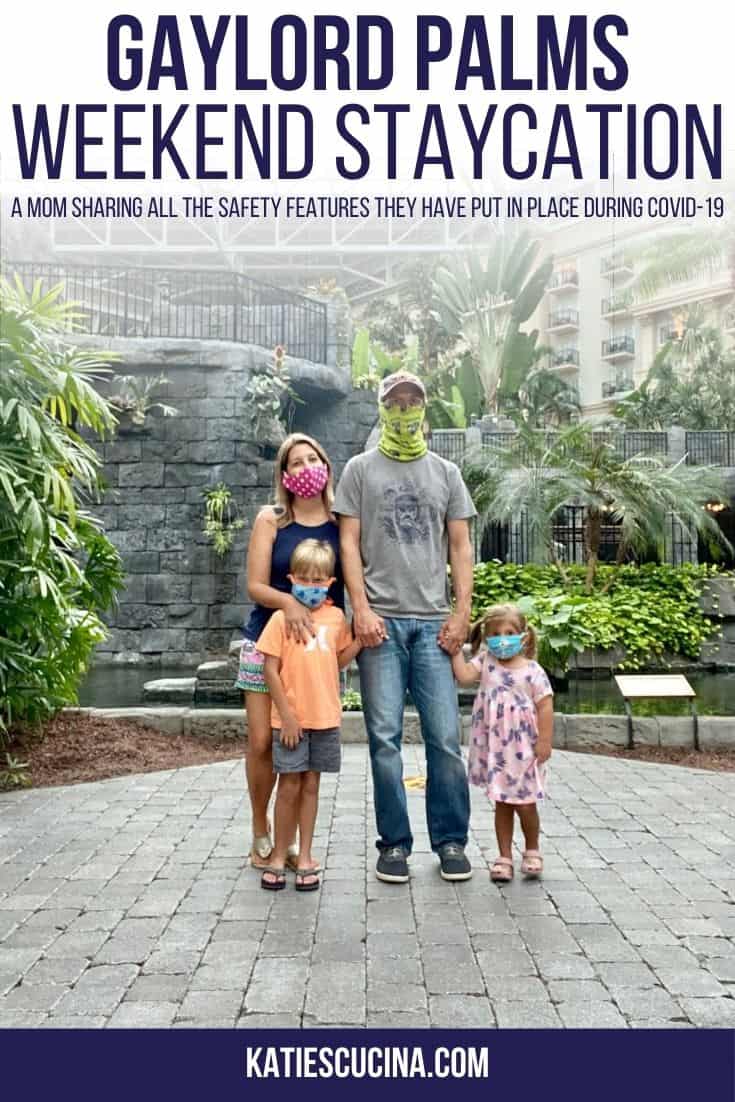 We live just 25 minutes from the Gaylord Palms Resort & Convention Center, and have never been before last weekend! We travel a lot, but rarely take the time to travel right here in Central Florida. Since we have cancelled all international and national trips that required an airplane ride we figured this is the year we explore Florida by car. We should have realized this early in the year when we visited the Keys in February, and then detoured our derailed cruise plans in March and spent a week down in Singer Island.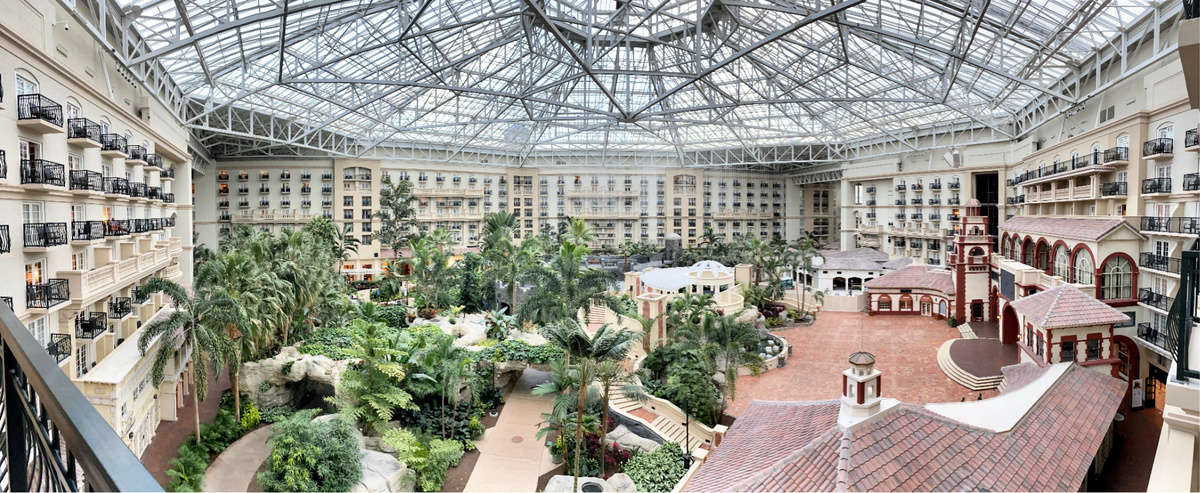 Gaylord Palms is located in Kissimmee, Florida and is just minutes from Walt Disney World® and Universal Orlando Resort™. Since we stayed for only two nights we opted to stay put at the resort and enjoy everything they had to offer!
In this post you will find the following:
Commitment to Clean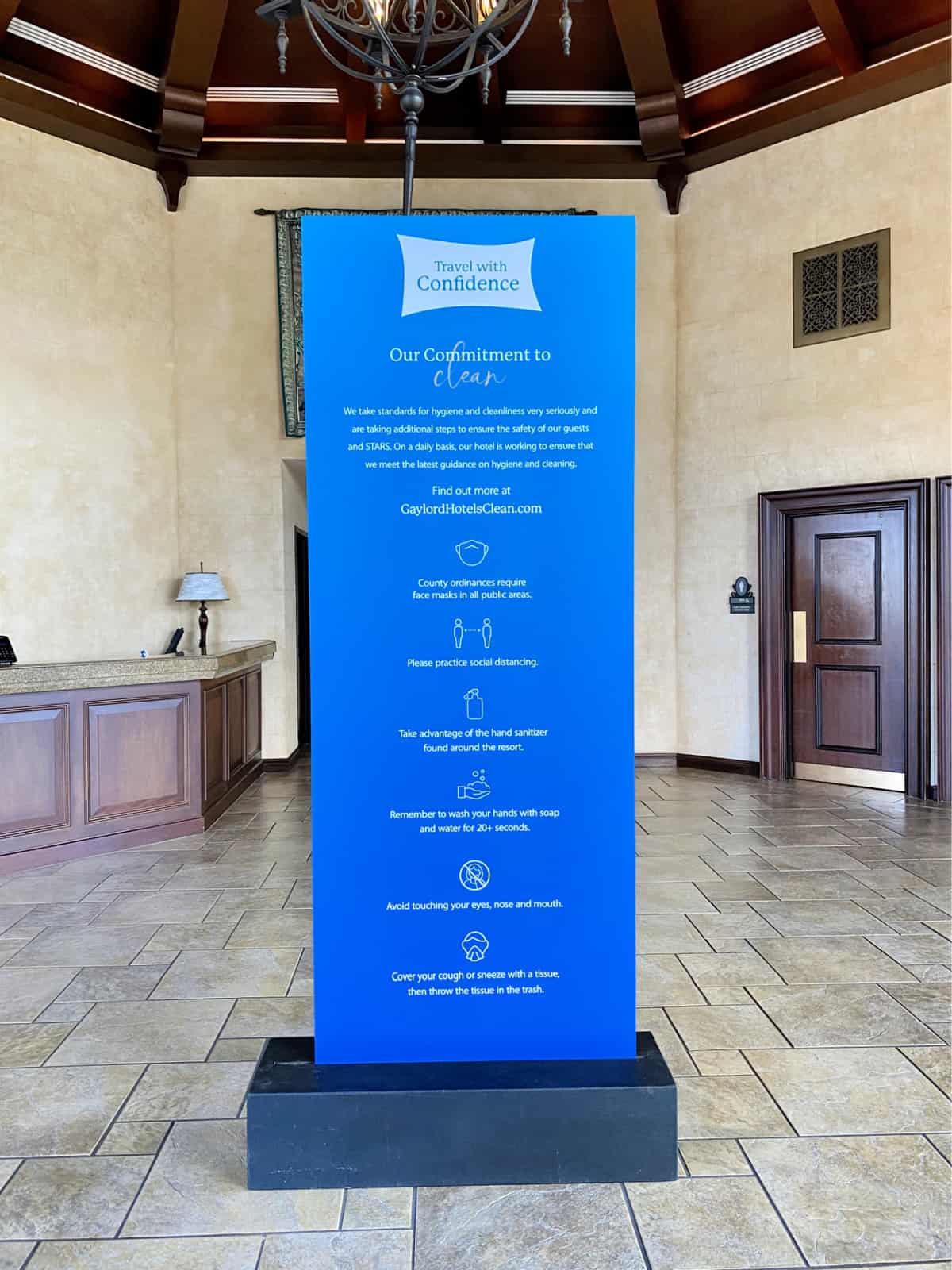 At Gaylord Hotels they have implemented a multi-pronged approach designed to meet the health and safety challenges presented by COVID-19. I felt 100% safe during my entire stay! For those who don't know me–I'm a super germaphobe even before this happened. I was nervous going into the stay but once I got to Gaylord Palms I felt so much more at ease. They have signage around everywhere reminding you of all the new guidelines. Every single person we crossed paths with did their very best to keep their distance and follow the rules.
Enhanced technologies, including the testing of electrostatic sprayers and implementing the highest classification of disinfectants recommended by the Centers for Disease Control and Prevention and World Health Organization are being used to sanitize surfaces throughout our hotels.

Gaylord Hotels
Here is exactly what they are doing.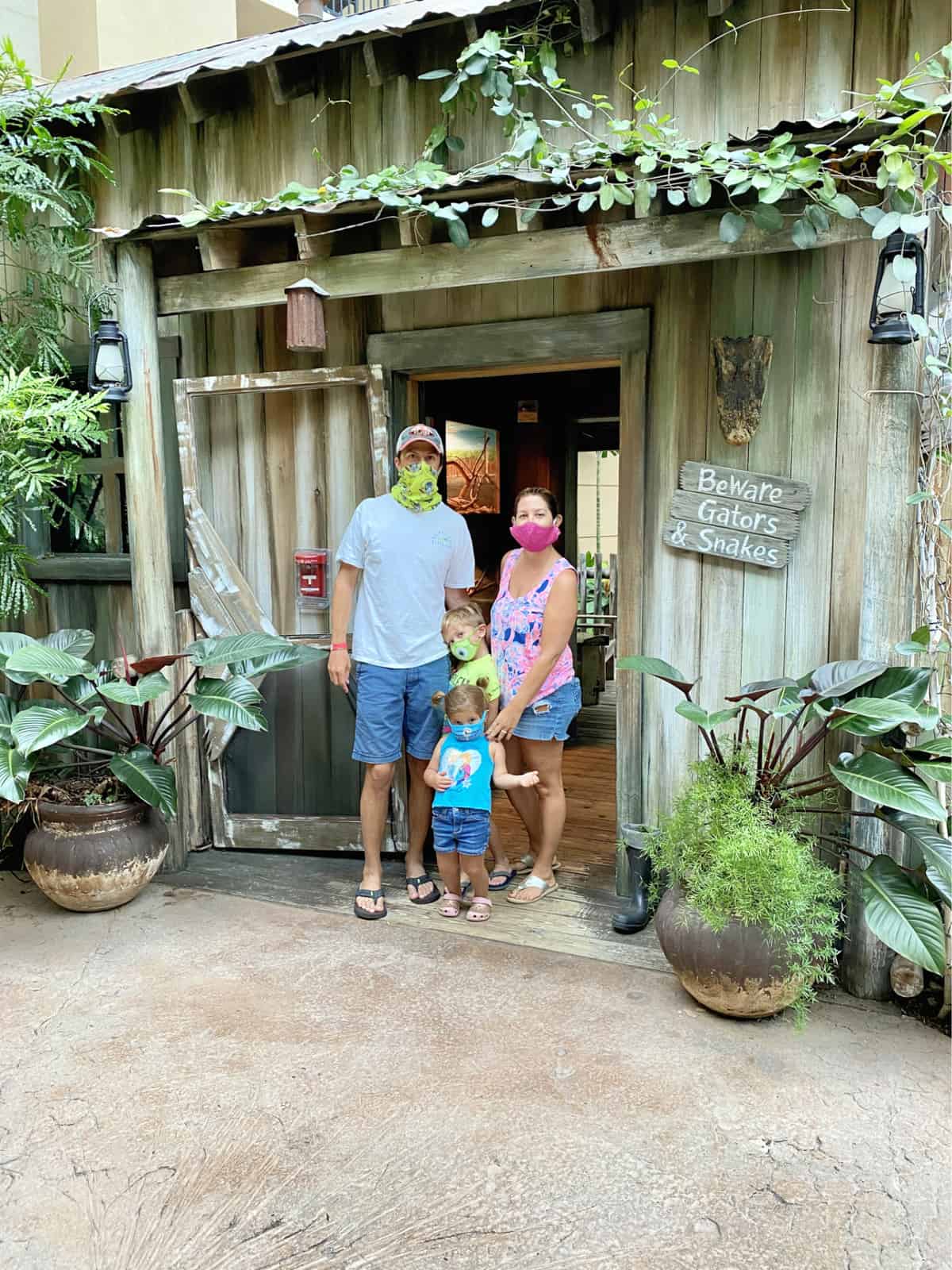 Face Masks – Per the county ordinance you must wear a face covering everywhere you go. You can take them off in the comfort of your hotel room, at a table while dining, at your lounge chair in the pool, or while in the water.
They even have a vending machine in the lobby with face mask and hand sanitizer bottles.
Frequent cleanings – In guest rooms, Gaylord Palms added detailed cleaning practices, requiring all surfaces to be thoroughly cleaned with hospital-grade disinfectants. Every guest room will now receive disinfecting wipes in each room for guests' personal use and a small bottle of hand sanitizer. I loved this gesture!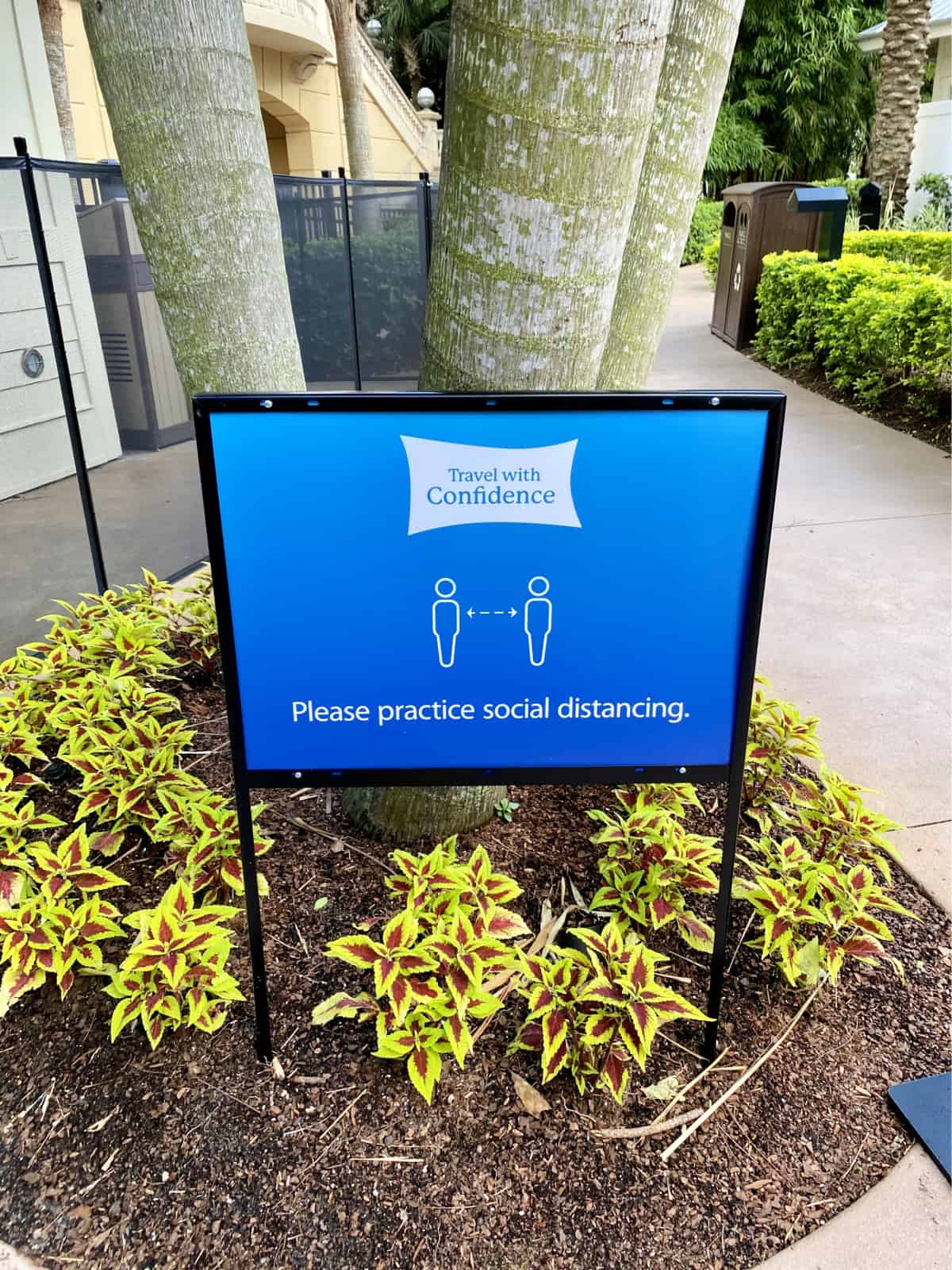 Physical Distancing – they have signage throughout the hotel to remind guests to maintain social distancing protocols. They have also removed or re-arranged furniture to allow more space for distancing.
Touch-less hand sanitizer stations are found just about everywhere you go! My kids got so use to grabbing some every time they saw them. So much so that by the end of each night we had to really lotion up because are hands were so dry from the pool chlorine and all the hand sanitizer! Of course, lotion is also available complimentary in every room (as well as the typical bar of soap, shampoo, conditioner, and shower gel).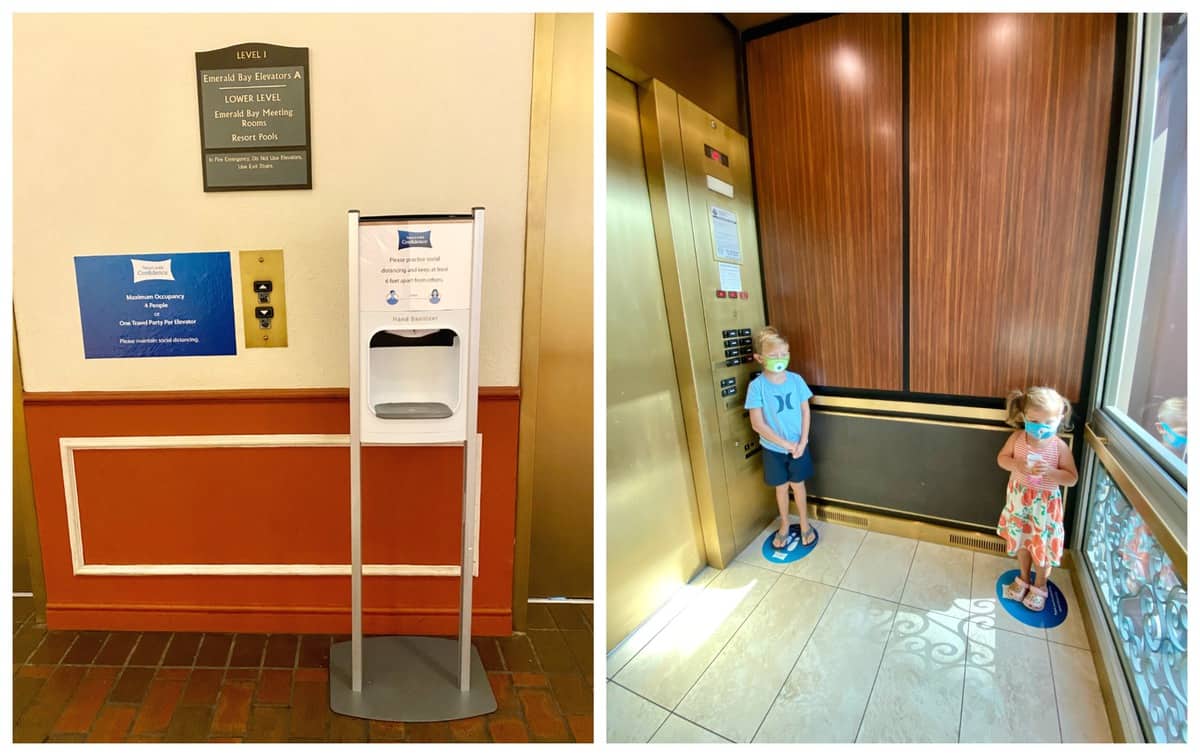 This also includes on elevators. Only 4 to an elevator OR your own party. Since we were a family of 4 we got our own elevator every single time. Be prepared, you may have to wait a little longer to catch an elevator, but it's all in an effort for all of us to stay safe.
Touchless Dining menus – Three ways to see a menu.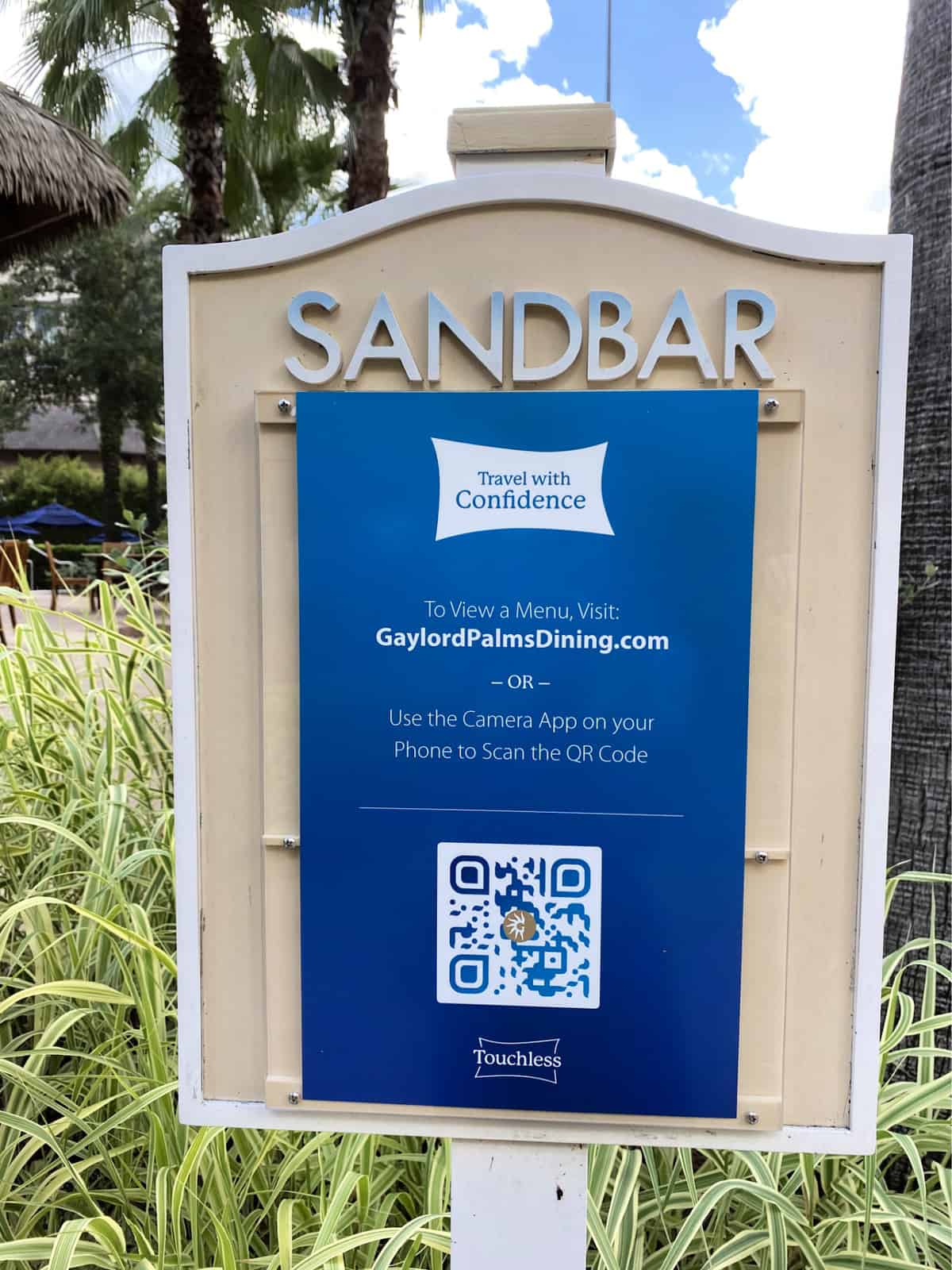 QR Codes – You will find QR codes on every dining table and signs around the various restaurants.
App – You can also find the menus on the phone app. You can also order on your phone for contact less in room delivery.
Paper Menus – If you prefer to hold a menu you can request for a paper menu from your server.
SummerFest at Gaylord Palms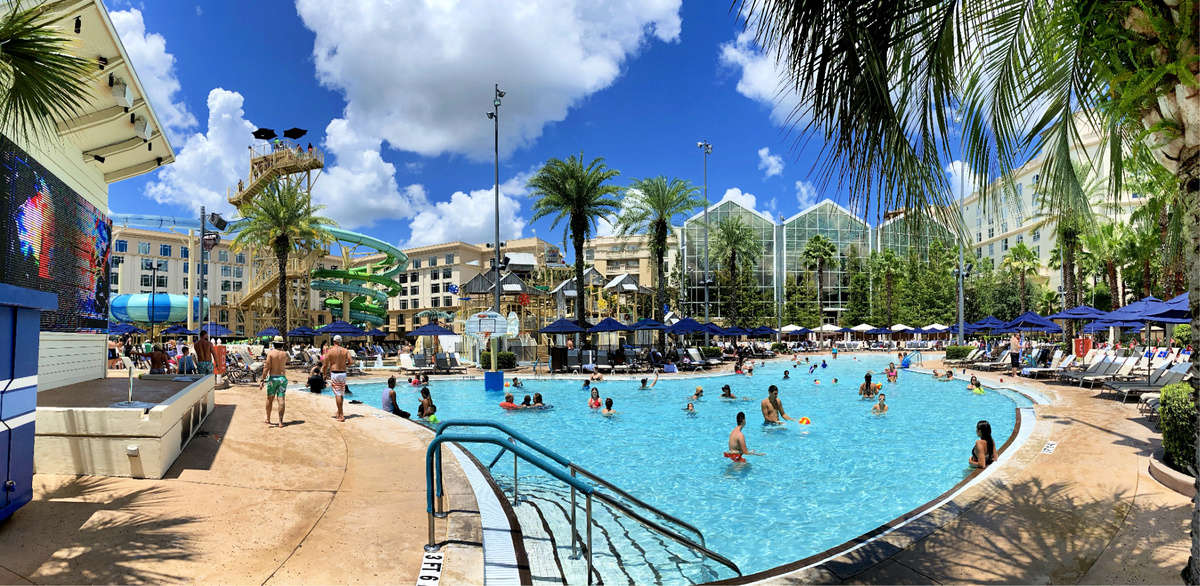 SummerFest at Gaylord Palms runs from Thursday, June 25 – Monday, September 7, 2020. During this 2.5 month event you can enjoy the outdoor water park with family-friendly entertainment. DJ Sunny plays classic and contemporary tunes to rock out to with an occasional poolside trivia on the pool's main stage a few times during the day on Friday, Saturday, and Sundays.
They have a resort guest-exclusive Water Park on site; Cypress Springs Water park, and a drop slide, racing slides, and a double FlowRider surfing experience.
Illuminate Florida Light Show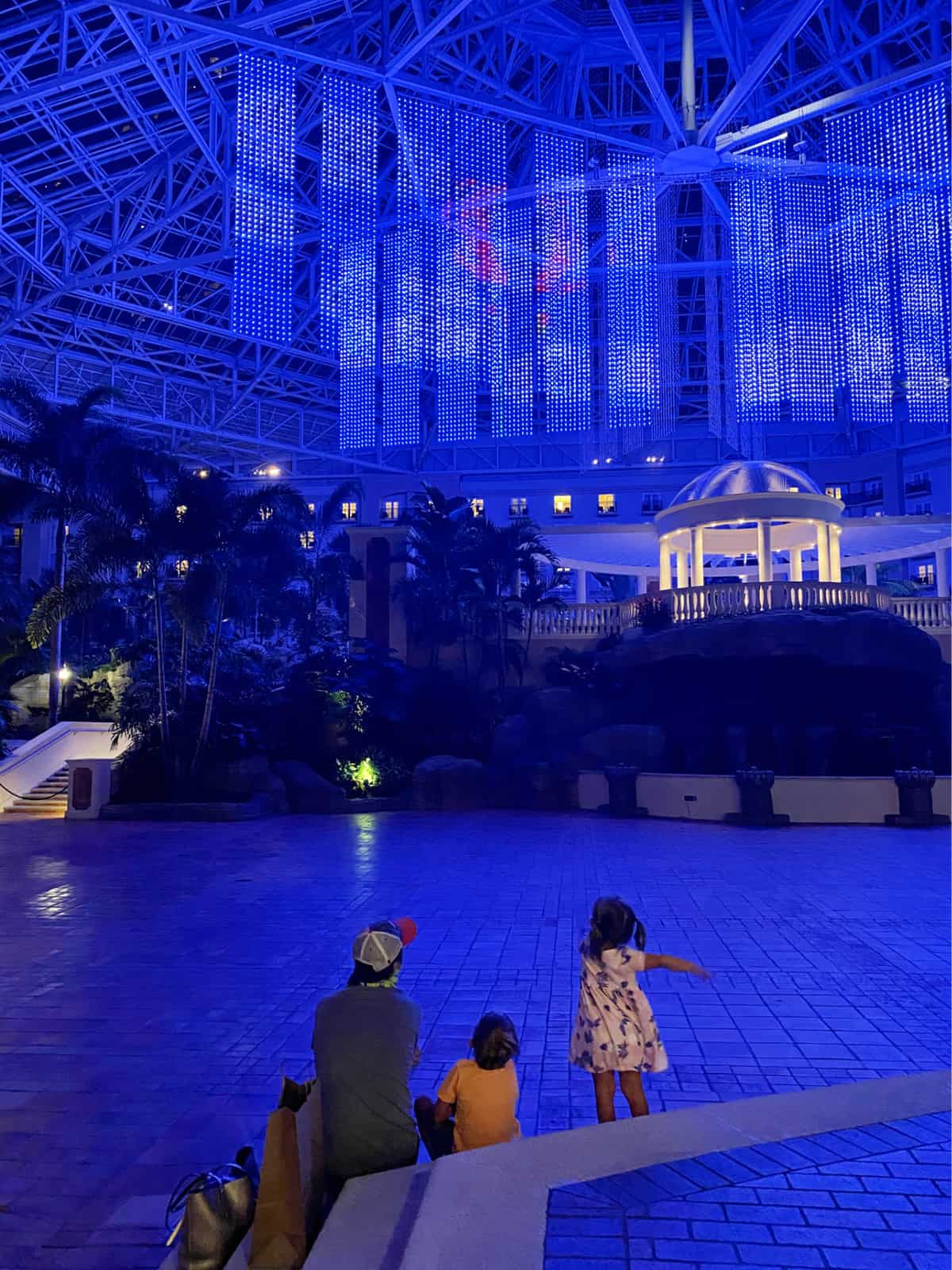 Head over to the St. Augustine Atrium for the Illuminate Florida Light Show that is done daily at 8:30pm and 9pm. This complimentary light show is a celebration of the Sunshine State. Music is set to millions of choreographed lights. Take a journey from the swamplands to the beach, and enjoy all that Florida has to offer!
Florida Explorer Scavenger Hunt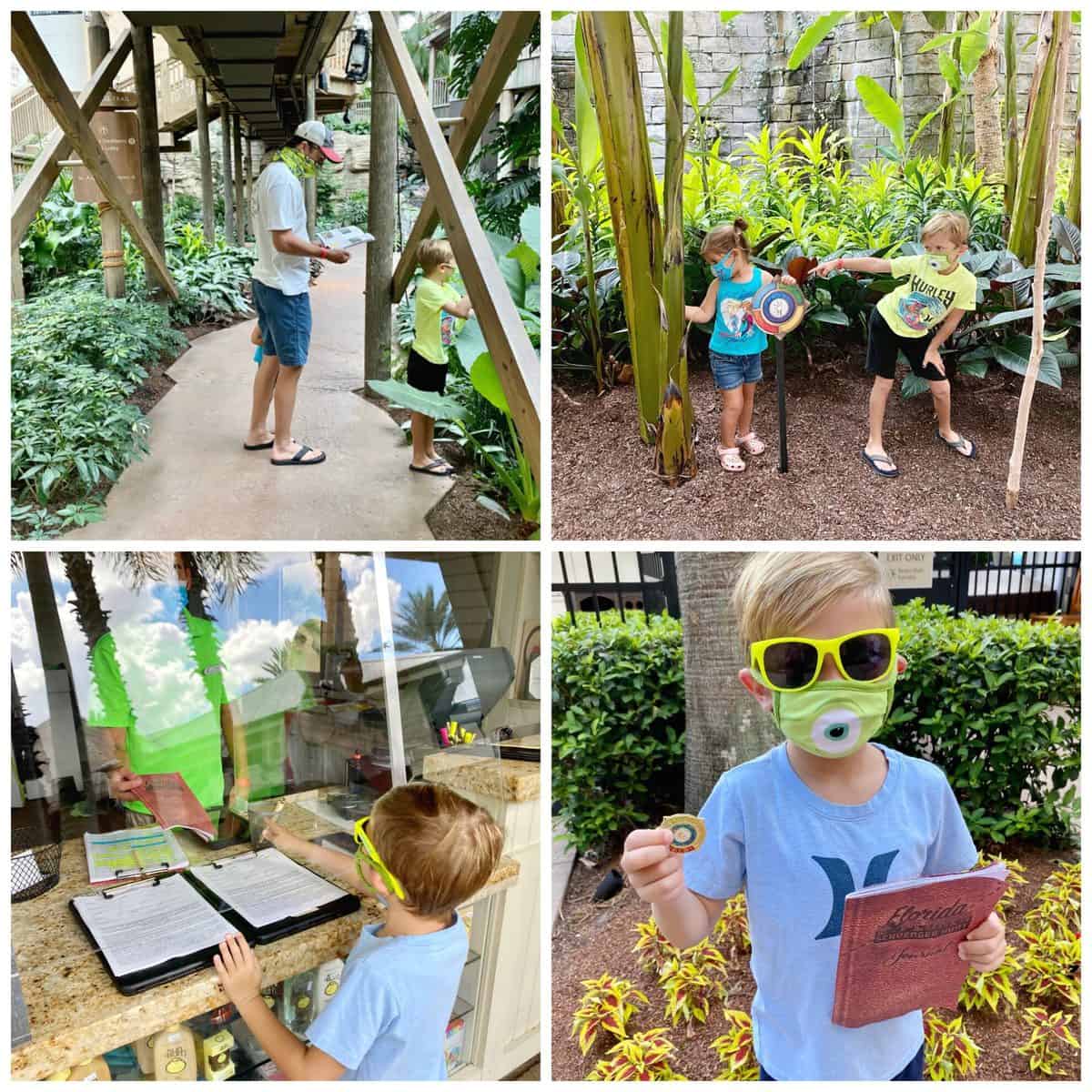 This was the perfect afternoon activity once the rain rolled in and we had to leave the pool for a few hours. For just $9.99 per booklet, plus tax it will give you hours of entertainment and you'll learn so much along the way! Use the compass on your phone and become a Florida Explorer to pass on the skills and knowledge necessary to successfully explore the interesting, incredible and sometimes treacherous state of Florida. Your journey begins inside the 4.5-acre atrium, filled to the brim with Flora (plant-life) and Fauna (animal-life) from all over the state. To succeed in becoming a real-life Florida explorer, you will need to navigate through the atrium and learn about unique plants, animals and historical landmarks.
You will need to look for the "G" compass marks hidden throughout as well as answer and find answers to some of the questions. The boys had a blast while the girls just walked around looking at stuff and mostly there for moral support for them!
Once completed turn in your booklet to the pool towel hut and you receive a pin with successful completion!
Other Summerfest Activities
Here are just a few more activities you can expect during Summerfest.
Sunrise Yoga – Located on the Coquina Lawn; Sign up at the Front Desk (Wednesday-Sunday, 8am-9am and 10am-11am)
Interactive Trivia – Test your knowledge with family-friendly interactive trivia for the chance to win prizes daily at Wrecker's Sports Bar.
Family Movie Night – Check Summer Activities Guide upon Check-In for times and location.
Water Park and Resort Pools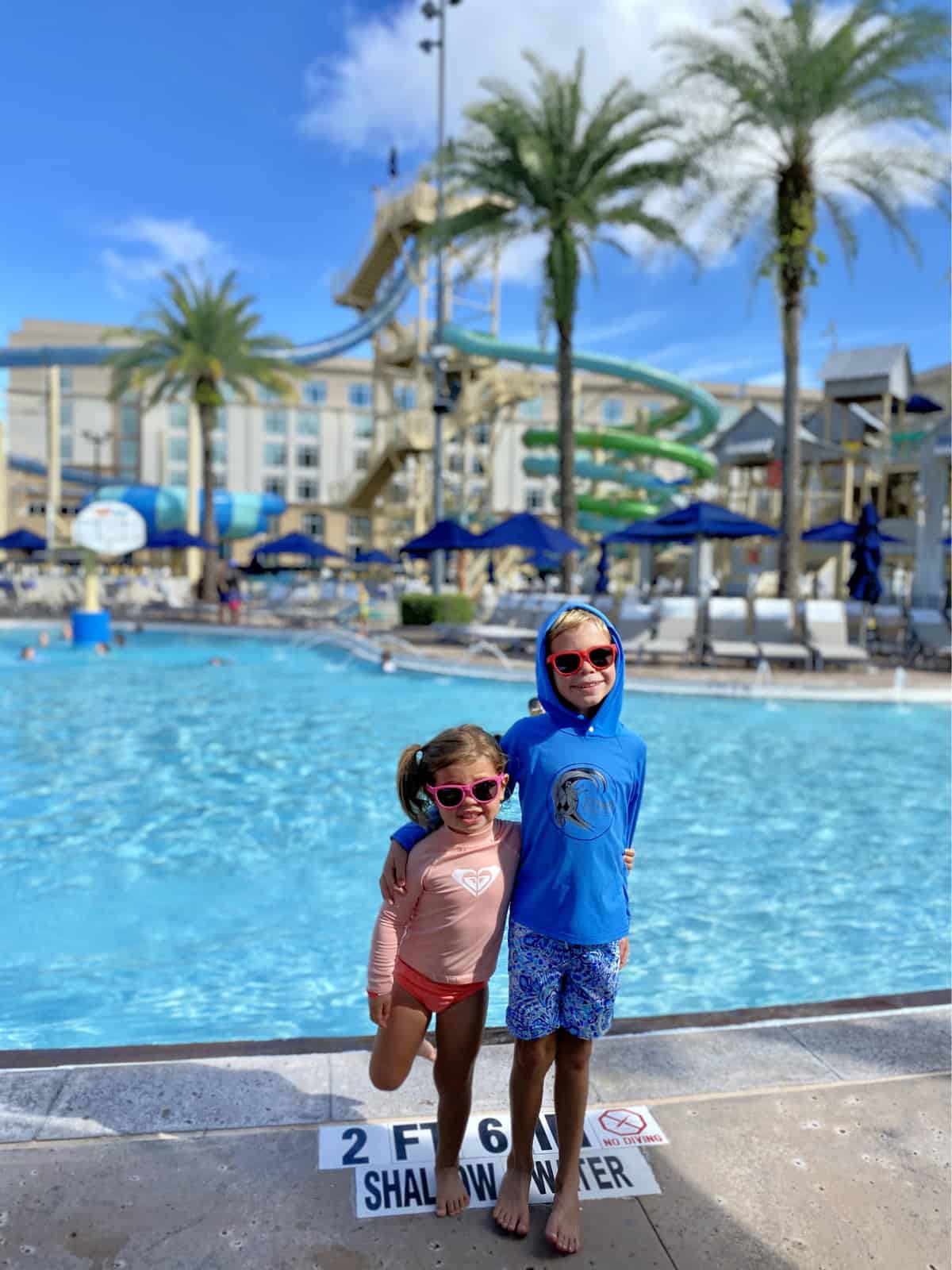 Cypress Springs Pool is the main pool that has water features and a zero-entry walk in. This pool is not deep and only goes to 4 feet tops. They have a main stage and the water park and slides are right next to this pool.
Cypress Springs Water Park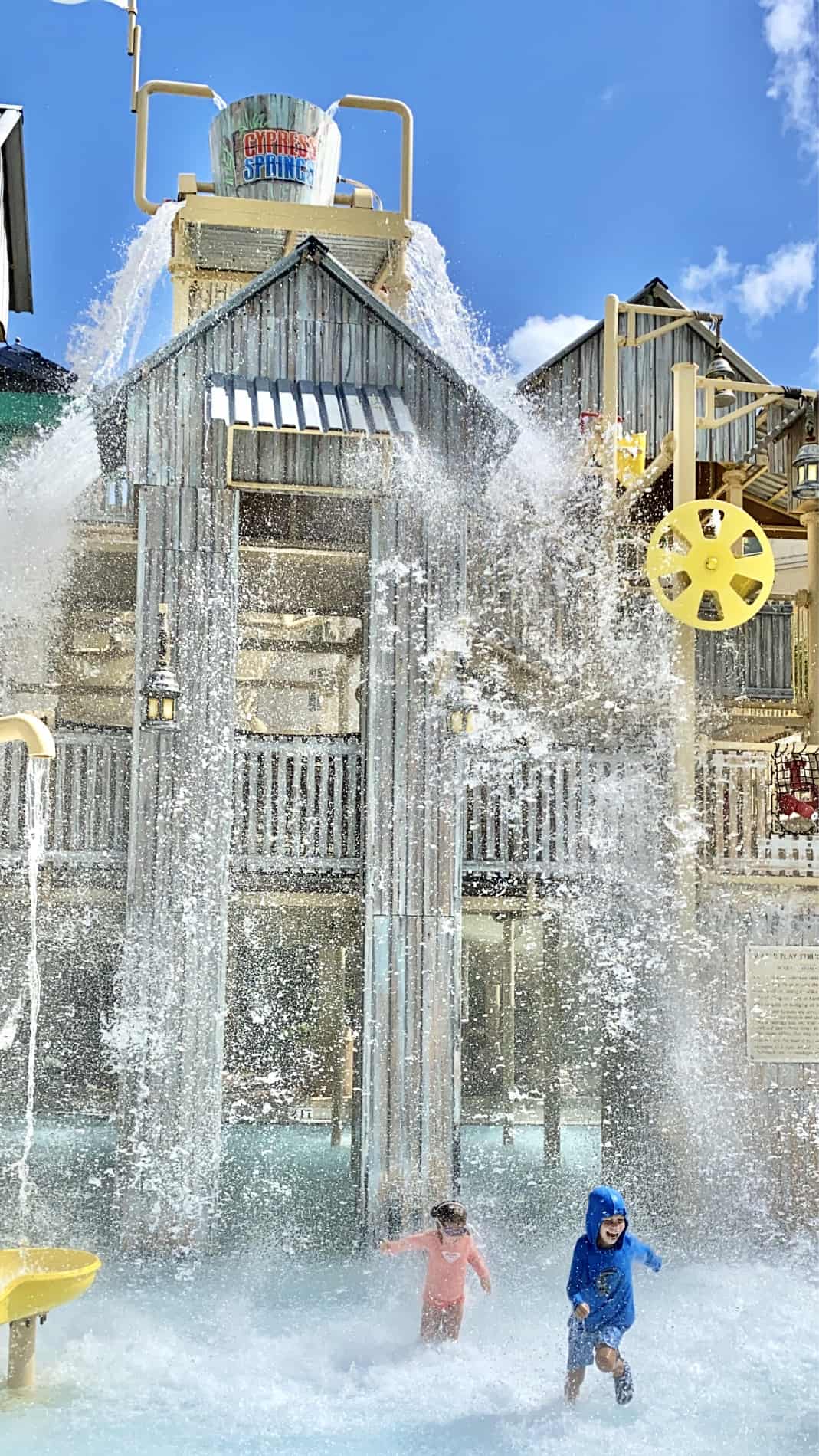 Cypress Springs Water Park is attached to the Gaylord Palms. It features a drop slide and 2 racing slides. The Treehouse Playground, inspired by the Florida Everglades is a multi-level water playground that has two different sets of slides. My kids LOVED getting drenched by the 317-gallon tipping bucket!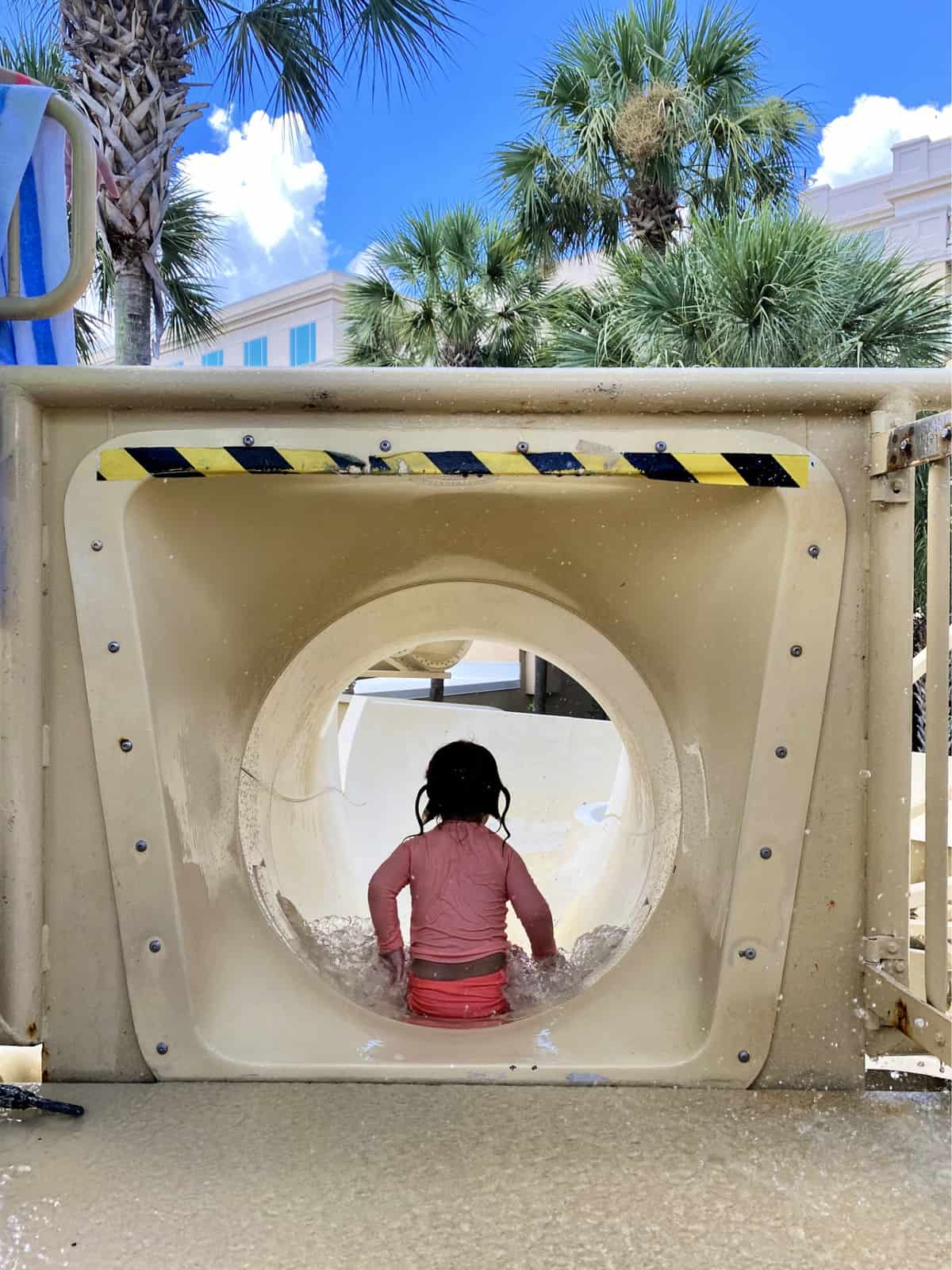 Water Slide Requirements:
Florida Free Fall drop slide and Tamiami Twister racing slides have a height requirement of 48″.
The top-level Treehouse playground slides have a height requirement of 40″.
The lower-level Treehouse playground slides have a height requirement of 36″.
South Beach Pool
This pool was much quieter then the main pool. We spent a little bit of time in this pool one afternoon with the kids. As you can see it's lined with palms and captures a sophisticated South Beach flair.
Premium Pool Seating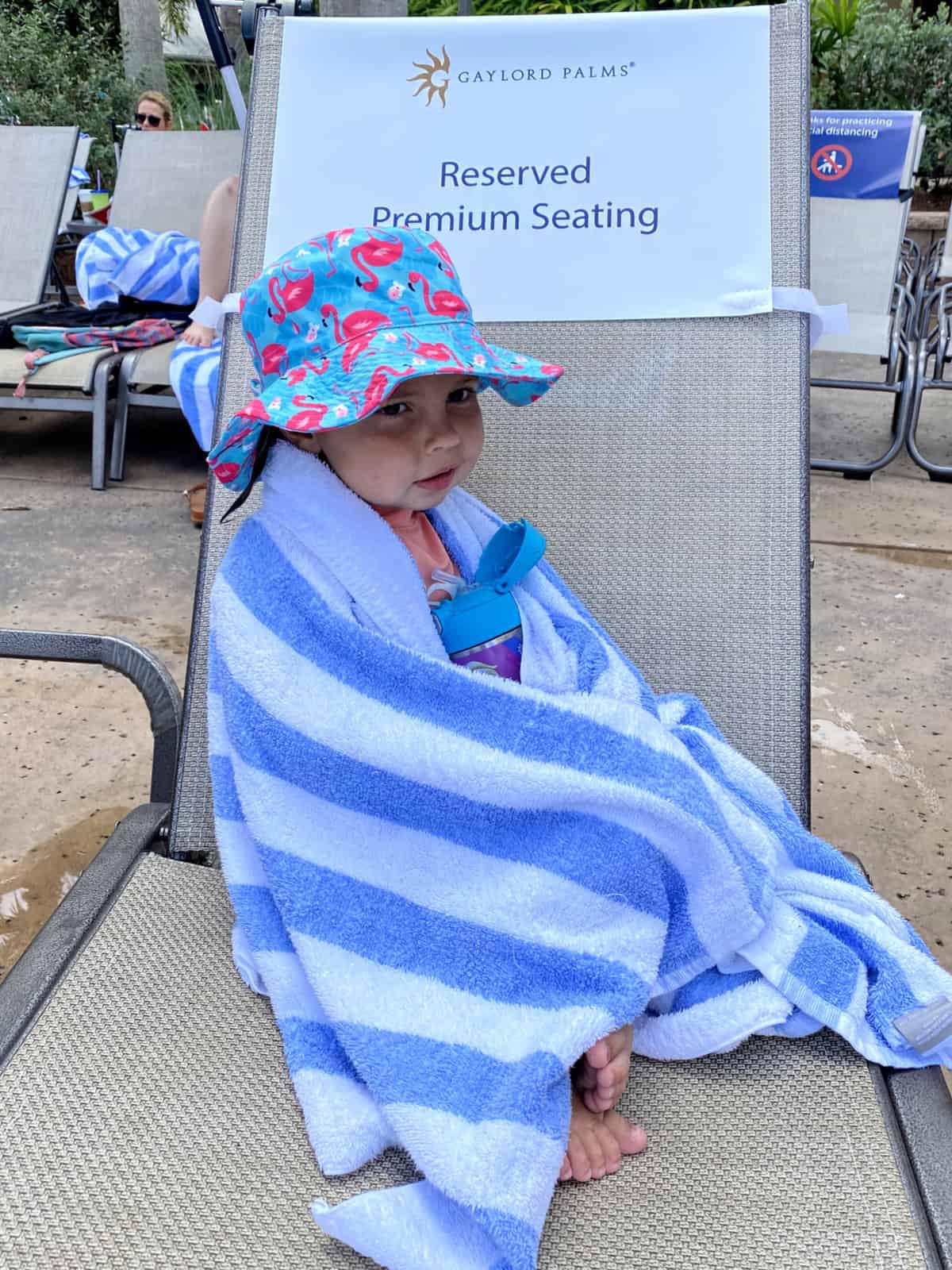 Gaylord Palms gives you two options to choose from.
Premium Pool Seating – Want to guarantee a front row spot by the pool? For $20 you can reserve front row seating by various parts around the entire water park and pools. Just know it is first come first serve as to where the location of your seats are located. If you have a specific area you can request it, but it's not guaranteed.
Pro tip: If you want a specific set of chairs, head down when they first open. Only one person in your party needs to be present to grab your wrist bands and check in! Hours subject to change, but currently 8am-8pm.
Private cabanas provide extra shade and space, comfortable lounge areas, refrigerators and more! By reserving in advance, you don't have to rush down to the pool early to hold your spot.
Cabana rental includes (for the date selected):
Six (6) bottles of water and six (6) soft drinks
Assorted snacks
Mini refrigerator
Passcode-protected safe
Flat screen TV
Ceiling fan
Cypress Springs cabanas ($375 per day) offer 2 standard lounge chairs, 2 cushioned lounge chairs and 4 dinning chairs around a table.
South Beach cabanas ($300 per day) offer 2 standard lounge chairs and 2 cushioned lounge chairs.
FlowRider Surfing Experience – The Wake Zone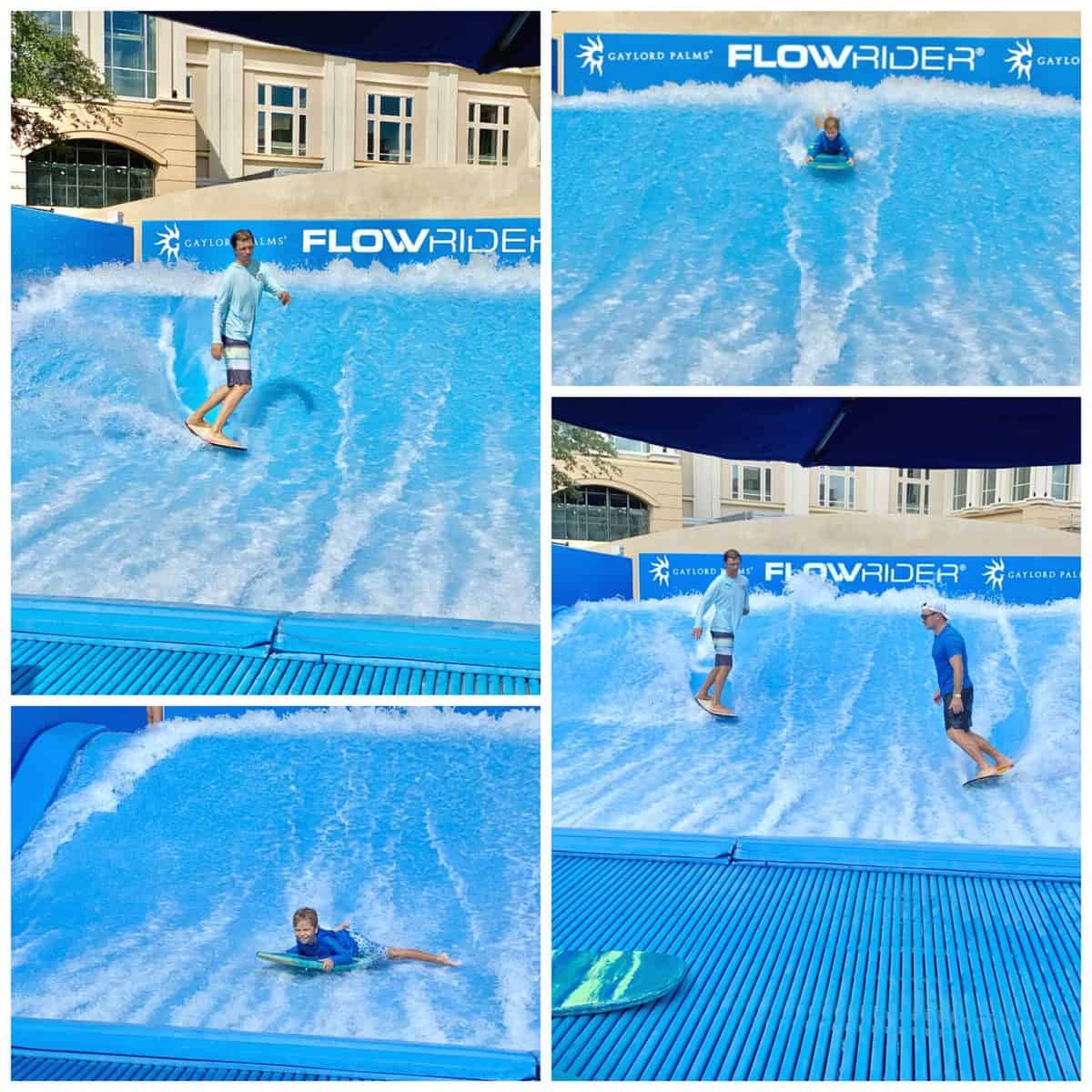 For an additional fee of $25 per person you can enjoy the FlowRider, The Wake Zone, where you can body board or surf the waves with demonstrations from a trainer. Riders must be Forty-eight inches (48") tall to stand-up ride and Forty-two inches (42") tall to bodyboard.
This was my son's first time doing this. He's always watched in awe on the side during cruises. He's 6 years old and fearless and loved every minute of it!
My husband has been surfing on the FlowRider for quite some years now. This was his first time in almost 2 years and he absolutely loved being back on the board again.
The instructor on duty actually hopped on a wave with him and taught him a few things. Since dual riding isn't permitted on cruise ships he had a blast riding with someone else on the wave. They chatted like it was no big deal the entire time they rode the continuous waves together.
Food at Gaylord Palms
As of July, 2020 select food services are open at the Gaylord Palms. Continue to check the website and/or with the front desk to see what options are open.
MOOR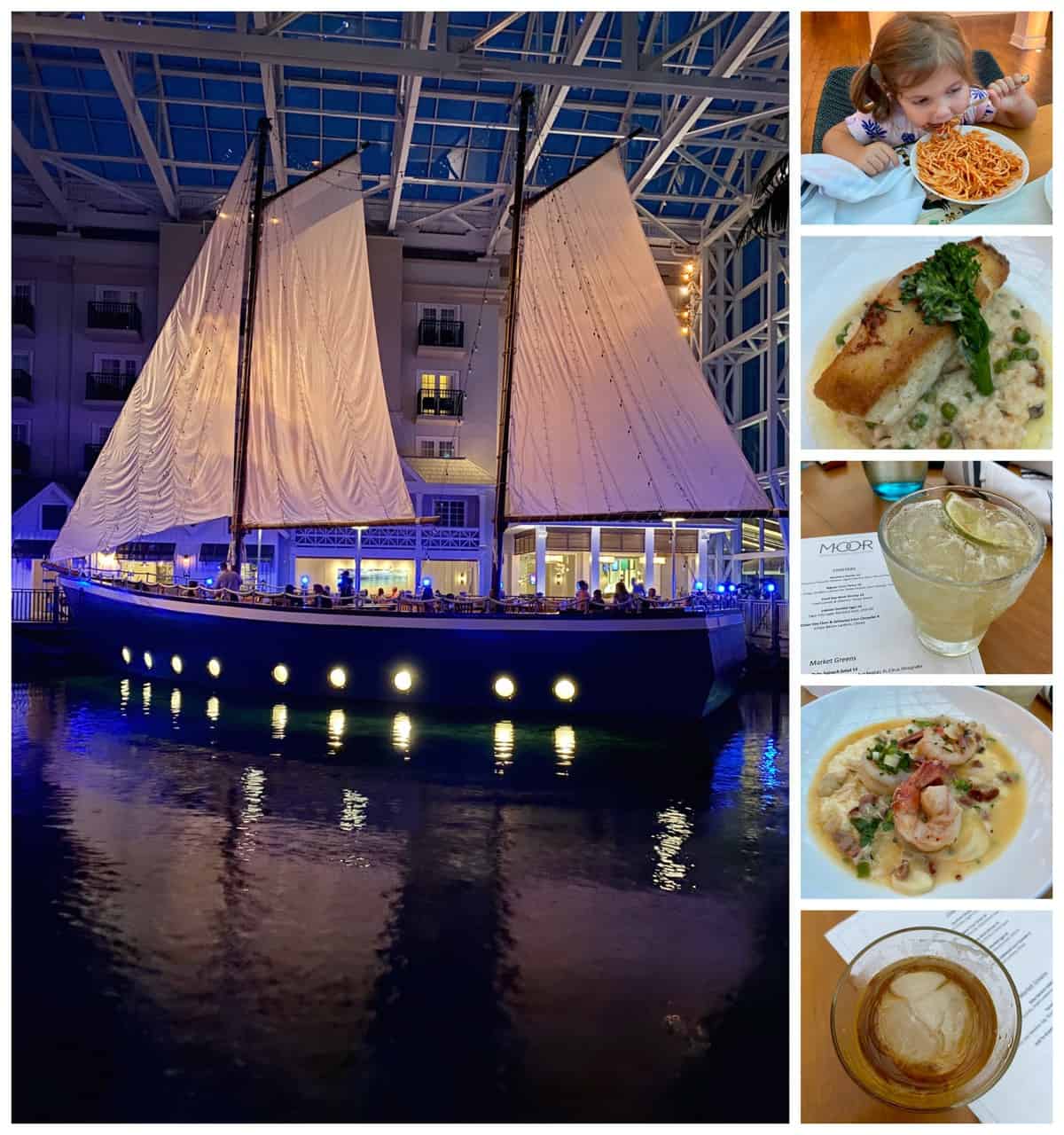 Want to earn bonus points with the kids? Or a romantic dinner for two? Check out MOOR. It's located in the Key West Atrium. You can request to sit in the sail boat if available. We dined here the first evening.
Since it was the start to our vacation my husband, Jon, had an old fashion and I enjoyed a margarita. Jon enjoyed the grouper, I had shrimp and grits and the kids enjoyed spaghetti and a cheeseburger!
SandBar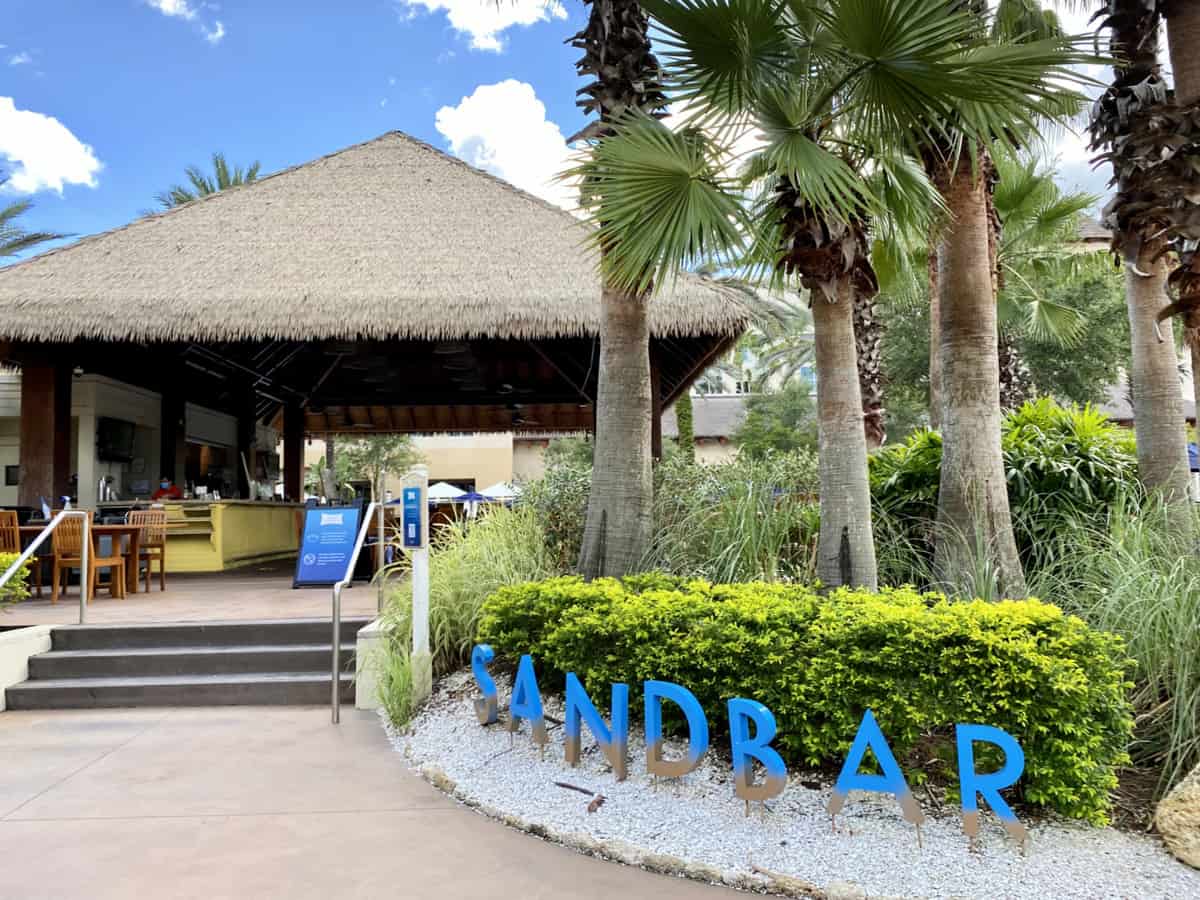 The SandBar is the poolside dining option open from 11am-6pm (Hours of operation are subject to change based on seasonality and weather conditions.). They have a wide variety of hand-held sandwiches, shareable apps, salads, and a kids menu. Don't forget the delectable drink menu either!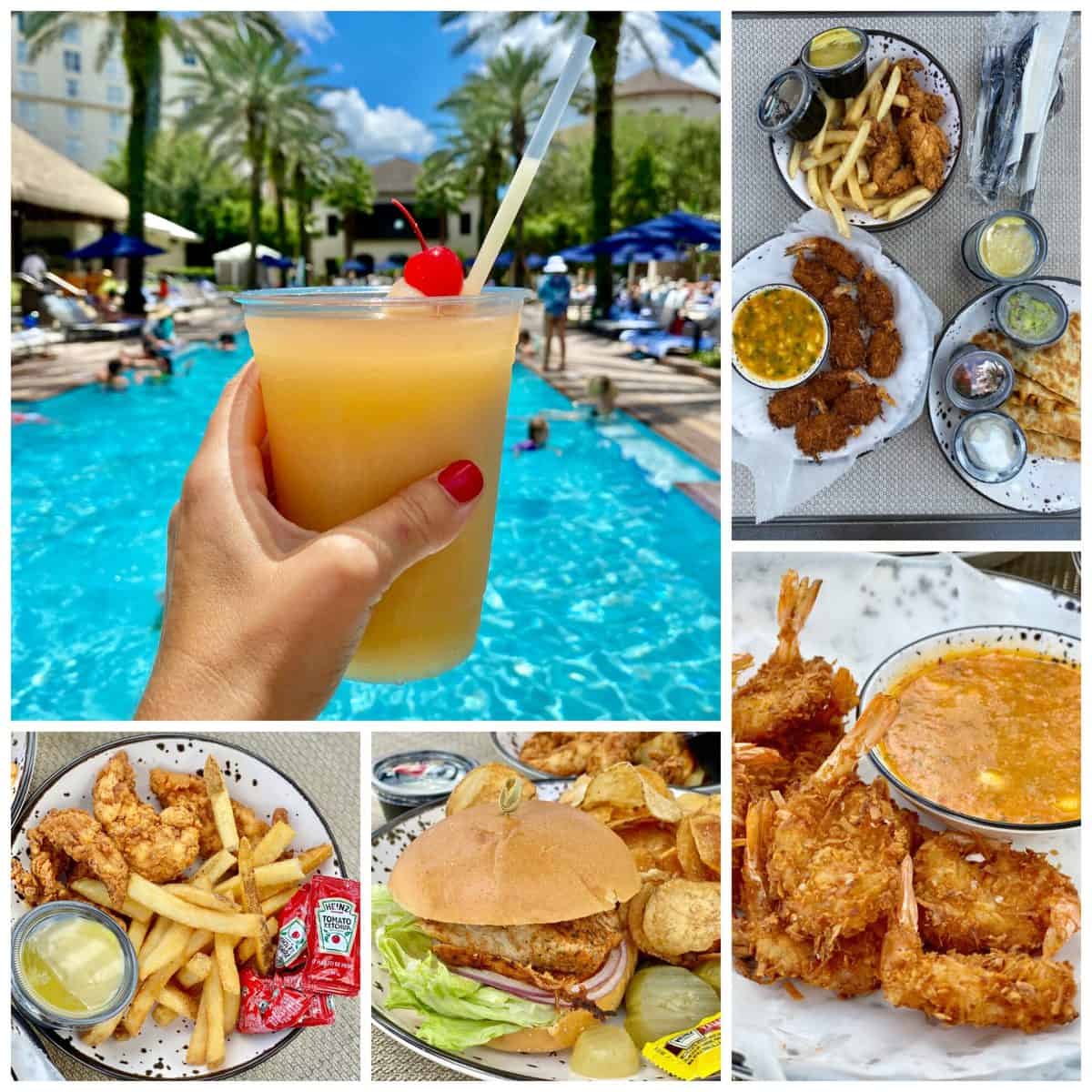 We ate here both days, since we were at the pool during lunchtime. You can dine at a table at the open-air restaurant or eat at your pool chair. We opted both days to just eat at our chairs. Some of our favorites included:
Coconut Shrimp with Pineapple Mango Salsa – This was a new menu item and boy it was amazing. So good, we ordered it both days we were at the pool.
Grilled Mahi Sandwich – This sandwich was delicious. It came with spicy house made pickles and the most delicious house made potato chips!
Chicken Quesadillas – A very large portion that easily could be shared that comes with salsa, guacamole, and sour cream.
Kids Chicken Tenders with Fries – The kids split this and ate this both days.
Wreckers Sports Bar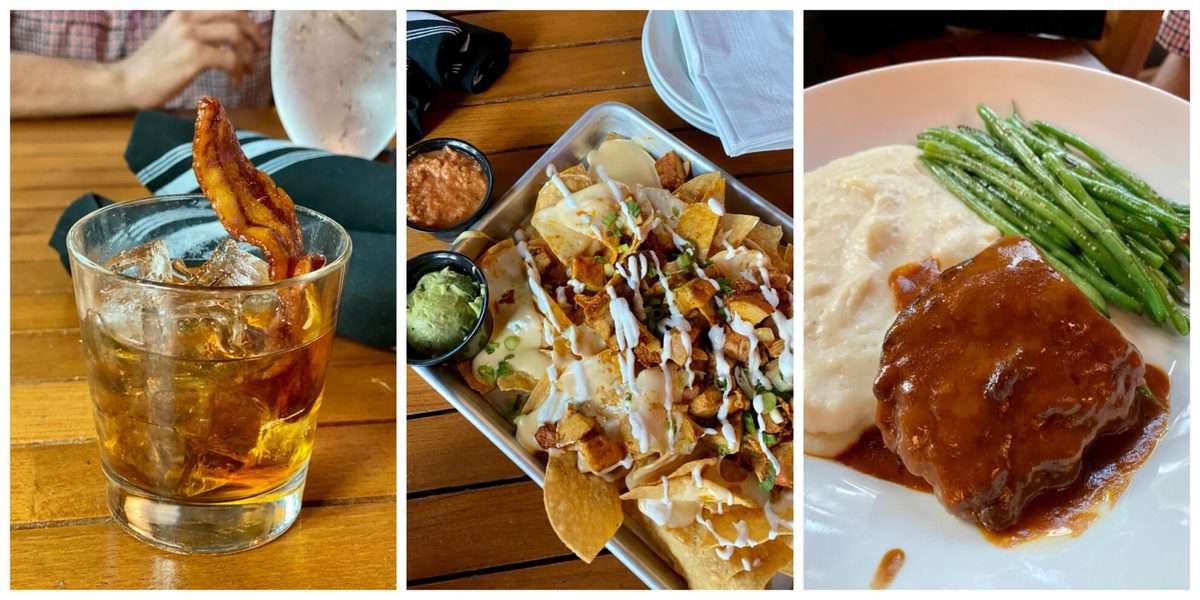 Our second evening for dinner we went to Wreckers. The sports bar features a 37-foot screen and over 50 HDTVs create a sports fan's haven while putting you in the middle of the action. They have a house made cheese sauce that is to die for. The kids and I enjoyed chicken nachos (we had plenty for all three of us as I wasn't very hungry). Jon opted for the short rib with mashed potatoes and green beans with a Wreckers Old Fashion (pictured above).
Book with Confidence
Per Marriott's website, and in response to changing marketplace conditions, Marriott International is committed to ensuring our customers experience flexibility during these challenging times.
For all Marriott International hotels world-wide, we are extending our flexible reservation policies as follows: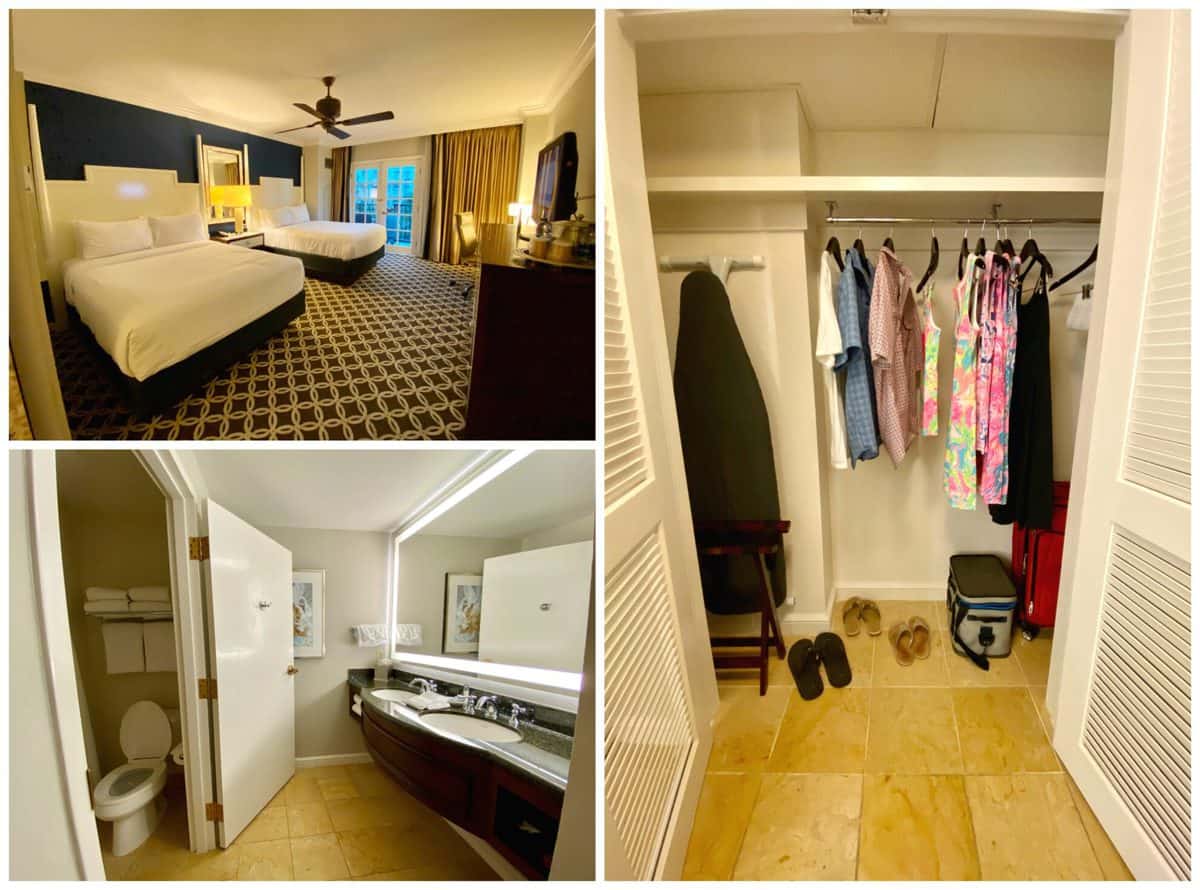 For guests with existing reservations for any future arrival date, the policies that were in place at the time of reservation, or as previously communicated, will continue to be honored.
For guests making new reservations on or after July 6 for arrival dates through September 30, we will allow the reservation to be changed or cancelled at no charge up to 24 hours before the scheduled arrival date.* Reservations with pre-paid rates will be subject to the rate offer rules communicated at the time of reservation. Please note that changes to the reservation will be subject to availability and any rate differences.
For guests making new reservations for arrival dates on or after October 1, individual hotel cancellation policies in place at the time of reservation will apply.
For more details, visit here.
Overall, we had an amazing weekend getaway where we felt 100% safe. Still cautious and being very vigilant as everyone should still continue to do. If you have been leery about traveling right now. Start by something close by, traveling by car to a resort that is taking so many precautions to keep everyone safe.
If you have any questions and/or stay at the Gaylord Palms Resort I would love to hear from you in the comments below.
Gaylord Palms Resort & Convention Center
6000 W Osceola Pkwy, Kissimmee, FL 34746
(407) 586-1338
Looking for more travel?
Check out a few of my other blog post on Florida dining and travel.
Don't forget to FOLLOW ME on Facebook, Pinterest, and Instagram, and subscribe to my email list!