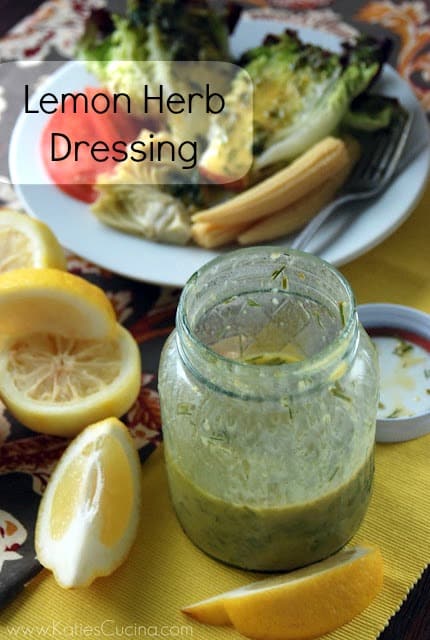 Earlier this year, I vowed to start making more homemade dressings and consuming less pre-packaged dressings. Of course, there are a few dressings I love and can't live without, but for the most part you won't see my refrigerator door loaded with salad dressings. I love to cook with lemons and had yet to make a dressing with them.
Since my herb garden is overflowing right now I figured this was an ideal dressing to make. Plus, who doesn't love a light and refreshing dressing during the dog-days of summer? I also did a little experimenting and marinaded some chicken with this dressing (only for 30 minutes). Baked it with shallots and slices of lemon and garlic. It was divine.
Adapted from: Everyday Food, April 2012
Ingredients
¼

cup

lemon juice

2

tsp

lemon zest

2

tsp

honey

2

tsp

dijon mustard

⅓

cup

olive oil

2

tbsp

fresh chives

chopped

2

tbsp

fresh parsley

chopped

2

tbsp

fresh dill

chopped

salt and pepper
Instructions
In a pint size mason jar (with lid) add the lemon juice and lemon zest. Followed by the honey, dijon mustard, and olive oil. Next up, add the freshly chopped chives, parsley, and dill; followed by salt and pepper to taste. Seal lid and shake until all ingredients are well incorporated. Refrigerate for up to 5 days.
psst… if you love lemons you will love this weeks Google Hangout. Christine from Cook the Story and myself will be chatting with Beth & Julia from Live Pretty about lemons!