Thank you Reunion Resort for hosting me for a Magical Dining dinner preview last month. As always, all opinions are my own.
Learn all about Visit Orlando's Magical Dining Month at Reunion Resort. See what food and wine they are offering for an incredible price!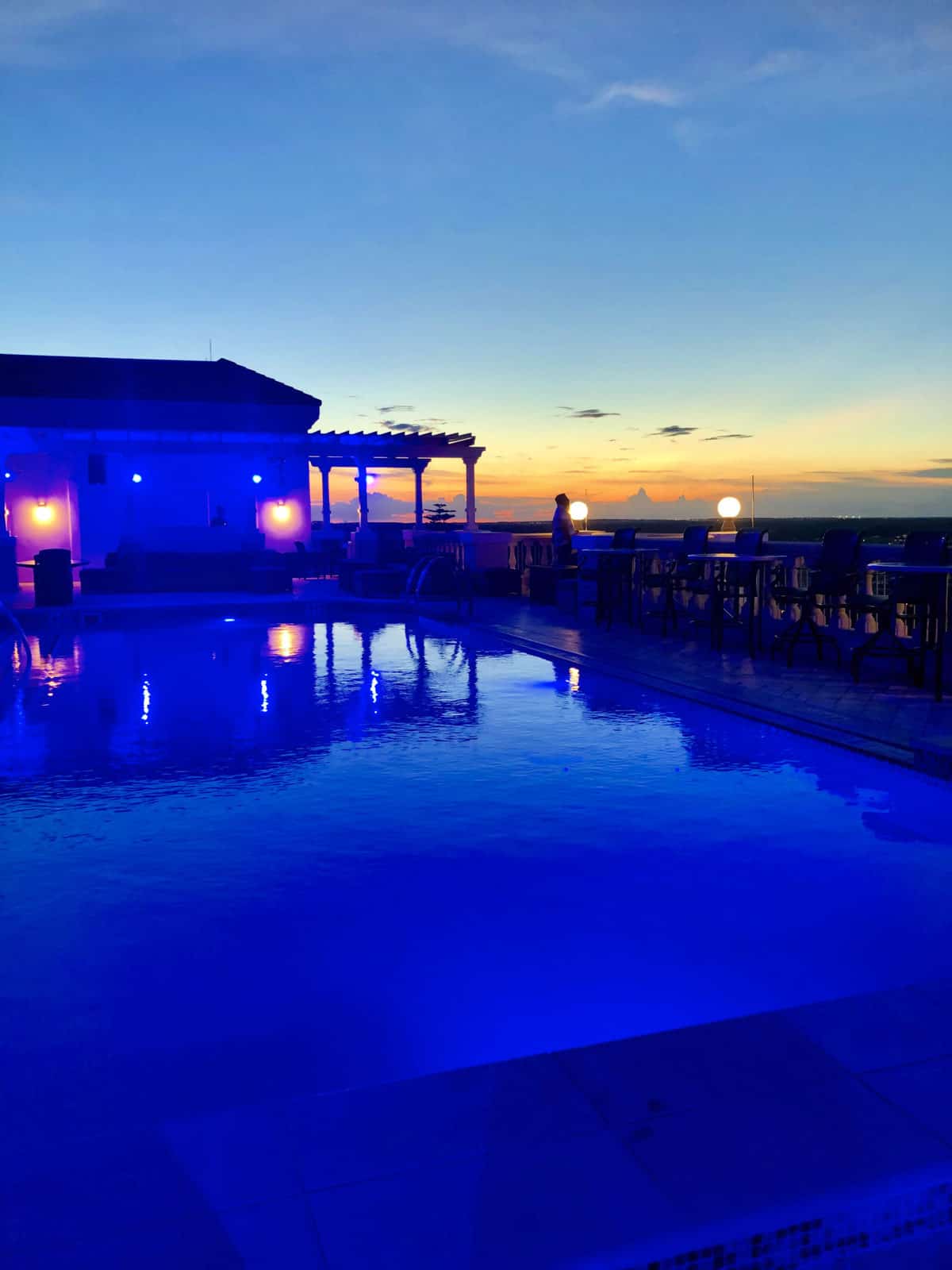 Here on Katie's Cucina you mainly find recipes that I create. Year's ago, I would share an occasional restaurant review. As my life changed with not one but two kiddos I found myself unable to attend fun media preview dinners. I still get invites to quite a few events, but am much more selective since I have the logistics of babysitters and such to also weave into the plans. When I received an email from Reunion Resort asking me to attend a Magical Dining preview dinner I immediately jumped at the chance. You see, September has grown to be my favorite month to dine out here in Central Florida.
Visit Orlando's Magical Dining®, is now in its 14th year! I remember when it first started it was just the month of September. Now, diners can start enjoying 120 of high-end restaurants in August. The dates run from August 23rd through October 7, 2019. ((Good news most restaurants have just extended an additional week into the first week of October!)) You can enjoy a three-course, prix-fixe dinner for $35 per person.
What some might not realize is that $1 from every meal served during Visit Orlando's Magical Dining benefits two local nonprofits that help children in need. This year the nonprofits designated to receive this donation are: National Alliance on Mental Illness(NAMI) Greater Orlando and Lighthouse Central Florida.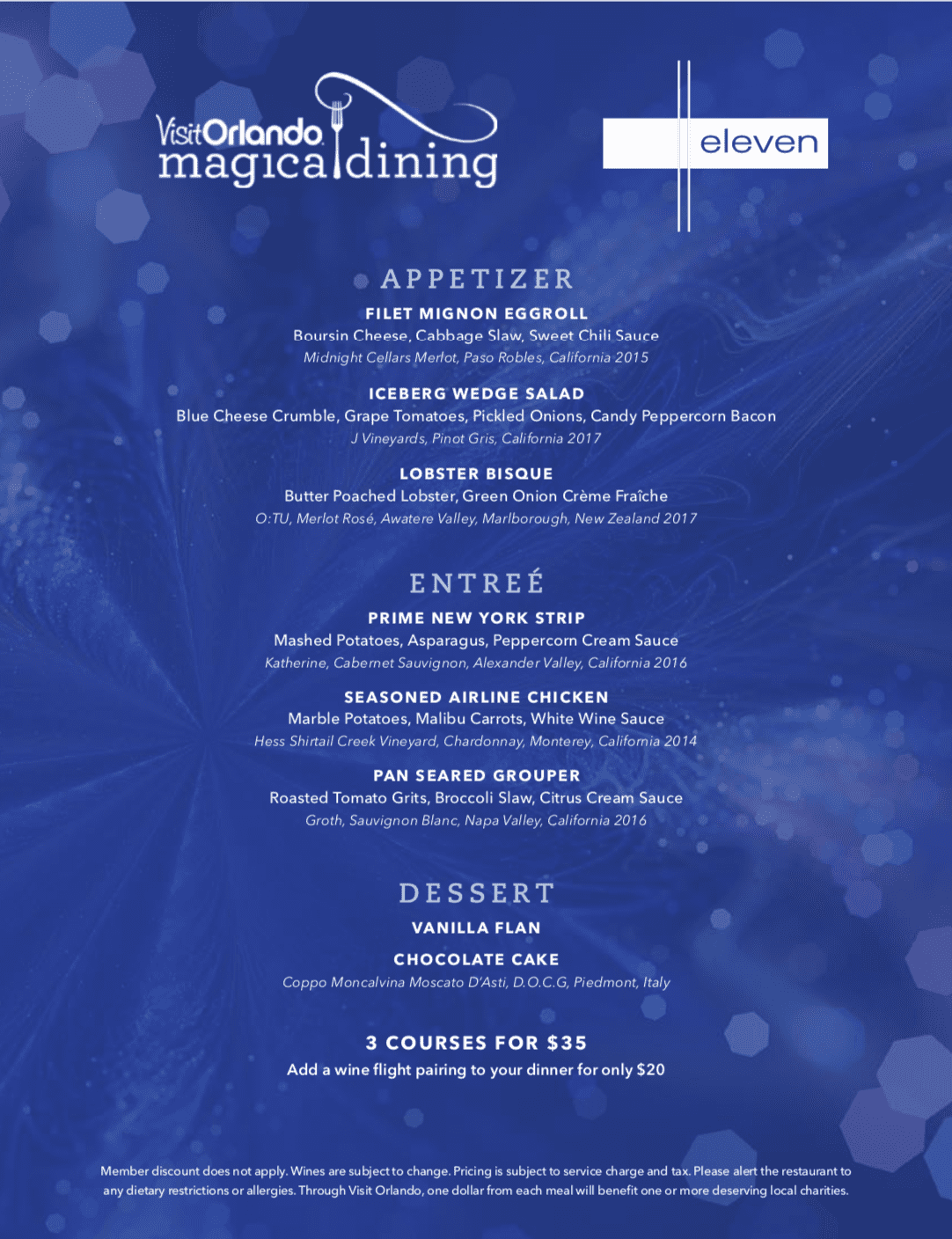 Magical Dining Menu at Eleven
During my preview dinner I had the chance to sample some of the items offered at Eleven. The restaurant "Eleven" sits on the 11th floor of the Reunion® Grande. It gives you breathtaking views of all of Central Florida. It's also a prime spot to watch ALL the fireworks from every theme park in Orlando (specifically Disney). Think of it as a kid-friendly out going steakhouse, but with an impressive wine list (see below on it's recent Wine Spectator award). It's not your stuffy steakhouse like some tend to get.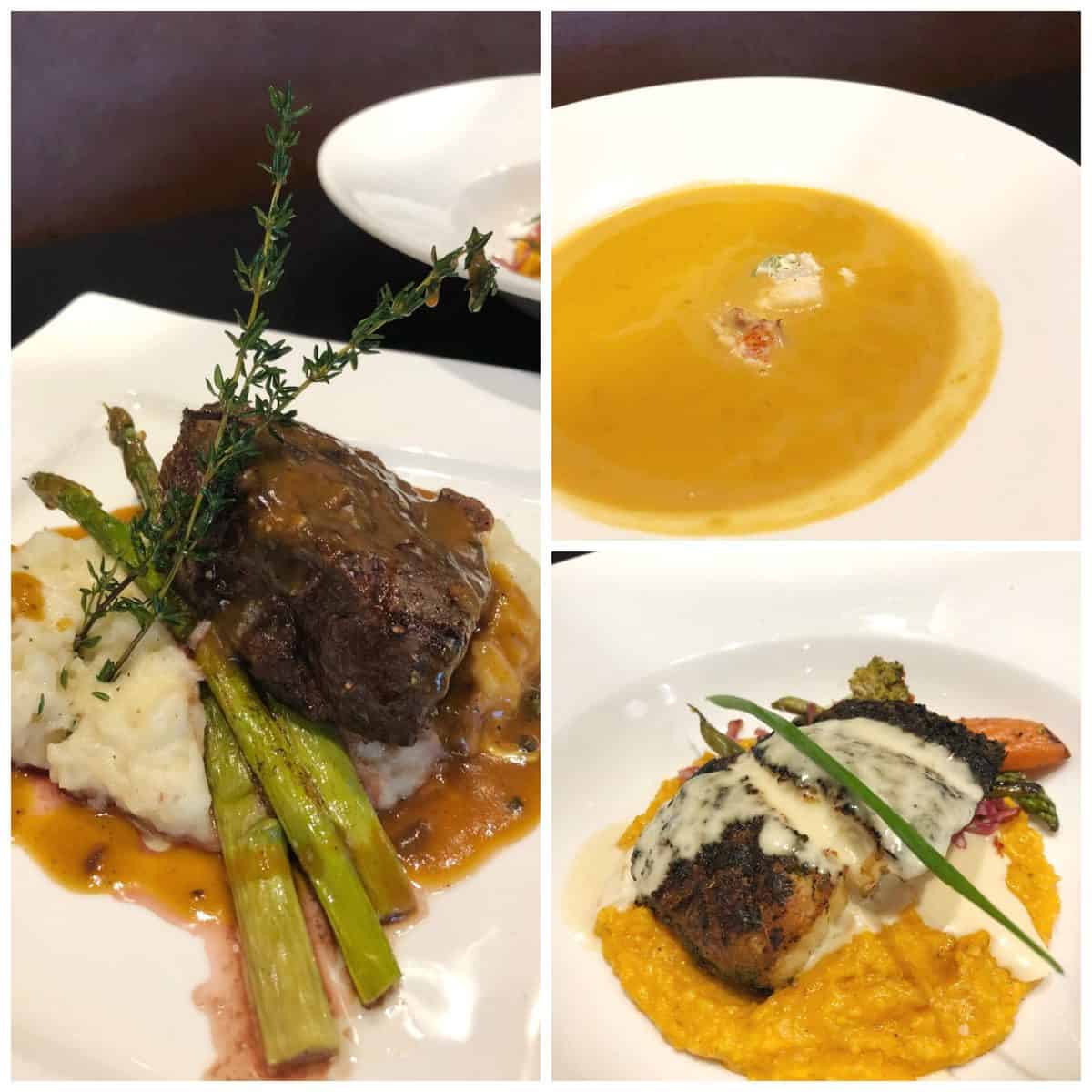 Some of my favorites from this menu were the Lobster Bisque, Pan Seared Grouper (a must when your visiting Florida) and the Vanilla Flan. Flan is not normally something I would order but this is out of this world delicious. I couldn't stop eating it!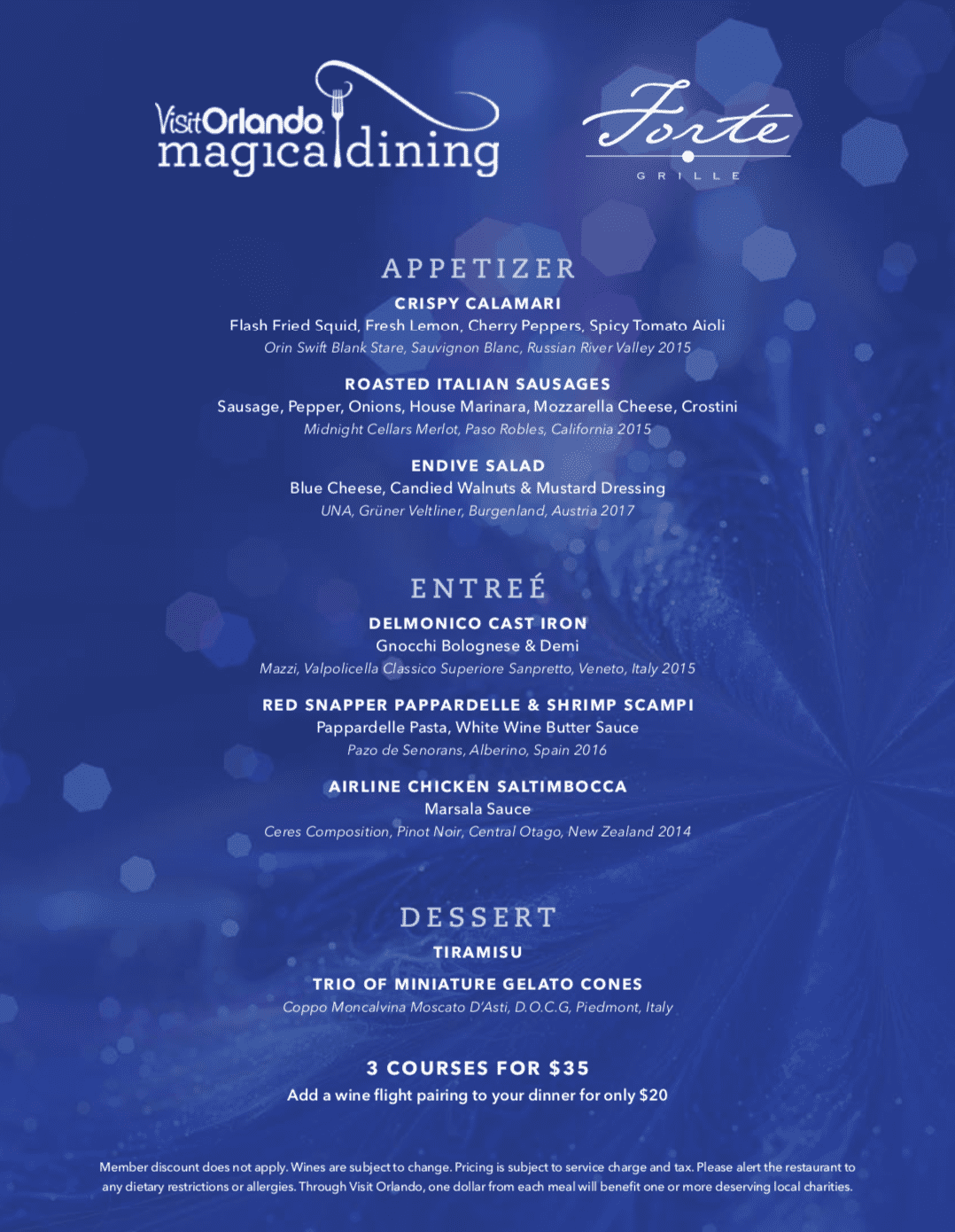 Magical Dining Menu at Forte Grille
Forte focuses on Italian Cuisine and is located on the main floor of the Reunion Grande. Think rustic atmosphere with an impressive Italian menu. They also have a side private dining room to accommodate 15-20 guests for an intimate setting. This is actually where we sat during our preview.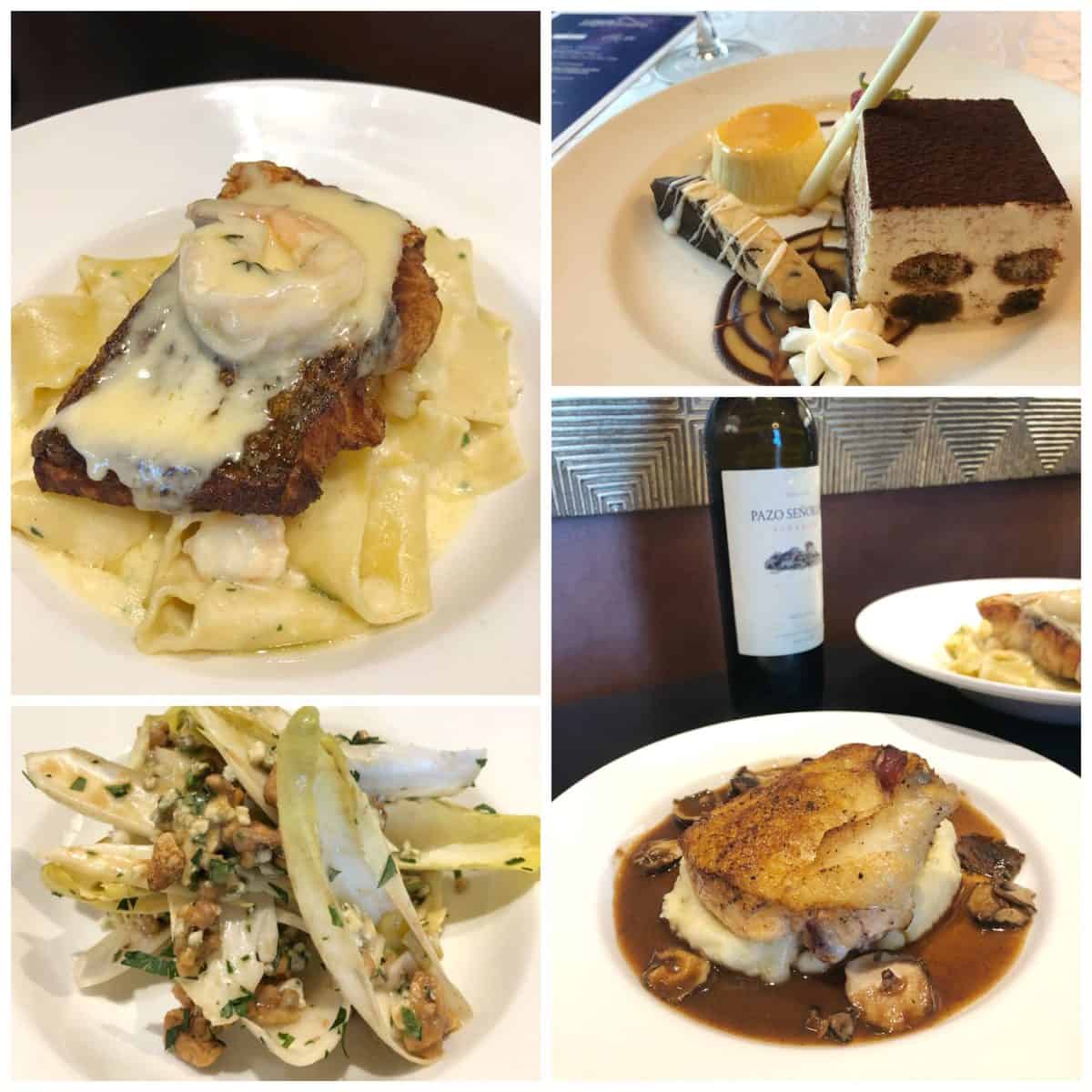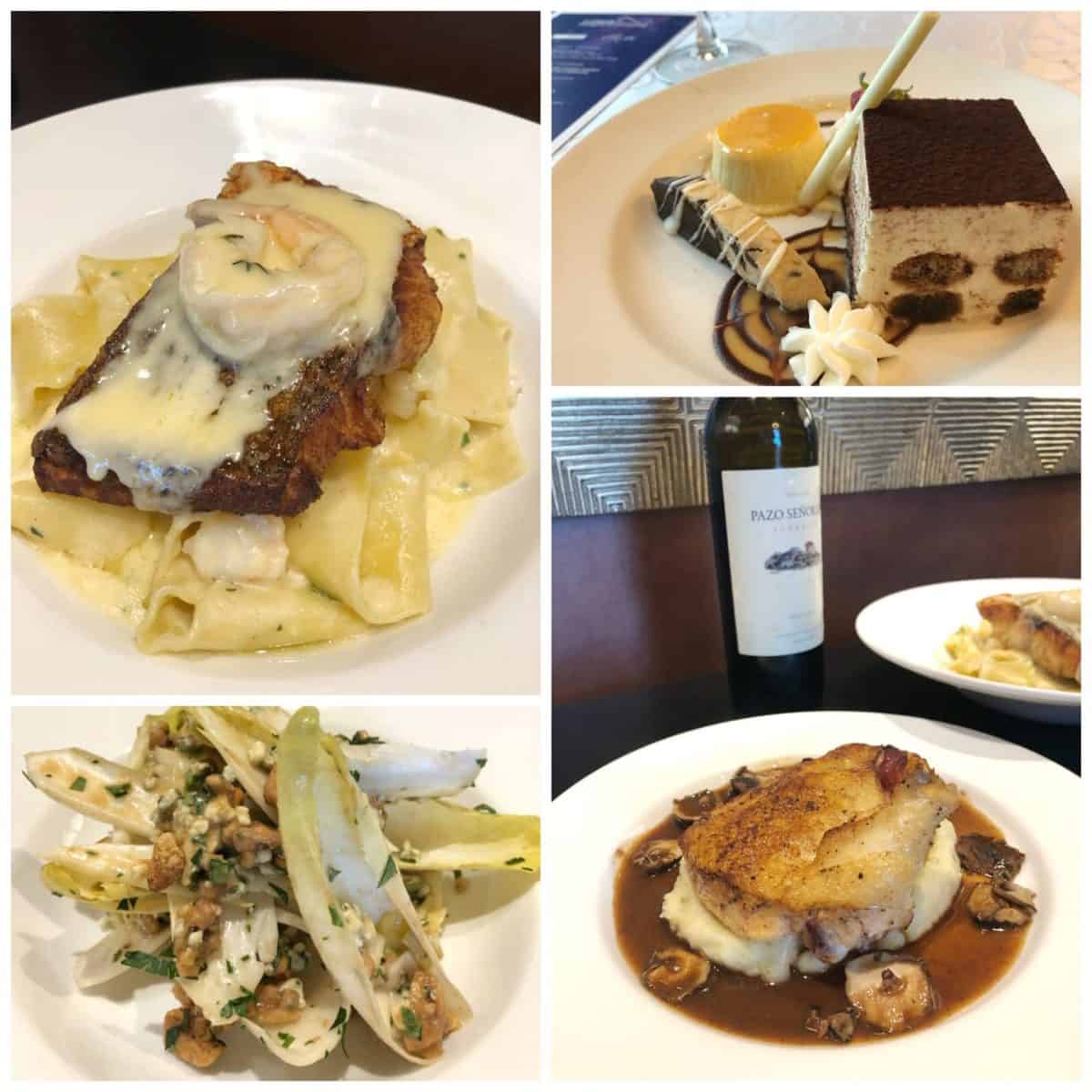 The endive salad was a starter I might not have chosen because it's paired with bleu cheese. But let me tell you it's a creamy not-so-tangy bleu cheese and one to not be missed. If you like seafood the red snapper pappardelle and shrimp scampi is decadent and the airline chicken saltimbocca is not like your average chicken dish.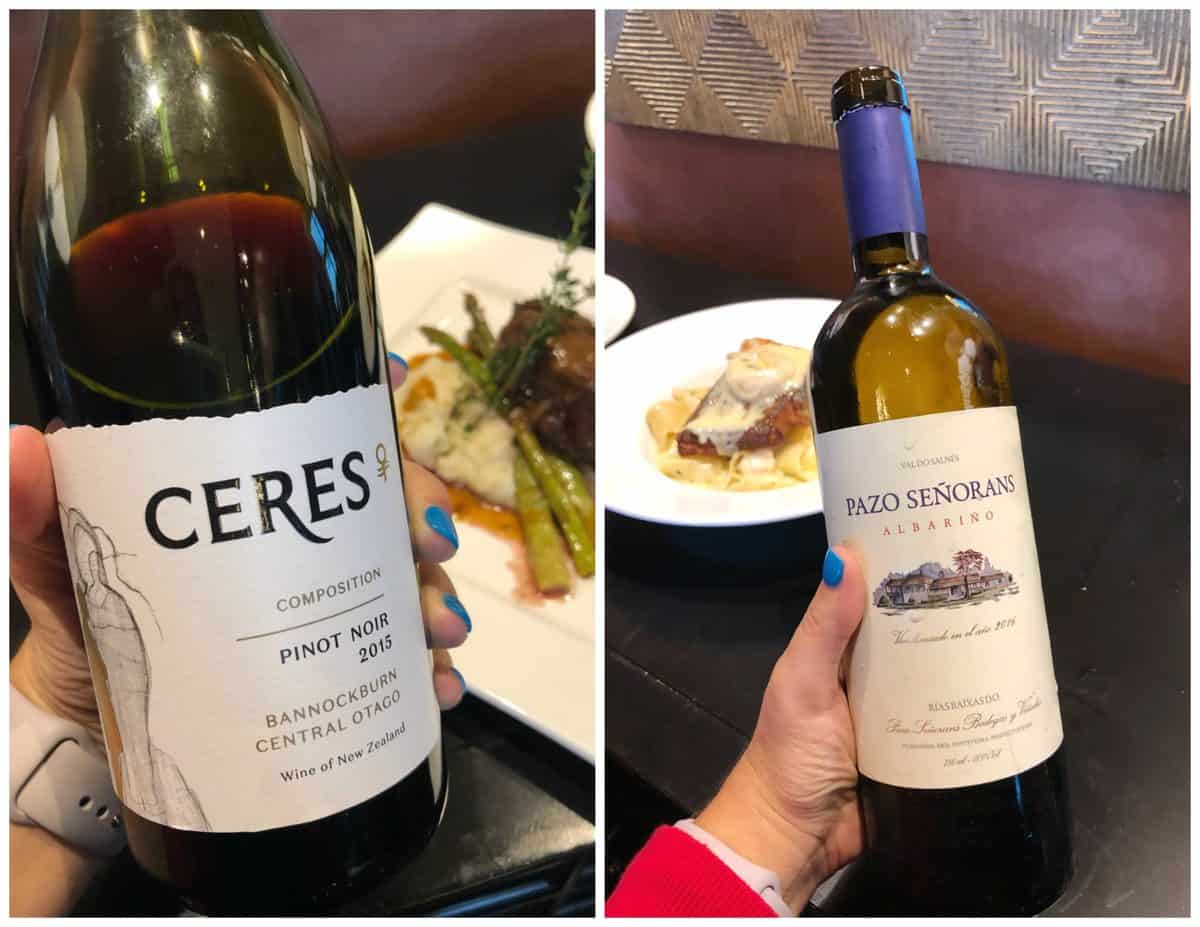 Upgrade your dinner with a 3-course wine Pairing!
With both of these menus you can get a 3-course wine pairing for just $20 more! These aren't 1 ounce pours either. It's a 5-ounce pour and allows you to select from a list of wines that you might not normally get to sample.
In fact you might not know this, but Eleven recently was named the 2019 Wine Spectator Award of Excellence. This prestigious award for the Master Wine List, which contains 94 wines, at its signature restaurant Eleven.
"We're thrilled to be honored with such an esteemed award and to be recognized for the care and attention that goes into creating such an impressive wine list."

"While overseeing wine operations at Reunion Resort, it has been my goal to educate our guests on the best wines for every budget and taste."
-Robert Mason, CBFE, Director of Food & Beverage
If your visiting Orlando or maybe a local make sure you give Visit Orlando's Magical Dining Month a try. If you've never been out to Reunion Resort, it's a must during this fantastic month to step out of your comfort zone and try something new! Visit Forte or Eleven (or both) and if you love a delicious pour make sure you upgrade your meal with the cost-effective wine pairing!
Orlando Attractions
Looking for more things to do in Orlando, Florida? Here are a few of my favorite places to visit. You can also check out my interview with my friend Ricky the author of the Orlando Food Lovers Guide.