Monkey Bread
I know what you are thinking already… two bread post in what week? Well kind of. This isn't like your normal bread recipe, but because of its title I must classify it in the bread group!
Every summer growing up my family would visit the South Jersey shore, and almost every day that we were up there we would either rent bikes or a suri that 4 to 6 of us could ride together on the boardwalk. We almost always stopped (at least once or twice during our visit) at a place on the boardwalk called "Monkey Bread". This was the first I had ever heard of this sweet amazingness "they" claimed to call "bread". A good 10 or so years later my mom started making this as a special breakfast treat (maybe twice a year if we were lucky). I had not had the bread in quite some years, and decided to make it for breakfast last weekend. Now I remember why we only were served it once or twice a year. The stuff is so sweet (but oh-so-good)! Think cinnamon bun–but a tad sweeter! For my version I used not one but two recipes and then combined them. Part of the recipe came from the Super Supper cookbook and the other part came right off the pillsbury biscuit wrapper!


Cook:
28-35 minutes
Serves:

6-8 slices
Ingredients:
3 10oz cans of refrigerated biscuits (or 2 16 oz cans)

1 cup brown sugar

1 tsp cinnamon

1 stick of unsalted butter

dash of nutmeg

1/2 cup chopped walnuts or pecans (optional)

cooking spray
Directions:

1. Pre-heat the oven to 350 degree's.
Lightly grease 12-cup fluted tube pan with shortening or cooking spray.
2. In a small sauce pan melt butter (medium heat); whisk in brown sugar and cinnamon. Whisk until the brown sugar has melted completely.
3. Open packages of biscuits and cut each biscuit into quarters. Start placing the quarter pieces of biscuits around the fluted tub pan. About a third of the way up pour some of the cinnamon sugar mixture over the biscuits. Repeat with layer biscuits and pouring cinnamon sugar mixture over the biscuits. Make sure you cover the very top of the biscuits completely with the cinnamon sugar mixture.
4.
Bake 28 to 35 minutes or until golden brown and no longer doughy in center. Cool in pan 10 minutes. Turn upside down onto serving plate; pull apart to serve. Serve warm.
Linked to:
Simpsonized Crafts; Socialize With Me Monday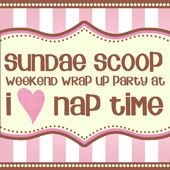 Warning
: Use of undefined constant rand - assumed 'rand' (this will throw an Error in a future version of PHP) in
/home/kjasiewicz21/webapps/katiescucina/wp-content/themes/katiescucina/single.php
on line
74
2 Responses to "Monkey Bread"
Leave a Comment