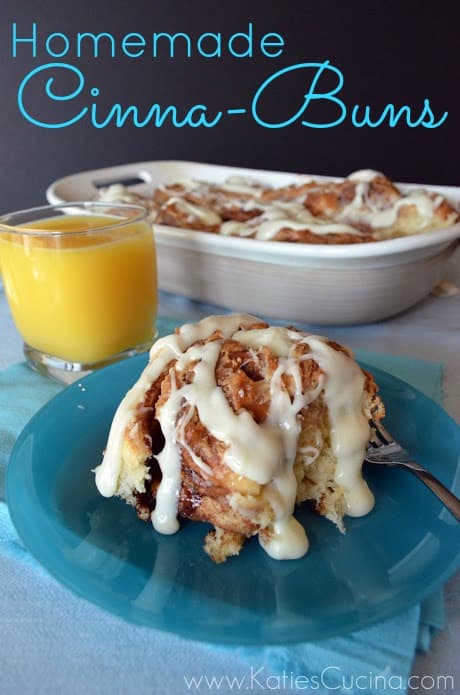 Oh how I wish I could eat these delectable Homemade Cinna-Buns every morning for breakfast. If only calories didn't count and food didn't "stick" to my hips. Growing up I was rail-thin and could eat everything on the planet without a worry. Everyone kept telling me it would change once I got older. Damn them for knowing this, and for all the warnings. It probably didn't hit me until my mid-late twenties that I realized I could no longer eat everything I wanted to without working out. Don't get me wrong–I've always eaten relatively healthy. I never ate dairy products growing up–I just wasn't a fan until my early twenties (minus ice cream–I've always loved ice cream). I refused to eat meat until I was in my teens. I ate egg whites for breakfast because the yolk repulses me (and still does). So growing up with a healthy life-style and playing sports 24-7 my little body was burning more calories than I consumed… at least that is what I like to think. Now, not so much… darn it to growing older. I finally get what all the adults in my life once told me (and I know my mom is reading and laughing right now).
So on with this post and enough with my ranting about how I can no longer eat every fattening food out there on the planet (with knowing I will need to spend an hour or two on my bike). It wasn't until the end of January (of this year) that I was finally able to successfully work with yeast! So you better believe one of the first things (minus) bread that I knew I would make was homemade cinna-buns. I mean come on how could you resist these sweet little rolls of joy? I searched for recipes and knew that King Arthur Flour was the place to go–they are reliable and I knew they wouldn't steer me wrong. I also knew if I was going to consume five-million calories for breakfast that my homemade cinna-buns were going to have a cream cheese frosting.
The labor of love that I put into these buns were worth it times 10. I started these at 9pm on a Saturday night (because that is what any normal person does on a Saturday night). They were in my refrigerator around 10:30 and after a nights rest in the fridge they were proofing for a second time come 7am. By 8am they were baking into oh-so glorious buns of joy. Filling our home with sweet joy. My husband had a few friends over that morning for beer brewing and this is what all the guys were greeted too. Everyone was happy to smell such sweet confections piping throughout our home and of course enjoyed every bite (minus my husband who complained it was too sweet and proceeded to throw half of his away. What is wrong with him? But this comes from the man who really doesn't like desserts). Oh, and I made them all stand around the kitchen island and wait while I photographed the homemade cinna-buns. I realize that it was a little tortuous of me, but hey–a girl has to do what a girl has to do. Once I was done I put the pan on the kitchen island and let the boys dig-in. I proceeded to keep the single bun photographed. If I was going to consume this many calories I was going to make it count with extra drippy icing!
Whether you are planning a brunch next weekend for Easter or just want to treat yourself to the most delectably sweet breakfast treat these homemade cinna-buns are fool-proof and easy to make (even for a non-yeast baker)!
Head on over to King Arthur Flour to get this recipe. The only thing I did different was that my homemade cinna-buns needed to bake 10 additional minutes in the oven. But baking times alway vary due to different ovens.