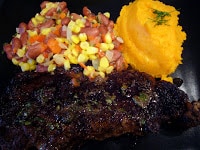 I adapted this recipe from EveryDay with Rachael Ray. Awesome rub for steaks. My husband commented that this tasted like he was eating at a steak house!!! I will use this rub for many more recipes. I know it looks burnt in the picture; however, it's not… it's just the coffee rub. I like the sweet potatoes but my husband wasn't a huge fan of them… be careful with the pepper sauce a little goes a long way!!! I only used 1 teaspoon, but we all know Rachael likes her meals spicy, so if you want it kicked up a notch use two teaspoons! The succotash was a nice change for a side dish!
Prep:
10 minutes
Total:
40 minutes

Serves:
4
Ingredients:
2 pounds sweet potatoes, peeled and cut into chunks
¾ cup buttermilk
¼ cup chopped chives
2 teaspoons hot pepper sauce
Salt and pepper
Two 16-ounce strip steaks, at room temperature
2 tablespoons steak seasoning
1 tablespoon chili powder
1 tablespoon finely ground dark-roast coffee
2 tablespoons vegetable oil
6 tablespoons butter, cut into pieces
½ cup finely chopped curly parsley
1 small red onion, chopped
1 small red bell pepper, chopped
2 ears corn, kernels scraped off, or 1 ½ cups frozen corn kernels
One 15.5-ounce can kidney beans, rinsed
2 tablespoons chopped fresh thyme
Directions:
In a medium pot, cover the sweet potatoes with water and bring to a boil. Cook until tender, 12 to 15 minutes. Drain and return to the pot. Mash with the buttermilk, chives and hot sauce; season with salt. Cover to keep warm.
While the potatoes are working, heat a large cast-iron skillet over high heat. Rub the steaks evenly with the steak seasoning, chili powder and coffee. Add 1 tablespoon oil to the skillet, 1 turn of the pan, and spread it around with a folded paper towel. Add the steaks and cook, turning once, for 8 minutes. Turn off the heat, tent the skillet with foil and let rest for about 10 minutes, turning once halfway through.
While the meat rests, in a small saucepan, heat the butter until foaming. Stir in the parsley.
In a large skillet, heat the remaining 1 tablespoon oil over medium-high heat until smoking. Add the onion, bell pepper and corn and cook until browned at the edges, about 2 minutes. Stir in the kidney beans and cook until heated through, 2 minutes; season with the thyme, salt and pepper. Slice the steak against the grain and divide into 4 portions. Pour the parsley butter on top. Serve the steak with the succotash and sweet potatoes.