If you are new to Air Frying I have 20+ Air Fryer Recipes for Beginners! From breakfast, lunch, and dinner and even dessert. If you are looking at buying an Air Fryer, just received one, or maybe have had one I guarantee you will be an air fryer pro in no time!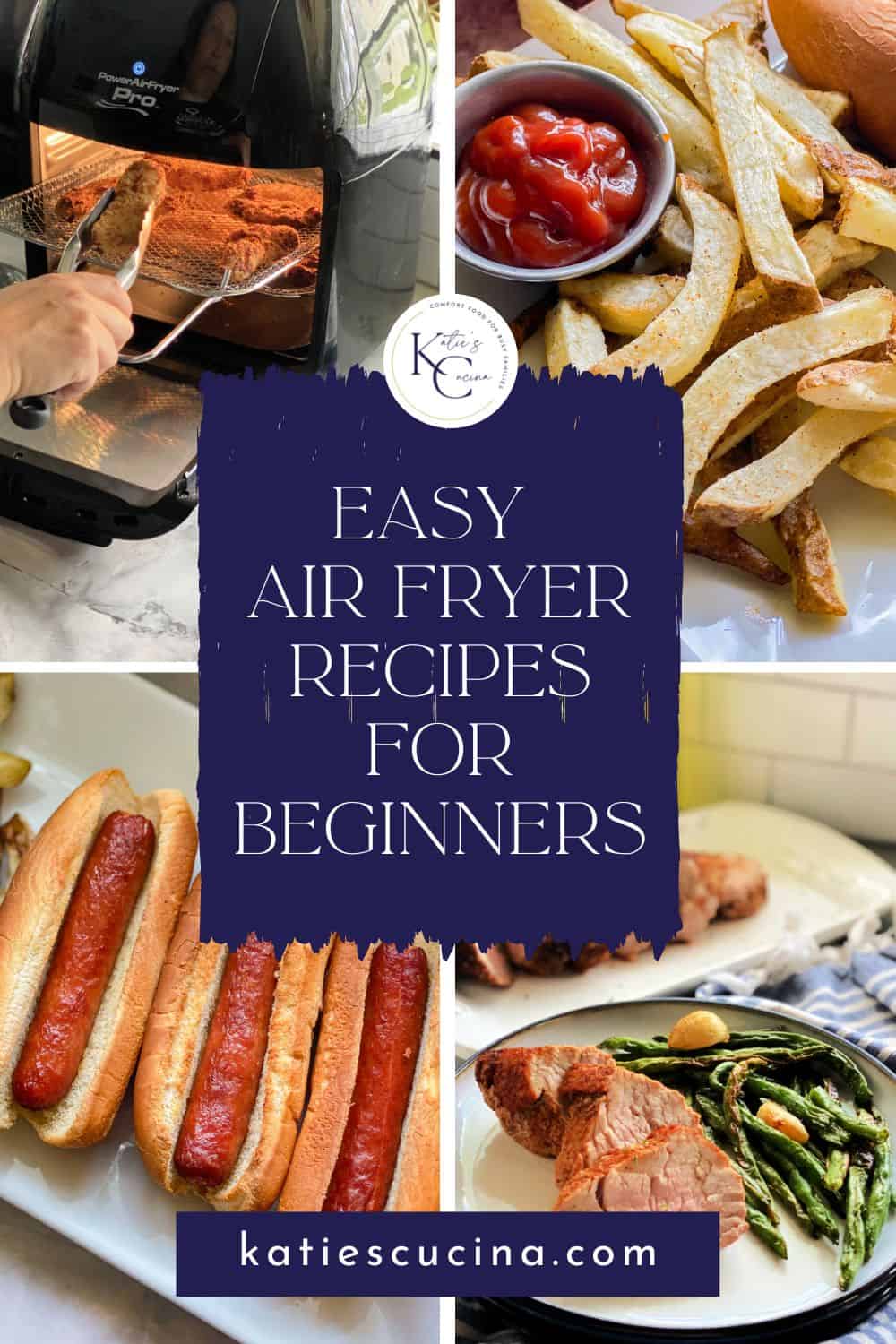 If you are new to cooking with an Air Fryer I am here to share with you over 25 Air Fryer Recipes for Beginners. I'm also here to break down the different types of Air Fryers and some common frequently asked questions I get. I've been air frying for over two years now. I use my Air Fryer to cook something at almost every meal.
Jump to:
Types of Air Fryers
There are two types of Air Fryers. You have the air fryer oven and the air fryer basket. Both get the job done, and both can be limited in space and what you can cook. When you are cooking for a family or even simply cooking for others you will want the largest air fryer possible.
I have the following air fryer models:
Air Fryer vs Air Fryer Oven
As you read above. I have both a traditional basket Air Fryer and an Air Fryer oven. I get the question a lot about what is an air fryer vs air fryer oven? A traditional Air Fryer is a countertop appliance that has a basket that you place food in. The Air Fryer Oven is more of a toaster oven style that is multi-use.
Air fryers Accessories
Are you looking for Air fryers Accessories? Check out this list of all the accessories that you can either buy or that come with Air Fryers.
Air Fryer Questions
Got questions about the Air Fryer? I'm here to answer them!
What is the largest air fryer?
The 2 largest Air Fryers on the market are: Wolfgang Puck 9.7QT Air Fryer Stainless Steel, Large Single Basket Design and Paula Deen HF-9001D Family Size Air Fryer which has a 9.5 quart capacity. According to Consumer Reports though both of these Air Fryers actual quart capacity is around the 8 quart mark.
What is the easiest way to clean an air fryer?
Regardless of what style air fryer you own you will want to clean your air fryer right away. If you have the basket style you need to read the manual to see if you can fully submerge your basket. My Instant Brand basket can not be submerged.

If you have an oven, you will want to unplug it and let it cool down. Once cooled, you can wipe clean with a damp cloth. Then dry before you plug it in to cook again. You can also remove the bottom drip tray and clean that out.

If the basket is full of oil and food, I will put a little dish soap in the bottom of the basket and fill with about 2-3 inches of water to let it soak.

Always, clean your air fryer with a soft sponge that is non-abrasive so that you don't scratch the non-stick surface. Always rinse well and dry immediately.

What should you not put in an air fryer?
There are a few items you should cook in an air fryer.
– Leafy Greens: These do not cook evenly and shrivel up and burn more then anything.
– Grains: You cannot cook rice or any other grain in the air fryer.
– Cheese: Any food that has an excessive amount of cheese will most likely melt off the food and fall in the drip tray causing not only a big mess for you to clean up, but also could burn.
– Battered Foods: If you have a battered ingredient the batter will most likely drip to the bottom causing the batter to burn and the possibility that your food won't cook properly.
– Large Meat: Large meat such as a large whole chicken that is over 3 pounds. The chicken will burn before it's cook through to the middle.
Can you put raw meat in Airfryer?
Yes, it is safe to put raw meat in the airfryer as long as it has been thawed and cooked to safe consumption temperature. Always use a meat thermometer to ensure the protein is cooked through.
Air Fryer Breakfast
Craving a quick and easy breakfast? Here are a few of my favorite recipes including my absolute favorite way to cook bacon.
Air Fryer Dinner
Looking to make a quick dinner? Check out some of my favorite dinner recipes including Air Fryer Salmon and Air Fryer Pork Tenderloin.
Air Fryer Side Dishes
Looking to make a side dish in the Air Fryer? Try a few of my favorite easy Air Fryer sides from green beans, acorn squash, and homemade french fries!
Air Fryer Dessert Recipes
Craving something sweet? You can actually make quite a few delicious Air Fryer Dessert recipes including Air Fryer Cookies and Air Fryer S'mores!
I hope you found these tips and tricks very helpful if you are a beginner at using the Air Fryer. What recipe will you try first?
Don't forget to FOLLOW ME on Facebook, Pinterest, and Instagram, and subscribe to my email list!