Looking for an easy to make crowd pleasing appetizer. This 3-ingredient creamy Slow Cooker Chili Cheese Dip is the perfect game day dip.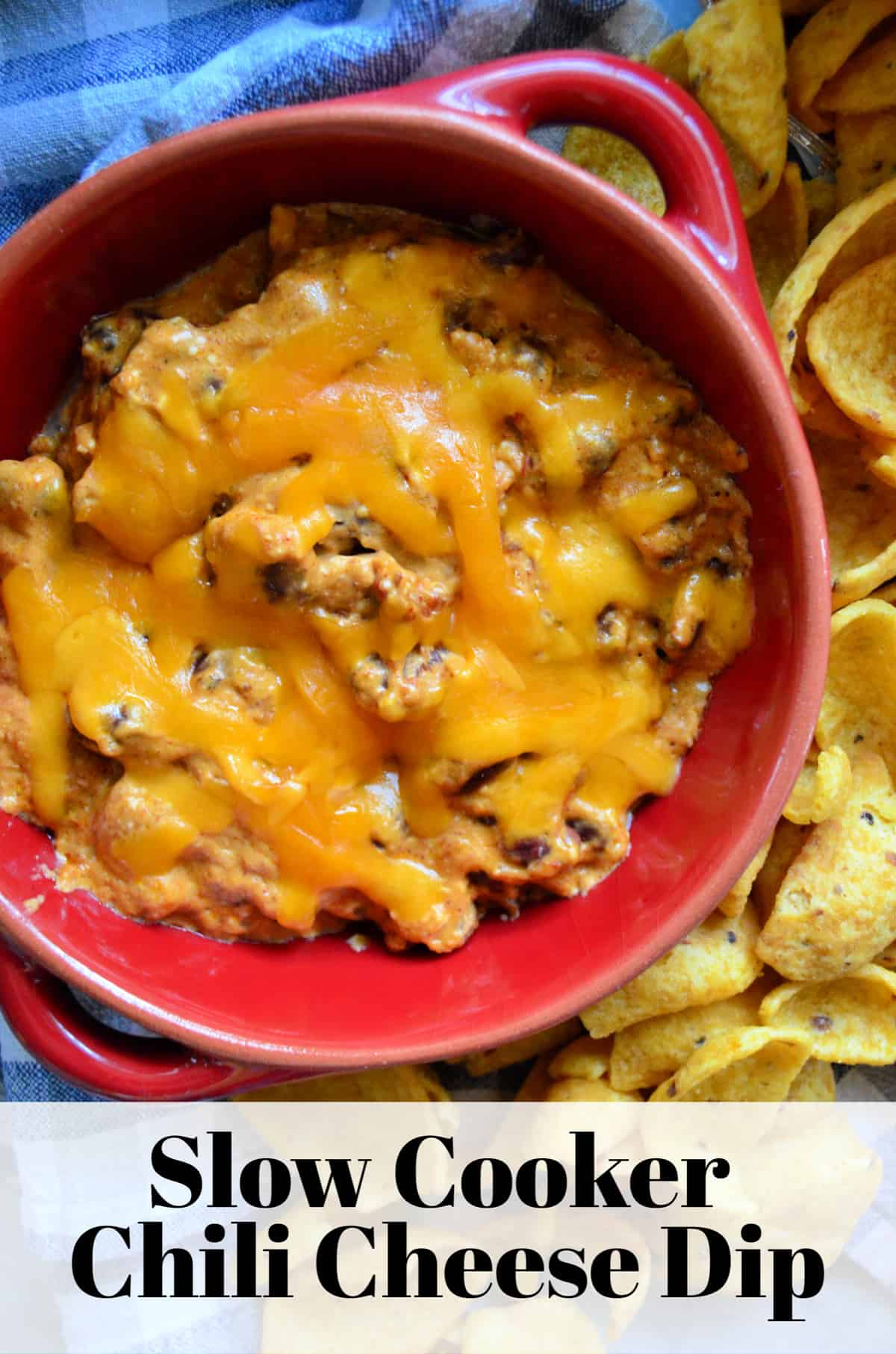 Whether you're entertaining to watch a sporting event or simply want something hearty and comforting to nosh on. This 3-ingredient slow cooker chili cheese dip is sure to be a crowd favorite! I love to make this recipe when I know I'm entertaining and want a dip as an easy appetizer. This recipe takes literally 5 minutes to put together and less then 5 minutes to finish before serving.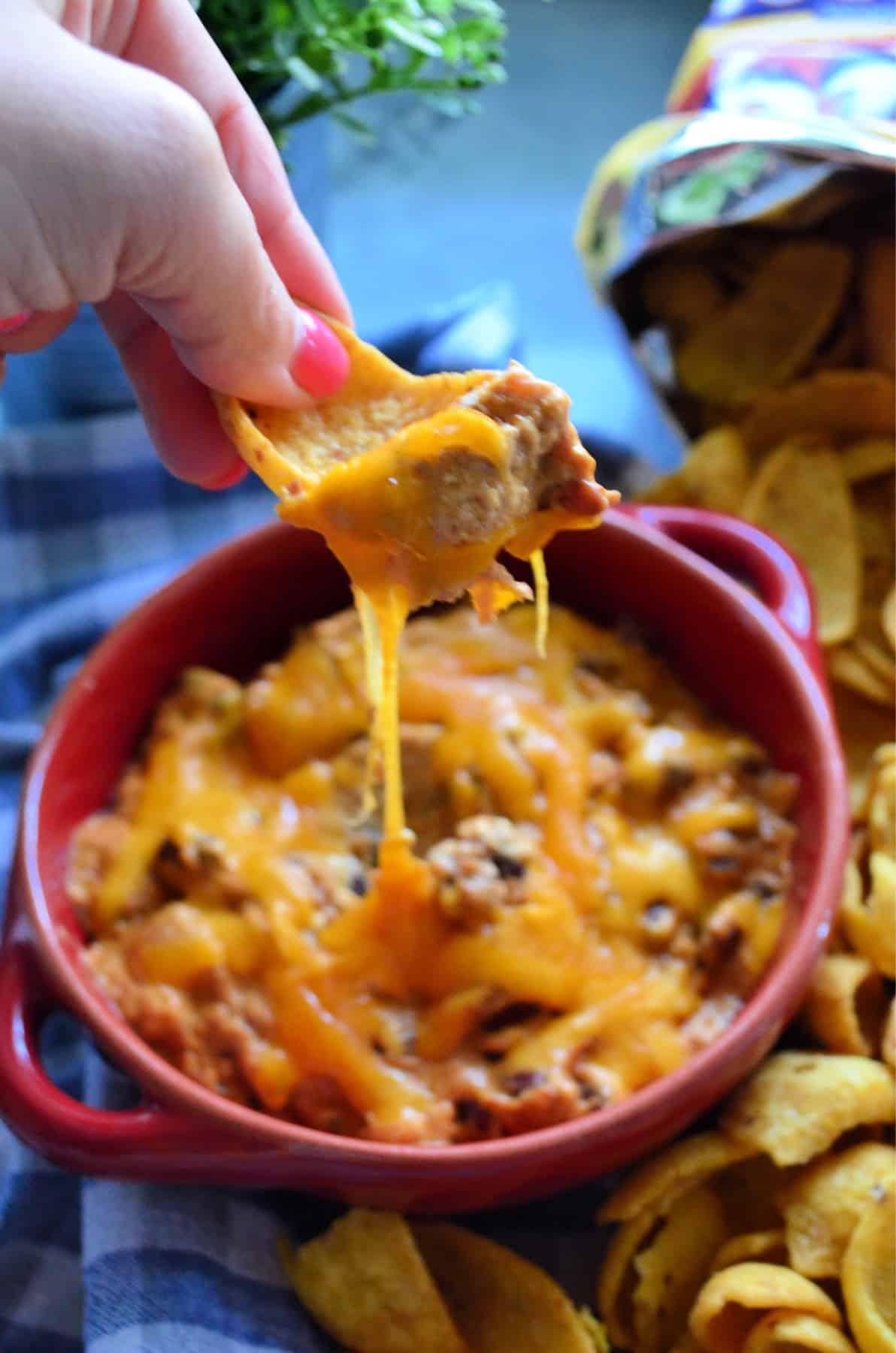 What ingredients are in chili cheese dip?
For this chili dip recipe I use just three ingredients. Nothing complicated. I like to use leftover chili either that I've made that week or froze for a rainy day (and then defrosted to room temperature). If you don't have chili on hand you can use a can of chili. Yes—I said that correct. In fact, most times when I make this recipe I will use a can because it's easy and quick.
Here are the three basic ingredients for this dip.
Chili homemade or canned
Cream Cheese
Shredded Cheddar Cheese
Don't forget the non-stick cooking spray! I don't list that as an ingredient but this helps with a no-fuss clean up!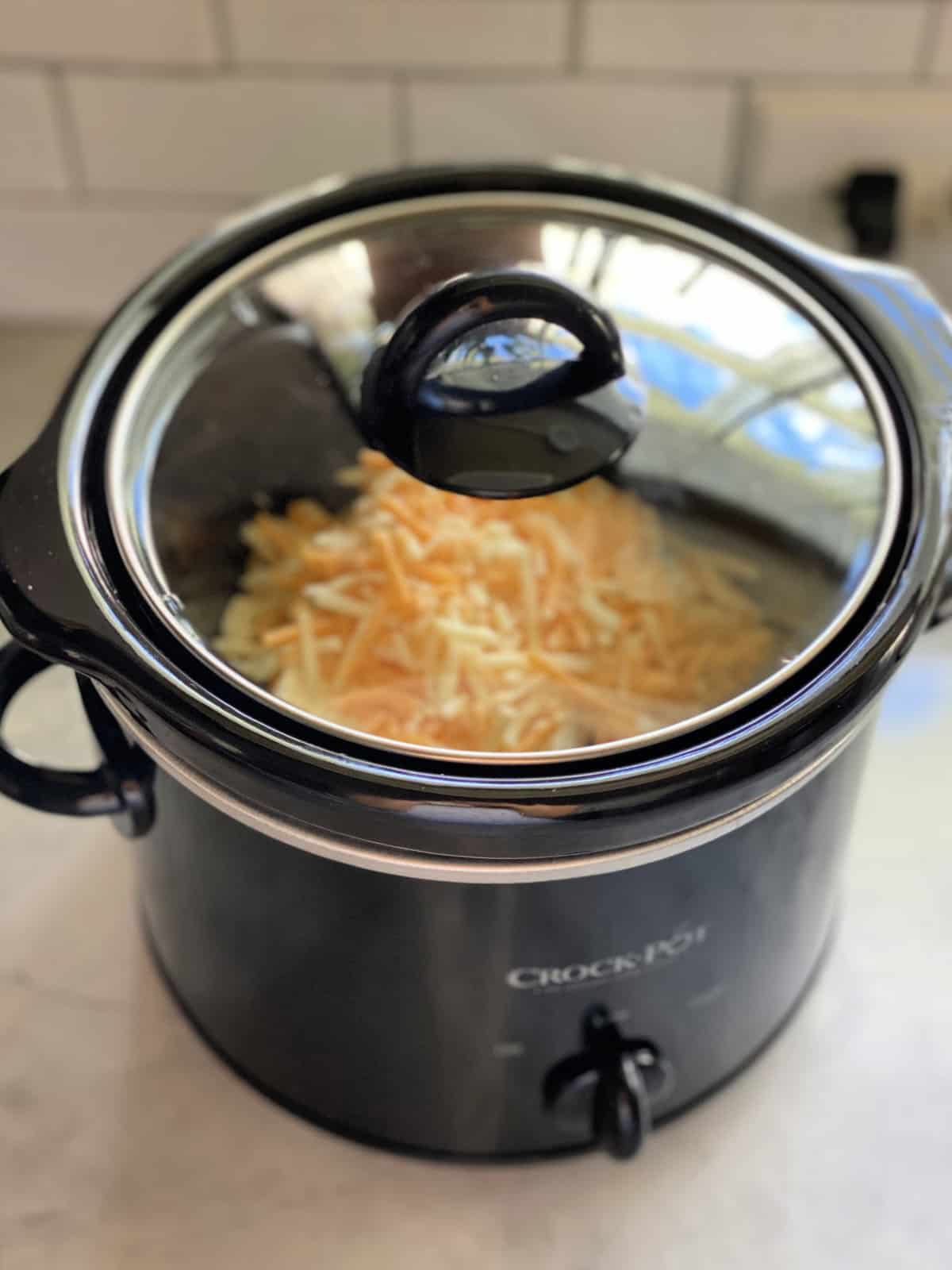 How do you make chili cheese dip?
Making this cheese dip is super simple! First you will want to spray the slow cooker with non-stick cooking spray.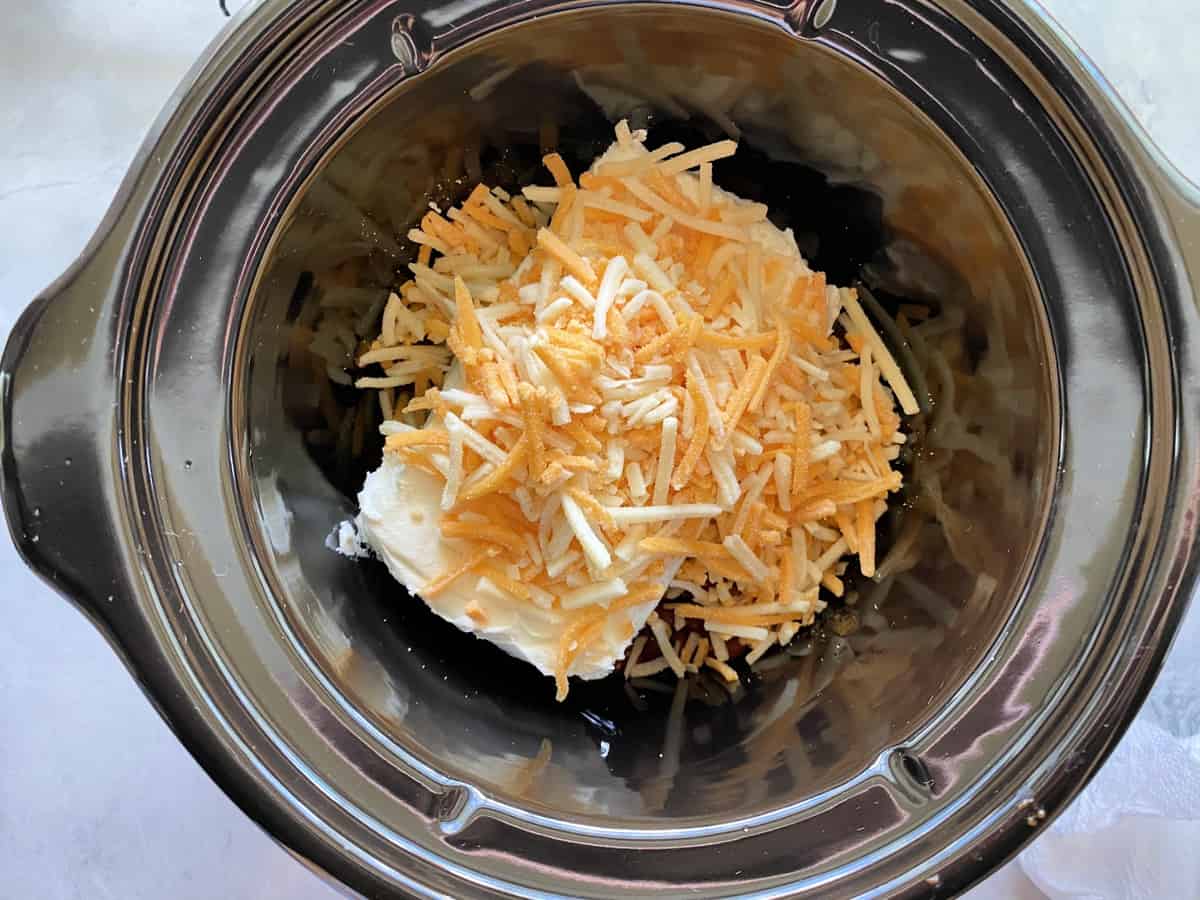 Place the chili in the 1.5 quart slow cooker, followed by the cream cheese, and top with shredded cheddar cheese. Place the lid on the slow cooker, and cook on high for 1 hour or low for 2 hours.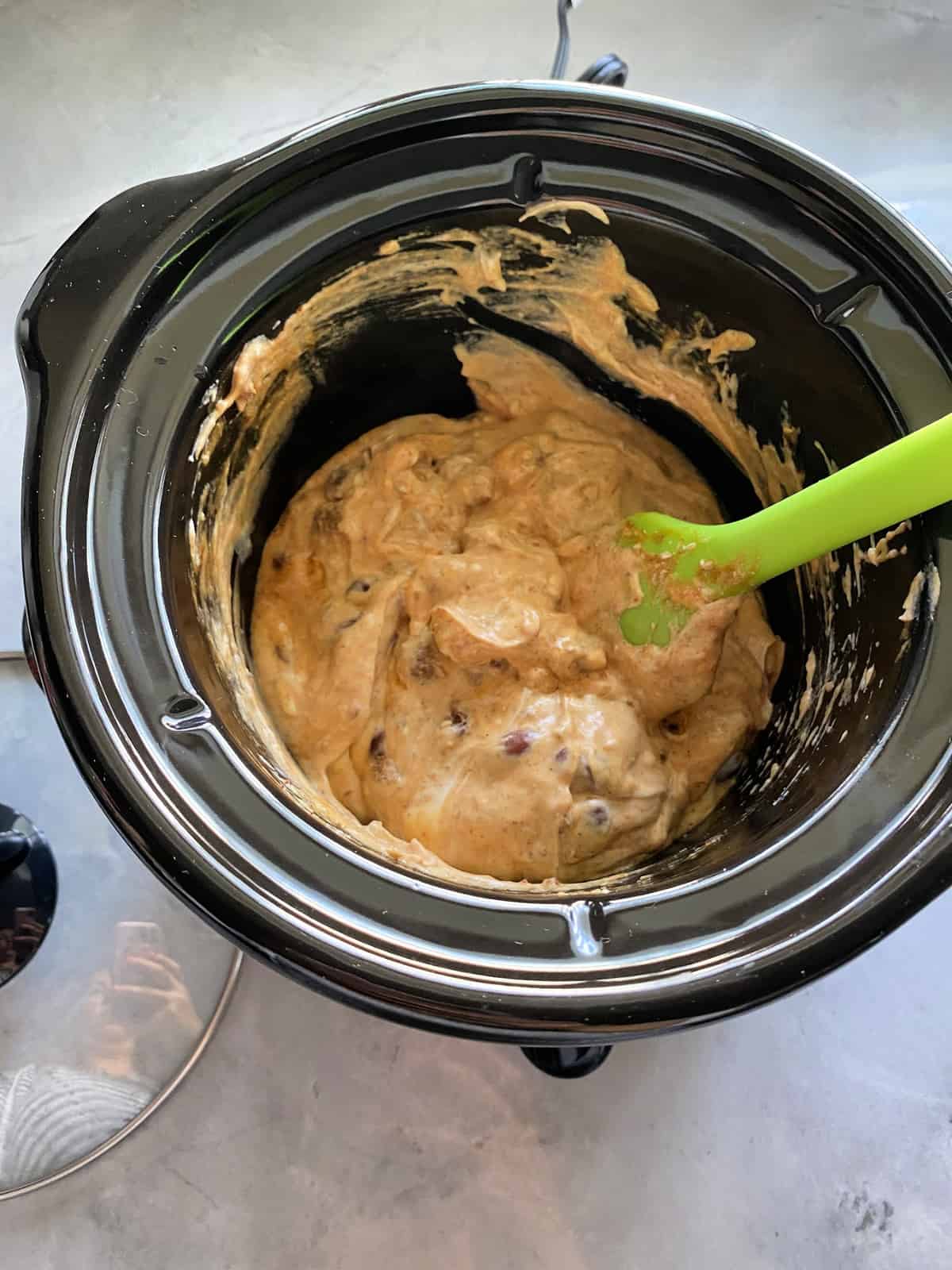 Once the time is up, mix until combined. I like to keep the dip on low or warming mode when I serve it so it stays hot. This means you'll want to give it a stir on occasion. Serve with corn chips such as fritos or tortilla chips.
Can I freeze chili cheese dip?
This recipe is a smaller batch version. It still feeds plenty of people. But you might still find you have leftovers. In this case you can freeze the dip. Yes, you can freeze dips with cream cheese in them. The higher the fat content in the dip, the better it will freeze. A full-fat cream cheese dip is less likely to separate and crumble after being frozen.
To freeze the dip you'll simply want to place the room temperature cheese dip in an air tight container. Label the container with the contents and the date it was made and place in the freezer. It will be good for up to 3 months in the freezer. To reheat the dip take it out the day before to thaw in the refrigerator. Then reheat by transferring to a microwave safe/oven safe dish. Reheat either in the microwave or on the stove top until hot.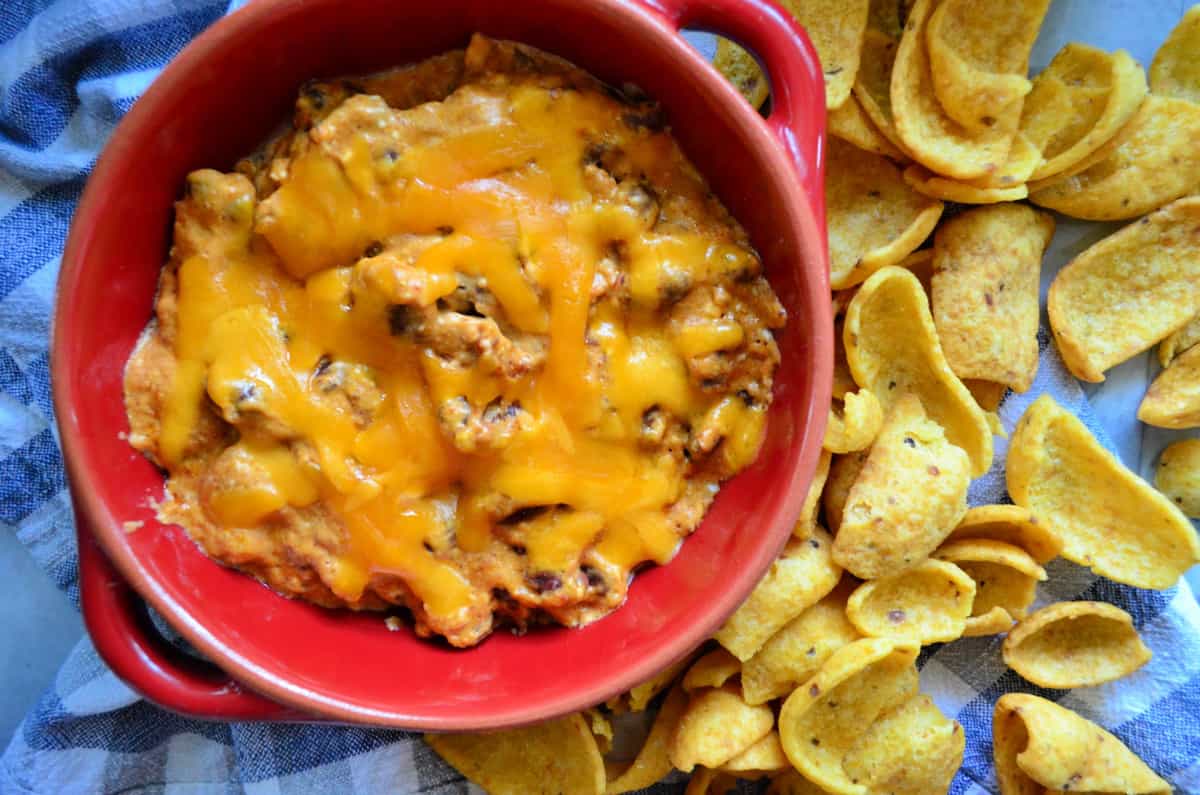 Dip Recipe Ideas
Here are a few more delicious and easy to make dip recipes in case you are entertaining for a crowd.
If you love chili and love all things cheesy. I think you'll love this easy recipe for Slow Cooker Chili Cheese Dip! This recipe is also gluten free and a perfect Keto friendly (low-carb) appetizer to enjoy. Pair with your favorite veggie or indulge with Frito's or tortilla chips!