Chicken Parmesan Pizza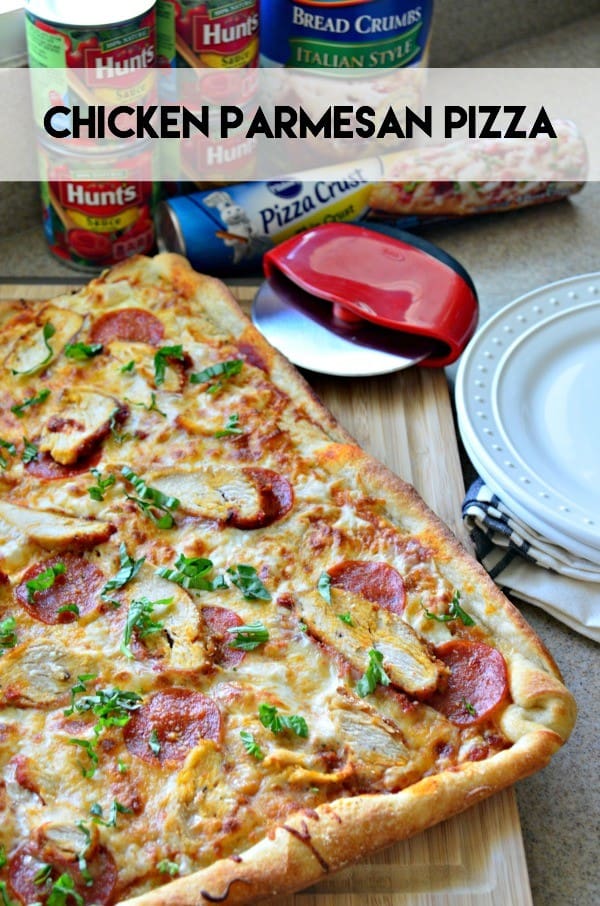 If you love pizza and you love chicken Parmesan I promise your gonna love my latest creation;  chicken Parmesan pizza. My husband, Jon, is the king of chicken Parmesan. It's his absolute favorite dish. I make it once a month and then his mom makes it at least once a month so he gets his fill. I almost always have leftover chicken Parmesan. I like to reinvent leftovers so that's where this version of pizza came about. It made for the perfect lunch; however, could also work as a quick weeknight dinner!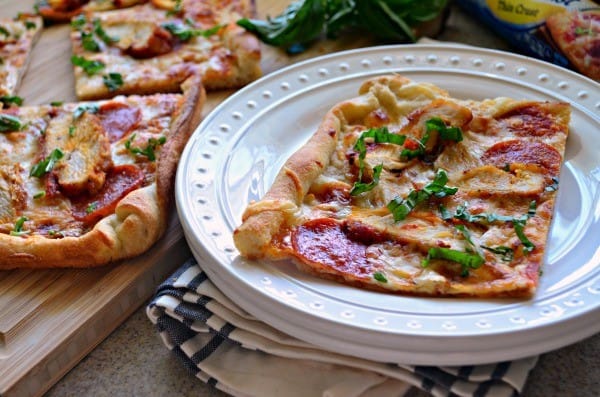 I always have Pillsbury refrigerated pizza dough in my fridge. I love the thin crust. I rolled out the dough on to a baking sheet. Then I spread 1/4 cup of tomato sauce on top of the crust. When you make pizza you want to make sure you leave at least a half inch around the boarder of the crust sauce free! Think of it like an invisible line. I used a small can of Hunts tomato sauce–then save the rest in a container for another day. You can also freeze the leftover sauce in a freezer safe ziplock bag. Just make sure you right the date and what's in the bag! Or else it becomes mystery to you in a few weeks time.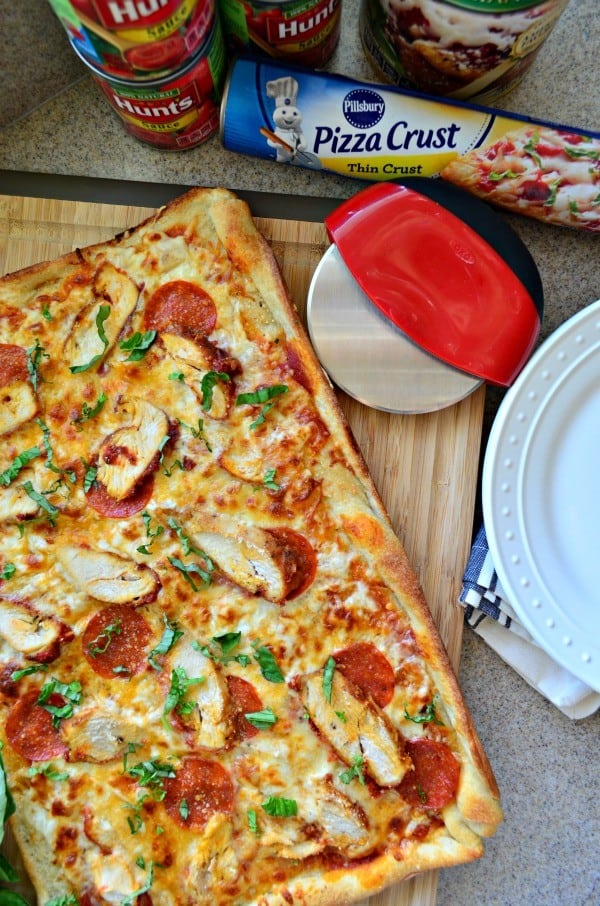 Everyone loved this pizza recipe and I have Publix to thank! Right now, at your local Publix Supermarket they currently have the Viva Italia sale. They do this sale a few times a year. They have tons of buy one get one free offers on all of our favorite Italian brands plus additional digital coupons.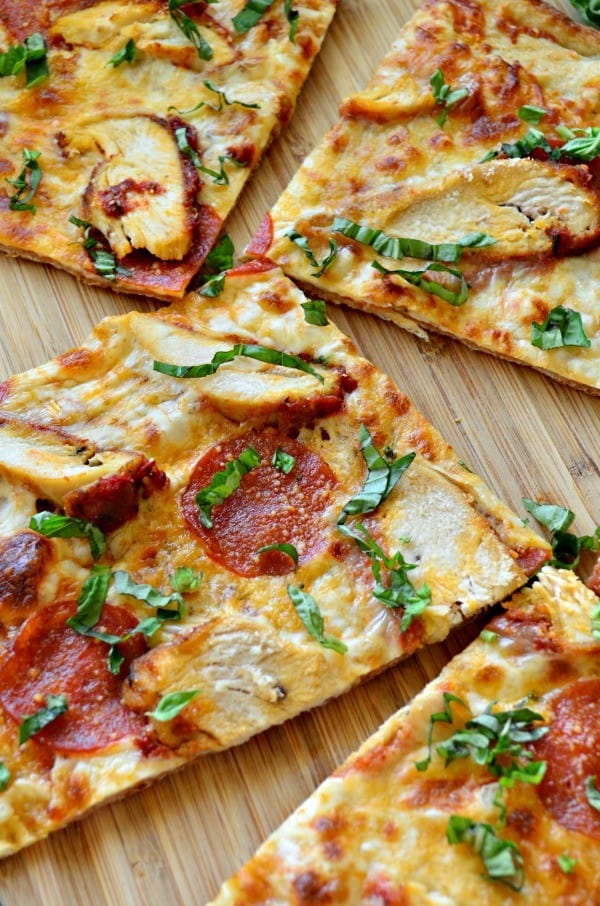 Allowing you to save money and bring the flavors of Italy home! So if your craving pizza tonight, run over to your local Publix supermarket and stock up on all your favorites and make my recipe for Chicken Parmesan Pizza!
My friends at Publix want one lucky reader to win $25 in PayPal cash so that they can bring a taste of Italy home with them! Please wait for the widget to load or click on the link to enter for a chance to win. Must enter the mandatory entry for a chance to win. One winner will be chosen at random. Must have a PayPal account and be 18 years of age or older. Giveaway will end March 1, 2016.

Chicken Parmesan Pizza
Yield: 6
Prep Time: 5 minutes
Cook Time: 14 minutes
Total Time: 19 minutes
Ingredients:
1 11oz. Refrigerated Pillsbury thin crust pizza crust
1/4 Hunts tomato sauce
1 teaspoon Italian seasoning
2 cups shredded mozzarella cheese
12 pepperoni
1 cooked chicken Parmesan thinly sliced
2 tablespoons Grated Parmesan cheese
Fresh basil for garnish
Directions:
Preheat oven to 450 degrees Fahrenheit.
Unroll Refrigerated Pillsbury thin crust pizza crust on to a baking sheet. Spread the tomato sauce on top of the crust leaving a half inch around the edge without sauce. Sprinkle with Italian seasoning followed by 1-3/4 cups of the shredded mozzarella. Place pepperoni on pizza followed by the sliced cooked chicken Parmesan. Sprinkle remaining shredded mozzarella cheese on top and the grated Parmesan cheese.
Bake for 14 minutes or until golden brown. While the pizza bakes, stack the basil leaves on top of one another. Roll tightly and thinly slice. Remove pizza from the oven, sprinkle with fresh basil. Cut into 6 slices and enjoy immediately.
Warning
: Use of undefined constant rand - assumed 'rand' (this will throw an Error in a future version of PHP) in
/home/kjasiewicz21/webapps/katiescucina/wp-content/themes/katiescucina/single.php
on line
74
21 Responses to "Chicken Parmesan Pizza"
Leave a Comment