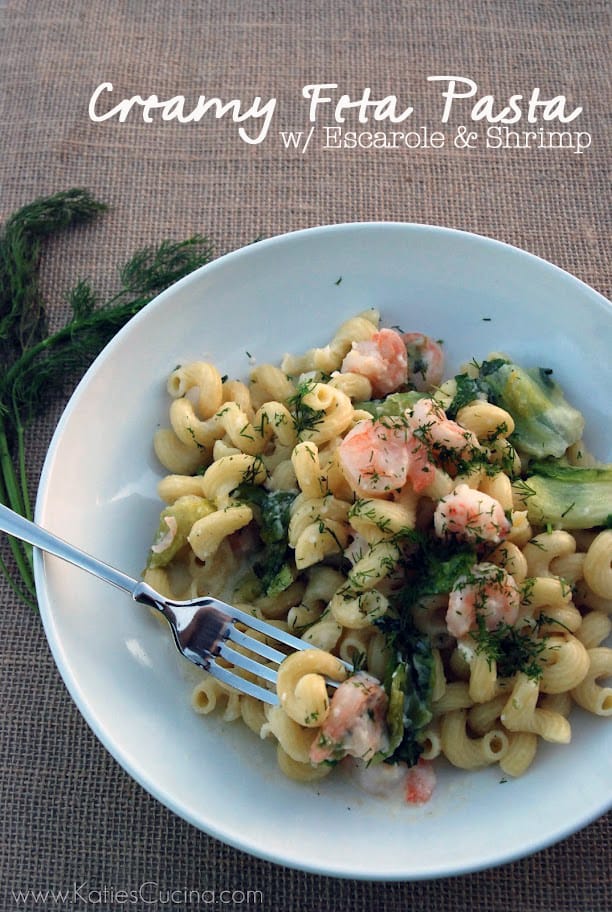 Growing up I hated cheese. Like despised all cheese except for melted mozzarella cheese on pizza. Other than that–I wanted nothing to do with cheese. Yes, that even included cheddar in macaroni & cheese. I seriously was the worlds pickiest yet healthiest kid eater known to man kind (as I'm told by my mother). It wasn't until my early 20's that I ate my first cheese burger and that was with the ever-so-mild provolone cheese. To this day I cannot eat a cold cut sandwich with cold cheese on it, and I'm still extremely picky about eat cold cheeses.
In the past few years I have really been getting crazy with the cheese trying and most recently (as in this year) I've started eating feta cheese. I know… gasp. Most people are born out of the womb eating feta–not I. Since trying feta few times prior to this dish I enjoyed it. Not over the top I'm in love with it, but the taste was some what pleasant to my pallet. When I saw this recipe I wanted to give it a try. A creamy feta sauce? What could go wrong with this dish? I'm so happy I jumped out of my bubble and tried a warm feta cheese sauce for this pasta dish. I've made this dish 3 times since originally taking the photo's for this post. This simple pasta dish is elegant, fresh, and full of flavor.
You might be wondering where the giveaway comes into play? This recipe, like most recipe calls for ounces and pounds of various ingredients. Until recently, I always did the math and converted those ounces and pounds into cups and tablespoons, until receiving an OXO 5 Pound Food Scale with Pull-Out Display to review and giveaway to one of my lucky readers. I didn't realize how important and needed it is to have a food scale in the kitchen. It's kind of changed my life, guys!
After reading a little more about the scale I began using it for this recipe. You can weight food directly on the scale or use a bowl to weight. When using a bowl you need to clear the weight of the bowl. As pictured above, my glass bowl weighs 1lb 8oz. The zero function allows for zeroing the scale before adding additional ingredients to be weighed.
Press the zero button to offset the weight of a container or to set the weight back to zero so you can add additional ingredients. You will also notice that the display pulls away from base to prevent shadowing from large plates or bowls.
I began by weighting the shrimp. I couldn't get the shrimp exactly at 12oz (which is the equivalent to 3/4 pounds), but I got it pretty darn close.
Next up, it was time to weigh the pasta. This is something I was so incredibly excited to finally get to weight my pasta and get an accurate read! The easy-to-read, large display screen and numbers is wonderful! As you may be able to tell this is a super tiny little scale. The thin profile allows for easy storage in my overly stuffed kitchen!
One lucky reader will have the chance to win 1 OXO 5 Pound Food Scale with Pull-Out Display! Please fill out rafflecopter below to enter for a chance to win.
Adapted from: Everyday Food, May 2012
Ingredients
3/4

pound

cavatappi

1

large head escarole

trimmed and cut crosswise into 1-inch strips

2

tbsp

extra-virgin olive oil

2

garlic cloves

sliced

3/4

pound

large shrimp

peeled, deveined

1/3

cup

nonfat plain Greek yogurt

7

oz

feta

crumbled

2

tbsp

coarsely chopped fresh dill

salt & ground pepper to taste
Instructions
Bring a large pot of water to a boil, salt liberarly, and cook pasta 1 minute less than the package instructions. Add escarole to the boiling pot of pasta water and cook for 1 minute. Reserve 1 cup of pasta water and then drain into a colander.

While the pasta is almost done cooking heat the olive oil in a large skillet over medium-high heat. Add garlic and cook for 30 seconds then add the shrimp and season with salt and pepper. Cook until opaque throughout, about 5minutes. Add pasta mixture and 1/4 cup of pasta water to the skillet. Cook for 1 minute and then stir in the greek yogurt, feta, and dill. Mix well and if needed add more pasta water to the skillet until you are happy with the light sauce consistency throughout the pasta. Season with additional salt and ground pepper if needed, and serve.
Disclaimer: I received 1 OXO 5 Pound Food Scale with Pull-Out Display to review and keep, and 1 OXO 5 Pound Food Scale with Pull-Out Display to giveaway to 1 lucky reader. All opinions are always my own and do not reflect the company.