Nothing beats a homemade 3-ingredient ice cream recipe on a hot day. If you've never made homemade ice cream this recipe for No-Churn Toasted Marshmallow Ice Cream is the perfect recipe to start with.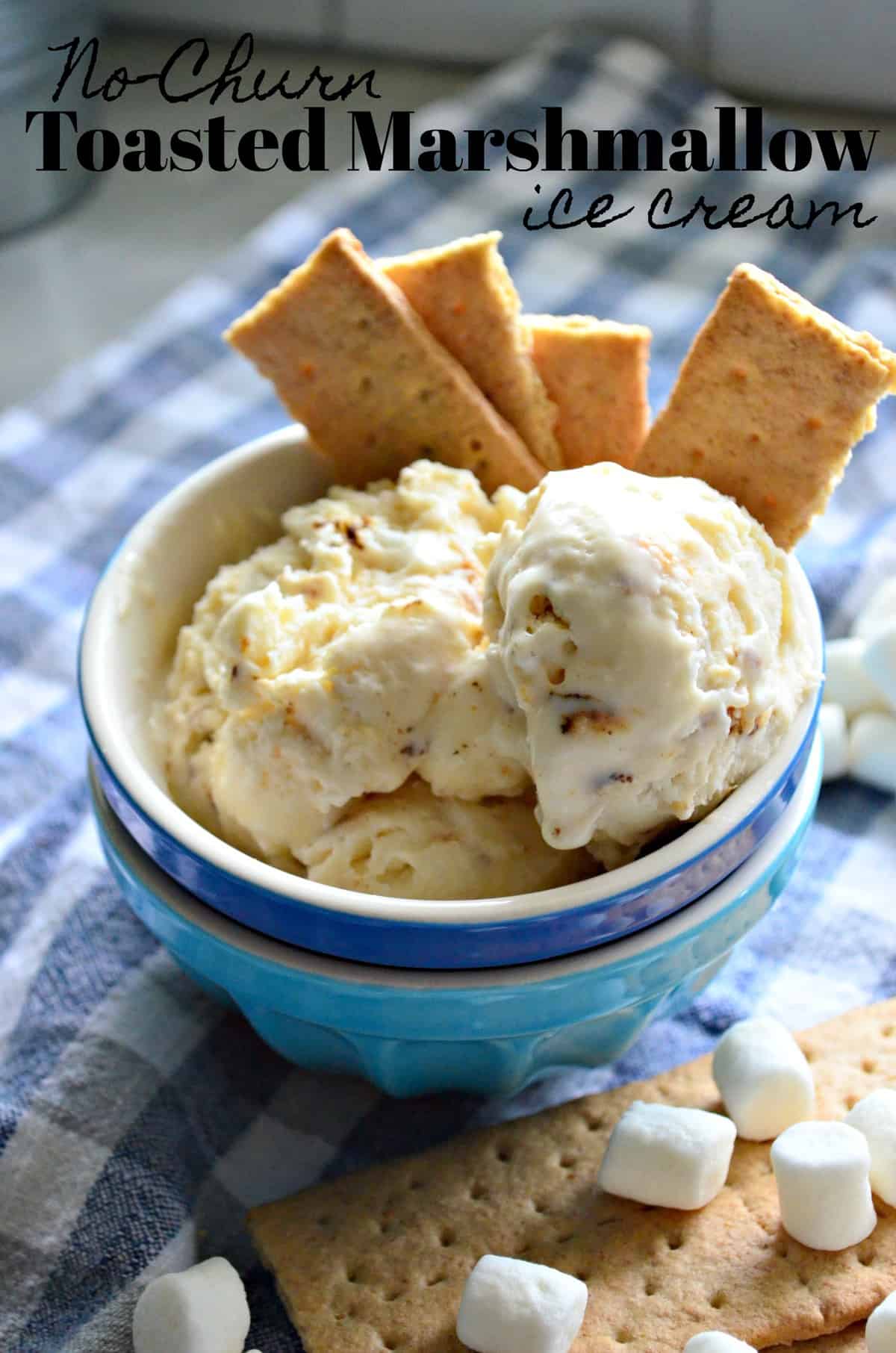 I love making homemade ice cream. The flavor options are endless and thanks to small batches your not obligated to eat gallons upon gallons of ice cream. I created this No-Churn Toasted Marshmallow Ice Cream by mistake, and boy was it one of the best recipe mistakes I've made in a long time.
I was testing my recipe for s'mores popsicles when I tasted the layer of toasted marshmallow batter and knew that I needed to dedicate a post in itself to this toasted marshmallow ice cream. The little brown bits from the toasted marshmallow are infused throughout making this a marshmallow lovers treat.
I'll be honest, the only way I really love eating marshmallows is toasted. I also found, to offset the sweetness of this ice cream (it's definitely on the sweet side) is to eat it alongside some graham crackers. I can only imagine making an ice cream sandwich with this ice cream and graham crackers and then dipping part of the sandwich is chocolate. Hello, reinvented s'more!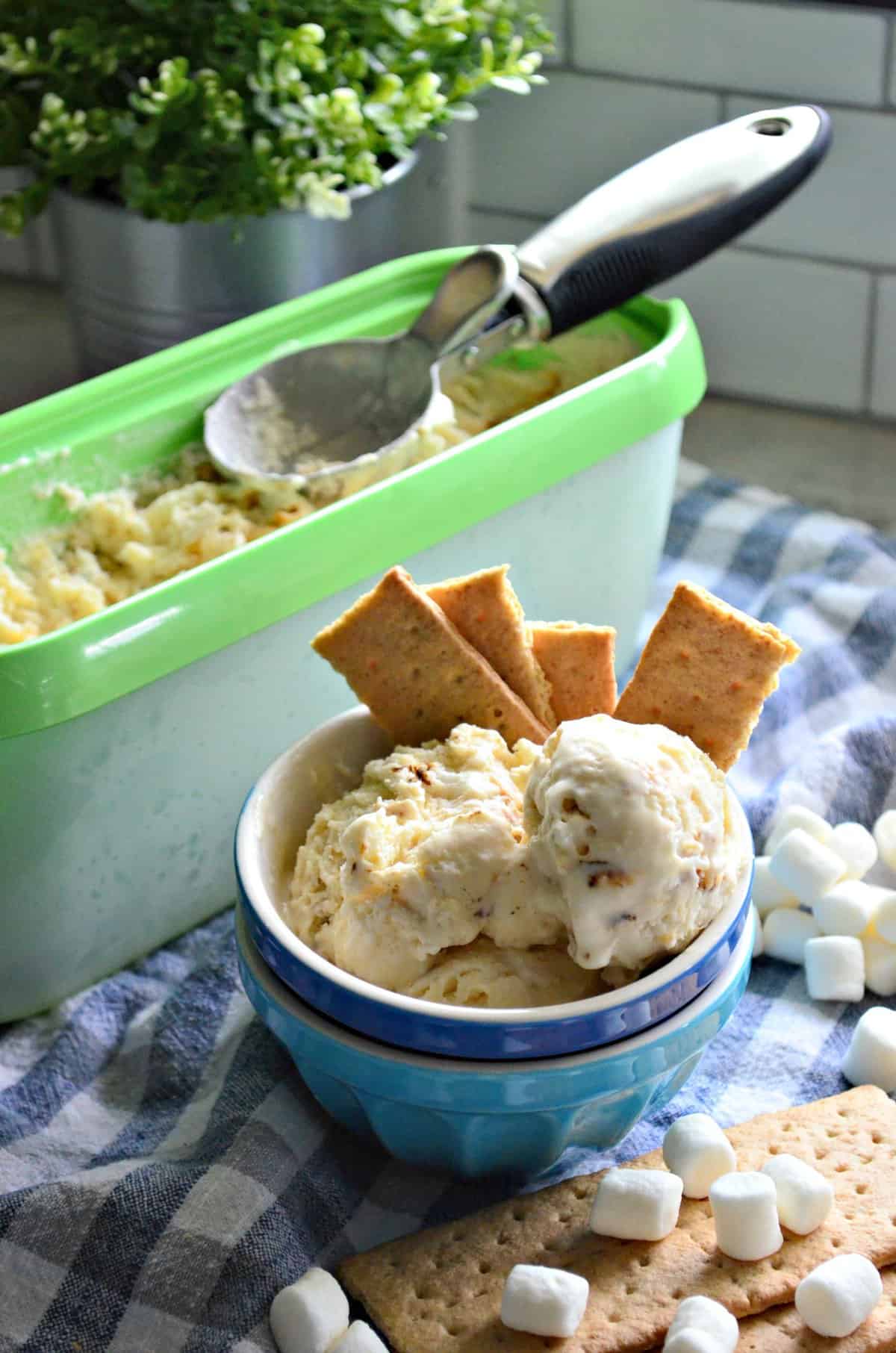 Ingredients
This recipe contains three ingredients that's it!
Mini marshmallows – these will be toasted before you start your batter.
Heavy whipping cream – this is the base of your ice cream.
Sweetened Condensed Milk – sweetens and thickens the ice cream.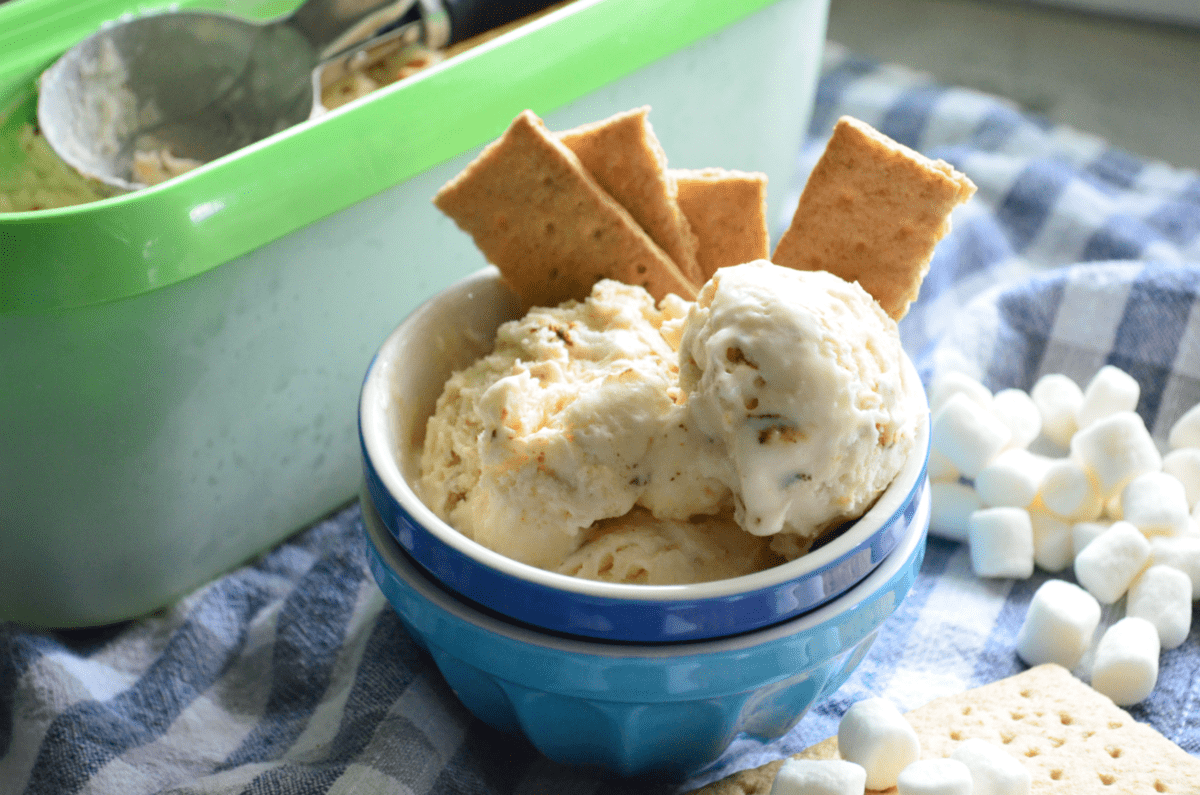 Directions
I just started making no-churn ice cream over the past few years. Before that I was a traditional ice cream maker. Freezing my bowl, making an egg-based custard that had to sit in the refrigerator for 24-hours, then churn, etc… It was a very long and tedious process. Over the years, I've found that no-churn ice cream produces the same great tastes with half the amount of time needed and equipment.
I make my no-churn ice cream using my whisk and paddle attachments in my KitchenAid Stand Mixer. However, if you don't have a stand mixer, no worries. You'll need to use a little elbow grease and use a hand mixer. Either way, will yield the same great taste.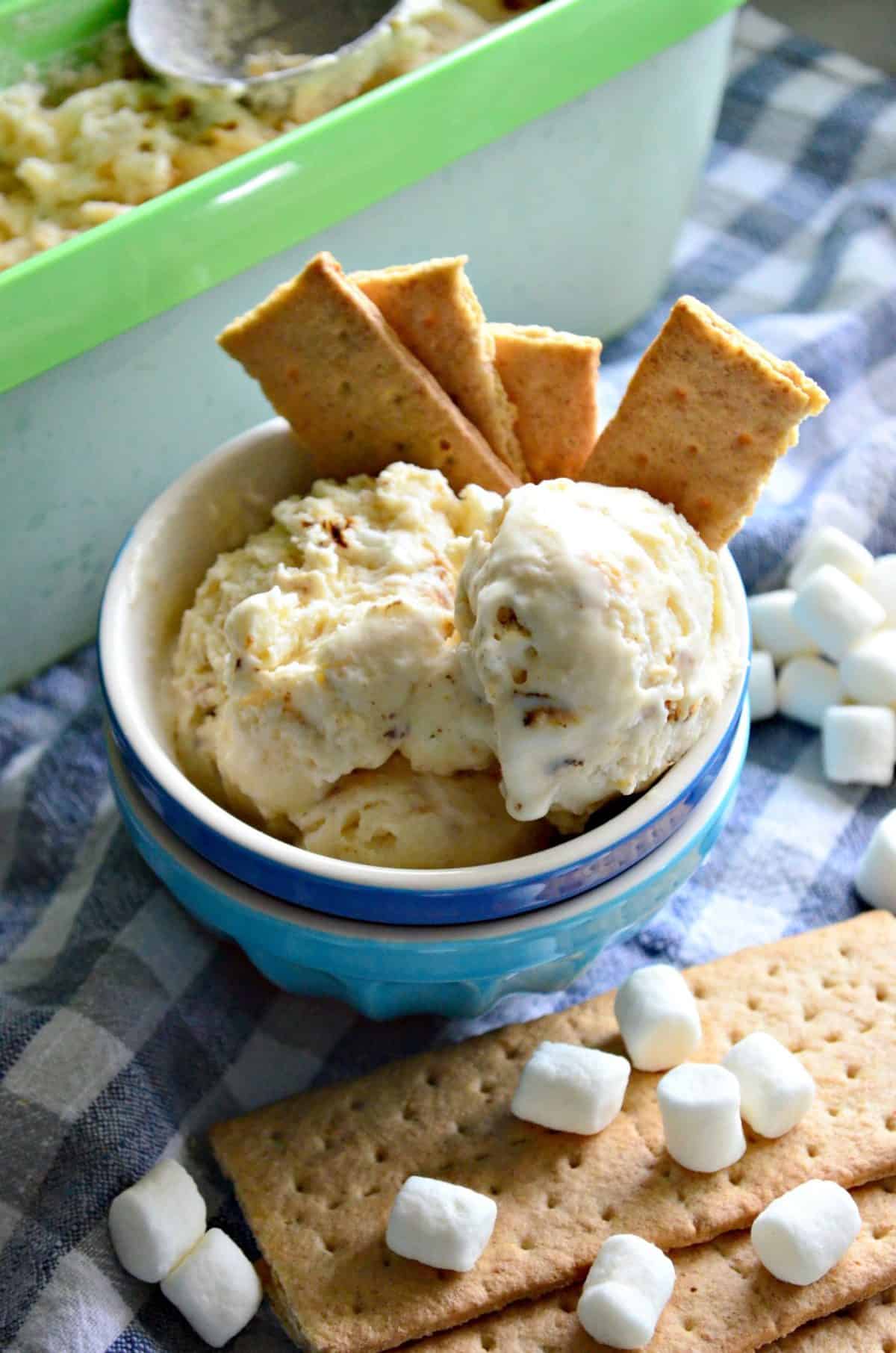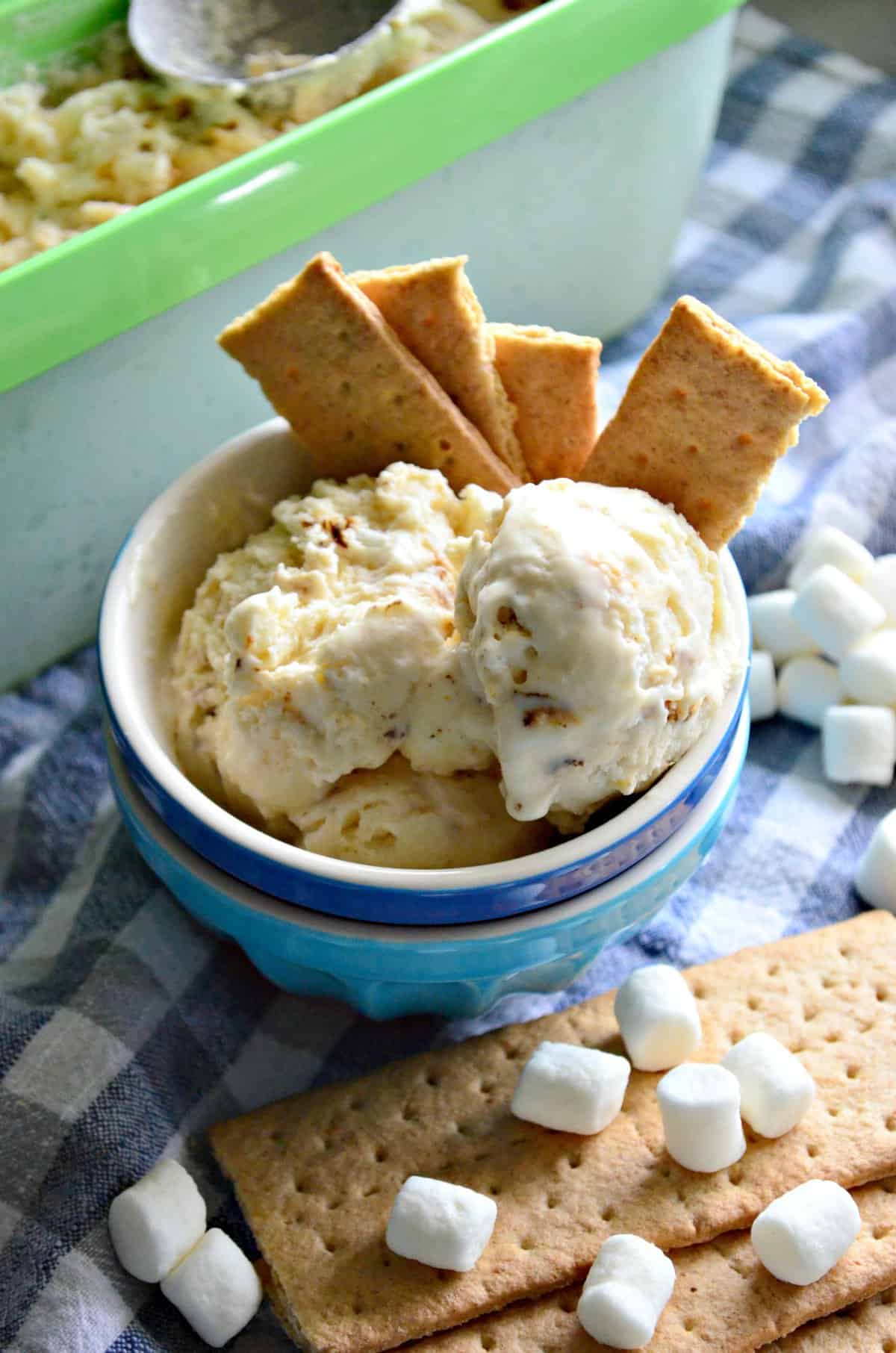 FAQs
How do you toast marshmallows without a grill?
There are many different methods you can use to toast marshmallows without a grill. I'll be honest I rarely ever toast them on the grill. The easiest method is an oven with the broiler turned on high. You will only need to toast them for 20-30 seconds max. Make sure the light is on and you watch them carefully so they don't burn.

I also have a toaster oven that I can crank up the heat if I don't want to heat my whole house for the 30 second toast. In this case, it sometimes takes a little longer to toast. Either way–make sure you watch the marshmallows.

Another option is using a butane torch for toasting. This option will yield an even quicker browning process and give you the toasted flavor you need.

If you don't have access to an oven you can always use the microwave. This isn't an ideal method but works. You just won't yield the toasted flavor you get when you toast in the oven, but it will melt and make the marshmallows softer.

What ingredients do you need for no-churn ice cream?
No-churn ice cream is super easy to make. The base is heavy cream and sweetened condensed milk. That's it. No sugar is needed because the sweetened condensed milk, is just that–sweetened. Once you have your base made then you add in whatever flavor you want to make it. In this case we added in toasted marshmallows. You can also add in crushed oreos for a simple cookies and cream, apple pie for an apple pie ice cream, etc.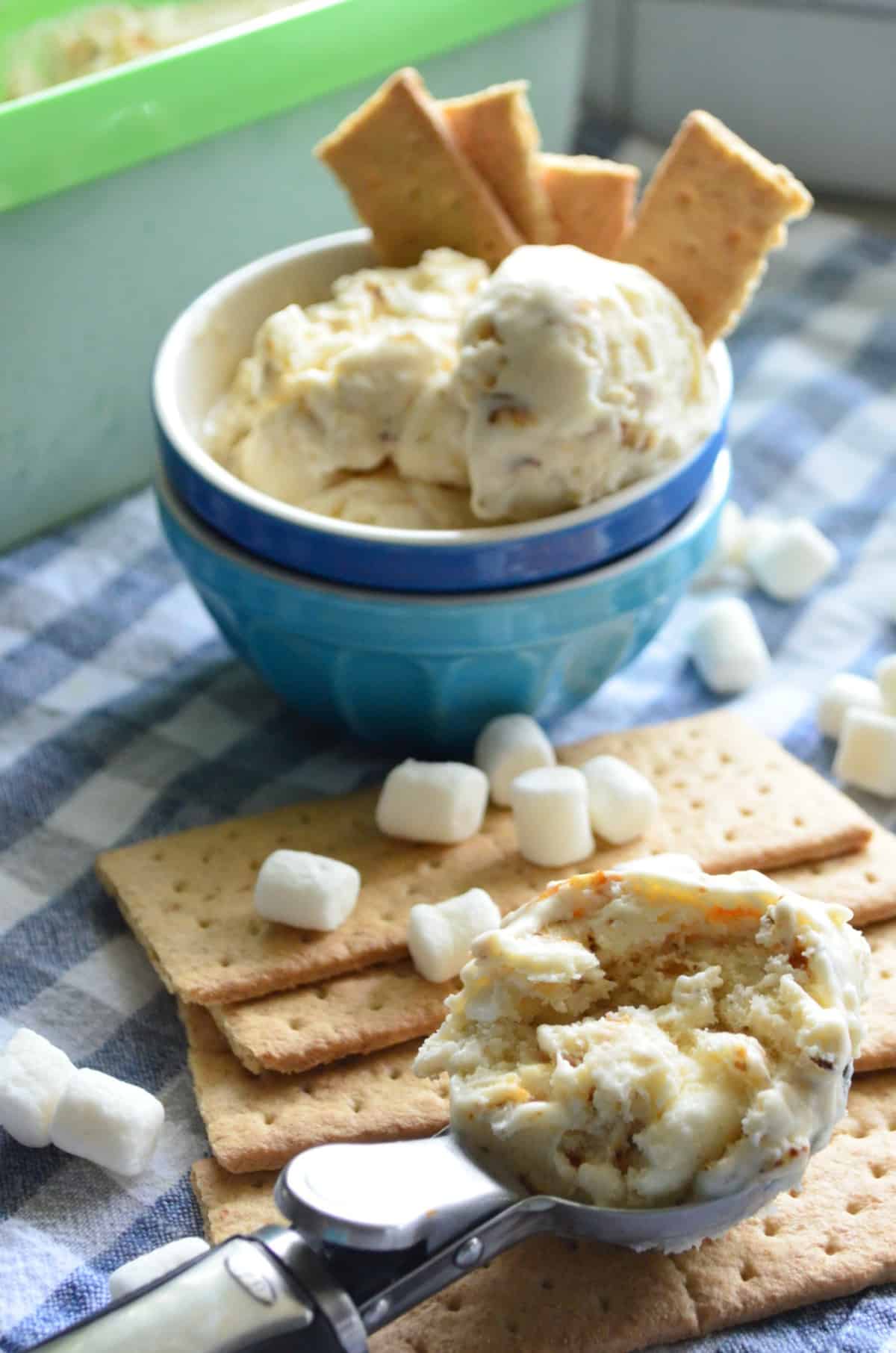 Supplies Needed
Here are all the supplies you'll need to make this no-churn ice cream recipe or any in the future.
Ice Cream Recipes
If you've ever been intimidated to make your own homemade ice cream I hope that this post has helped put your mind at ease. Once you make this recipe once you'll be a pro and will be eager to make homemade ice cream on the weekly!
If you make this recipe, I would be honored and love for you to take the time to leave a star rating and comment! I spend hours developing and testing these recipes, and always love to hear feedback and user experience!
Don't forget to FOLLOW ME on Facebook, Pinterest, and Instagram, and subscribe to my email list!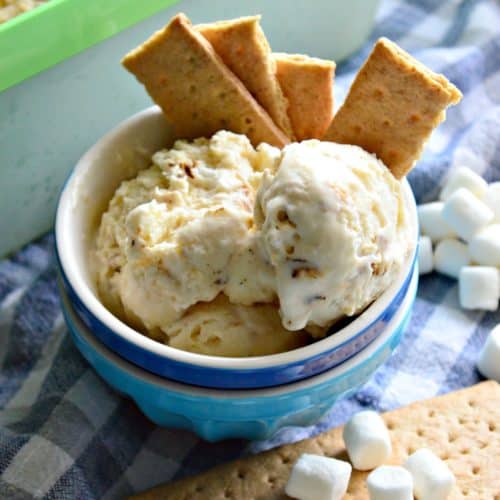 No-Churn Toasted Marshmallow Ice Cream
Nothing beats a homemade 3-ingredient ice cream recipe on a hot day. If you've never made homemade ice cream this recipe for No-Churn Toasted Marshmallow Ice Cream is the perfect recipe to start with.
Print
Pin
Rate
Ingredients
4

cups

mini marshmallows

2

cups

whipping cream

½

cup

sweetened condensed milk
Instructions
Preheat the broiler on high. Line a baking sheet with aluminum foil and spray with non-stick spray. Set to the side.

While the oven pre-heats you'll make the base for the toasted marshmallow layer. Using a stand mixer fitted with a whisk attachment. Add the heavy whipping cream and condensed milk. Beat on high for one minute. While the batter mixes, spread the mini marshmallows out on the pan. Toast for about 30 seconds until golden brown but not burnt. Remove from the oven and set to the side.

Stop the mixer, remove the whisk attachment and insert the paddle attachment. Add in the toasted marshmallows. Mix on medium for 30 seconds until incorporated and not lumpy.

Pour the thick ice cream mixture into a freezer-safe container. Freeze for at least 8 hours. Scoop and enjoy once frozen.