If you are in a lunch rut for your school aged kid(s), I'm hear to share with you all my tips and tricks and school lunch ideas for kids. From snack time ideas to what to pack for lunch every day! Homeschool? No problem! I have some fun and easy lunch ideas, too!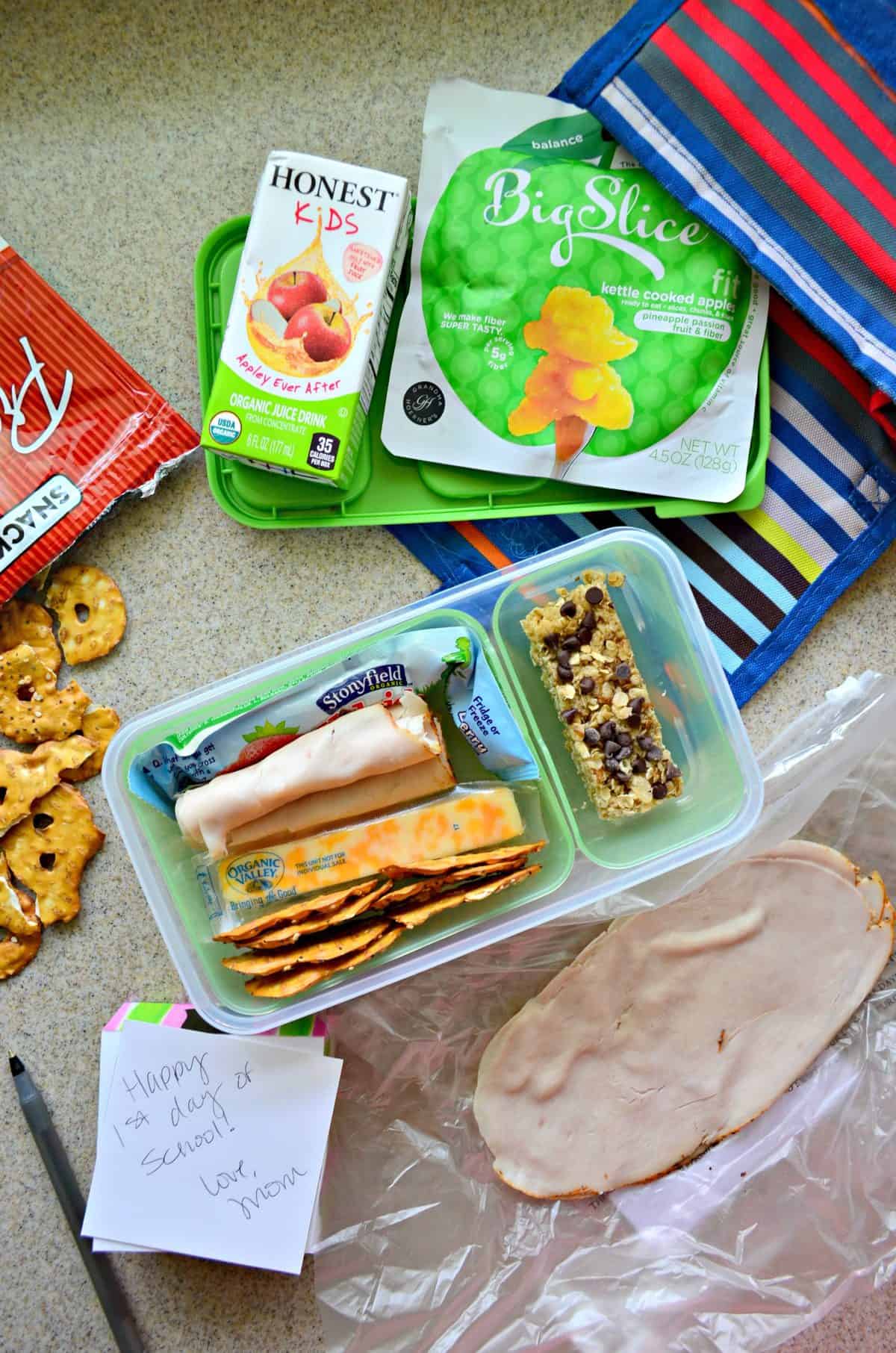 I think it's safe to say that summer has officially ended and the kiddos are officially back to school! Most parents I talk with, loath the idea of going back to packing 5 lunches a week for their child. Or multiply that by 2,3, or maybe even 4 and your feeling overwhelmed. If you're looking for something other than peanut butter and jelly and a turkey sandwich I'm here to help. I have a weeks worth of lunch box ideas plus a few tips and tricks to spice up the kids lunchbox, and to give you the boost of confidence you need going into the new school year!
A few tips:
Talk with your child and make a list of their favorite snacks and lunch items. Then when you're out of ideas you can look at the list and pull from it! You can also sneak some new items in while mixing in some of their favorites!
Try to switch up the snacks. Don't pack the same snacks each day, you can alternate them or even pack them only a few times each week if they are non-perishable.

Non-perishable snack ideas; cheese crackers, applesauce, pudding, fruit cups, granola bars, fruit leather, beef jerky, trail mix, dried fruits, fruit snacks, popcorn, and boxed drinks to name a few.
Perishable snack ideas: fresh fruit, fresh veggies sticks, ants on a log (celery sticks with peanut butter or cream cheese with raisins on top), ranch dip, hummus, yogurt Yo-Squeezers, Yogurt smoothies, cheese sticks, and Boursin cheese spread to name a few.

Buy a rotisserie chicken on Sunday and use it in different ways throughout the week for both school lunches and dinner!
Check with your school if they have any food allergy restrictions. Some schools all together ban peanuts.
Only purchase the amount of lunch meat and bread you need for the week. Most lunch meat varieties only stay fresh for 3 days! You can ask your deli counter for the exact amount you need (less than a pound, no problem)! You can also split loaves of bread in half so you only buy what you will consume! Just ask a bakery associate to split the loaf.
Buy a few bento box style lunch containers. These will help you with portion control, and you can put the lunch together the night before, then stick it in the refrigerator the night before. Here are a few of the neat bento like lunch boxes I've found on the internet that range from $12.99-$20: Bentgo, Easy Lunchboxes Set of 3, Lunch Bento Box, Bentology, and OmieBox to name a few!
If your child plans to bring lunch all school year, invest in a good insulated lunch bag and ice packs to keep food cold. You can even find lunch bags that you freeze–the ice pack is the entire lunch bag and it thaws throughout the day!
Sub crackers for bread and make your own "lunchable" style lunch for your child. It will cost half the price and you'll know exactly what they are eating.
Buy a package of Post-it Notes and write your child a small note with lunch each day. My mom did this up until I was in high school and I looked forward to it each and every day! Even once I was in high school she would still sneak them in my lunch bag!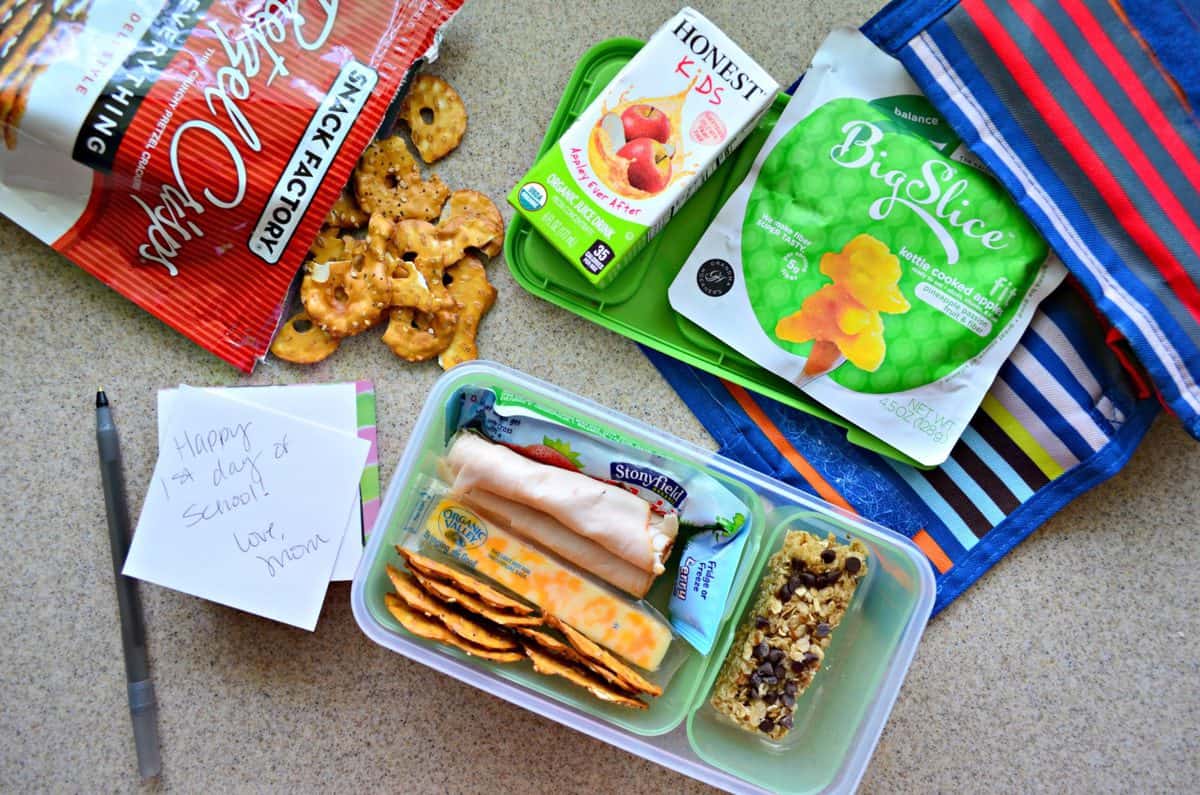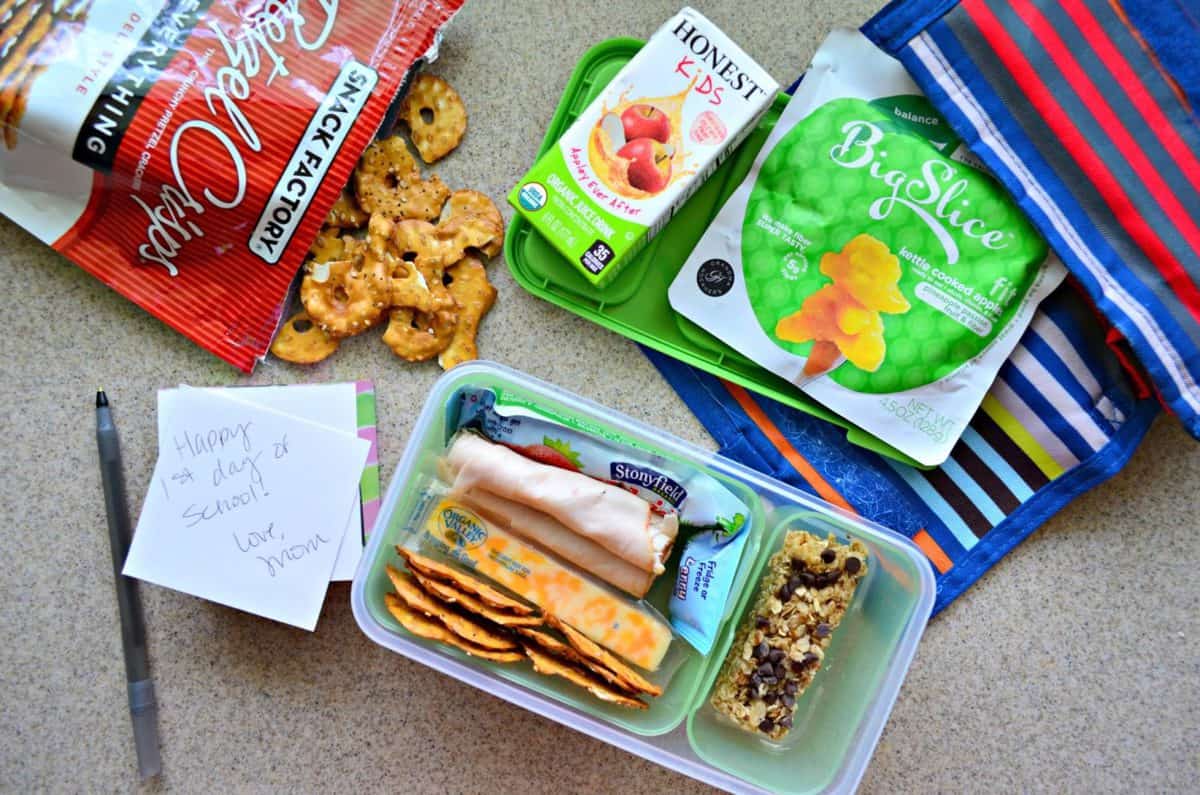 Here is a sample menu that can help get you jump-started for the school year. Of course, you can edit any items from the menu that your child might not particular care for.
Monday– tortellini pesto pasta salad, sunbutter and apple slices, tomato-mozzarella salad, raisins, and a homemade granola bar.
Tuesday– chipotle chicken with bacon quesadilla (cooked and cooled), chips with salsa, corn, avocado, and tomato salad, fruit kabobs (alternate strawberries, blueberries, pineapple on a skewer–make sure to cut the pointy side off), and a Cherry Yogurt Yo-Kids Squeezer
Wednesday– buffalo chicken salad on a mini croissant, cucumbers and carrot sticks with ranch dip, grapes, Snappea Crisps, and yogurt covered pretzels.
Thursday– turkey lunch meat rolled up, string cheese stick, pretzel crisp, Berry Yogurt Yo-Kids Squeezer, kettle cooked apples, and a Homemade Chewy Granola Bar
Friday– Pepperoni, cheddar cheese, and crackers, carrot chips and hummus, blueberries, yogurt covered raisins, and an organic fruit snacks.
Hope these ideas, help give you the confidence going into another school year, and leave the lunch boxes empty by the end of the school day!
Disclaimer: Their are affiliate links in this post. I've mentioned and linked to brands that I'm passionate about and may be compensated through the year from them. As always, all opinions are my own.