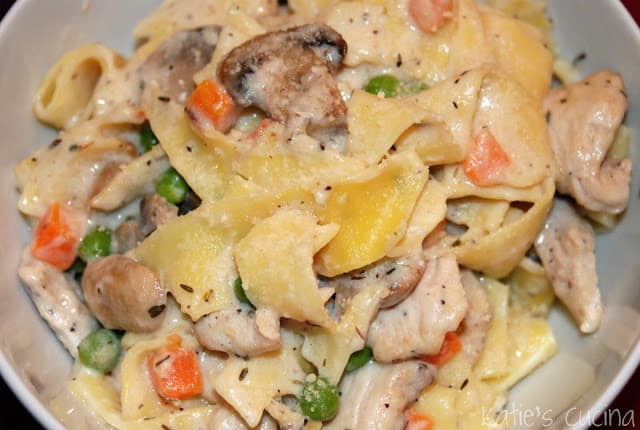 I don't know about you, but I'm sure starting to get tired of eating multiple Thanksgiving dinners. Don't get me wrong–I'm plenty grateful that I have the opportunity to eat just one, but when its days after and we are still eating the same meal I'm in need of a change. I love transforming my leftovers into something new! This pasta dish will do this and then some.


*Don't fret… if you don't have leftover turkey available, bake some skinless, boneless turkey breast and use that in replace of leftover turkey.


Source: Every Day with Rachael Ray, October 2011
Prep Time: 30 minutes
Cook Time: 15 minutes
Servings: 4


Ingredients:
1 cup pappardelle
3/4 lb skinless, boneless turkey breast, cut into chunks
salt and pepper to taste
6 tbsp butter
8 oz white mushrooms, sliced
1 tbsp thyme, chopped
3 tbsp flour
2 cups milk
1 cup chicken broth
1 cup grated parmesan cheese
1 cup frozen peas and carrots


Directions:
1. Preheat the oven to 400°. Grease a 9-by-13-inch baking dish. Cook the pasta according to package directions until just barely al dente; drain.


2. Meanwhile, season the turkey with salt and pepper. In a large skillet, heat 1 tbsp. butter over medium-high heat. Add the turkey and cook until browned, 1 to 2 minutes. Transfer to a bowl


3. Add 2 tbsp. butter to the skillet. Add the mushrooms and thyme; season with salt and pepper. Cook until the mushrooms start to soften, about 3 minutes. Transfer to the bowl with the turkey.


4. Melt the remaining 3 tbsp. butter in the skillet. Whisk in the flour and cook for 1 minute. Whisk in the milk and broth and bring to a boil, then simmer for 2 to 3 minutes to thicken. Stir in ½ cup parmesan and the peas and carrots. Season with salt and pepper.


5. Add the pasta and turkey-mushroom mixture to the sauce and toss well to combine. Transfer the pasta mixture to the prepared baking dish. Sprinkle with the remaining ½ cup parmesan. Bake until the top is golden-brown and the sauce is bubbling, 12 to 15 minutes (shorten the baking time by at least 5 minutes if you're planning on freezing this for later).