This is a sponsored post on behalf of Stonyfield Yogurt. As always all opinions are my own.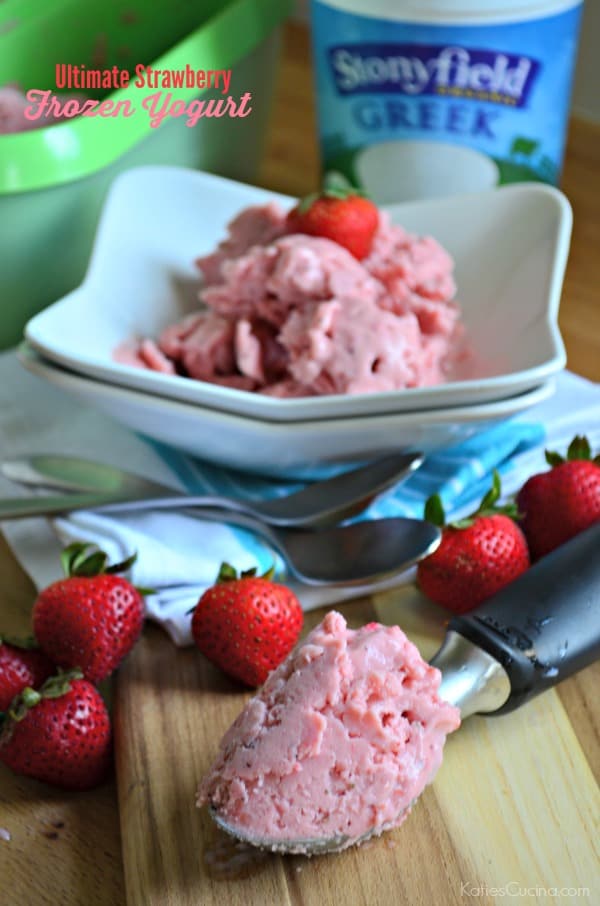 There is something I love about homemade frozen treats. The process can sometimes take days but after hours and hours of waiting for the beloved frozen treat to become frozen is well worth the wait. I recently made Strawberry Frozen Yogurt from the new Yogurt Culture: A Global Look at How to Make, Bake, Sip, and Chill the World's Creamiest, Healthiest Food
cookbook. This was the first time I've ever made frozen yogurt and I will be the first to admit this is definitely going to be the last! I even got to share some with Ryder whom at first was puzzled by why it was so cold. But after he got over the extreme temperature difference he loved it and kept opening up his mouth to be spoon fed more.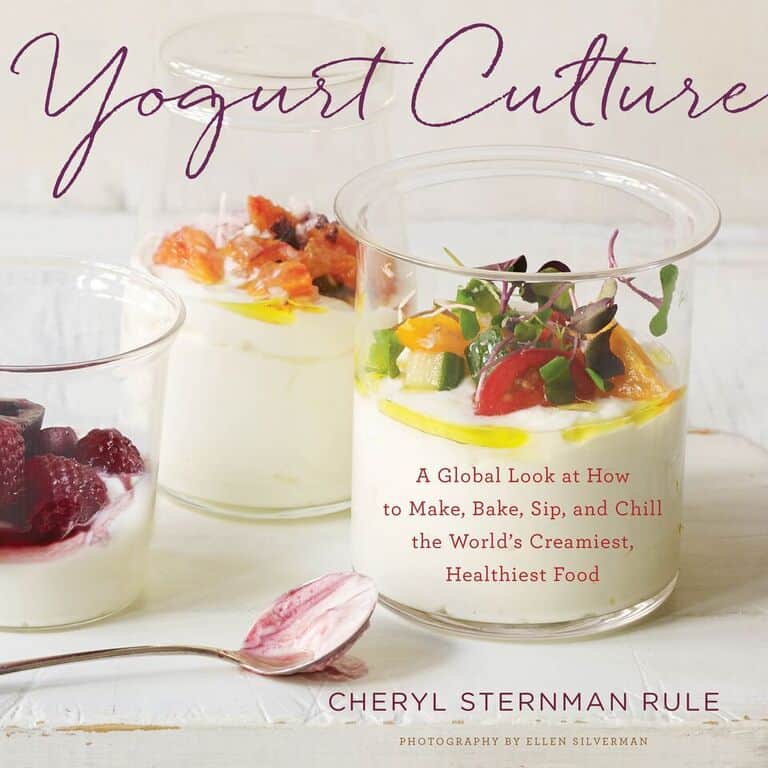 I had the opportunity to review a copy of Yogurt Culture: A Global Look at How to Make, Bake, Sip, and Chill the World's Creamiest, Healthiest Food
. Award-winning food writer Cheryl Sternman Rule shares 115 flavorful recipes that integrate yogurt in breakfast, lunch, dinner, and even dessert! I love the way the chapters are categorized: Flavor, Slurp, Dine, and Lick. Pairing yogurt with meats, salts, and herbs to name a few. Yogurt Culture offers a fresh, comprehensive take on the beloved yogurt.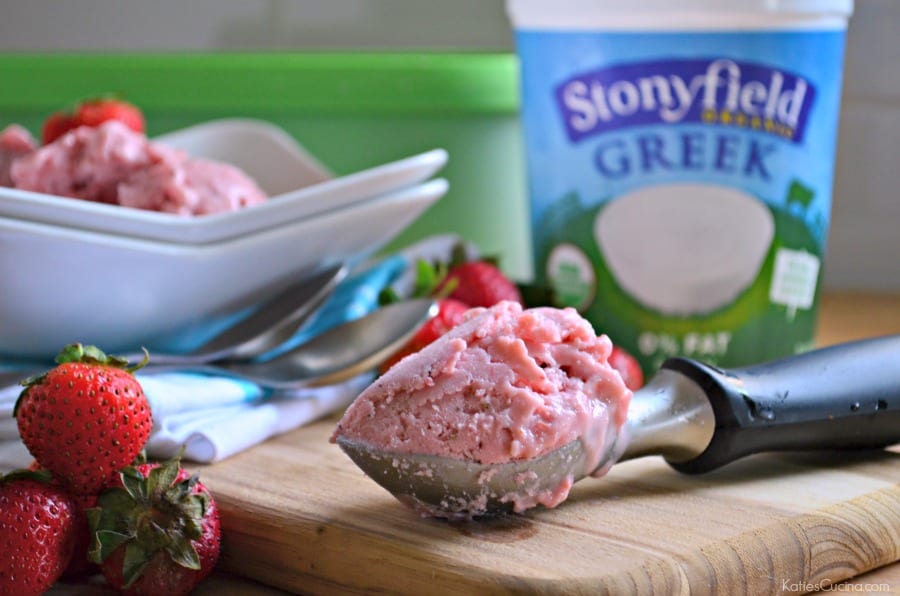 I love my OXO Solid Stainless Steel Ice Cream Scoop. I love that it is a solid stainless steel Scoop won't chip or discolor, even after repeated dishwasher cycles. A pointed tip scoops hard ice cream, frozen yogurt or sorbet, and flat edges reach into corners of any shaped ice cream container. A non-slip grip cushions during scooping.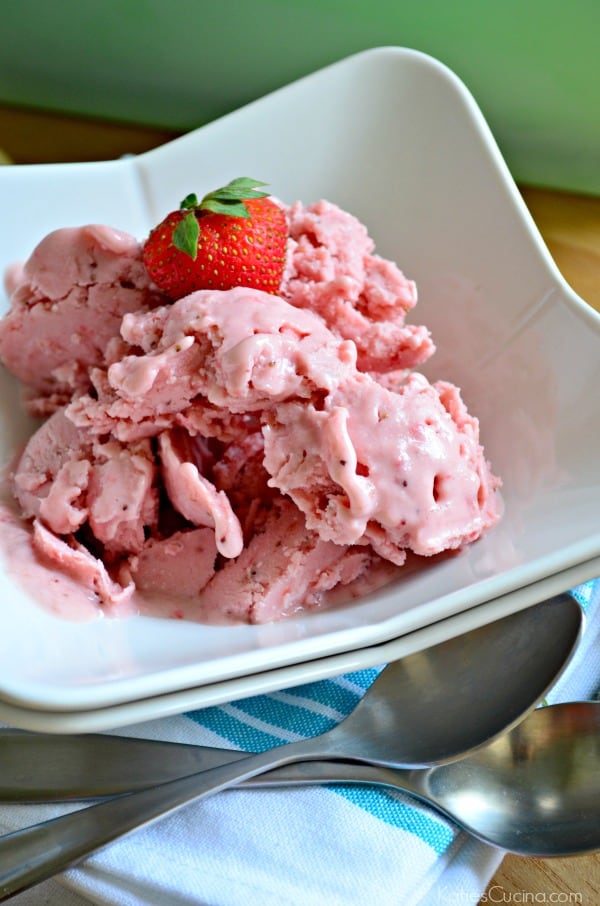 And then of course what makes this recipe complete is the Stonyfield Greek Yogurt, fresh strawberries, and a little sugar to sweeten this recipe up. Oh and there is totally a secret ingredient in this recipe. You would never guess nor would anyone who consumes this recipe for the Ultimate Strawberry Frozen Yogurt. Balsamic Vinegar! Yep, that's right just a few tablespoons of balsamic vinegar brings out the flavor in the strawberry and adds a delicious dimension to this frozen yogurt. I absolutely love this recipe and I think you will too!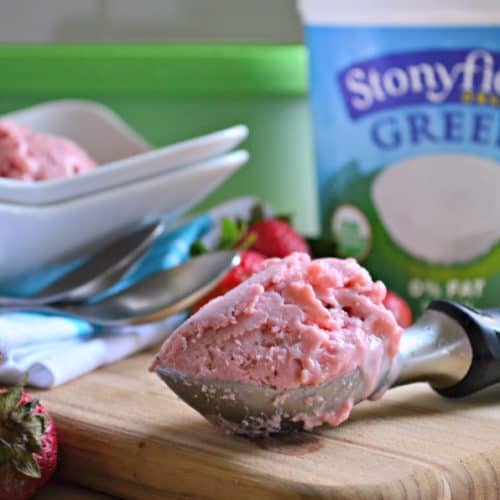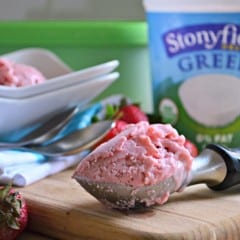 Ultimate Strawberry Frozen Yogurt
Balsamic vinegar and minced rosemary lend subtle notes that heighten the berry essence without overshadowing it.
Print
Pin
Rate
Servings:
1
Generous Quart
Ingredients
1

pound

strawberries

preferably organic

½

cup

plus 2 tablespoons sugar

2

tablespoons

balsamic vinegar

2½

cups

plain whole-milk yogurt

not Greek or 1½ cups plain whole-milk Greek yogurt

1

tablespoon

light corn syrup

1

tablespoon

plus 1 teaspoon finely minced fresh rosemary

plus (optional) additional minced rosemary for garnish
Instructions
PREP THE BERRIES.

In a food processor, pulse the strawberries, sugar, and vinegar in five 1-second bursts. Let stand at room temperature (go ahead and keep it in the food processor), covered, for 1 hour.

MEANWHILE, PREP THE YOGURT.

If using traditional yogurt, spoon it into a fine-mesh sieve set over a deep bowl. Refrigerate to drain off the whey for 1 hour only. Discard the whey or reserve it for another use. Add the yogurt to the food processor with the strawberries. (If using Greek yogurt, do not strain, but do not add the yogurt to the berries until after they have stood for 1 hour.)

PUREE AND CHILL.

Add the corn syrup to the yogurt mixture. Process until nearly smooth. Transfer to a covered container and refrigerate for at least 4 hours or overnight.

FREEZE.

Freeze the mixture in an ice cream maker according to the manufacturer's instructions. After 20 minutes, add the rosemary. Continue churning until the mixture has fully thickened and is nearly scoopable. You may eat it now, soft-serve style, but I recommend transferring it to a metal loaf pan to further chill and develop deeper flavor. Press a sheet of parchment directly on the surface of the frozen yogurt, then cover tightly with aluminum foil. Freeze for several hours.

SERVE.

Let the yogurt stand at room temperature at least 20 minutes before scooping with a hot, dry scoop. Garnish sparingly with rosemary.