Homemade Cherry Crisp
Fresh juicy cherries and a rolled oat topping combined for the best homemade cherry crisp around. Don't forget to top it with ice cream!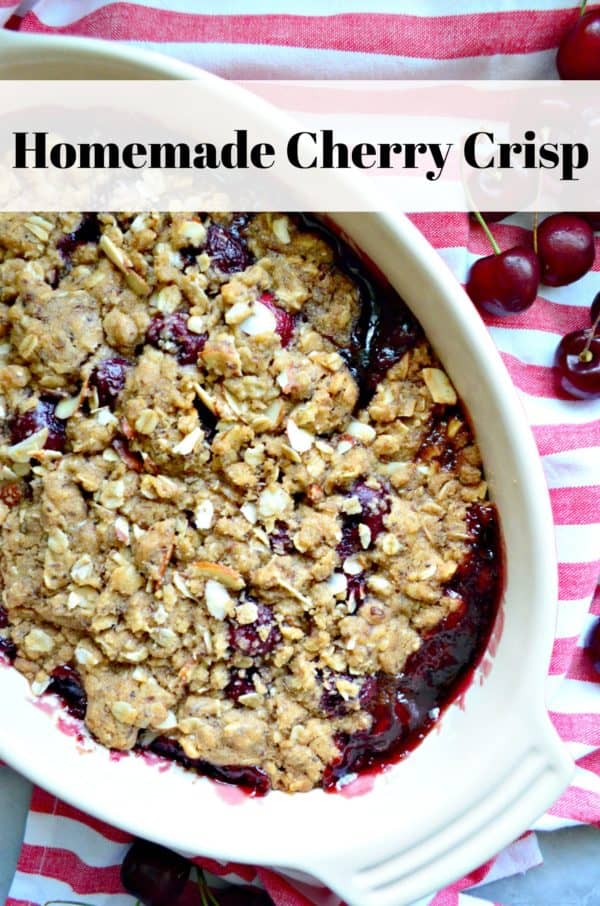 Ironically, I love homemade cherry crisp, but ironically not a huge fan of fresh cherries by themselves. I'll eat them but definitely not my first choice. Every cherry season I have to make at least one crisp. It's just makes the month of August complete in my book. Typically–it's when we have family coming over for dinner. I typically make a skillet version or individual ramekins, but this time I decided to use a ceramic baking dish and make a good old old fashioned homemade cherry crisp.

How to pit cherries.
The longest part about this recipe is pitting the fresh cherries. I'll be honest–I'm not a fan of cherry crisp made with pie filling. It just doesn't taste fresh and homemade to me.
I take the time to pit every single cherry.
It's a labor of love, but dang it's so worth it! I have the OXO cherry pitter and it works like a gem. I can't imagine pitting cherries without this kitchen tool. The cherry pitter is only used a few times a year, and it's worth it's wait in gold (well kitchen drawer space to be exact).
No cherry crisp is complete without vanilla ice cream. I also get crazy and add whipped cream on top of mine. Recently, I've tried my cherry crisp with chocolate ice cream and it tasted like chocolate covered cherries.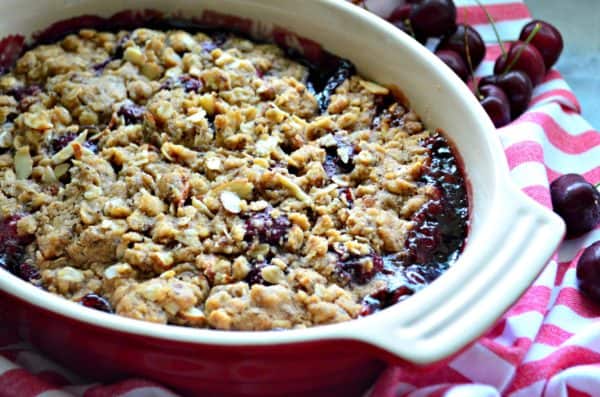 If you love cherries, but have always been intimidated by making a homemade cherry crisp; I hope you'll give this recipe a try. I promise it's not as difficult as you might think!
Love cherry crisp? Try these two other variations of recipes I've created over the years:

Homemade Cherry Crisp
Yield: 6
Prep Time: 15 minutes
Cook Time: 30 minutes
Total Time: 45 minutes
Ingredients:
For the Topping:
1/2 cup brown sugar
1/2 cup all purpose flour
1/2 cup old fashioned oats
2 tablespoons Barlean's Flax, Chia, Coconut blend
1/4 cup sliced almonds
1/2 teaspoon cinnamon
1/2 teaspoon salt
1/4 teaspoon baking soda
1/4 teaspoon baking powder
1/2 teaspoon vanilla extract
1 stick of salted butter, softened
For the Filling:
5 cups fresh cherries, pitted
1/2 cup granulated sugar
1/2 teaspoon almond extract
1 tablespoon cornstarch
Directions:
Preheat the oven to 350 degrees Fahrenheit.
While the oven preheats, using a stand mixer fitted with a paddle attachement, make the topping. Combine the brown sugar, all purpose flour, old fashioned oats, flax, chia, coconut blend, sliced almonds, cinnamon, salt, baking soda, baking powder, vanilla extract and softened butter. Mix until pea-size pieces form. Set to the side.
In a large bowl, rinse and pit all cherries. Pour sugar, almond extract, and cornstarch on top. Mix well until combined.
Spray a ceramic baking dish with cooking spray. Then pour in the cherry mixture. Sprinkle the oat topping on top of the cherries. Bake for 30 minutes or until golden and bubbly. Remove from the oven and serve warm. Top with whipped cream or ice cream, or both!
Warning
: Use of undefined constant rand - assumed 'rand' (this will throw an Error in a future version of PHP) in
/home/kjasiewicz21/webapps/katiescucina/wp-content/themes/katiescucina/single.php
on line
74
Leave a Comment