S'mores Milkshakes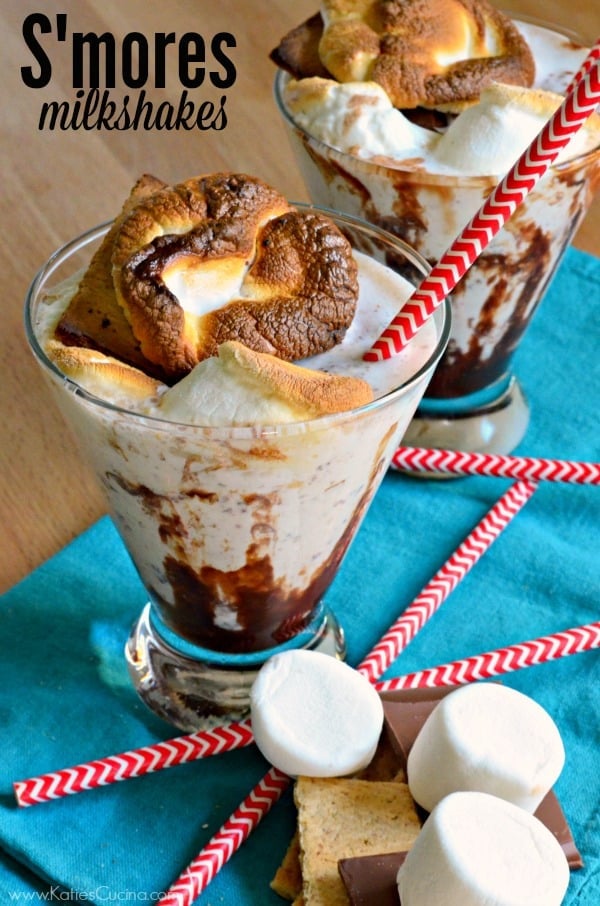 As we wrap up milkshake week, I couldn't end the week without another quintessential summertime dessert spun into a milkshake.  Nothing screams summer like toasting marshmallows over an open flame. I remember during the summer months when my parents would grill dinner on our black Weber charcoal grill. I always knew that for dessert we were bound to have s'mores. I would eat my dinner as quick as possible in anticipation of an ooeey-gooey s'more. That's right folks. I'd like to introduce to you s'mores milkshakes.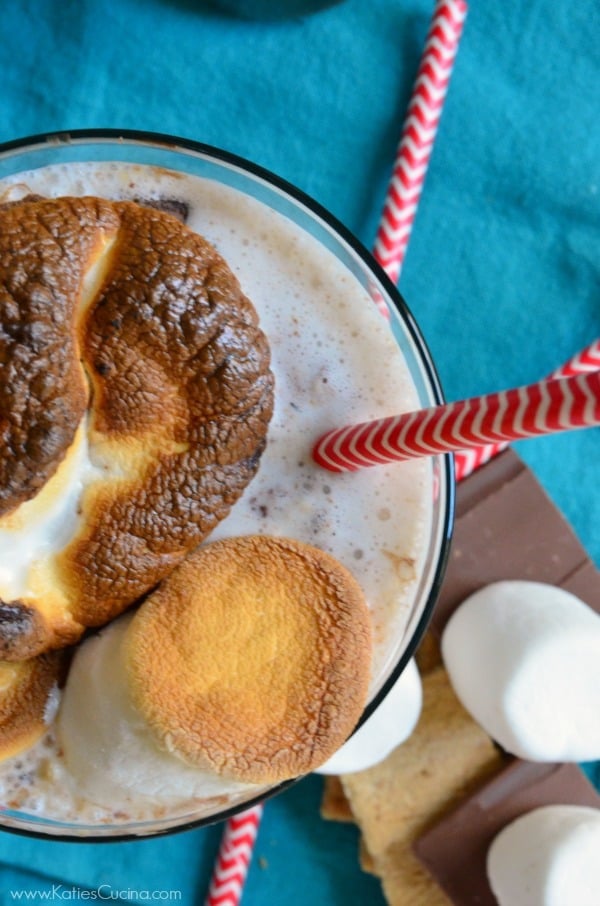 Don't worry you won't have to fire up your grill to make this s'mores milkshake. You can if you want too or you can just turn your broiler on for a hot minute… get it (pun totally intended). That's what I choose to do. I cranked up my oven (I know… in the middle of summer in Florida I'm cranking up the oven–I've lost my mind, clearly). But trust me it was totally worth the kitchen being hot for a good half hour… and just think the reward is that you can cool off with a s'mores milkshake!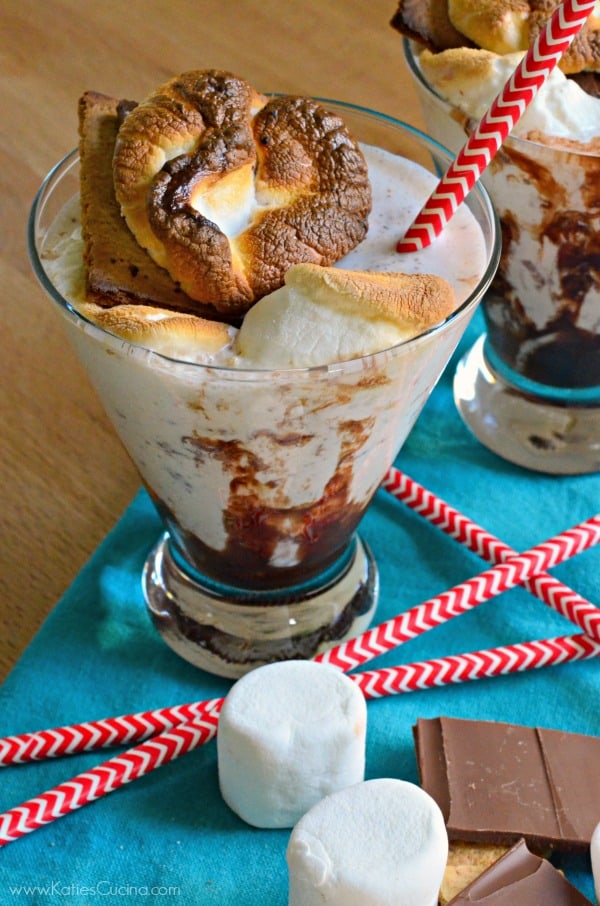 I blended one Hershey bar in with the vanilla milkshake batter, and then added some toasted marshmallows and one full s'more for good measure. You blend this milkshake for a whopping 15 seconds at most. I have a high power blender… so if your blender doesn't have the gusto like mine… crank it up until you feel fit. Because you can never have enough chocolate I also drizzled some chocolate syrup in the glasses before pouring the s'mores milkshakes. Beat the heat this summer and drink up a s'mores milkshake!
For more delicious recipes:
Katie Original Recipe
Ingredients
2 cups Vanilla Ice Cream
3/4 cup Whole Milk
13 Marshmallows, divided
1-1/2 Chocolate Bars
3 Graham Crackers
Chocolate Syrup
Directions
Preheat broiler on high.
While oven is heating, place 10 marshmallows on a baking sheet covered with aluminum foil. Then add 3 graham crackers, chocolate from half a chocolate bar, and 3 marshmallows on top (you should have 3 s'mores). Broil on high for 30-seconds to 1 minute until marshmallow is toasty. Remove from oven and let cool.
In a blender, add vanilla ice cream, whole milk, and 1 chocolate bar. Blend for 10 seconds. Then add in 6 toasted marshmallows, and one s'more. Pulse 5 times until just incorporated.
Drizzle chocolate syrup in glasses, then divide the s'mores milkshake batter between both glasses. Top with 2 toasted marshmallows and one full s'more. Enjoy immediately.
https://www.katiescucina.com/smores-milkshakes/
This recipe is brought to you by Katie Jasiewicz of Katies Cucina
Warning
: Use of undefined constant rand - assumed 'rand' (this will throw an Error in a future version of PHP) in
/home/kjasiewicz21/webapps/katiescucina/wp-content/themes/katiescucina/single.php
on line
74
28 Responses to "S'mores Milkshakes"