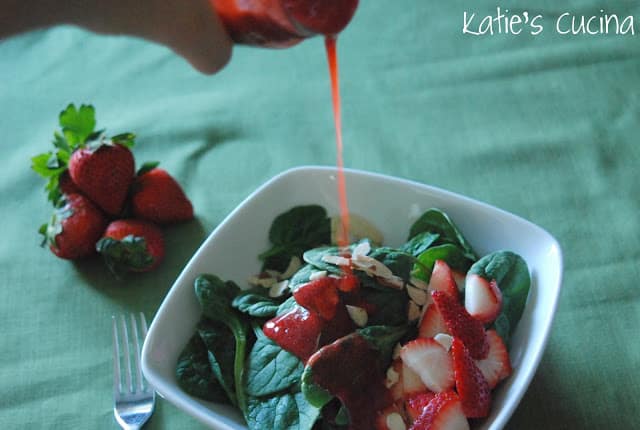 This is a perfect salad for a hot summer day. Not only are strawberries in season, but this is a light and fresh salad. No mayonnaise based dressings here! This light vinaigrette is made of fresh pureed strawberries, champagne, apple cider vinegar, and sugar! When I first found this recipe on Annie's Eats I wasn't sure if I'd like a sweet strawberry dressing. I knew my husband would since he is in love with the seasonal Strawberry salad at Panera, but I wasn't sure if it was my cup of tea. I gave it a try and I'm sure glad I did.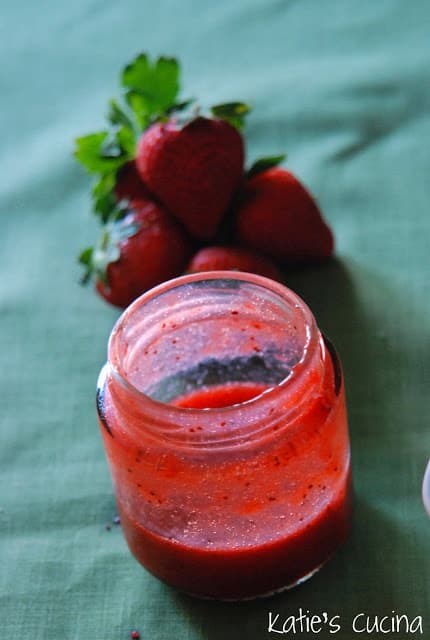 This made for an amazing lunch time salad. You could also make this as your side salad for dinner, or as a main entree by adding some chopped grilled chicken breast or even shrimp! As Annie suggested buy the mini bottles of champagne since you really don't need much for this recipe… it would be a-shame to waste a full bottle of champagne! Plus, they are always handy for other recipes. When I'm using a specific ingredient like this and only need less than 2 tablespoons I make sure that I find another recipe that can use at least some of the remaining champagne. Or I do what any person should do, and drink it! Easy as that. Problem solved. This dressing if stored correctly in a tightly sealed jar in the refrigerator will store well for up to 1 week. I wouldn't push it after that.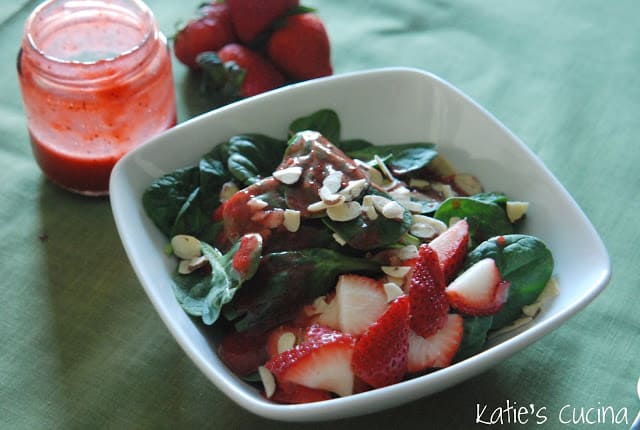 Source: Annie's Eats inspired by Epicurious
Prep Time: 10 minutes
Servings: 2-4


Ingredients for the Dressing:
1 cup fresh strawberries, sliced
2-1/2 tbsp apple cider vinegar
1-1/2 tbsp champagne
1 tbsp sugar
pinch of salt


Ingredients for the Salad:
Baby spinach leaves, rinsed and dried
Sliced almonds
Sliced fresh strawberries


Directions:
1. In a blender or food processor, combine the strawberries, vinegar, champagne, sugar, and salt. Process until the mixture is well combined and completely smooth. Transfer to an airtight bottle or container and refrigerate until ready to use.


2. Portion baby spinach leaves out on salad plates. Drizzle with the strawberry champagne vinaigrette. Top with sliced almonds and strawberries. Serve immediately.