Have you ever made fresh homemade pasta? Making spaghetti at home is actually really easy. It takes a little time and patience, and within a half hour you'll have a batch of fresh pasta completed that will knock your socks off. Thankfully I also have KitchenAid to thank! They have the most amazing pasta attachments. I will be honest… if it wasn't for their pasta attachments I would probably not be making pasta. Simple to use and easy to clean–how I like stuff.
I invite you to watch my video and see for yourself just how easy it is to make Spaghetti!

So, what do you think… easy, right? Stop being scared. Break out of your comfort zones and get making some new stuff! I've said it multiple times this year… 2013 is the year I'm pushing my limits. I mean heck, just last month I was baking fresh Italian Bread in my kitchen… and at that same time I was making spaghetti and then my husband, neighbor, and I feasted on the most delightful and self-satisfying meal I've made to date. Fresh pasta with homemade bolognese sauce, and freshly baked Italian Bread. At that point I realized I made an entire meal from scratch. No boxed pasta, no store bough bakery bread, and definitely no jarred sauce. 100% all me. And then my husband bursted my bubble when he informed me that the salad was not 100% homemade. In all the glory I completely failed to cut spring mix from the garden; however, I get some credit… I picked a few vine ripe cherry tomatoes. But you get the point. The meal was made by my own two hands. Not many people can have that caliber of bragging rights.
I can't wait to have family in town so I can cook the most delicious Spaghetti Bolognese they have ever tasted! (Don't worry–one of these days I'll share my bolognese recipe with the world.) Not to mention make my entire meal from scratch. I'm still new to making spaghetti and pasta in general. I've made multiple batches now and each time improving on my newly found pasta-making skills! Be prepared to make a few batches at first just to learn how to make the pasta. The consistency of the dough has to be just right. Too sticky and it doesn't do well with the machine. Too dry and the dough crumbles apart and you won't get the pasta texture and consistency you were looking for.
If you make pasta at home or any other recipe that includes a KitchenAid product, make sure you stop by their Facebook Fan Page. Users can now submit their favorite recipes and possibly have it featured on the KitchenAid Facebook Fan Page.
Disclosure: I received the KitchenAid Slow Cooker for review and cooking purposes. KitchenAid sponsored me at a conference in 2012 and thus I am creating a series of videos for them. As always, all opinions are my own.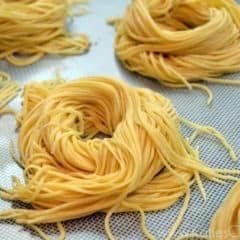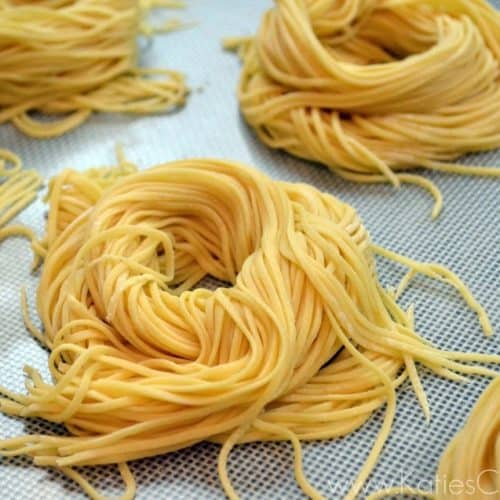 How to Make Spaghetti with the KitchenAid Pasta Attachment.
Making spaghetti at home is actually really easy. It takes a little time and patience, and within a half hour you'll have a batch of fresh pasta completed that will knock your socks off. I share the exact settings you will need to follow if using the KitchenAid Pasta Attachment.
Print
Pin
Rate
Equipment
KitchenAid Stand Mixer

KitchenAid Pasta Attachment
Ingredients
4

large eggs

3-½

cups

all-purpose flour

sifted

½

teaspoon

salt

¼

cup

water *start with 2 tablespoons
Instructions
Making the Spaghetti Dough:
In the stand mixer bowl, place the eggs, flour, salt and 2 tablespoons of water. Using the flat beater, attach it to the bowl and mix the ingredients on speed 2 for 30 seconds.

Remove the flat beater and replace it with the dough hook. Turn the dough on to speed 2 and let it knead for 2 minutes. At this time if the mixture looks too dry add 1 tablespoon of water at a time.

Remove the dough from the bowl and kneed with your hands for 1-2 minutes. (Do not skip this step--it's extremely important for rolling out the dough. By kneeding by hand it will help work the gluten.) Form the dough into a disc/ball, place plastic wrap over the top of the dough, and let it rest for 20 minutes.
Rolling the Spaghetti:
Divide the dough into 4 pieces (keeping the dough you aren't working with it covered with a damp paper towel/kitchen cloth/plastic wrap).

Attach the Pasta Sheet Roller attachment to you stand mixer. Take 1 of the 4 pieces of dough and flatten it until its about a half-inch thick. Set the Pasta Sheet Roller to setting 1 and your stand mixer to Speed 2/4 and begin to carefully feed the dough through the attachment.

Once this is done you'll want to fold the dough in half and then half again. Make sure it fits in the top of the attachment. Then run it through the Pasta Sheet Roller again.

Next, move your Pasta Sheet Roller to setting 2 and then carefully run the dough through. Repeat, by moving the setting all the way up to 5 until you have a thin sheet of pasta. *I typically cut the pasta sheet in half or in thirds by setting 2 or 3-- it is much easier to work with. If not you will have some crazy long pasta!

Once you have 2 thin sheets of pasta, remove the Pasta Sheet Roller and add the Spaghetti attachment to the stand mixer. Place the mixer on Speed 2 and carefully begin to feed the sheet of pasta through the attachment.

Once you have spaghetti cut, you'll want to lay flat on a floured counter or on a drying rack for 5-10 minutes before cooking.
Cook the Spaghetti:
Cook the spaghetti in a pot of boiling water with 1 tablespoon of salt for 3-4 minutes or until al dente.
Video
Notes
Recipe Yield - This recipe yields about 1-¼ lb of pasta. Typically enough to feed 8 people.
Holes forming in Dough - If you are starting at the rolling flat step and you find your dough is not stretching and instead forming holes this means either you have not worked the dough enough by hand or it is too dry. Try working the dough again for another 2-3 minutes and letting it rest for at least 5-10 before you begin to try to run the dough into the flat roller attachment.
Rolling Pasta - While rolling out pasta

I typically cut the pasta sheet in half once the flatten sheets go through setting 2 or 3-- it is much easier to work with.

For drying pasta: Let the cut pasta hang or lay flat and dry in individual strands for 2 hours or over night until the pasta is dried.
Nesting Pasta - To nest the pasta let dry at least 10 minutes then spin small amounts of pasta into a nest and let continue to dry.
Store - dried pasta in a well sealed bag or container. It will last for up to 1 month in an airtight container.
Nutrition
Serving:
1
c
|
Calories:
231
kcal
|
Carbohydrates:
42
g
|
Protein:
8
g
|
Fat:
3
g
|
Saturated Fat:
1
g
|
Trans Fat:
1
g
|
Cholesterol:
82
mg
|
Sodium:
178
mg
|
Potassium:
89
mg
|
Fiber:
1
g
|
Sugar:
1
g
|
Vitamin A:
119
IU
|
Calcium:
21
mg
|
Iron:
3
mg