Tired of the same old smoothie recipe? Want to spice things up? Check out over 50+ creative smoothie recipes to switch up your daily dose of fruits and veggies!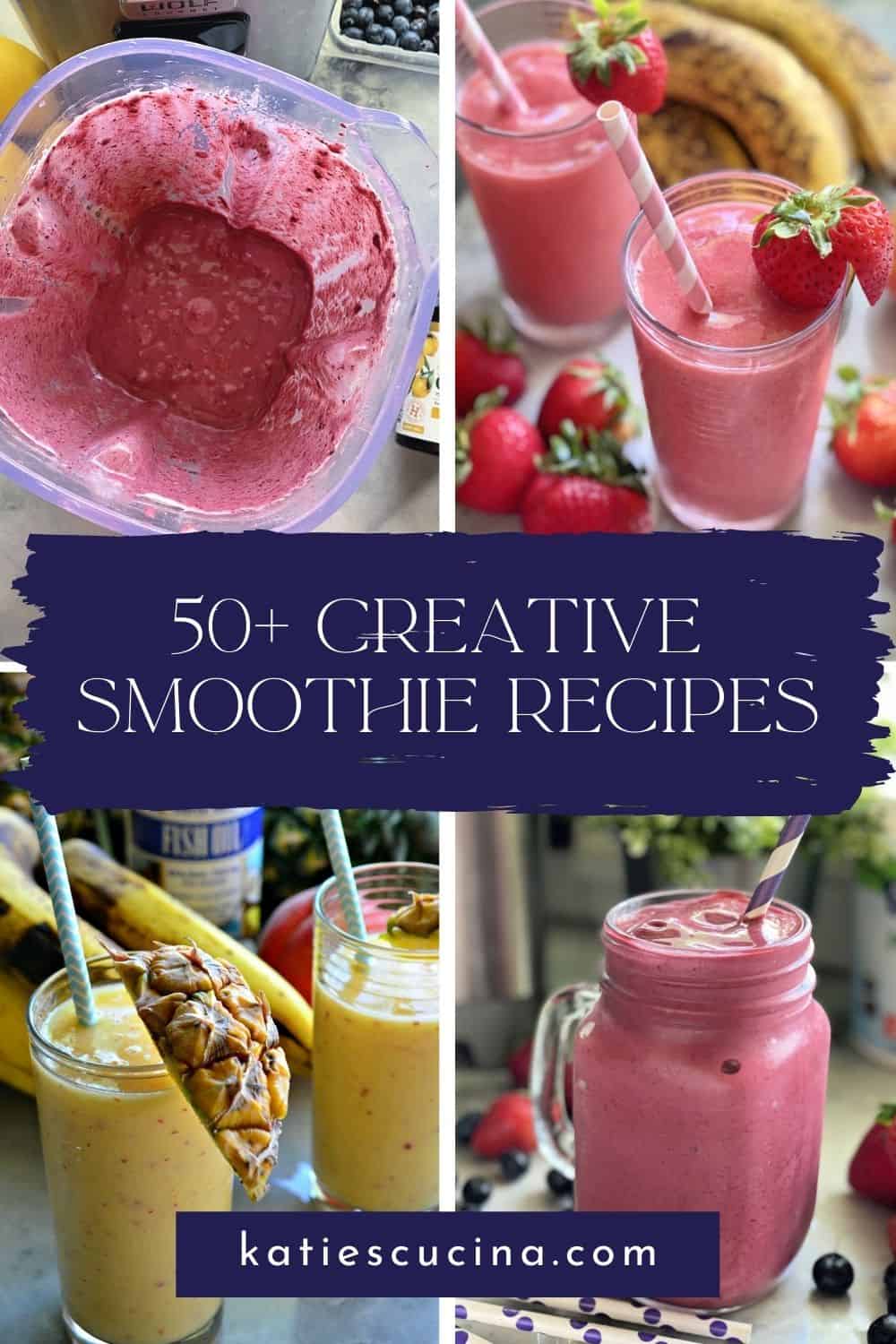 Their is no denying we love smoothies in our home. We drink at least one smoothie a day in my home whether its our favorite strawberry banana smoothie or a pineapple peach smoothie (think ultra tropical).
One way to pack in quite a bit of fruit and veggies is to make a smoothie. They can be nutrient dense without tasting like it was served from the earth. Best of all you can prep most ahead of time, making it easy to blend on a busy morning. I love the fact that we can use both frozen and fresh fruit in smoothies.
What to put in a smoothie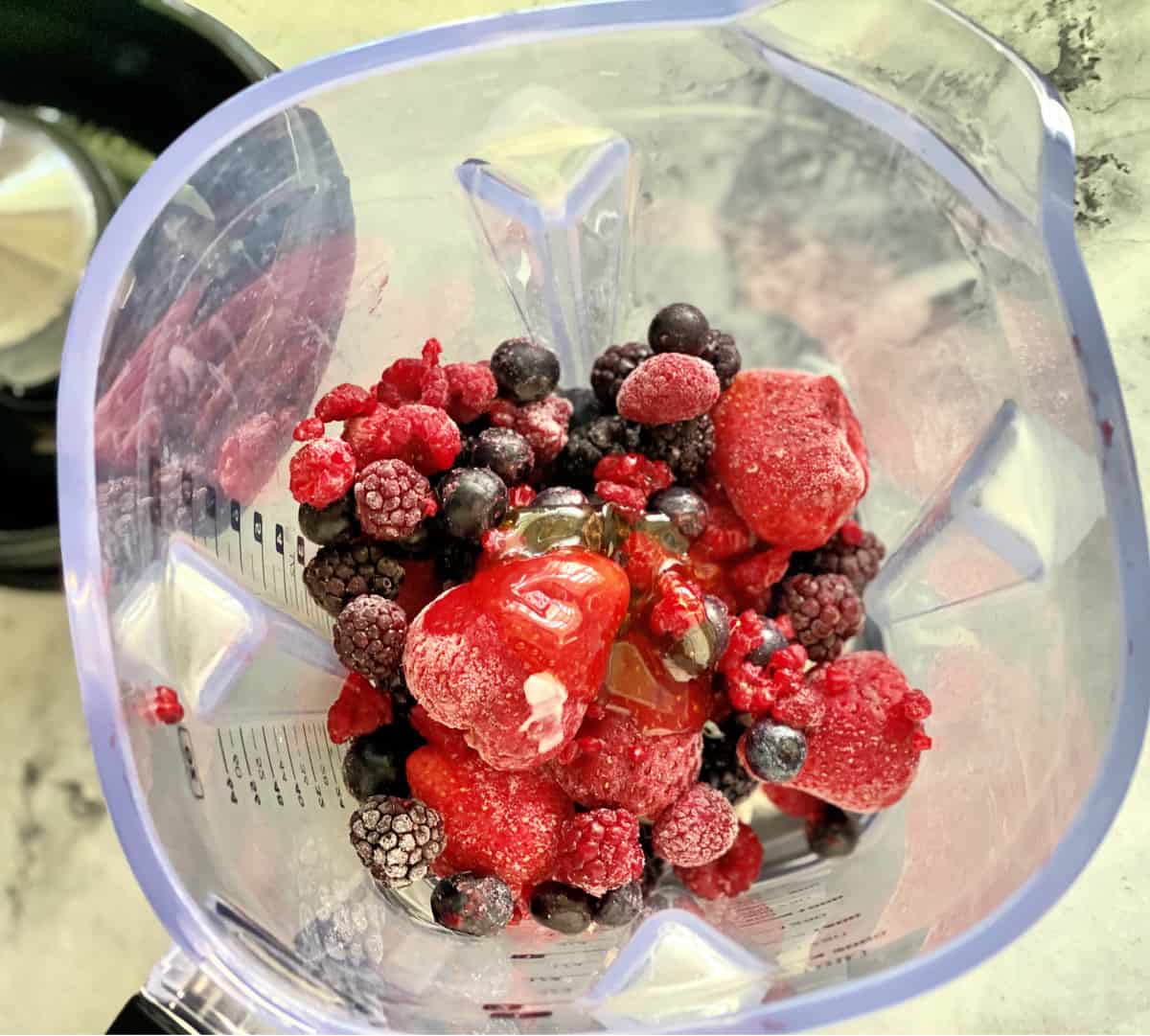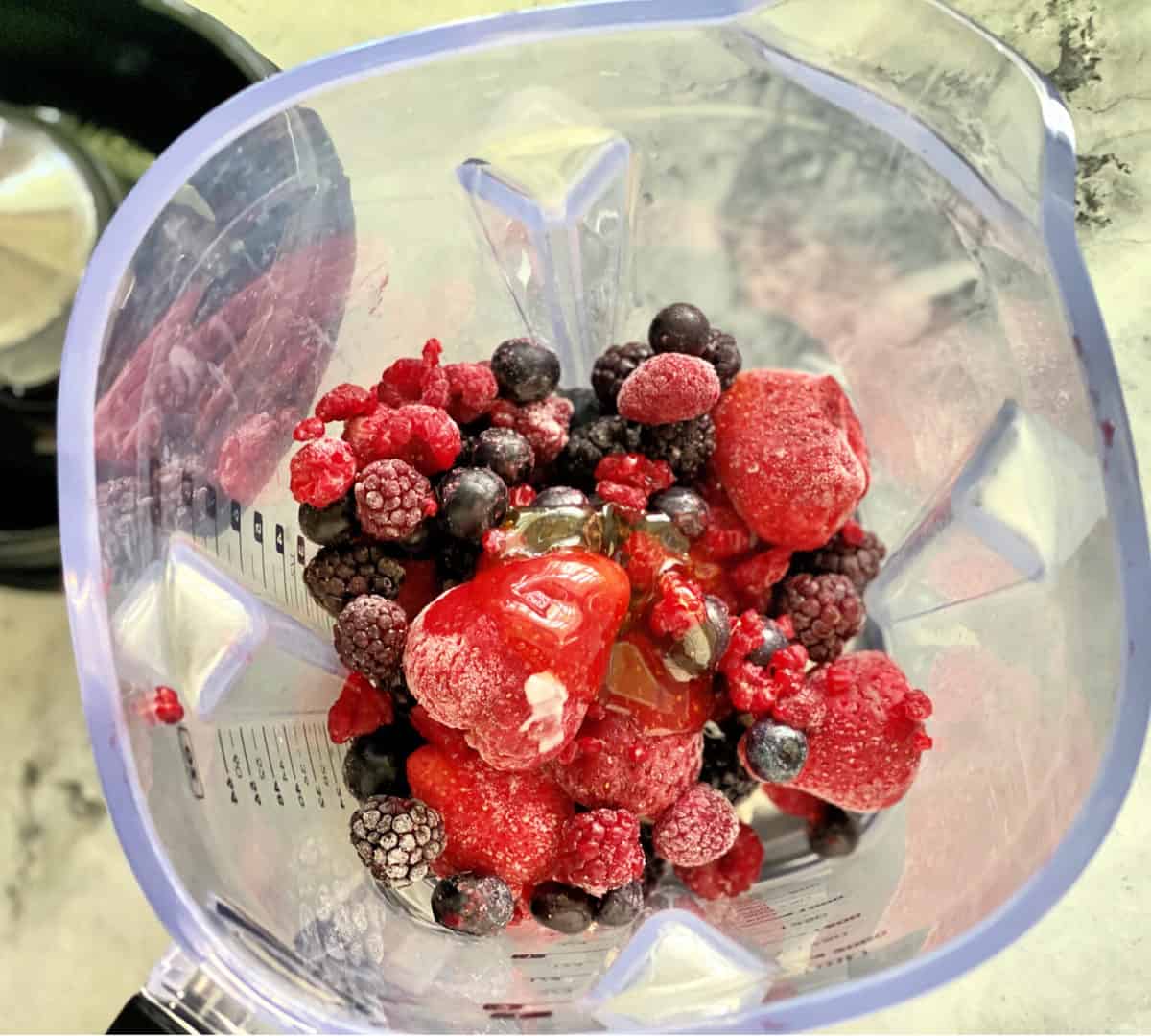 If you ever wondered how to make smoothies at home, I have all the tips and tricks for you! Below you'll find how to build the best smoothies!
Buy local – I prefer to buy from the farmer's market or farm stands for my fruits and vegetables. This is typically the best way to get the freshest produce possible and not cost nearly as much as the grocery store.
Freeze – Freeze fruit to avoid having to add lots of ice. Rinse and thoroughly dry fruits and vegetables prior to freezing. Always freeze when produce is at it's freshest to capture all the nutrients it packs.
Make Ahead – frozen fruit and vegetables packs using freezer bags. Label the bags and store flat in the freezer. This will make for quick smoothie blends in the morning or for an afternoon snack.
Fruits – The sky is the limits to what fruit to add in your smoothie. I stick to some of the basics I have on hand like banana's, apples, strawberries. If in season I'll add in fresh peaches, mangos, blueberries, raspberries, and blackberries. I almost always have frozen pineapple, mango, and mixed berries in my freezer at all time. This allows me to ensure the flavors year round without the higher price tag.
Vegetables – I like to place a handful of spinach or kale in my smoothies. If you have a high-power blender these greens will break up and you'll never know they are in your smoothie. Other vegetables I blend are fresh beets, carrots, cauliflower, zucchini, and avocado.
Liquid – I like to use yogurt if I have it on hand. It adds a creamy layer to my smoothies. I sometimes will also use whole or 2% milk if I'm looking for the added protein and fat. To keep the smoothies dairy free add in a plant-based milk or nut-milk like almond milk. Other liquids you can use are 100% fruit juices or even coconut water/milk.
Sweeteners – If the fruit is not enough to sweeten the smoothie I'll add a tablespoon of honey or even agave nectar to my smoothies.
Other Add-ins – I sometimes use a scoop of protein powder or blend in plain tofu. The tofu sounds crazy, but it works and you'll never know—it adds a silky texture to the smoothie! I will add a scoop of collagen (to my adult smoothies—not for kids) or even to get extra health benefits I'll add in Fish Oil for the healthy benefit of Omega 3's. I love adding peanut butter powder or plain peanut butter to smoothies. A scoop of cocoa powder has been found to help with inflammation. This will give you a nice chocolatey flavor.
If you are like me and find that you tend to make the same smoothie over and over again. I gathered over 50 smoothie recipes to help fuel your body and day. This should help us all branch out and try some new recipes.
Best Blender for Smoothies
The key to a good smoothie is an excellent blender. One that can truly crush and pulverize all the ingredients and blend them so that you can't tell if you've hidden in a little spinach or kale. A few years ago when I had a toddler I felt like he would want me to make a smoothie simply to hear the power of the blender. Other days I knew he actually wanted a smoothie.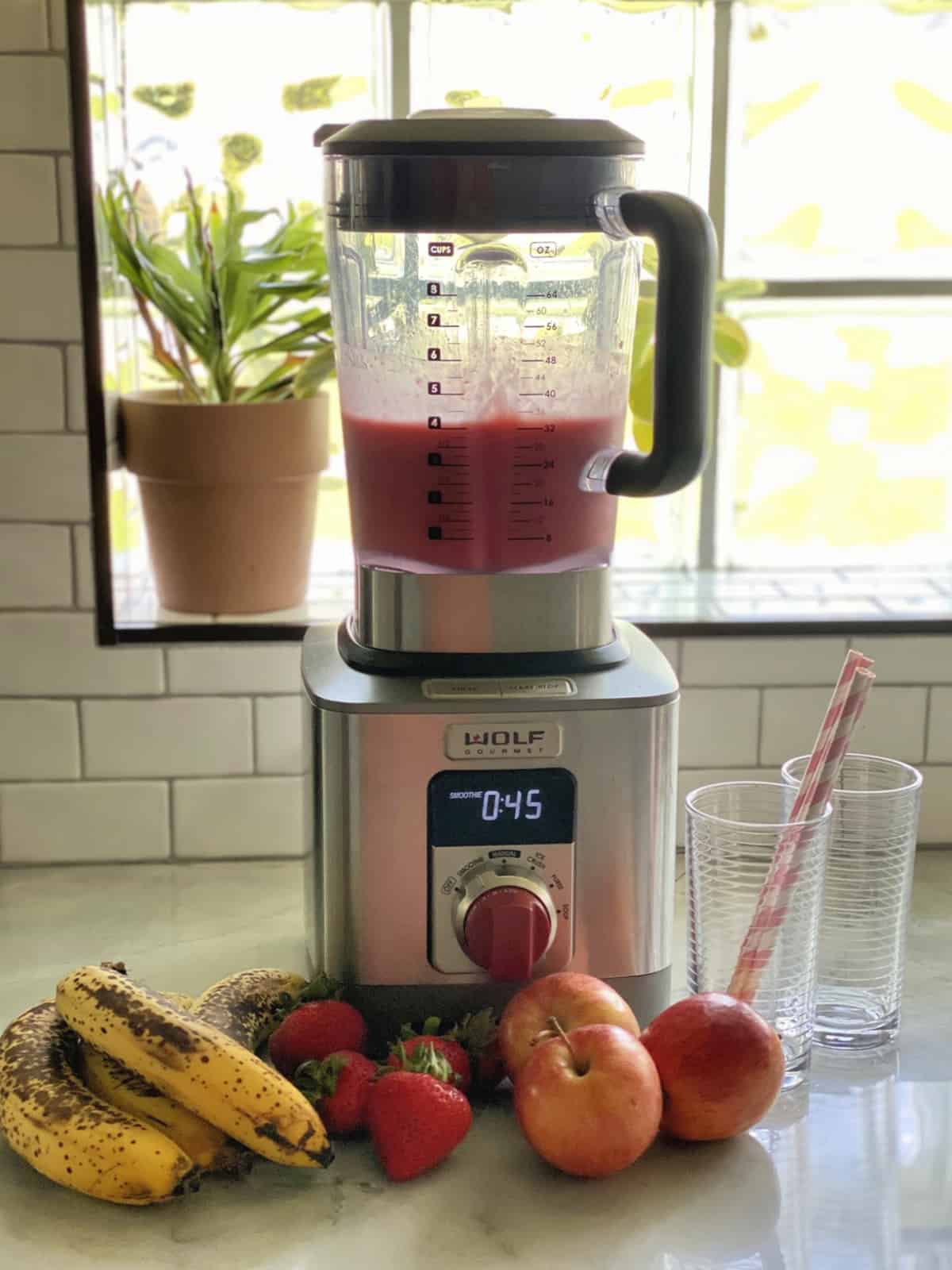 Now that you know how to make a smoothie, you might be wondering what the best blender is to make smoothies. I have a few recommendations for all price points.
Breakfast Smoothie Recipes
If you love to start the day with a smoothie you'll love some of the best breakfast smoothie recipes. You can try my Blueberry Banana Protein Smoothie or even my Strawberry Banana Spinach Smoothie.
Basic Smoothie Recipes
If you are new to making smoothies these Basic Smoothie Recipes are perfect for a beginner with just a few simple ingredients. My Strawberry Banana Smoothie Recipe or my simple 5 ingredient mixed berry smoothie to start with.
Smoothie Bowls
Smoothie bowls have become all the rage over the past few years. If you are not familiar with them they are a thicker version of a smoothie topped with dried nuts, fruits, granola, etc and eaten with a spoon. Here are a few of my favorite recipes including this recipe for peanut butter mocha smoothie bowl.
Afternoon Smoothies
Looking for a delicious and nutrient-packed afternoon snack? Try an afternoon smoothie or afterschool smoothie. My kids love the pbj and banana smoothie and I love a good CBD Blueberry Lemon Smoothie to cut the edge off a stressful day.
Easy Healthy Smoothies
Not all smoothies at times are healthy smoothies. Look at smoothies that have lots of vitamins, nutrients, and antioxidants to boost the health factor. Stear clear of sweetners like sugar in smoothies. To start, try my Strawberry Orange Flax Smoothies recipe or Grassfed Blueberry & Almond Smoothie.
Dessert Smoothies
If you are craving dessert, trick yourself and blend a smoothie instead. My Pineapple Peach Smoothie reminds me of my favorite tropical cocktail and my Banana Birthday Cake Smoothies makes me think that I'm eating a slice of cake, but I'm not!
I hope that this list of 50+ smoothie recipes has given you some more ideas and will help you broaden some of your smoothie ingredients.
If you make any of these smoothie recipe, I would be honored and love for you to take the time to leave a star rating and comment! I spend hours creating these round-ups, and always love to hear feedback and user experience!
Don't forget to FOLLOW ME on Facebook, Pinterest, and Instagram, and subscribe to my email list!
Disclosure: There are affiliate links present in this post. That means if you click on a link and purchase something. I will receive a small percentage of the sale at no additional cost to you. Thank you for your continuous support of Katie's Cucina!
Sav