Ever wonder what to serve with chicken pot pie? Discover a variety of mouthwatering side dishes, essential tips, and answers to your most pressing questions for creating the ultimate chicken pot pie meal.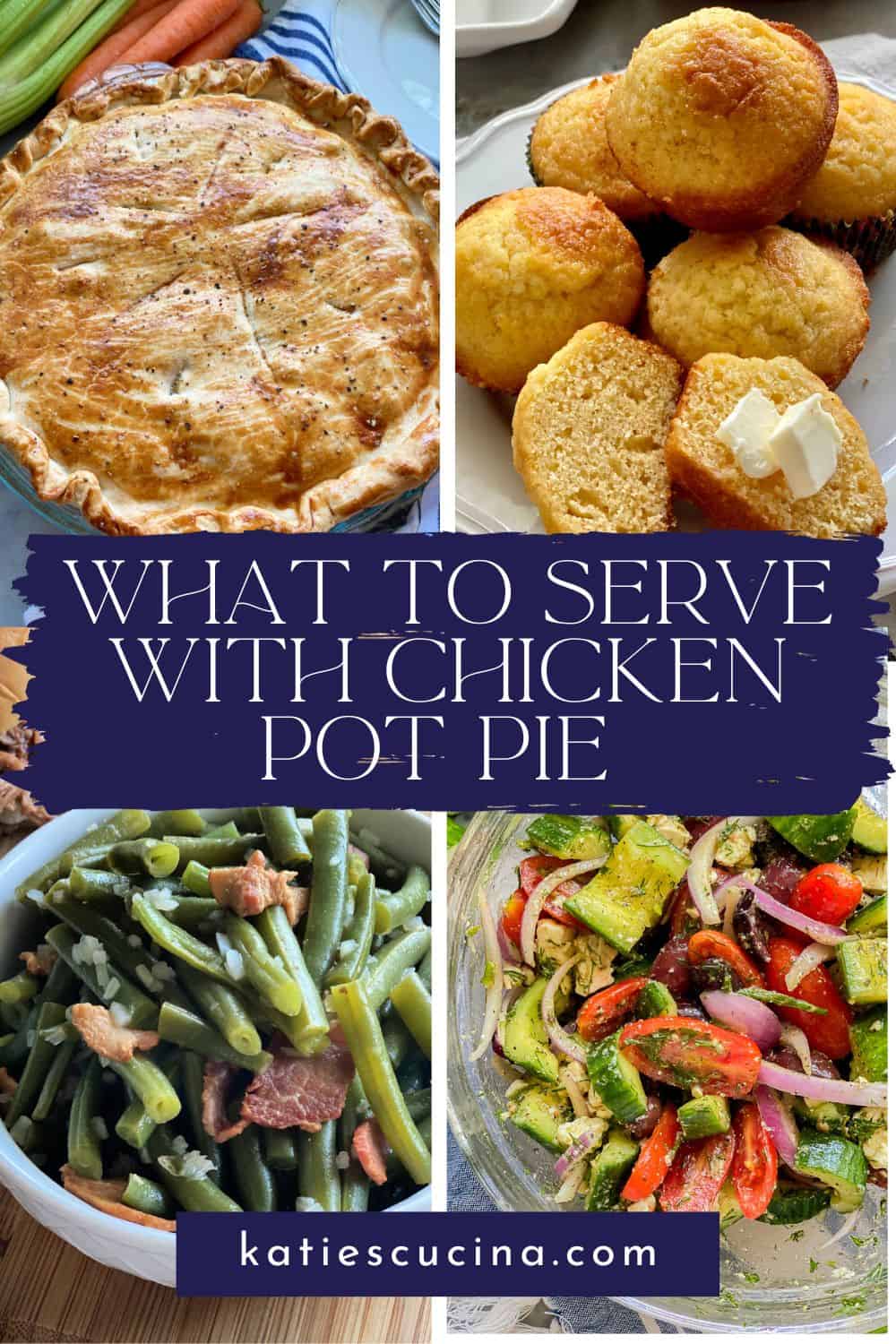 When it comes to comfort food, few dishes can compete with the timeless classic, chicken pot pie. Its rich, creamy filling and flaky crust make it a beloved staple on dinner tables across the world. But what side dishes go with say an individual chicken pot pie to create a well-rounded, satisfying meal? I love putting together these round-up style post because I often have friends stumped and ask questions like what to serve with chicken pot pie? That's why I'm here to help you explore a variety of side dishes, share some tips and tricks, and answer common questions about this beloved dish.
Jump to:
Side Dishes for Chicken Pot Pie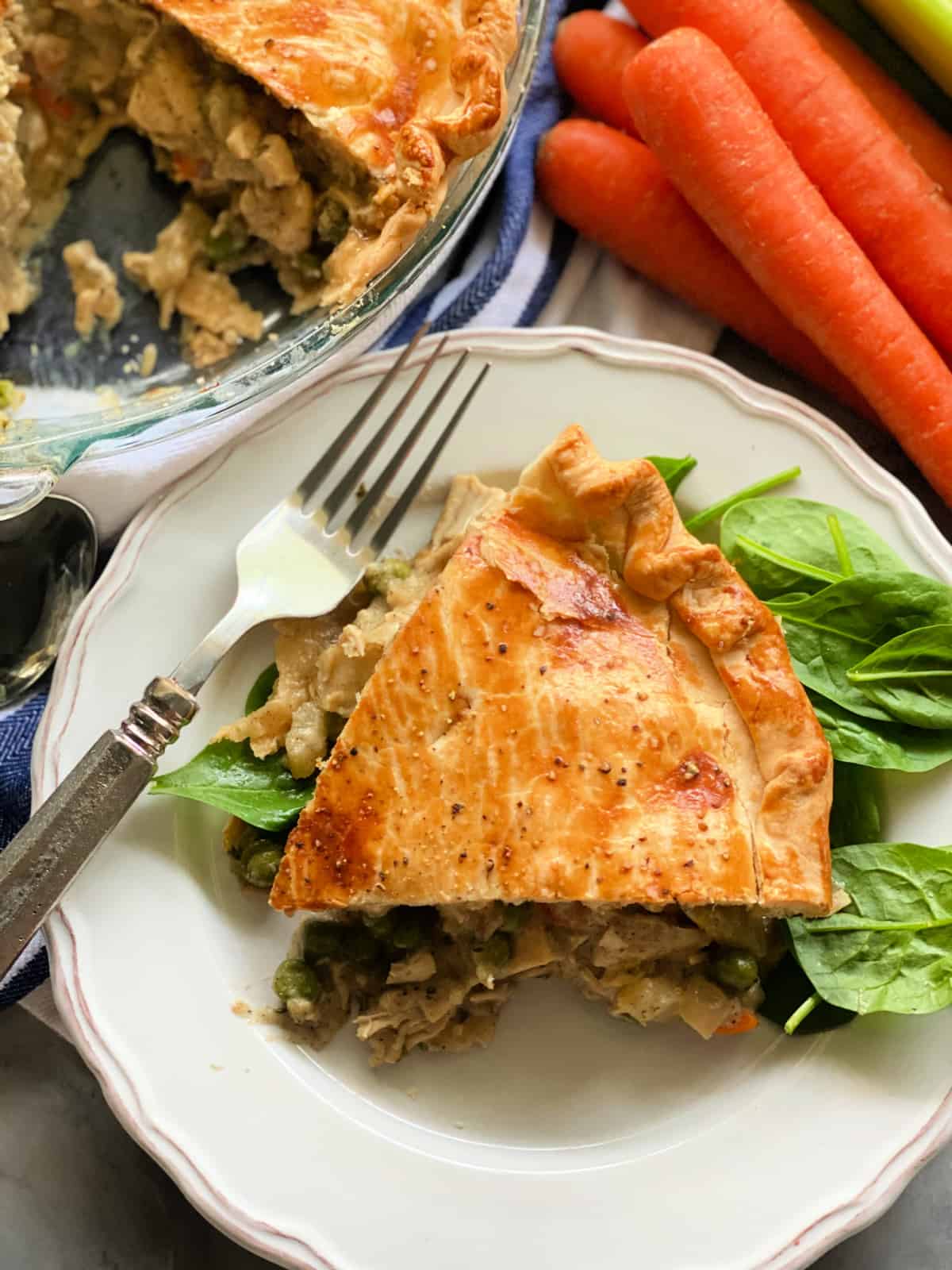 Here are just some of the sides I like to serve with a chicken pot pie. If you scroll down you can click on some of my favorite recipes that pair perfectly.
Green Salad: A fresh, crisp green salad is an ideal accompaniment. The lightness of the salad provides a nice contrast to the richness of the pot pie. Choose a mix of greens, add some sliced cucumbers, cherry tomatoes, and a zesty vinaigrette dressing.
Roasted Vegetables: Roasting vegetables like carrots, broccoli, or Brussels sprouts is a fantastic way to add color, nutrition, and a delightful roasted flavor to your meal. A drizzle of olive oil, some herbs, and a sprinkle of salt and pepper will elevate the veggies.
Mashed Potatoes: This classic side dish pairs beautifully with chicken pot pie. Creamy mashed potatoes provide a hearty base that complements the pot pie's creamy filling. Feel free to add some garlic or herbs for extra flavor.
Corn on the Cob: A simple but satisfying choice, corn on the cob is a great addition to your meal. It's easy to prepare, and the sweet, juicy kernels balance the savory nature of chicken pot pie.
Cranberry Sauce: If you love a sweet-and-savory combination, consider serving cranberry sauce as a condiment. The tartness of cranberries complements the richness of the pot pie, creating a delightful contrast of flavors.
Soup: A cup of soup, such as tomato, butternut squash, or potato leek, can be a comforting starter. It warms you up and prepares your taste buds for the main course.
Biscuits or Dinner Rolls: Soft, fluffy biscuits or dinner rolls are a fantastic way to soak up every last bit of that delicious pot pie filling. They also add a delightful carb element to your meal.
Frequently Asked Questions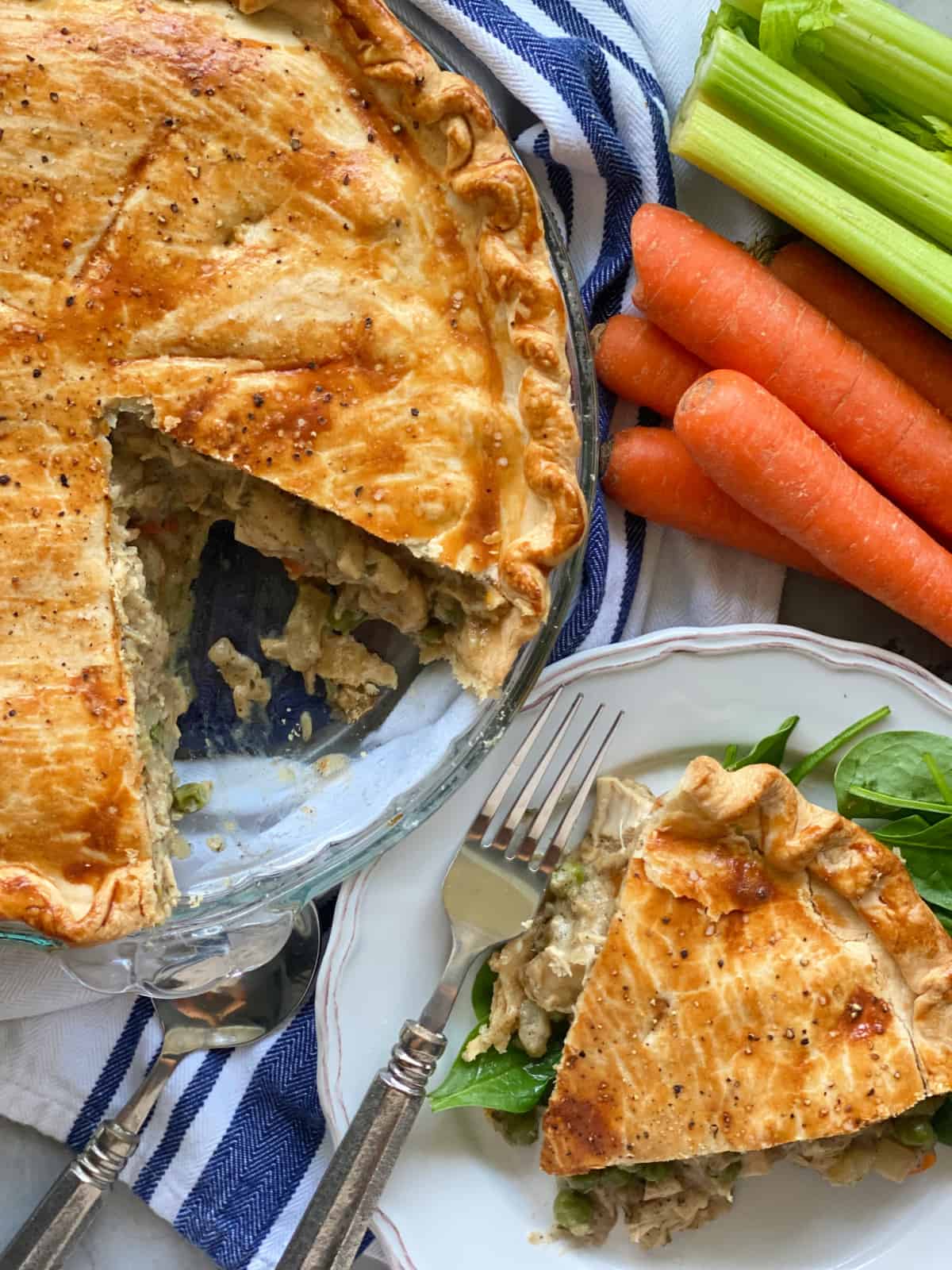 Here are some of the most commonly asked questions when making chicken pot pie, how to freeze, how to make pot pie healthier, and more!
Can I make chicken pot pie in advance?
Yes, you can prepare chicken pot pie in advance and refrigerate it. To serve, reheat it in the oven until it's hot and bubbly.
Can I freeze chicken pot pie?
Absolutely! Chicken pot pie freezes well. Just be sure to wrap it tightly and label it with the date so you can enjoy it within a few months.
Can I use store-bought crust?
Yes, you can use pre-made pie crusts for convenience. However, homemade crusts provide a more personal touch and often better flavor.
How can I make my chicken pot pie healthier?
You can make chicken pot pie healthier by using less butter or cream, adding more vegetables, and opting for a whole wheat crust or a phyllo dough topping.
What can I do with leftovers?
Leftover chicken pot pie can be enjoyed the next day or repurposed into a pot pie casserole, turnovers, or even used as a filling for a sandwich.
Tips and Tricks for Making Chicken Pot Pie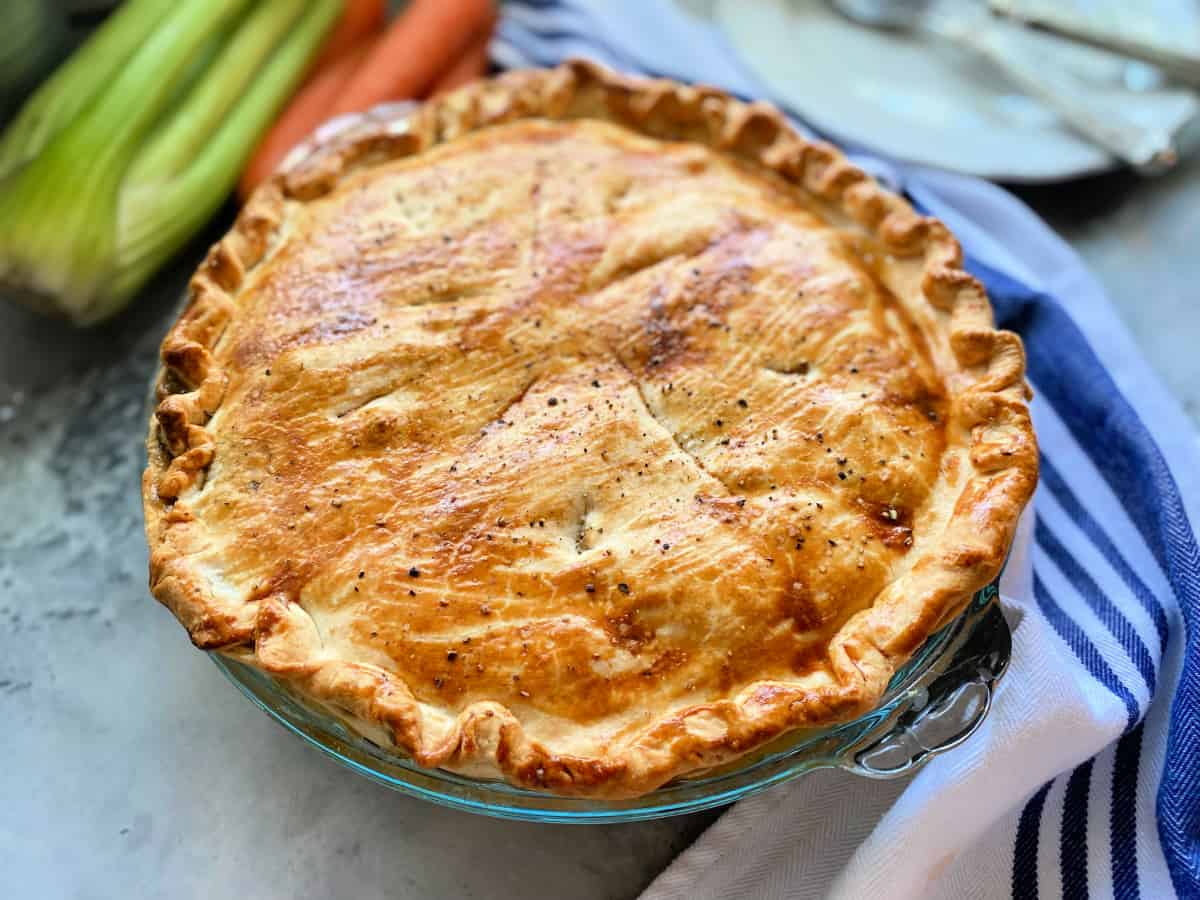 Now that we've explored some great side dish options, let's dive into some tips and tricks for serving chicken pot pie:
Don't Overcrowd: When serving chicken pot pie, remember that it's a substantial dish on its own. Avoid overloading your plate with too many side dishes, as it can be overwhelming.
Balance Flavors: Strive for a balance of flavors and textures. If your pot pie is rich and creamy, opt for lighter and crisper side dishes. If your pot pie is more on the plain side, consider sides with stronger flavors.
Timing is Key: Make sure your side dishes are ready and hot when you serve the pot pie. No one wants to eat lukewarm or cold sides with a piping hot pot pie.
Garnish: A sprinkle of fresh herbs or grated cheese on top of your pot pie adds visual appeal and an extra layer of flavor.
Individual Portions: For a more elegant presentation, consider making mini chicken pot pies or serving the dish in individual ramekins.
Sides for Chicken Pot Pie
What you serve with chicken pot pie can enhance the dining experience, making it even more satisfying. Whether you choose a fresh salad, roasted vegetables, or creamy mashed potatoes, there are numerous delicious options to complement this beloved comfort food. By following our tips and tricks and addressing common questions, you'll be well-prepared to serve a memorable meal centered around the start dish, chicken pot pie.