On a chilly fall day there is nothing more comforting than a hot bowl of creamy soup–no cream in this Pumpkin Butternut Squash Soup recipe, though! 
I'm always looking for a quick and easy lunch. Even better if I can make it comfort food that doesn't make my waste line look like I've been consuming lots of comfort food! I love pureed soups, and tend to always eat my fill of them on cruise ships–but rarely ever make them at home. I decided I wanted a big bowl of comfort but with out the heavy cream and all that goes with comfort food.
I would like to call this soup fall in a bowl. The mix of pumpkin and butternut squash with a dash of nutmeg reminds you that fall is definitely here. And here in Florida we have actually had a few "fall like" days out. The cooler weather forces me to turn on the oven and make comfort food. I devoured a big bowl of this soup for about a week straight at lunch time. Some days I would pair it with a salad and other days a flatbread or sandwich.
Katie Original Recipe
Pumpkin Butternut Squash Soup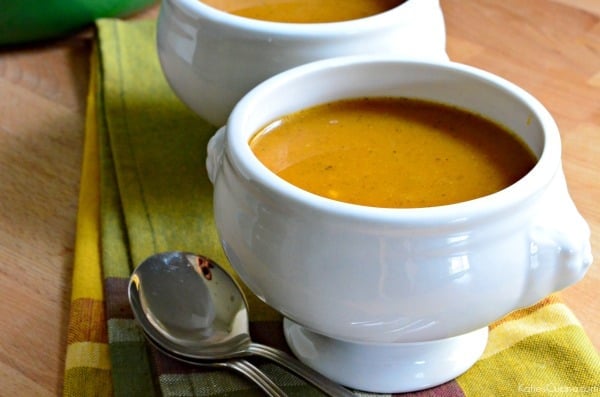 Ingredients
1 tbsp unsalted butter
2 tbsp onion, minced
1 tbsp garlic, minced
1 15oz pumpkin puree
12 oz cooked butternut squash, frozen and thawed
2 tsp ground sage
1/4 tsp crushed rosemary
1/4 tsp thyme leaves
1/4 tsp salt
1/4 tsp black pepper
dash of nutmeg
32 oz chicken broth
Directions
In a large soup pot, melt the butter on medium heat. Then add in the onion and garlic and cook for 1 minutes. Add in the pumpkin, butternut squash, and spices. Mix well and then add in the chicken broth. Mix well and cook for 10 minutes. Ladle into bowls and enjoy.
http://www.katiescucina.com/2014/11/pumpkin-butternut-squash-soup/
This recipe is brought to you by Katie Jasiewicz of Katies Cucina
read more